These classic hairstyles for men stay fresh with modern updates. Whether you add some on trend texture, get the look with medium length hair, or add some type of fade, these vintage styles still look great today. Some of these typical styles get some edge while others maintain their conservative cool.
One of the top ways of updating any men's hairstyle is to use a matte hair product like a clay, fiber, or water-based pomade. These can create a natural finish that works well with some movement and flow. Here's how to get the look.
1. Modern Pompadours + Quiffs
Pompadours never go out of style thanks to their flattering form. They do get updated though, with trendy texture, a matte finish, and sometimes a side part. Wear your pomp with a fade on the sides or a taper.

In addition to modern pompadours, quiff haircuts are another classic look with staying power. It has a similar look to pomp but can be styled with short hair. Style hair up into a swoop up front with some spiky texture or a no-shine finish. A low or skin fade around the sides keeps it fresh.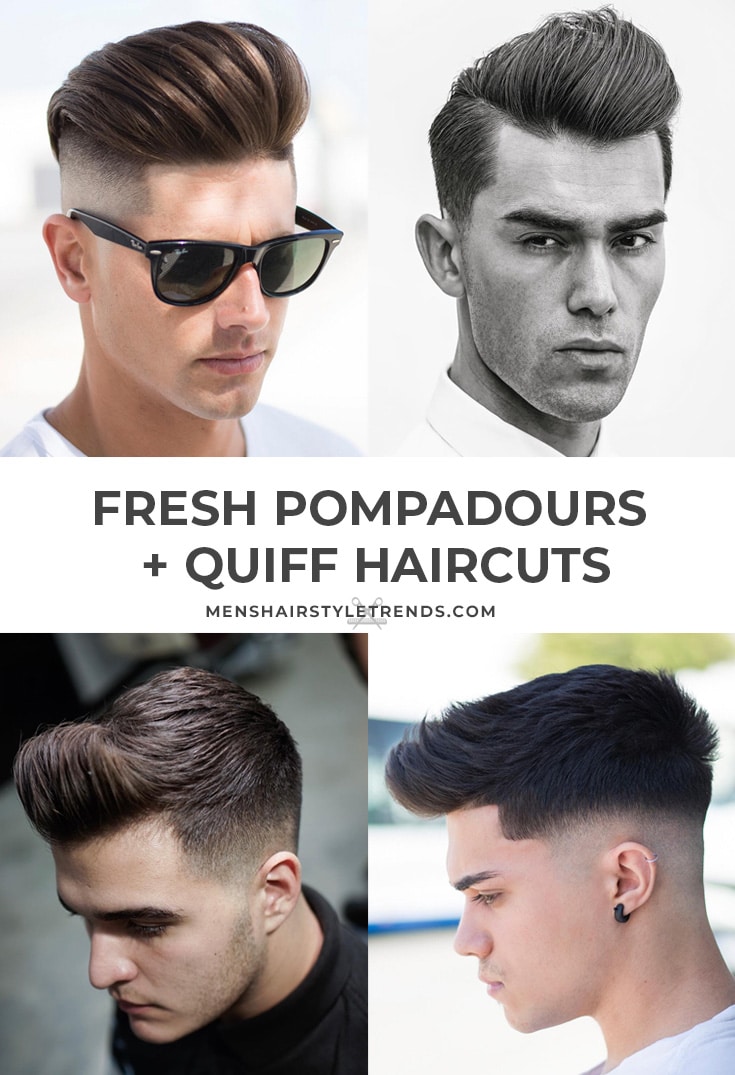 (L-R Javi the Barber – Matthew Conrad – Justin Armani – Javi the Barber)
2. Fresh Ways to Wear Classic Fade Haircuts
Fade haircuts are a classic men's haircut that also has many modern updates. These cool looks are modern updates on classic men's hairstyles. First is a Caesar haircut with a high drop fade and textured angled fringe. It's one of the many ways to wear the trendy short crop haircuts.
On the top right is a modern afro. The update comes from the closer cut profile, temple and neck fades, and line up at the forehead. Next up is a curly high top fade. Most people are familiar with the square flat top but the same cut can be worn with a curly top as well.
Last but not least is a classic short men's hairstyle with a mid fade. This easy to style cut works well for guys with thick hair as or anyone looking for a conservative but cool short style.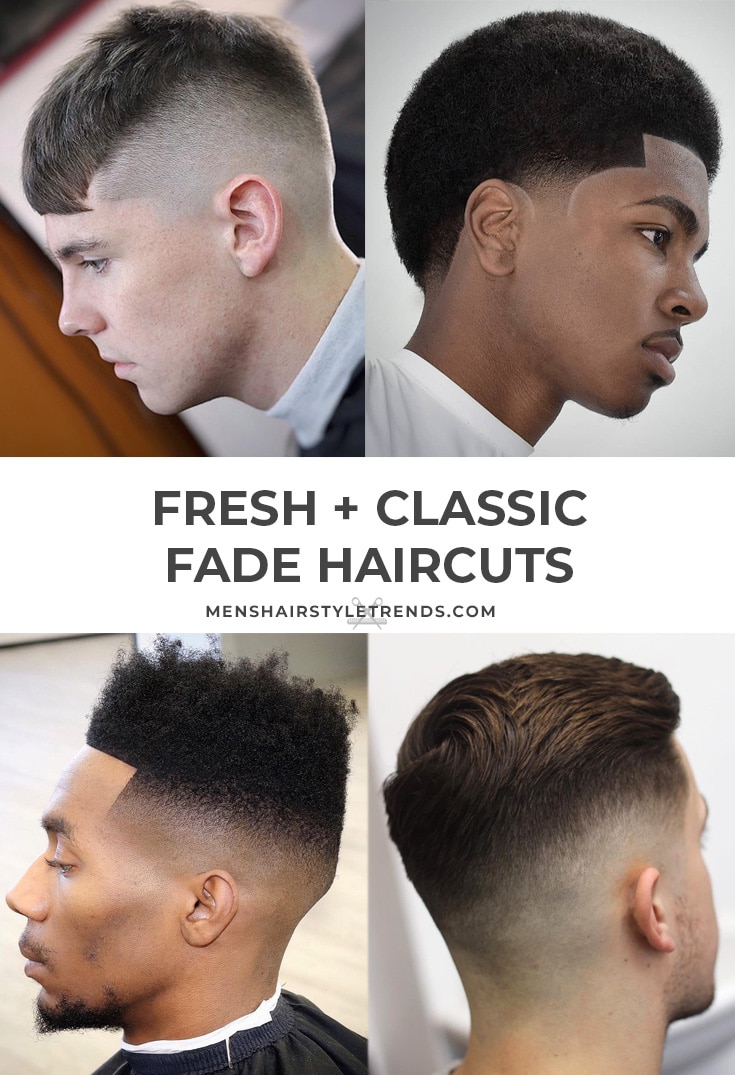 (L-R Crihan Corneliu – Hector Zapata – Luis O. Melendez – Charlie Baker)
3. New Ways to Wear Taper Haircuts
Scissor cut tapers are a growing trend. This classic haircut is usually worn in a classic hairstyle like a side part comb over or sweep back. There are plenty of ways to get a modern twist on the look too. Try a comb over-slick back hybrid like San Jose Shark-prospect Jeremy Roy. Now that's some good hockey hair. Leave the neck long if you want a little flow.
A side part, plenty of texture, and a subtle temple fade is another way to update this retro style. Or bring in your natural texture by wearing wavy hair medium length. Use a lightweight pomade or curl cream for a hint of hold and frizz taming.
Another way to freshen up the classic taper is with a neckline hair design. A shaved line and arced fade on break up thick hair and add an unexpected finishing touch.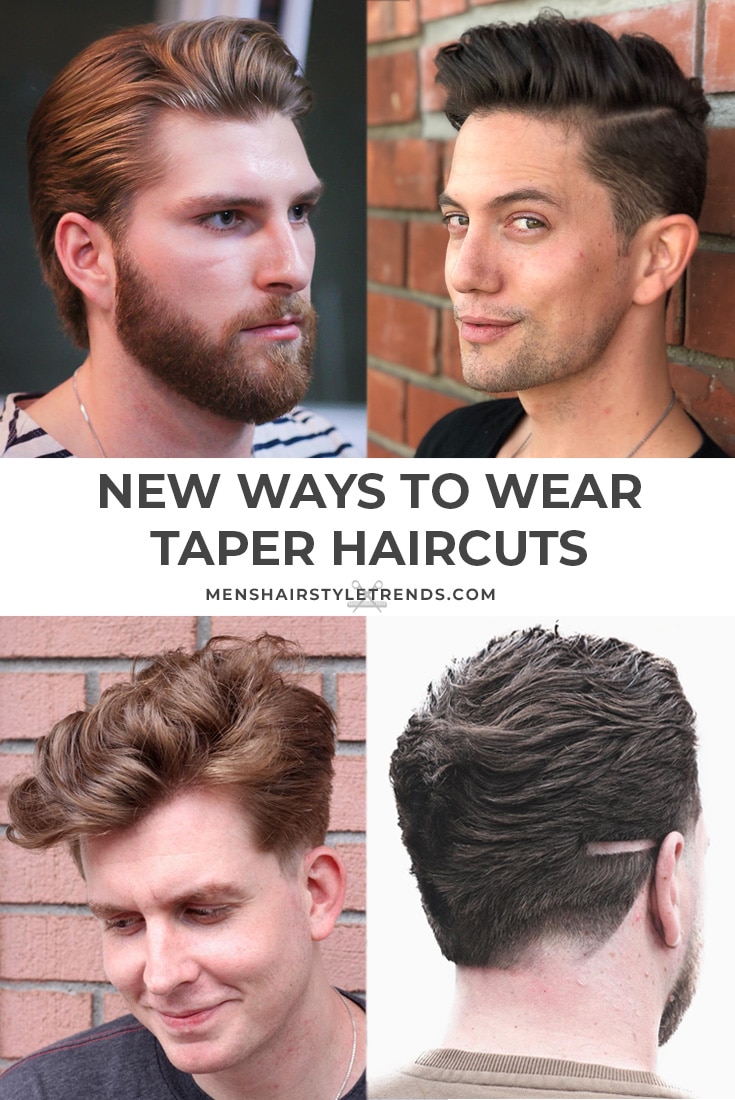 (L-R Cameron Tooyserkani – Liam Kenny – Edgar Davis Deronde V – Ramses)
4. The Sweep Back
The modern answer to the slick back, the sweep back has some volume, flow, and maybe a fade. The swept back look can literally look like the wind swept back your hair. Or like someone has been running their fingers through your mane.
Get the look with short, medium and even long hair of every type. This style can add volume to fine or thinning hair. At shorter lengths, it can make thick hair easy to style. Or let wavy add natural texture.
This casual style can also be more clean cut. Use a comb to pull hair back or add a low fade or temple fade for a modern finish.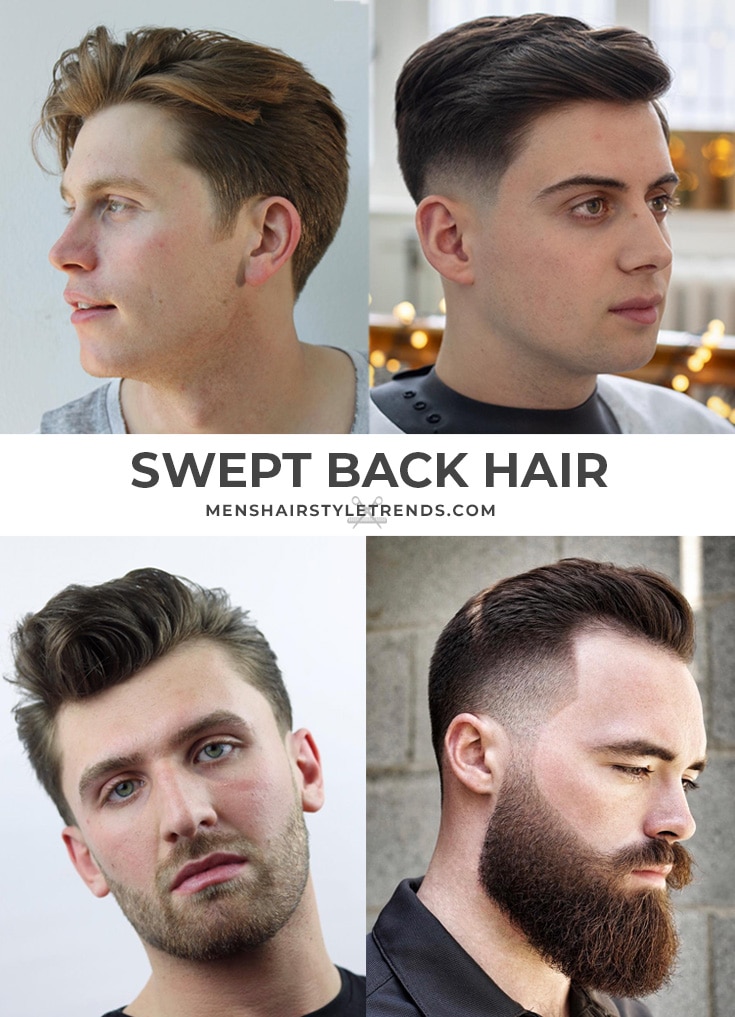 (L-R Hayden Cassidy Hair – Rum Barber – Crihan Corneliu –Wes Staucet)
5. Side Part Hairstyles
Side part hairstyles are a classic men's look that can also be modern. Update the Don Draper side part by wearing hair loose instead of slick and add a drop fade. Shaved aka hard parts are another way to create a fresh look. The hard part a thin shaved line in the midst of short hair or a wider line that extends a tape up that makes a statement. Wear the hard parts with short hair styled up into a classic look.
There are many unique ways to style a side part haircut beyond the comb over. Add a quiff, swoop, or loose hair to make the most of medium length hair.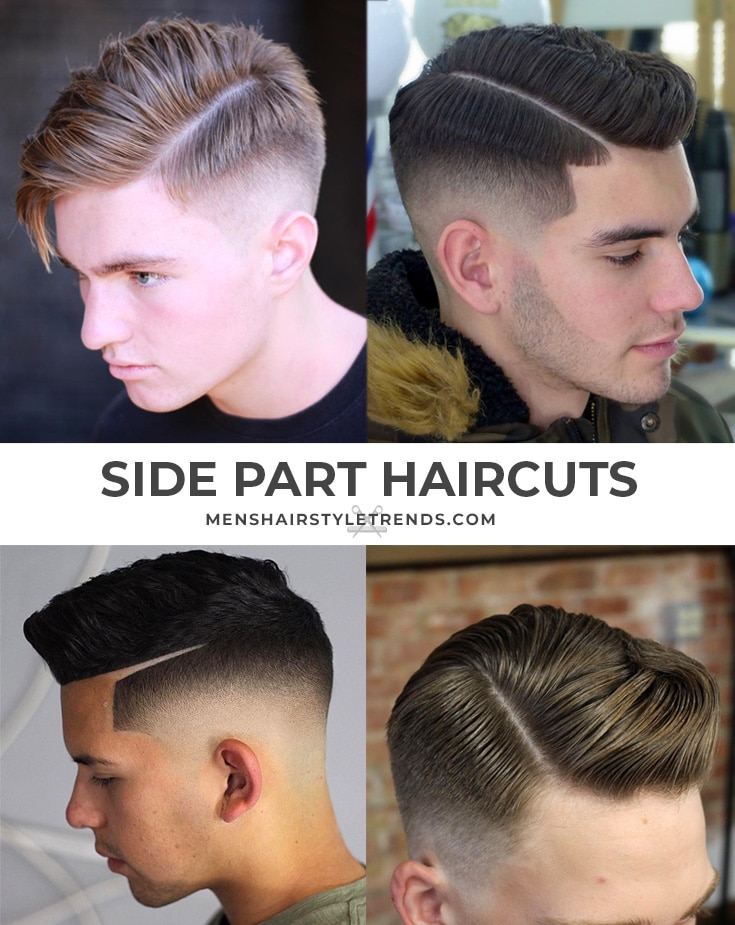 (L-R Edgar Davis Deronde V – Toni Saura – Ramses – Andrew S.)
6. Jagged Neckline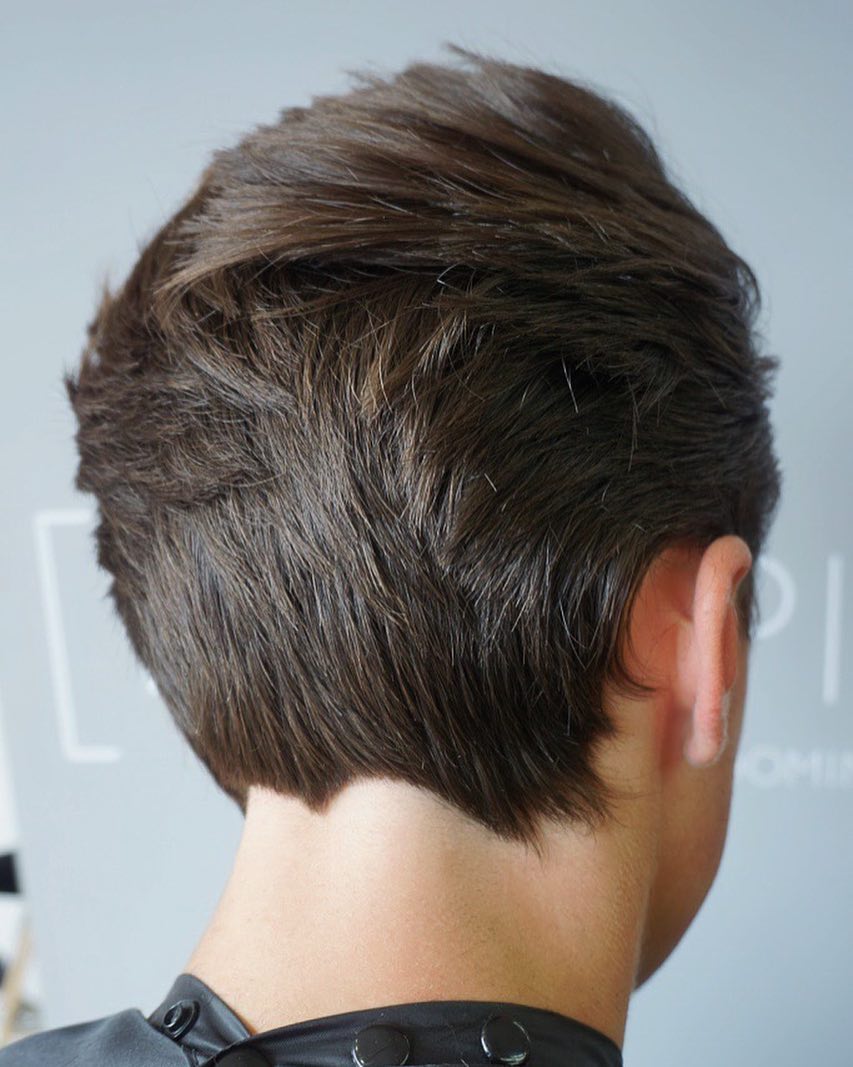 Lucky number 21, this jagged neckline transforms this medium length taper into an edgy style. Keep up the look with regular trims, mix it up, or take the trend for a test drive. This is a low commitment way of adding a fresh look.