Fade haircuts are one of the most popular, versatile and attractive haircuts for men, teenagers and boys. They look great, are easy to style and work for all guys.
Fade haircuts work for every hair type from thin to thick and straight to curly. For men with thick hair, fade haircuts lighten up hair up and make styling easier. So how do they work for thin and even thinning hair? Ultra short hair on the sides makes hair on top look thicker and fuller in contrast. This is true for guys with thick hair but also for men with fine, thin and thinning hair. For wavy, curly and kinky hair, fade haircuts keep the sides short and create a clean cut hairline.
Hairstyles with fades can be anything you like. Hair can as short or long as you like, or anything in between. The buzz cut with a fade is a very popular hairstyle. On the other end of the spectrum, a side burn and low fade adds a masculine finish to long hair. Fades also look great at every age and can extend the time between haircuts for boys and add for older men.
Taper vs. Fade – What's The Difference?
Just like saying soda versus pop, barbering terms can vary between people and regions. Some people use the same word to mean different things or different words to mean the same thing. Sometimes the words taper and fade are used interchangeably.
If you ask us, they mean different things and the dictionary agrees. The dictionary definition of fade is to "gradually grow faint and disappear" while taper is defined as "to diminish or reduce in thickness toward one end".
Fade haircuts usually use clippers to "fade away" hair from a short length to even shorter or the skin. Fades can also be cut with scissors but this results in a softer look instead of a crips, blurry fade. Taper haircuts are classic scissor cut men's hairstyles with shorter hair at the sides and back.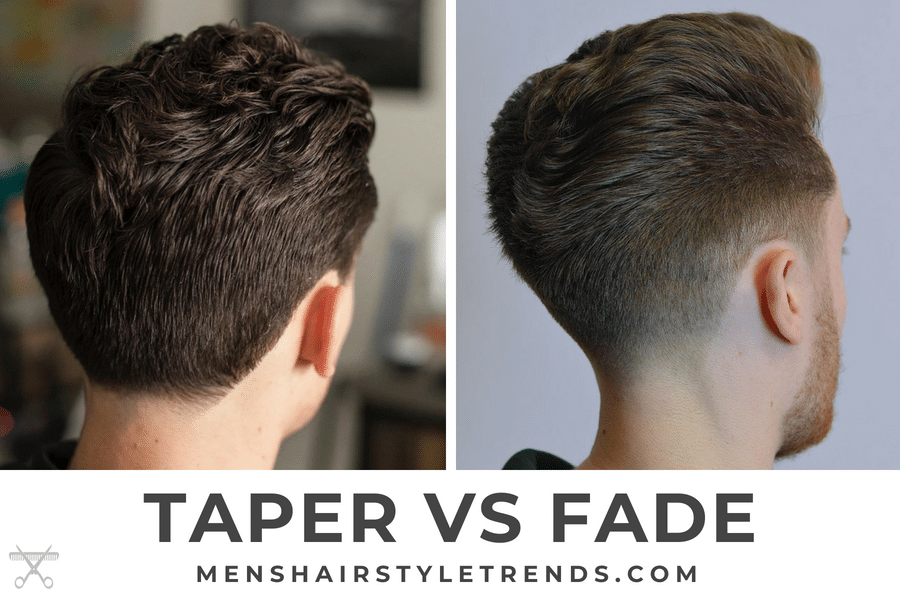 To make sure you get exactly the cut you want, always show your barber or stylist a photo. Using words and even clipper guard numbers can result in miscommunication.
What Is A Fade Haircut?
Fade haircuts start short and disappear into a short stubble or skin. With an expert fade this transition is a seamless gradient or blur. A popular version of the fade is the skin, bald or zero fade that goes all the way down to the skin, as the name implies. Skin fades raise the hairline and create a new shape. Shadow fades go from short to shorter..
A fade can happen anywhere on the head. Some fades are small and confined to the sideburn, temple or neckline. Mid and high fades are more substantial and cut hair short half way up the head or all the way up to hairline. Low fades cut hair short around the hairline.
Expert barbers and stylist customize the shape, size and transition of a fade to your head and face shape.
Those are the words but fade haircuts are much better explained by pictures. Here are all the types of fade haircuts you can get.
There are so many types of fade haircuts that you can get. In this guide we cover all the most popular fade styles.
1. Low Fade Haircut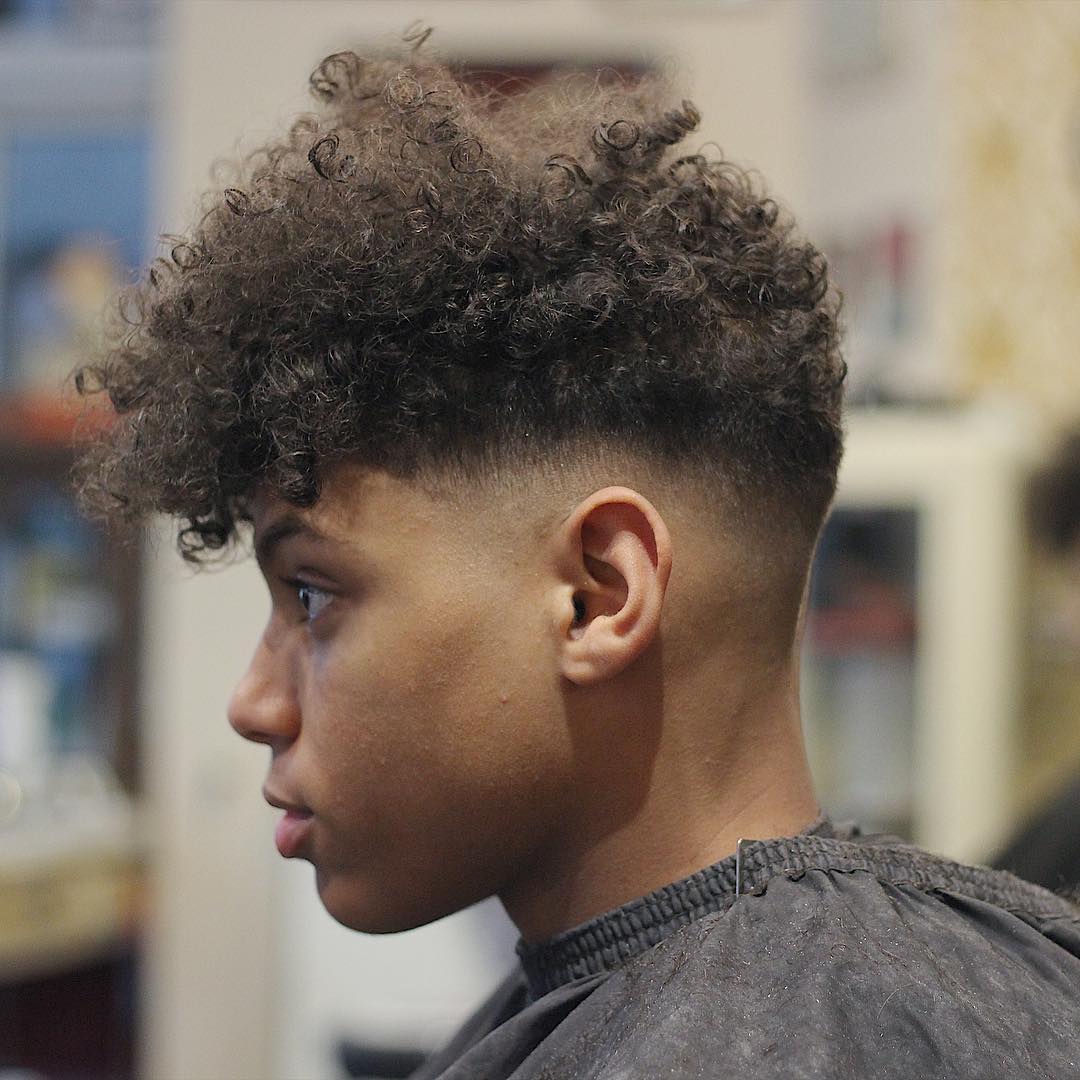 As the name implies, the low fade haircut starts down low on the head. Your barber and stylist can help you find the most flattering version but this one starts at the temple and dips down slightly behind the ear. This looks great with straight hair cut into trendy crops or timeless pomps but also is a cool addition to this cool haircut for curly hair.
2. Mid Fade Haircut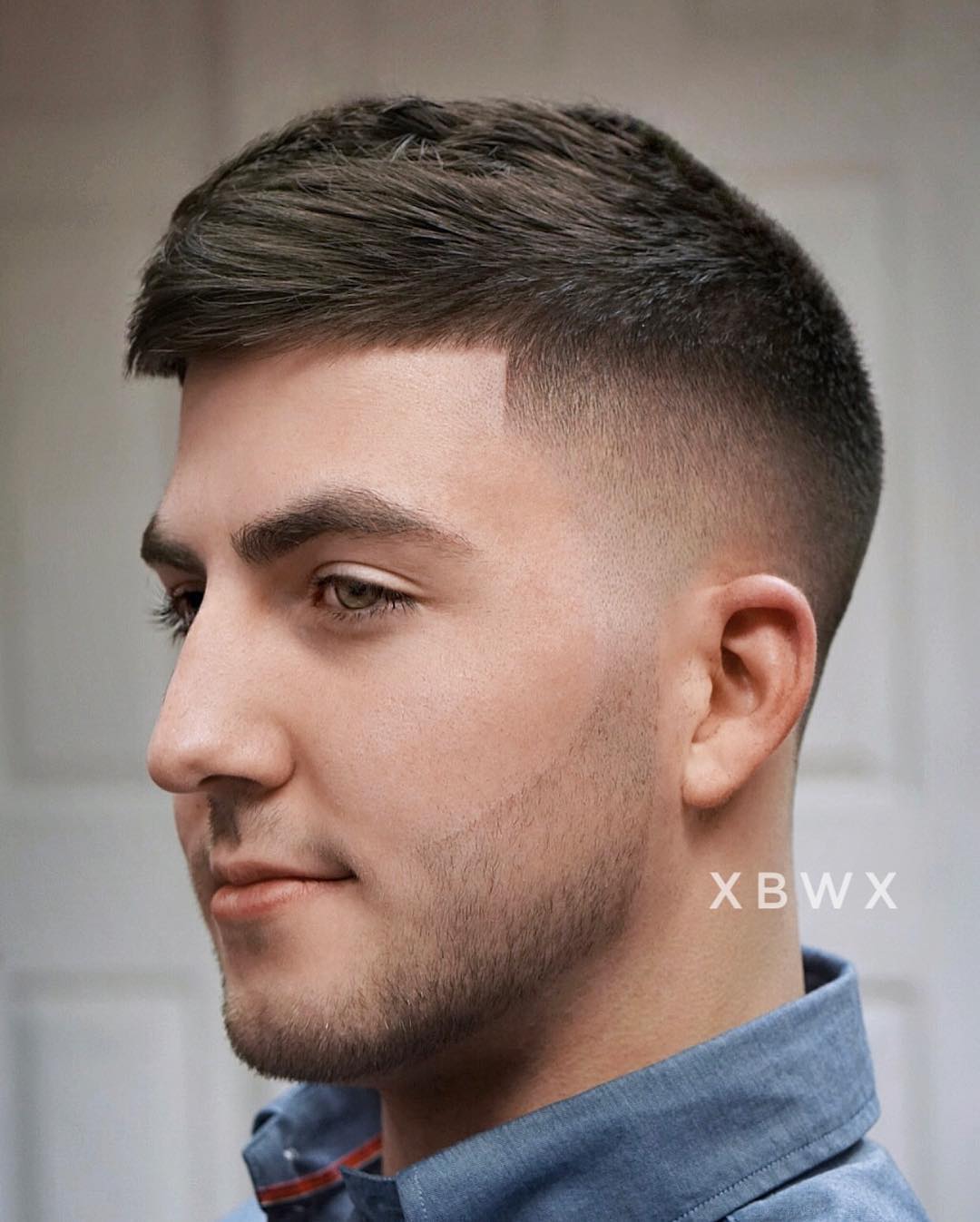 Here's a beautiful example of how a fade haircut focuses attention on the rest of hair and makes it look extra thick. This mid fade haircut goes very short at the edges but only down to the skin at the sideburns. Most mid fades drop down to allow some length around the crown though some follow a straighter line for a bold effect. This is a very cool short haircut for men that can take you from work to the gym to the club.
3. High Fade Haircut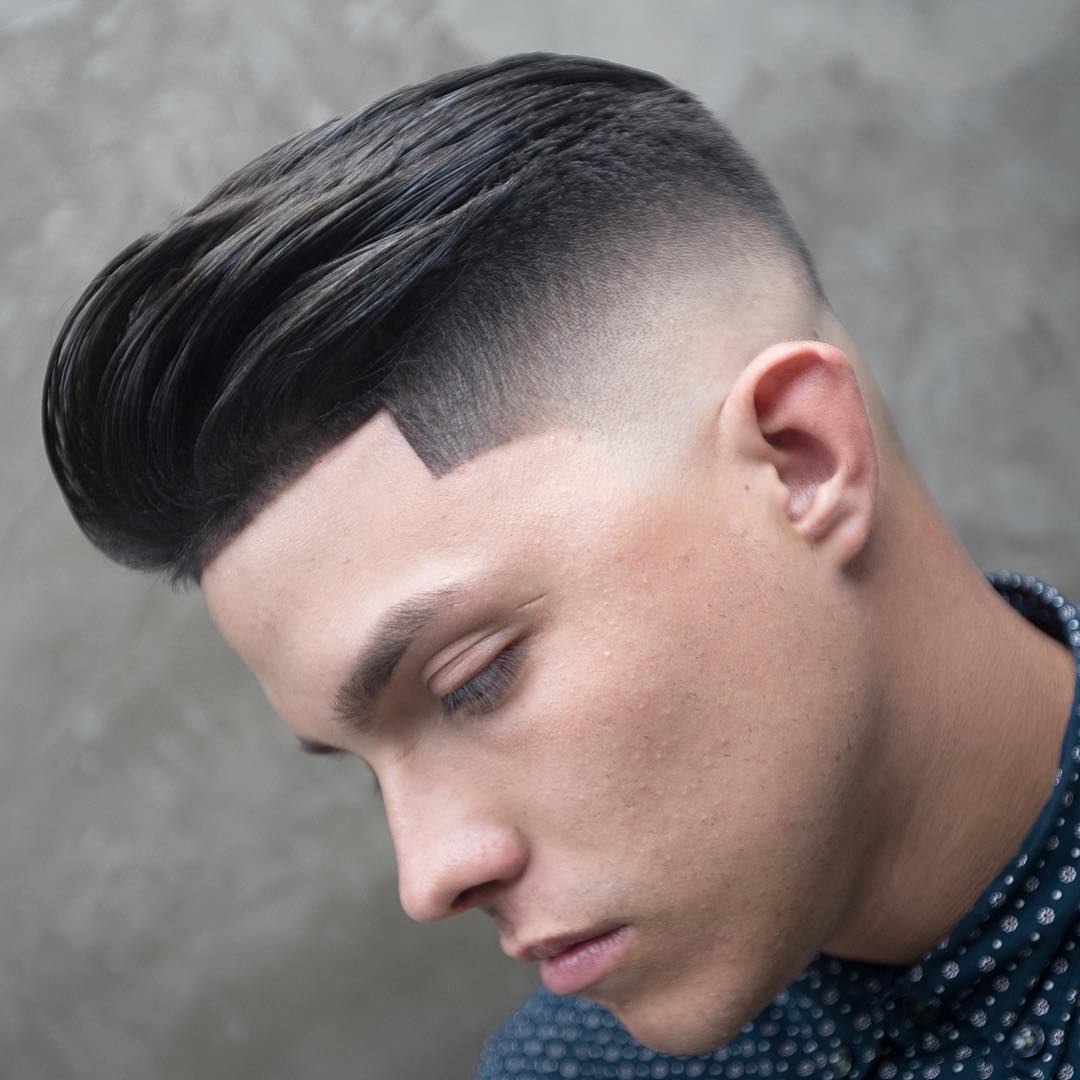 As the name indicates, high fade haircuts start up high on the head. This fade is an extension of the line up, beginning above the temple. This type of fade haircut works really well for slicked back styles like this textured sweep back or pompadours.
4. Taper Fade Haircut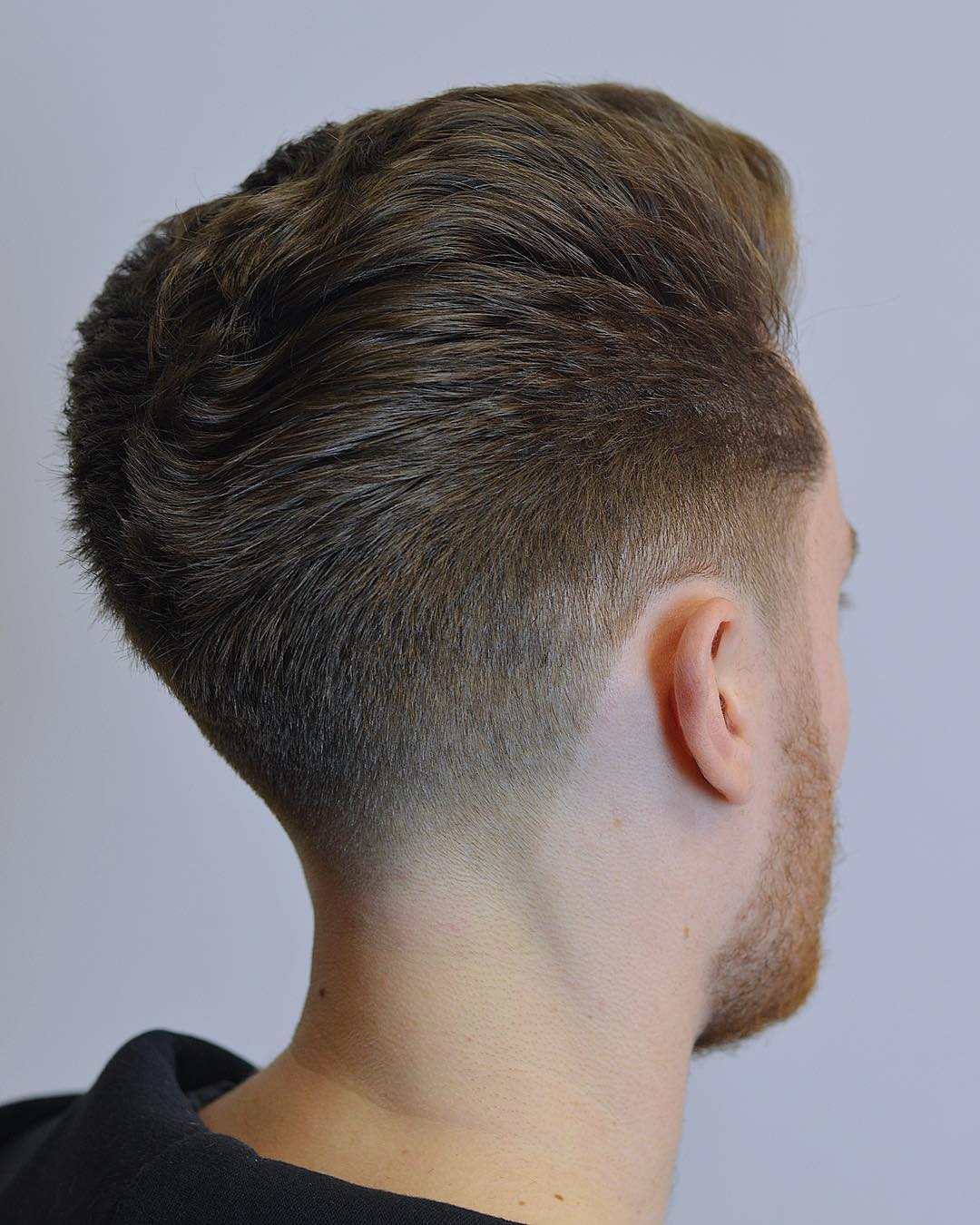 The taper fade haircut splits the difference between a scissor cut taper and a clipper cut fade. The result is in a clean cut finish that is slightly longer than a fade.
5. Short Hair Fade Haircut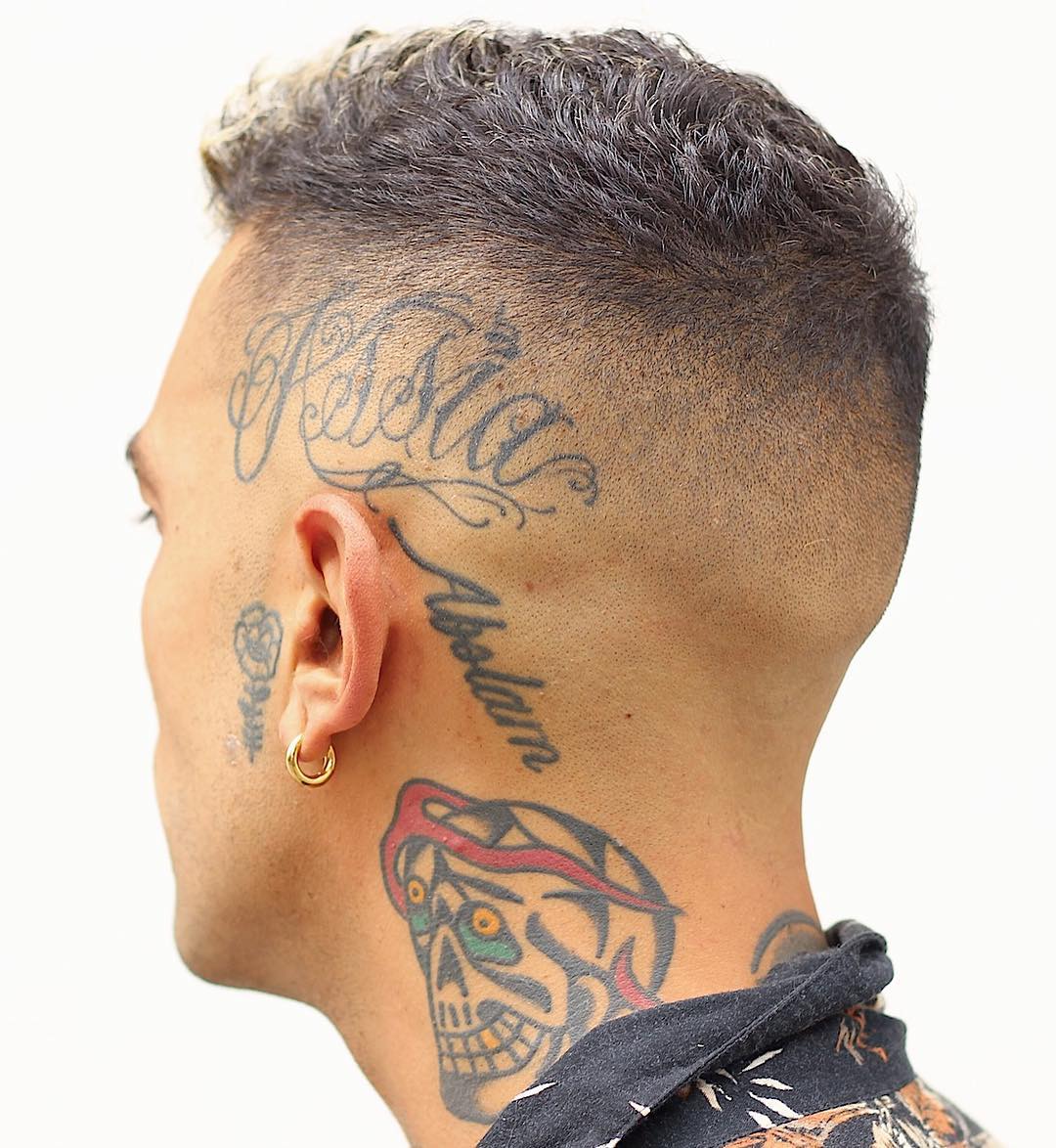 Fades can be added to any type or length of hair. For a stylish look that couldn't be easier, try this high fade with a short textured crop. Work a little bit of a clay or other texture enhancing hair product through hair with fingers to style.
6. Medium Hair Fade Haircut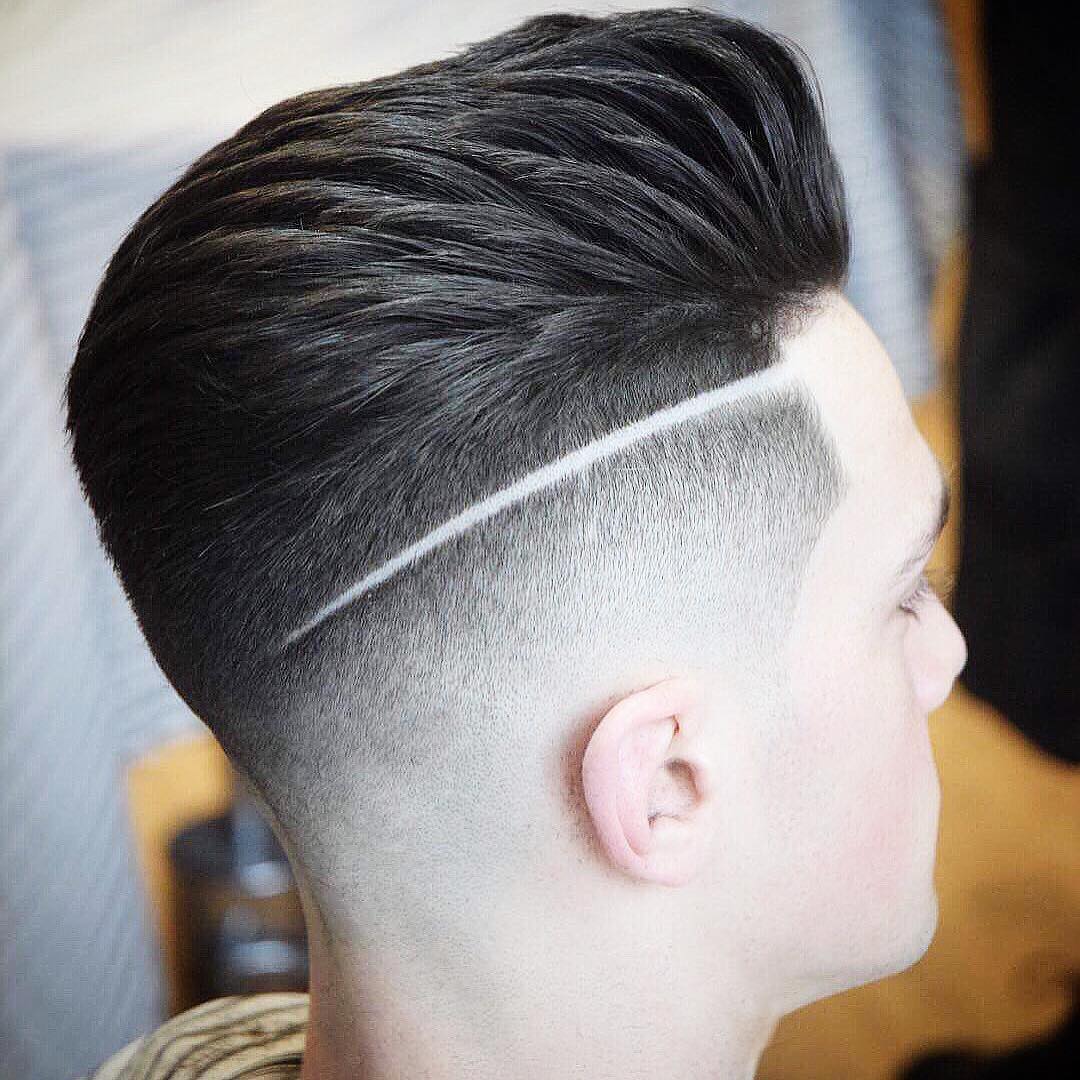 Textured styling and a shaved line add a modern update to this classic pompadour fade haircut. The contrast between dark hair and pale skin show off the blur of the fade and precise hair design.
7. Longer Hair Fade Haircut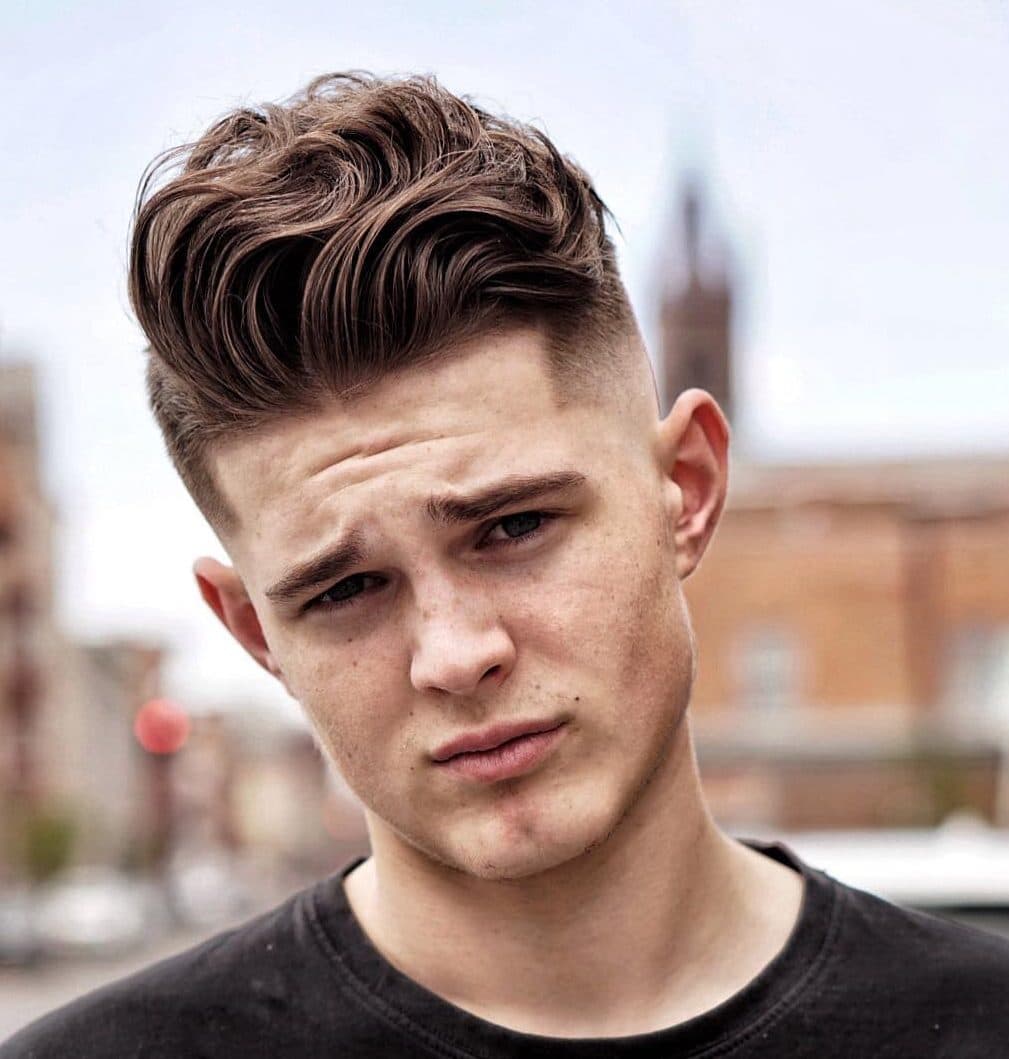 Fade haircuts work with longer men's hair too. While man buns, braids and mohawks are an option for this cut, so is a longer slicked back look. This is a flattering look for all men but really works to elongate round face shapes.
8. Temp Fade Haircut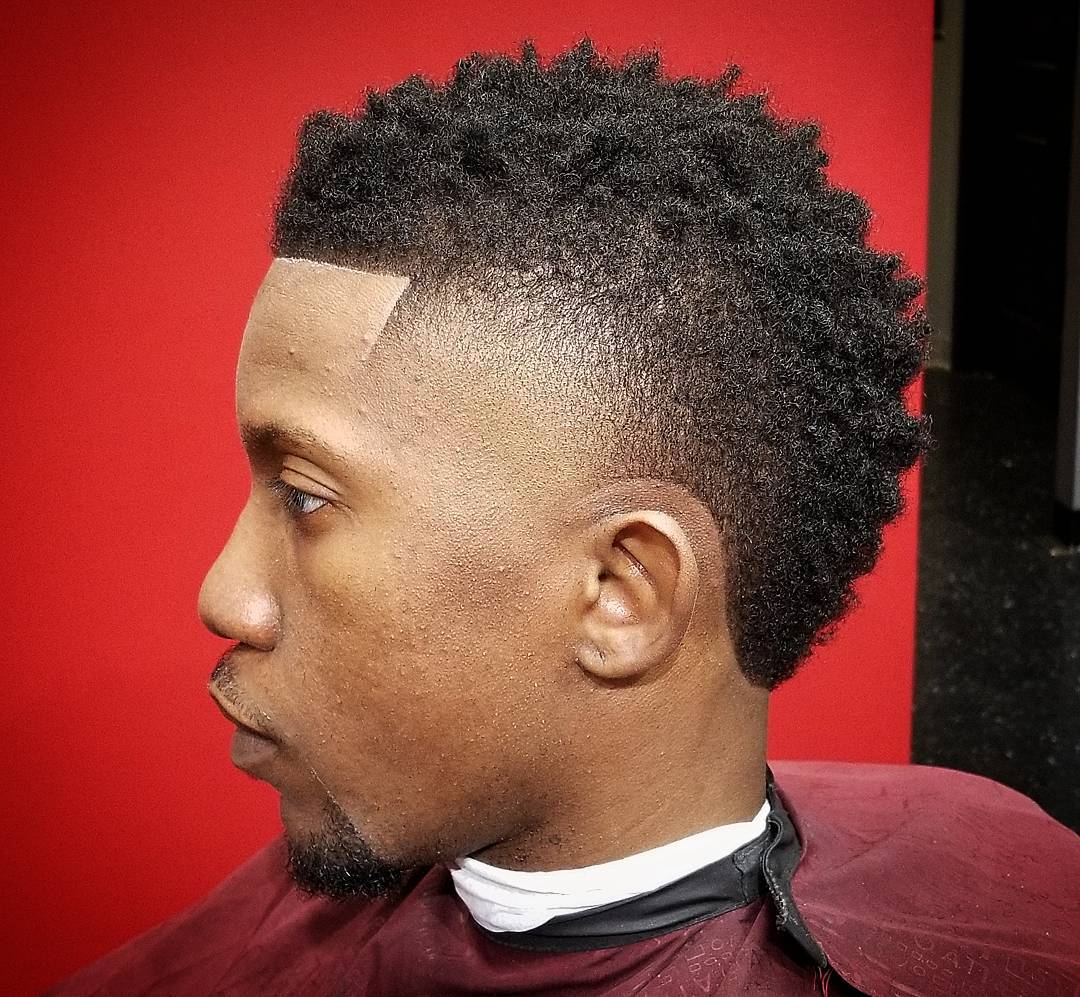 Short for temple fade, temp fades are the smallest type of fade but still have plenty of impact. This mohawk fade is usually cut a burst fade behind the ear but this temp fade creates the same profile.
9. Bald Fade Haircut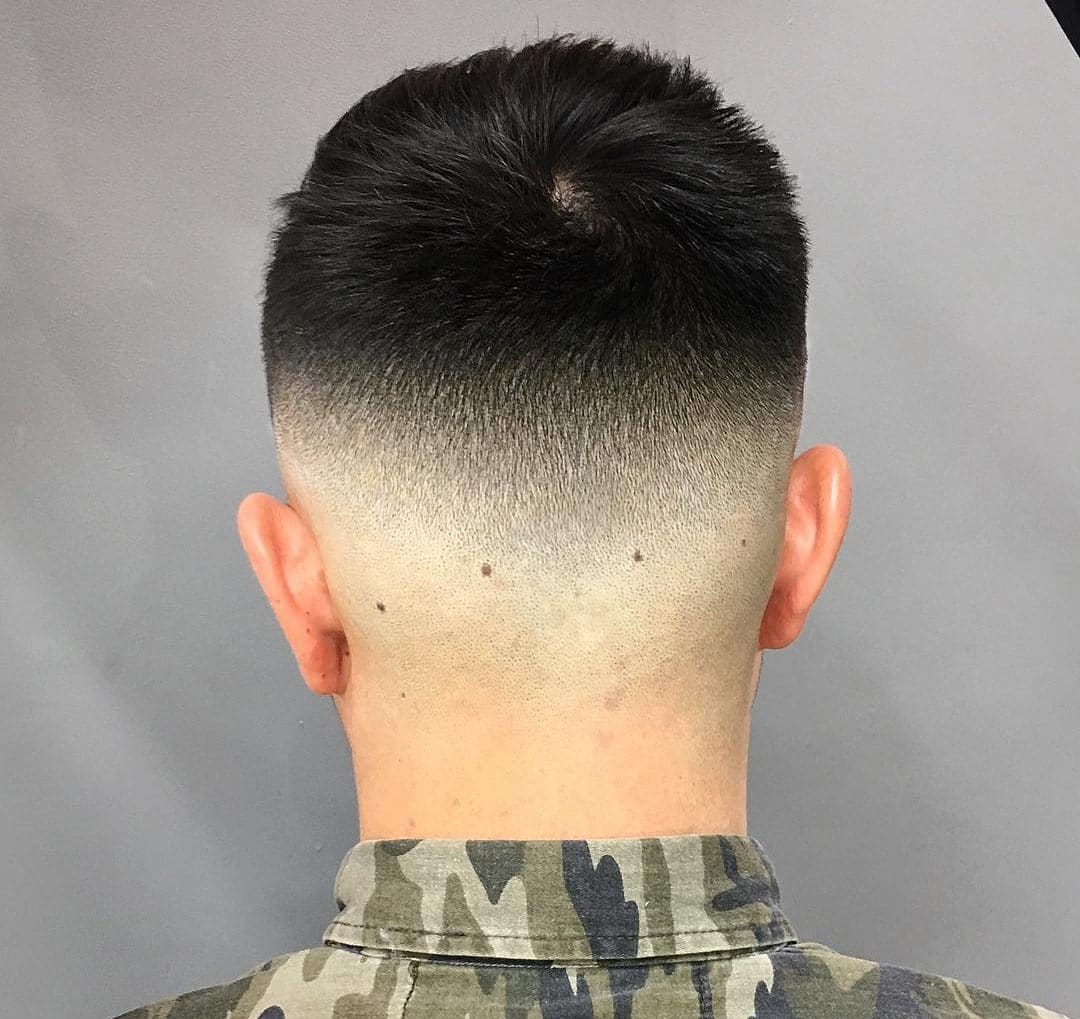 The bald fade goes by many names, including the skin, razor and zero fade. It goes all the way down to the skin to create a new hairline whether it's high, medium or low.
10. Skin Fade Haircut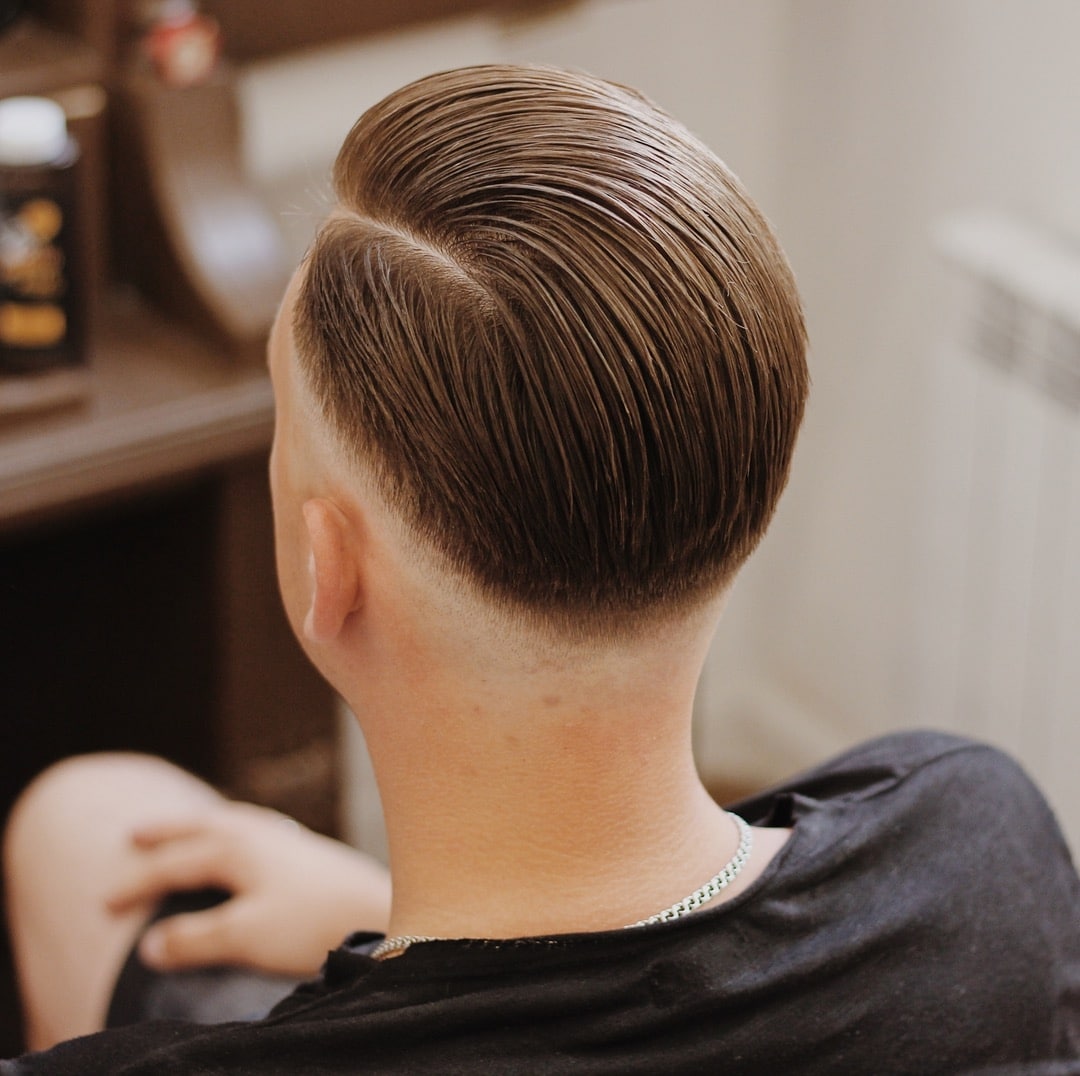 This classic side part hairstyle with a low skin fade could be straight out of Boardwalk Empire. Get the look with Layrite Matte Cream Pomade and a comb.
11. Drop Fade Haircut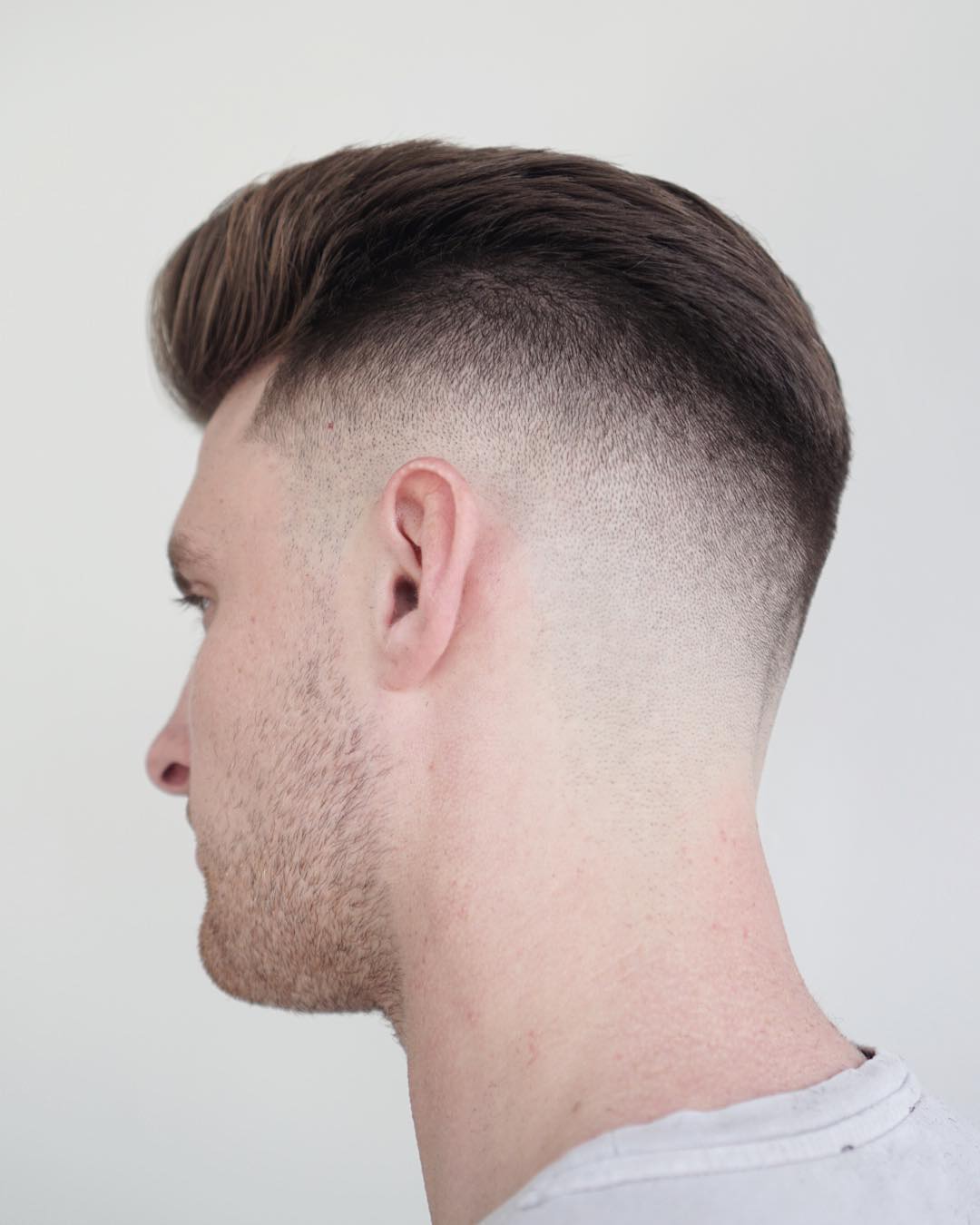 The drop fade, you guessed it, drops down at the back of the head. Like other fades, the drop fade can be low, medium or high. This high drop fade haircut with a pomp hairstyle has a cool shape from the side and the back.
12. Faded Crop Haircut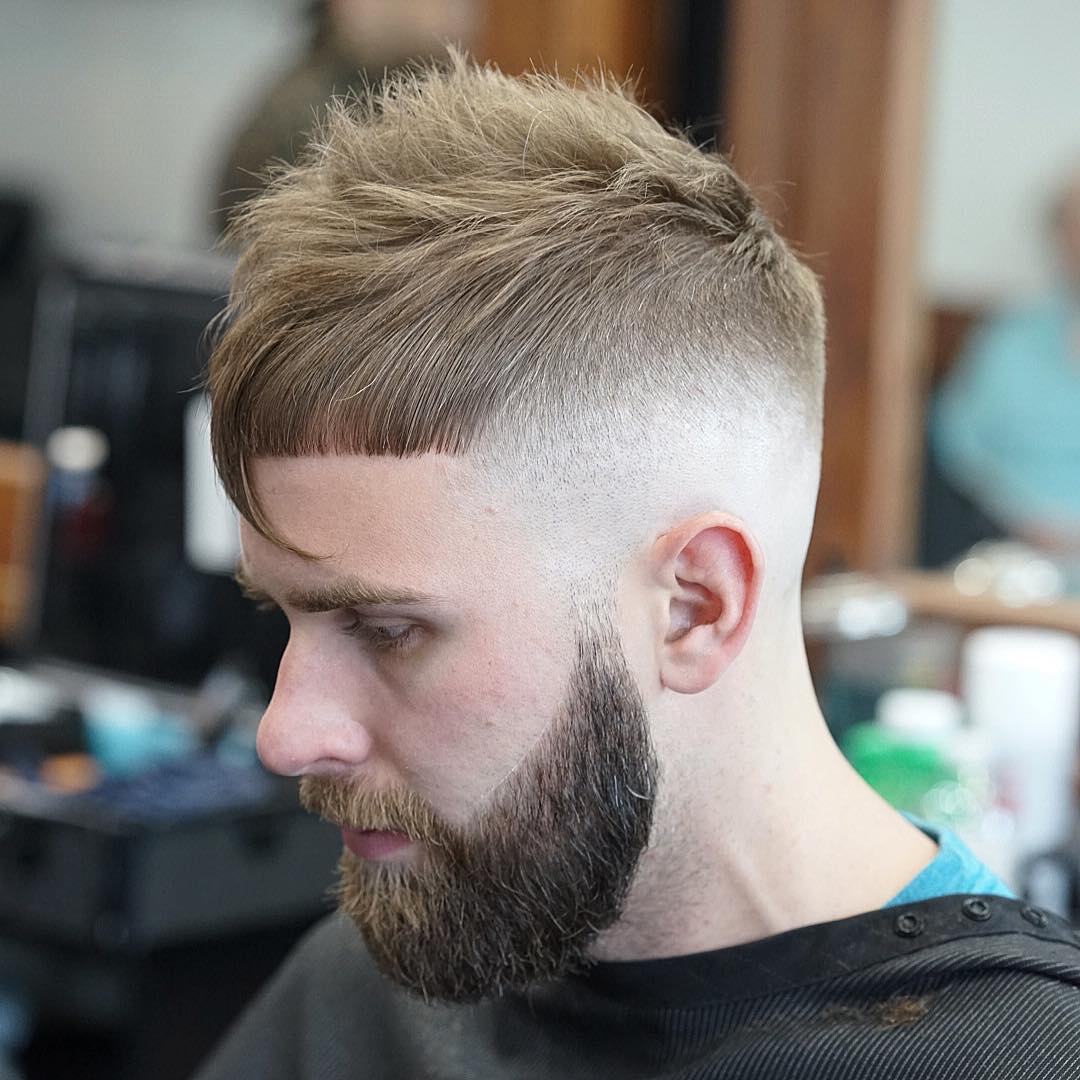 The textured crop is a hot men's hair trend in the North America and Europe. This cool short haircut for men can be cut and styled in many different ways but the sides and back are always faded.
13. Heavy Crop Fade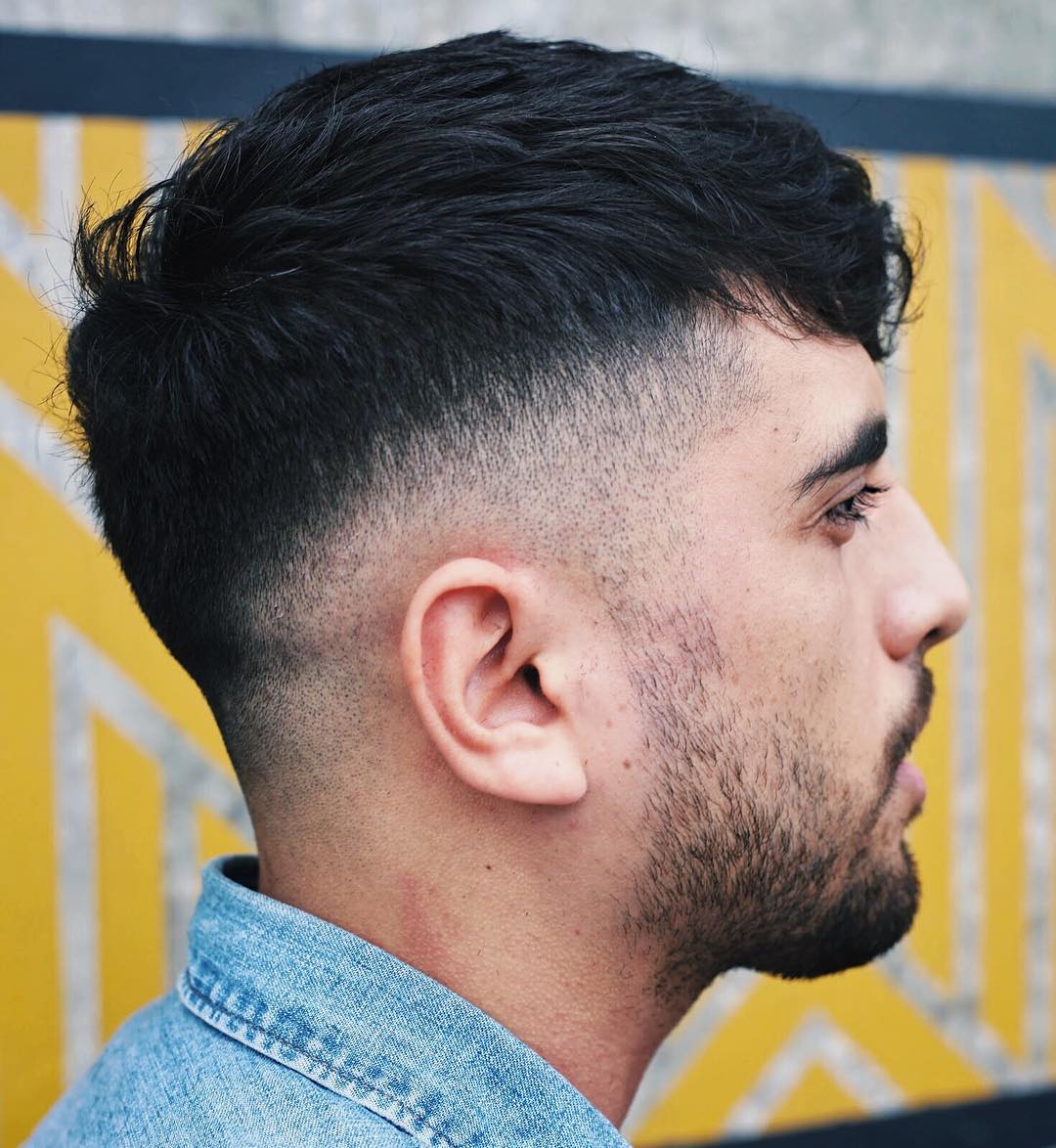 Here's a version of the faded crop for guys with thick hair. Hair on top is heavier but still cut to enhance texture and reduce weight. A low skin fade creates an angled hairline.

14. Comb Over Fade Haircut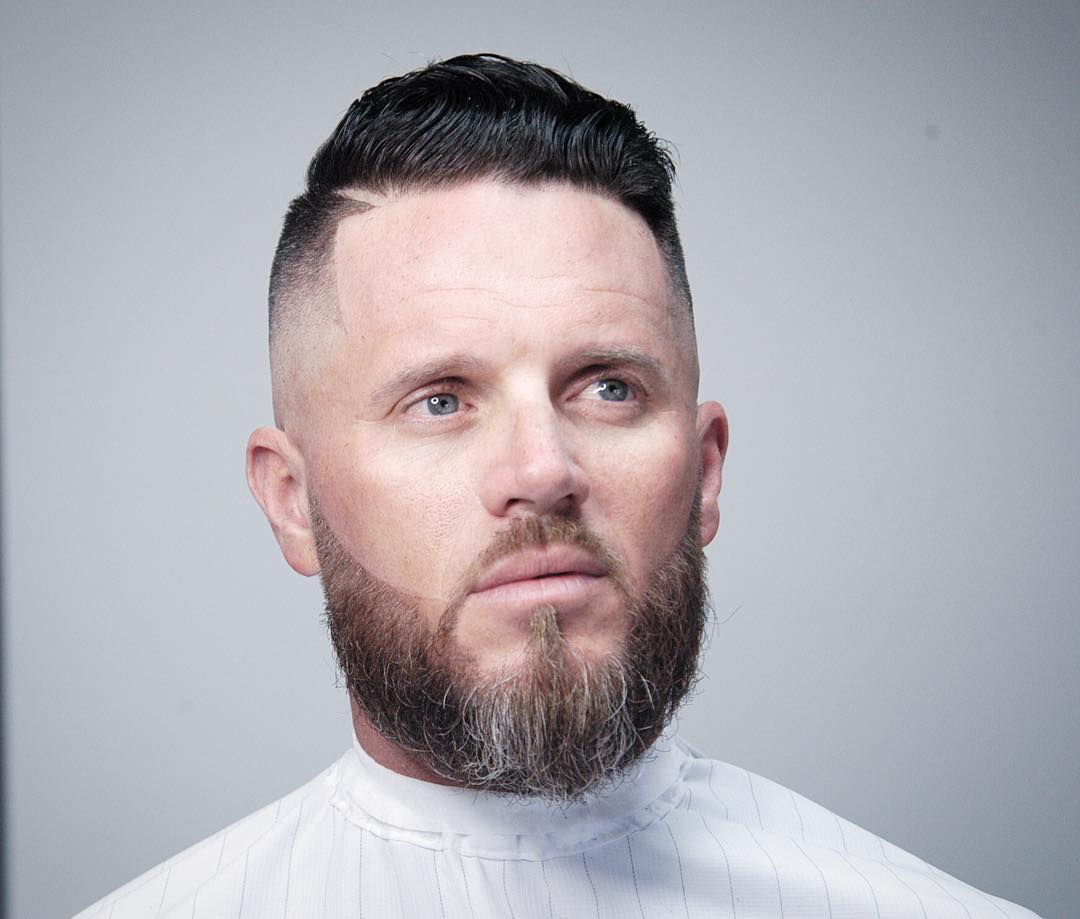 The comb over fade is cut to create a side part hairstyle. This version features a high fade and hard part but it can also be worn with a medium fade and combed part.
15. Fade Haircut With Design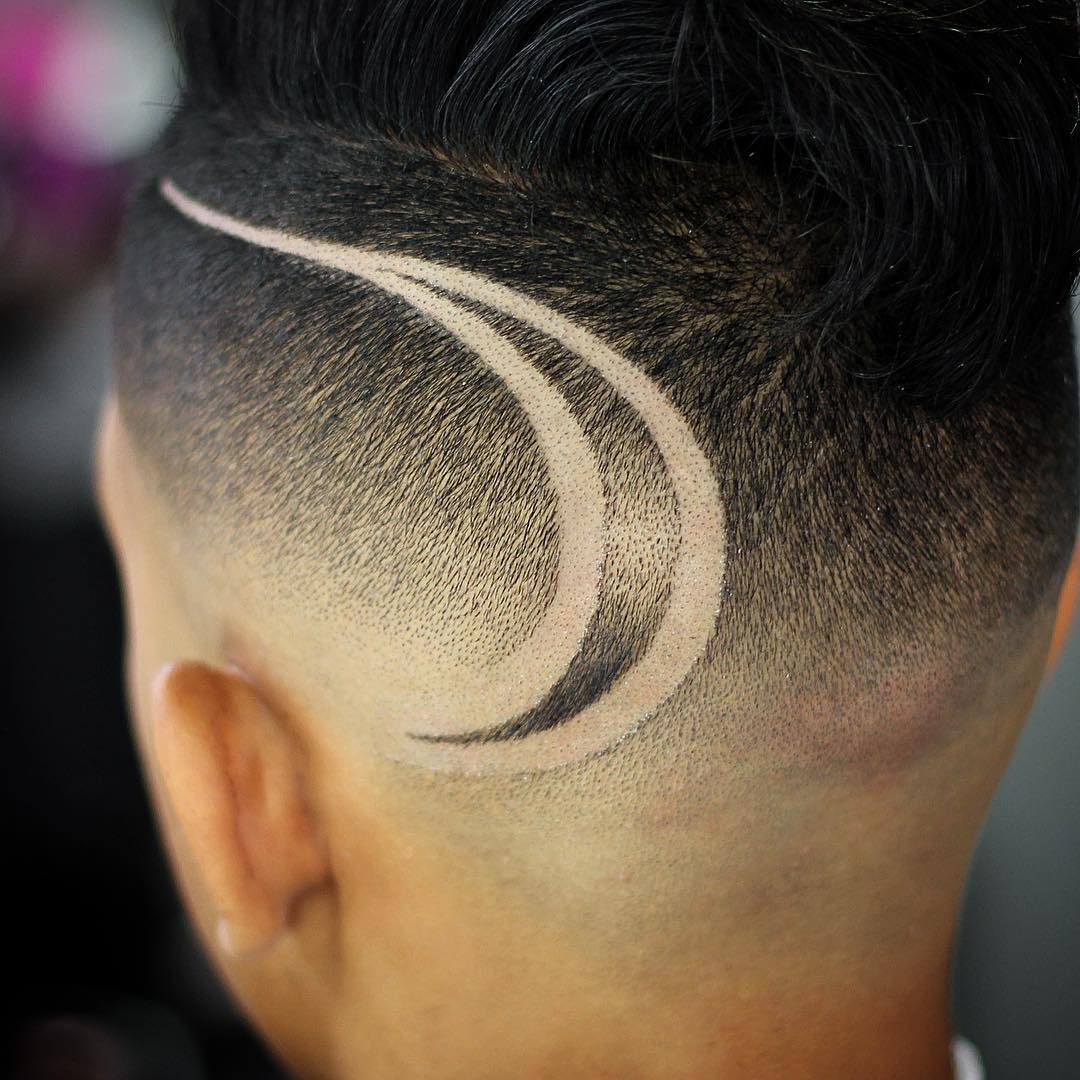 Fades create a canvas for shaved hair designs. These hair tattoos can be anything you want them to be from intricate faces to team logos to shaved lines. Hair designs can cover the back of the head, one side or just the neckline. Get creative with it.
16. 
Mohawk Fade Haircut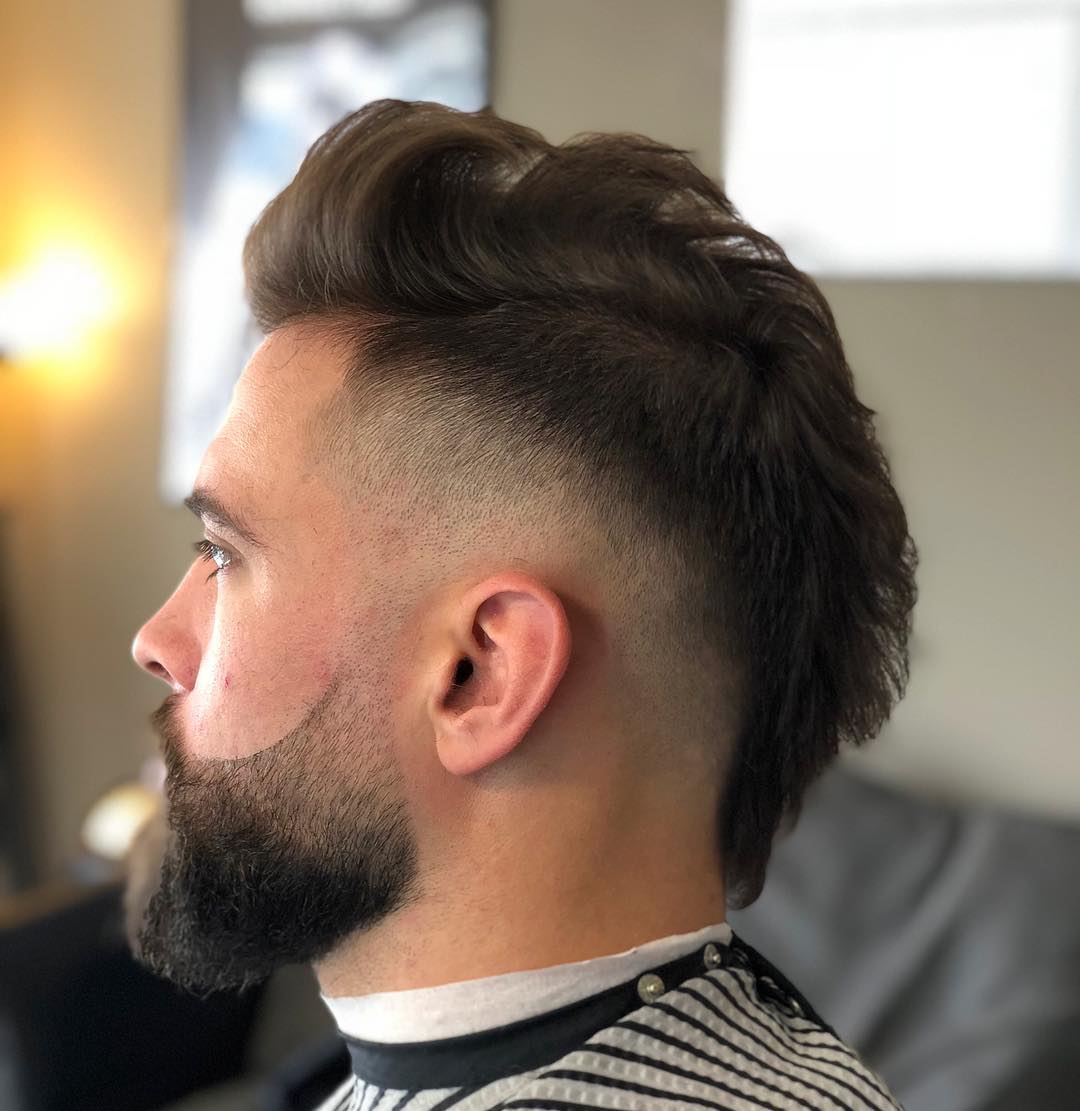 This burst fade mohawk looks cool with straight hair spiked up or curly hair that stands up on its own.
17. Side Part Fade Haircut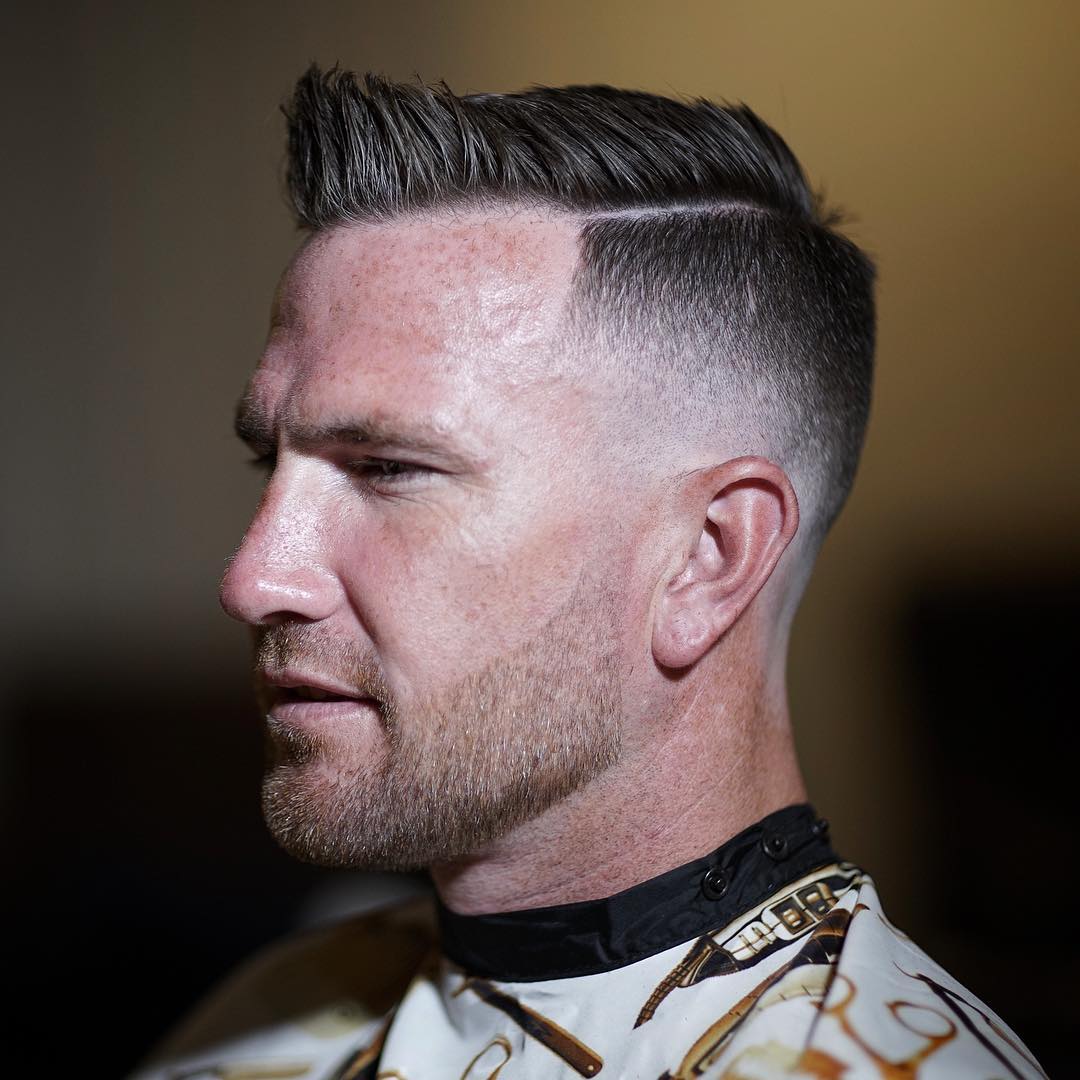 Fade haircuts can be classic, modern or somewhere in between. This short and clean cut side part hairstyle is appropriate for work but looks cool anywhere you go.
18. Afro Fade Haircut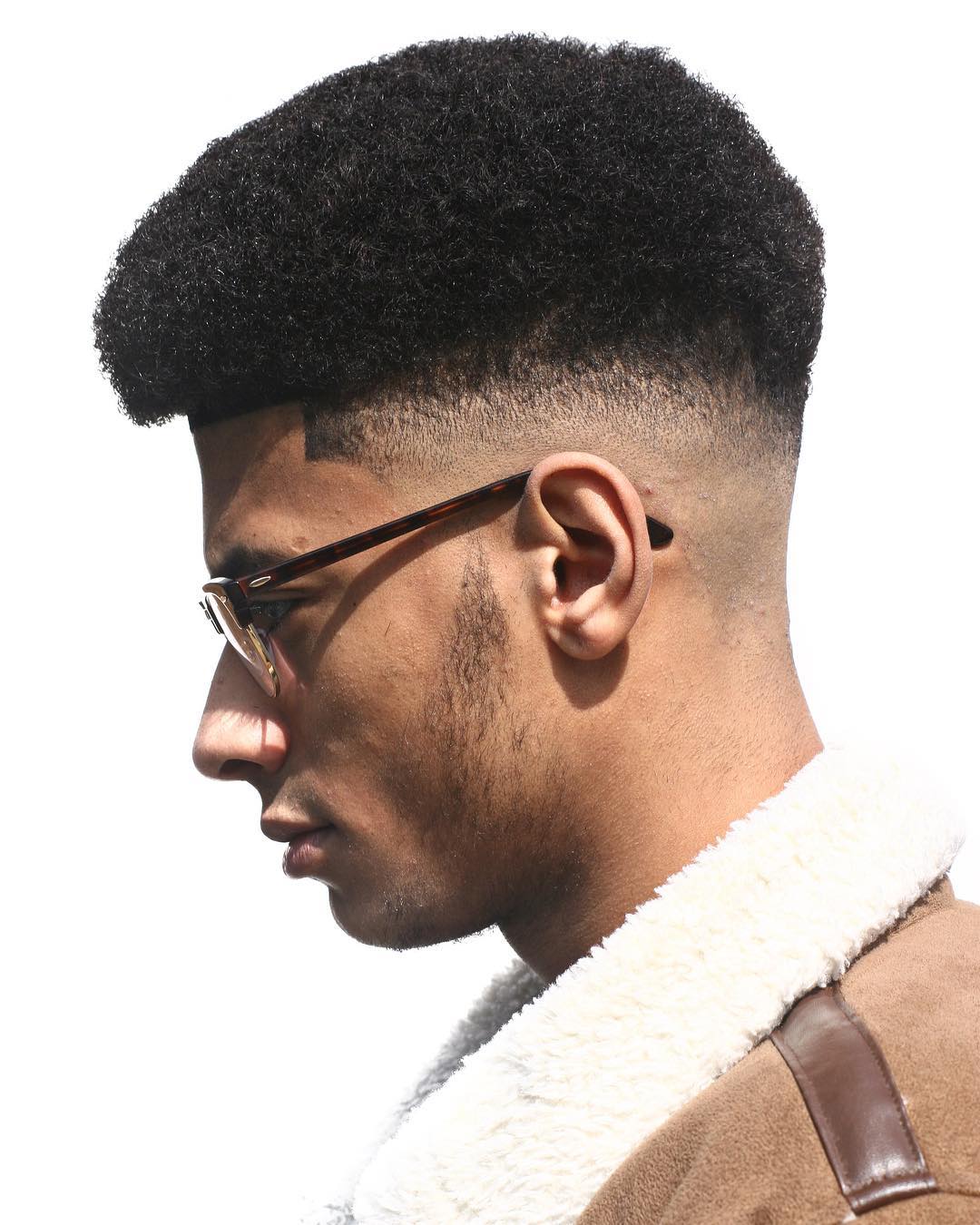 Adding a fade to an afro adds a modern touch to the retro style. This streamlined shape also updates the look for the new millennium.
19. Military Haircut Fade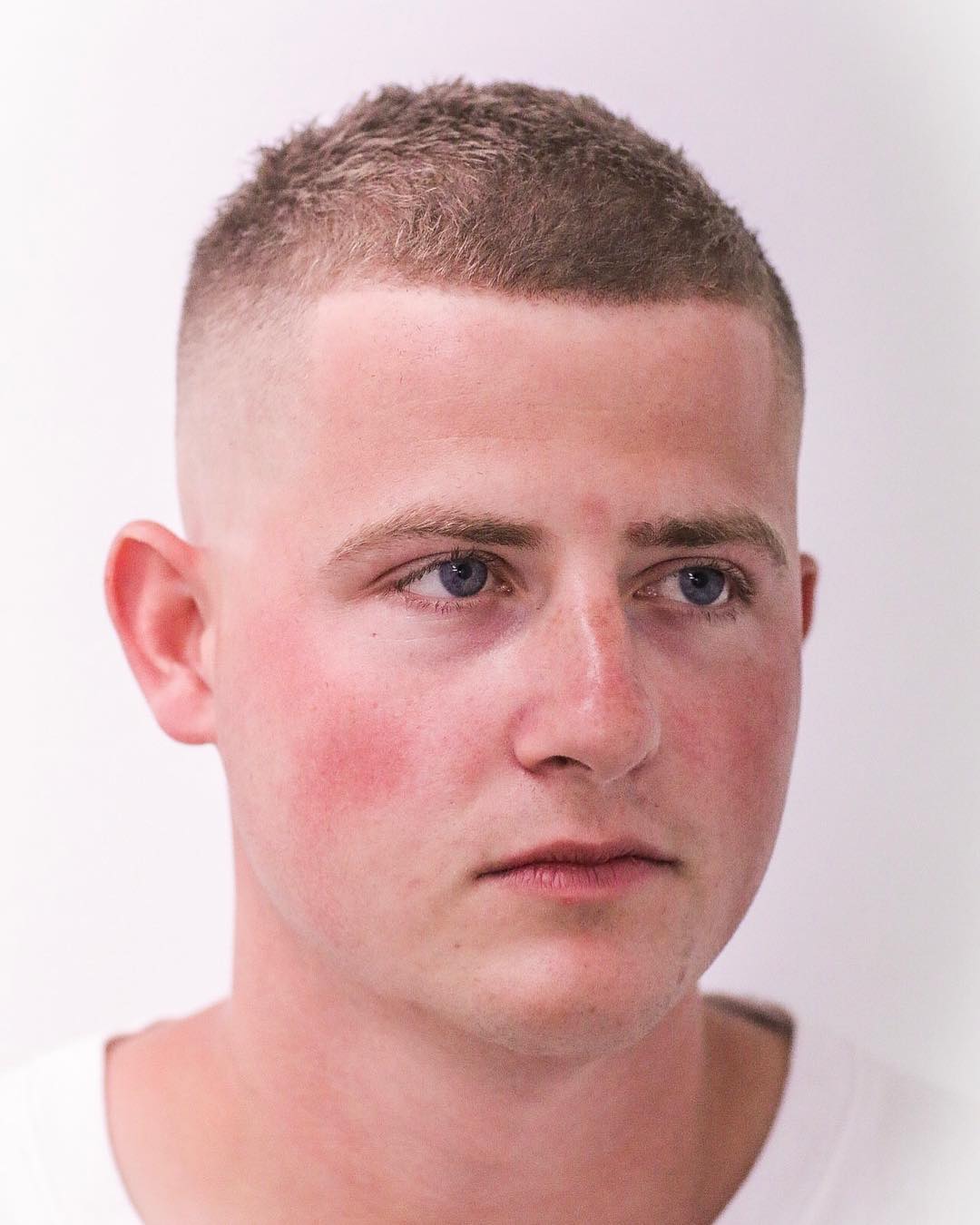 Ultra short military haircuts are popular with all kinds of men. Fades have always been a military look and this buzz cut fade looks good in and out of the uniform.
20. High Top Fade Haircut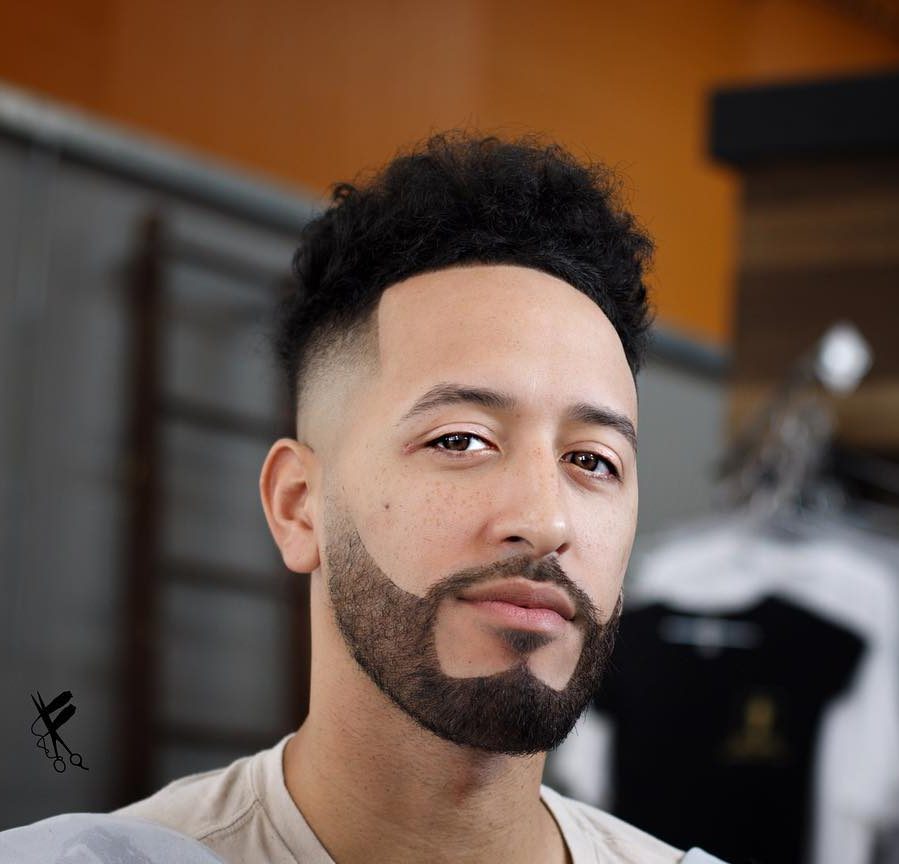 Close cut sides make a high top look even higher. Instead of the classic flat top, this high top fade features a rounded profile and curly edge with that signature height.
21. Curly Hair Fade Haircut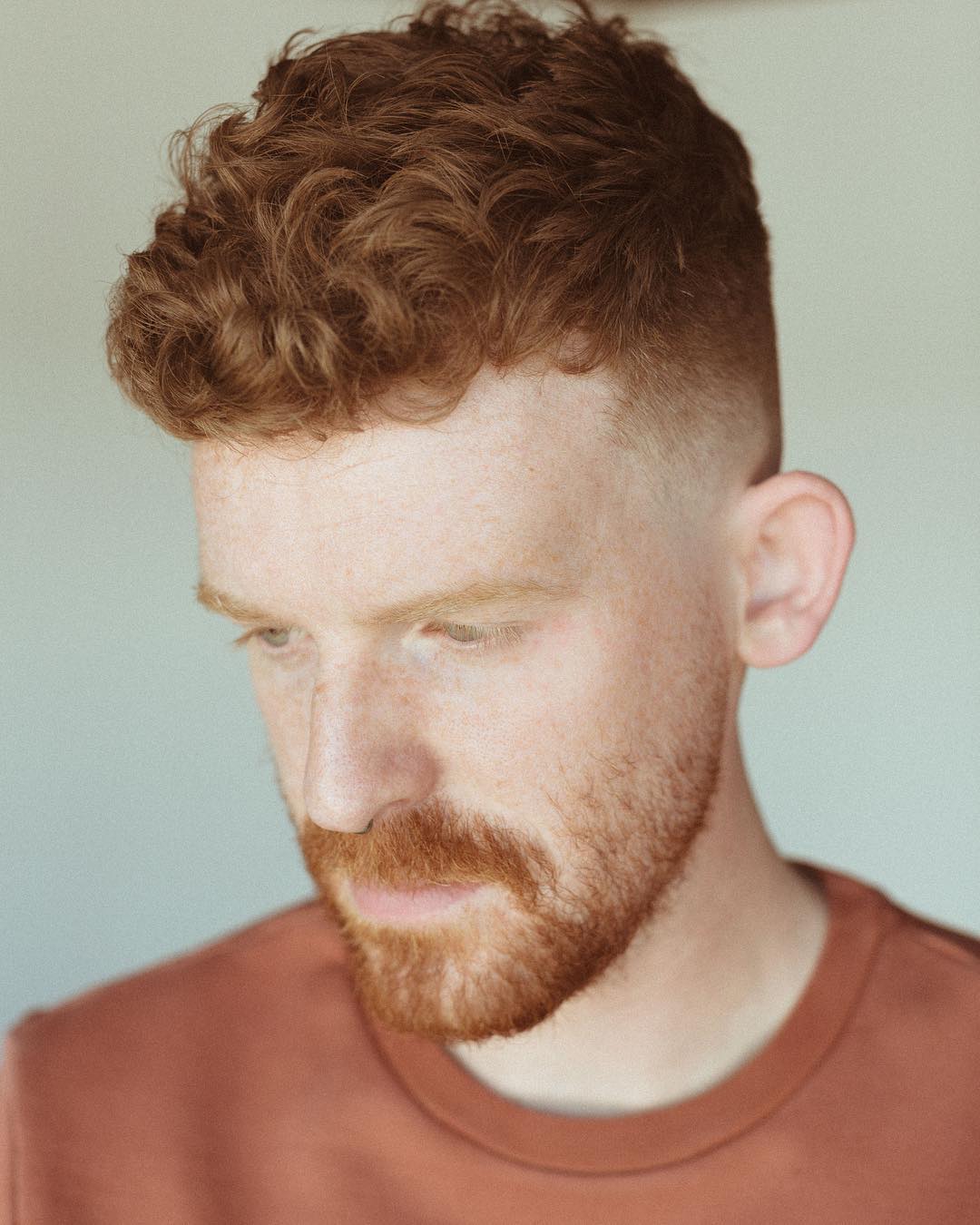 Fade haircuts makes it easier to showcase the natural texture of curly hair. When the sides and back are cut short, it is easier to style curls on top.
22. Shadow Fade Haircut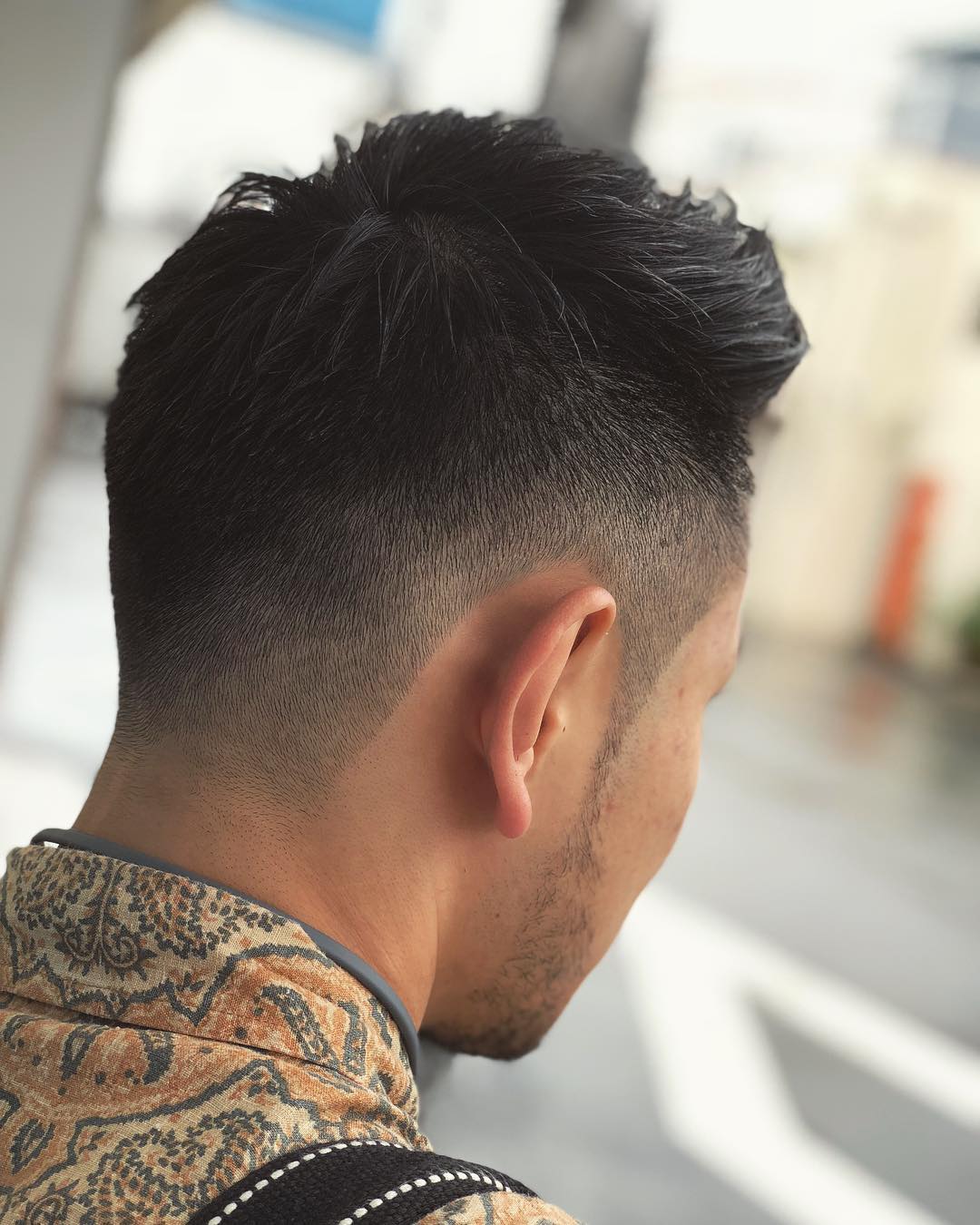 There are two kinds of fades, the skin fade and the shadow fade. The skin fade goes down to the skin while the shadow fade goes from short to shorter. Both blends can start low, medium, or high or keep the length on the sides light, medium, or dark. While many fades do go down to the skin, the shadow fade is an equally fresh look.
23. Fade Haircut With Waves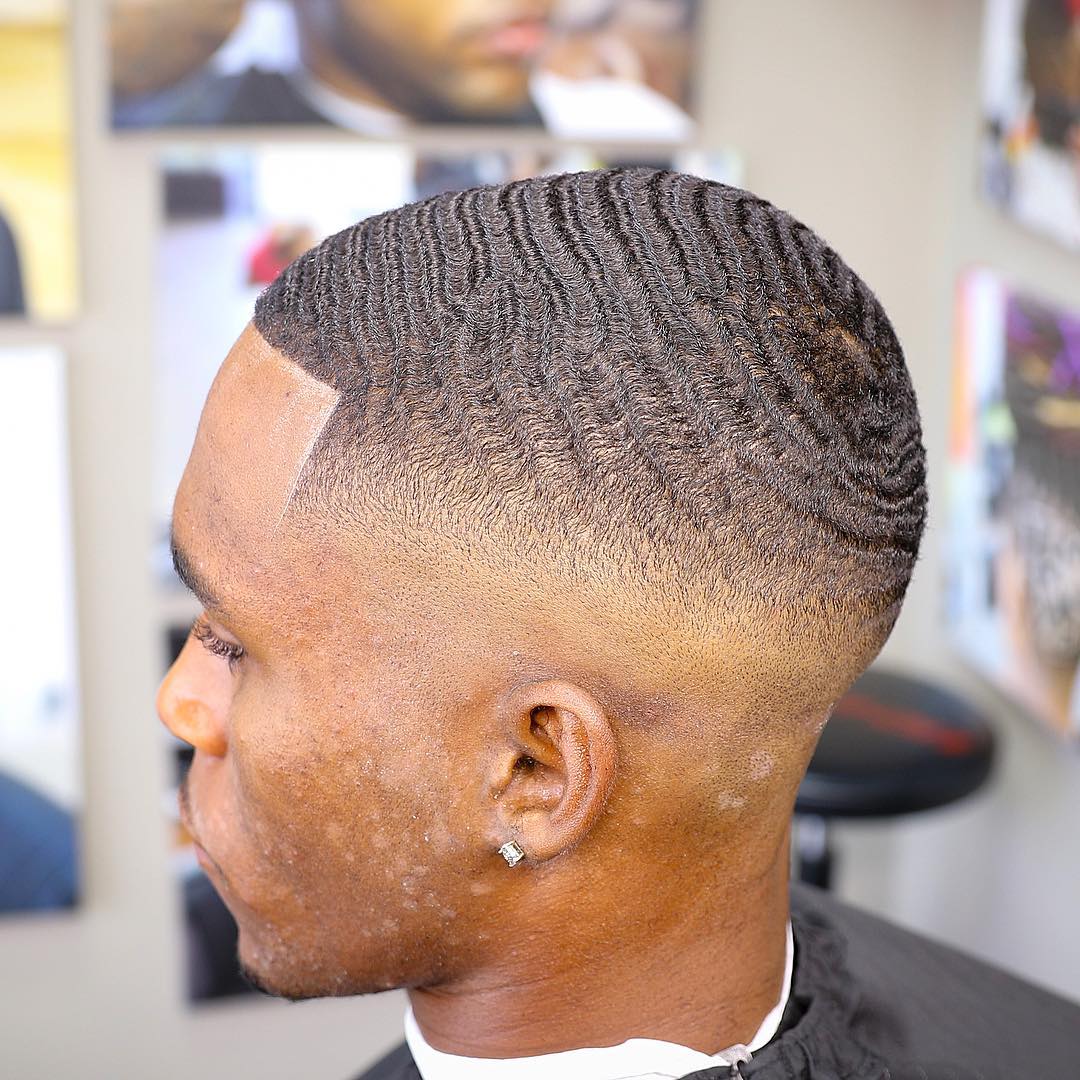 The waves haircut is a popular look for black men that can be worn with a fade or without for the full 360 waves.
24. Fade Haircut With Beard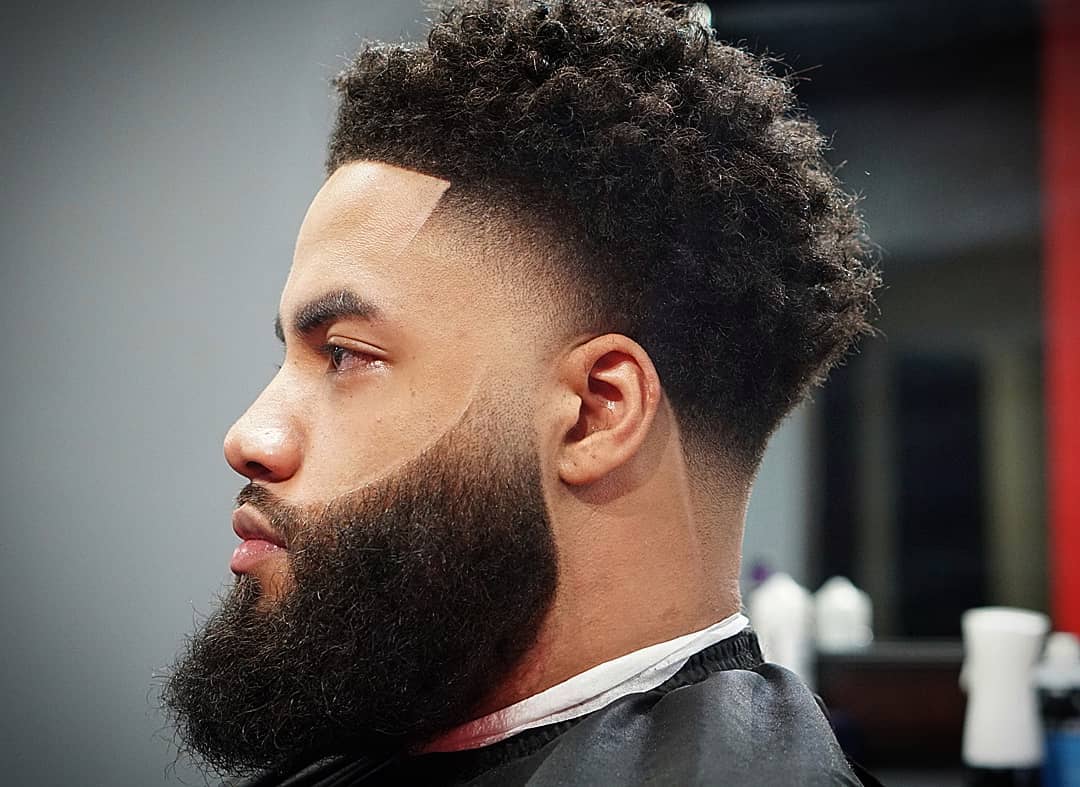 Fade haircuts and beards absolutely can be worn together. While the temple fade creates a disconnection between hair and facial hair, it also creates a smooth transition between the two. This works will all kinds of fades and all kinds of beards.
25. Fade Haircut With Line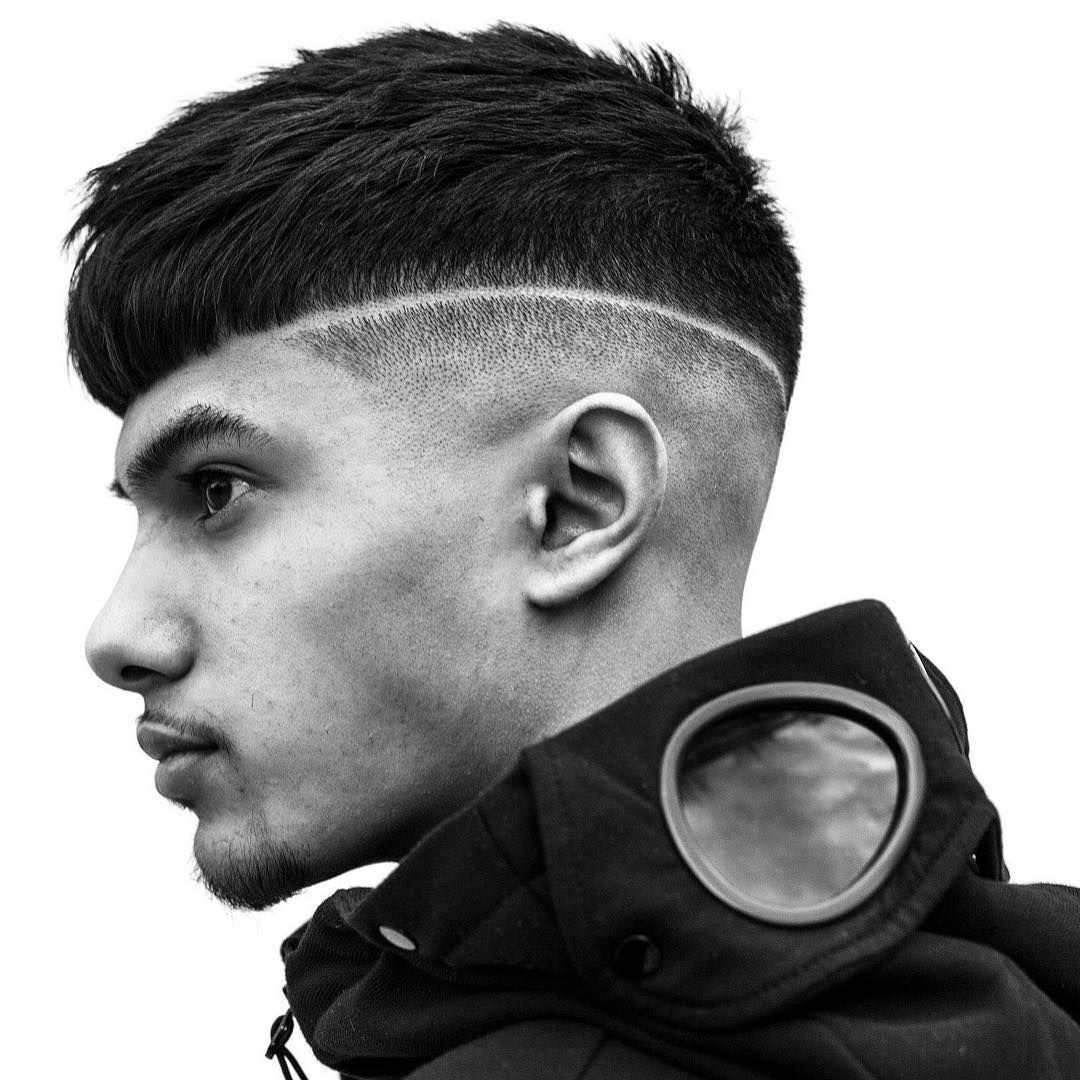 A shaved line is a such a simple hair design but creates a bold look that will make people look twice.
26. Blowout Fade Haircut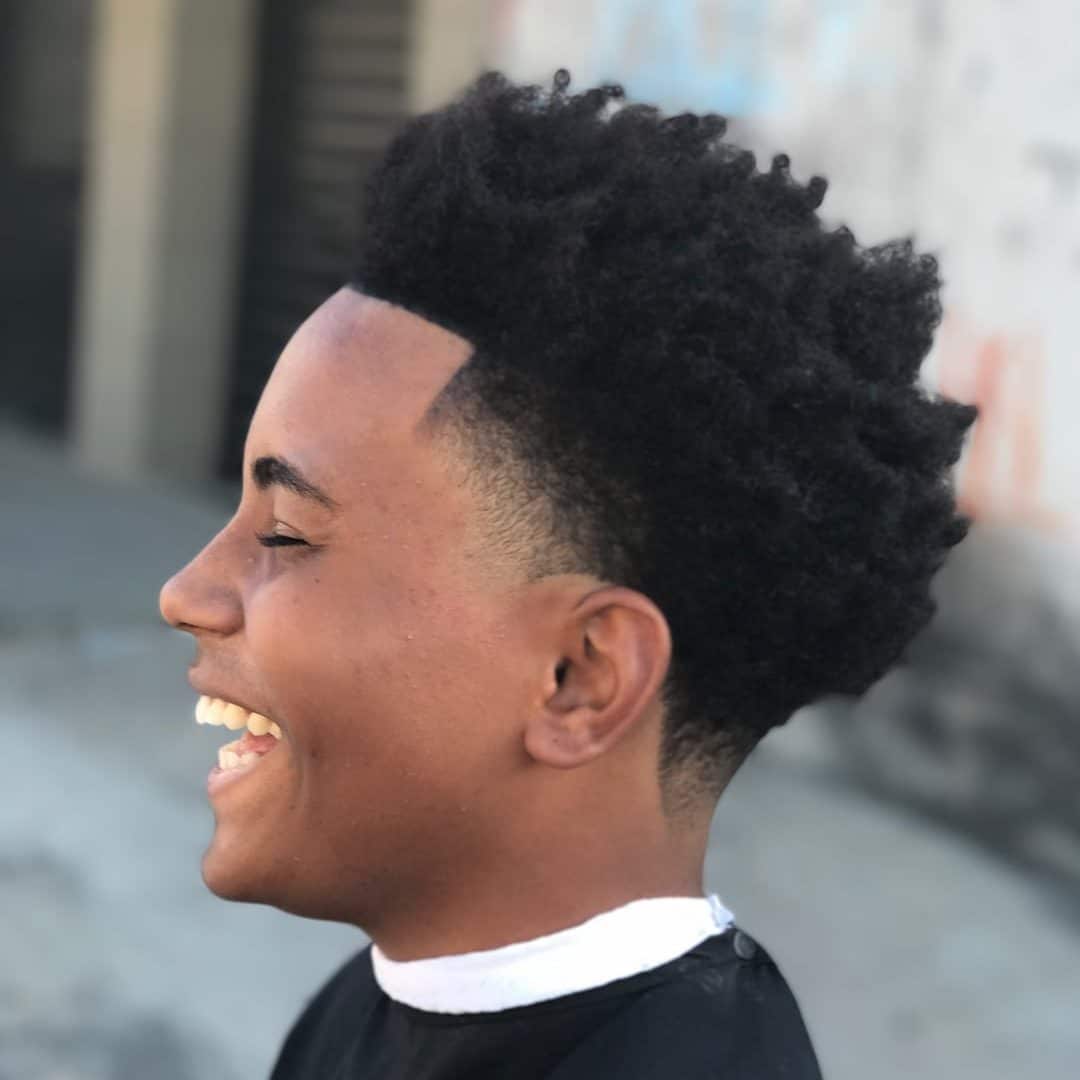 The blow out haircut combines medium length curls with a temple fade and neckline fade. The result is textured curls with clean cut edges.
27. Fohawk Fade Haircuts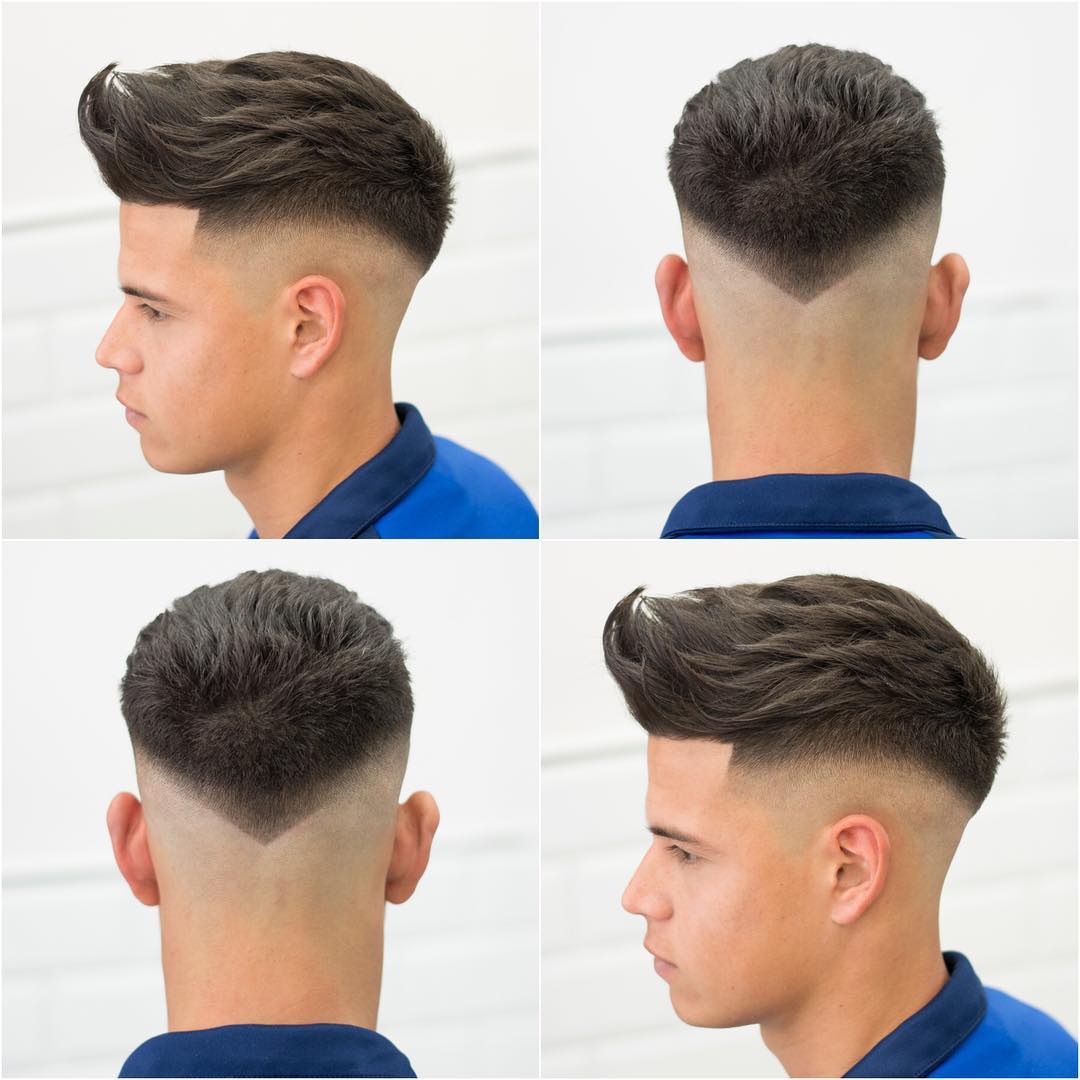 The fohawk is one of those haircuts that stays in style because it looks so good on so many people. This version adds hot looks for 2019 like textured styling and the V-shaped neckline.
28. Box Fade Haircut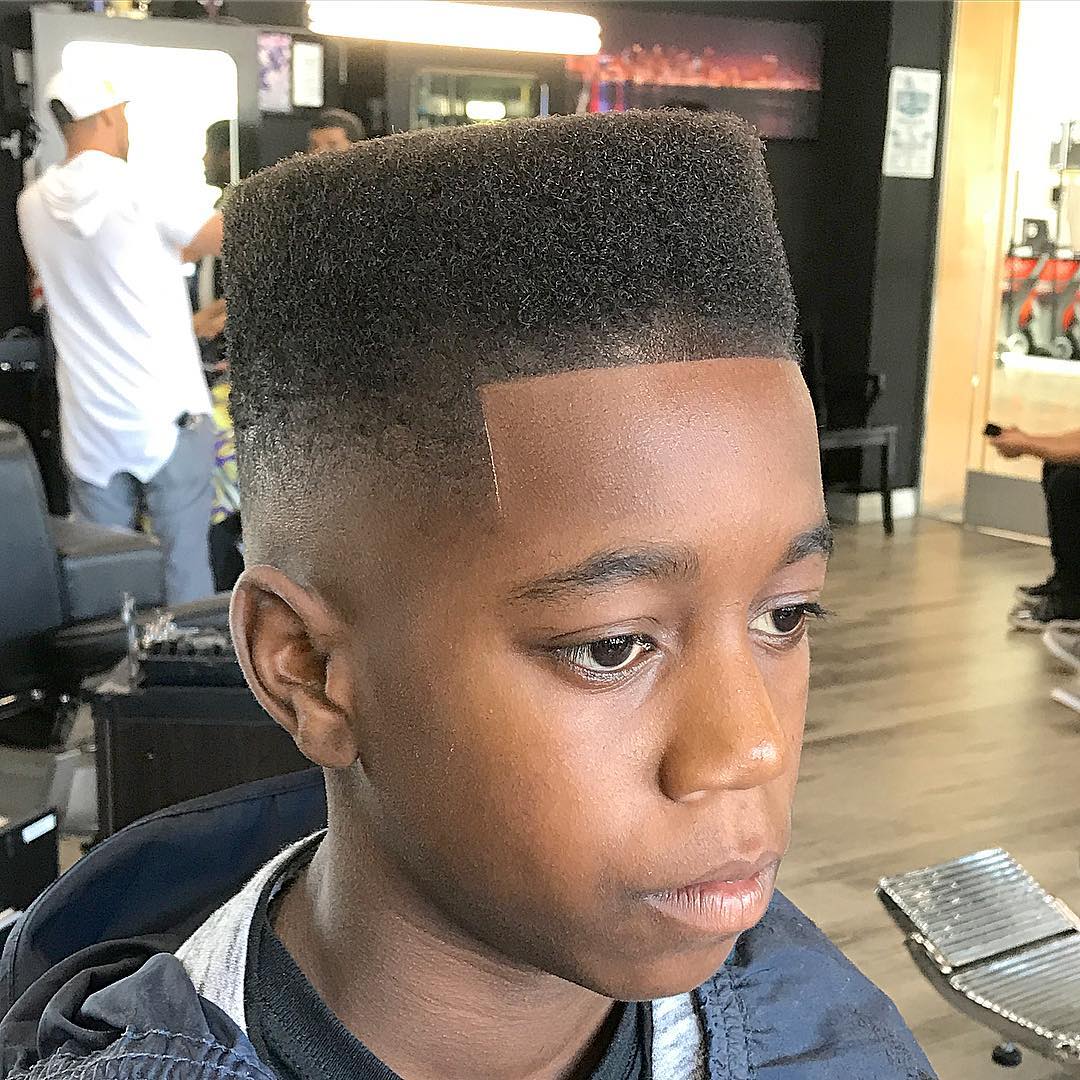 The box fade has a high fade hair looks like a box on the head.
29. Burst Fade Haircut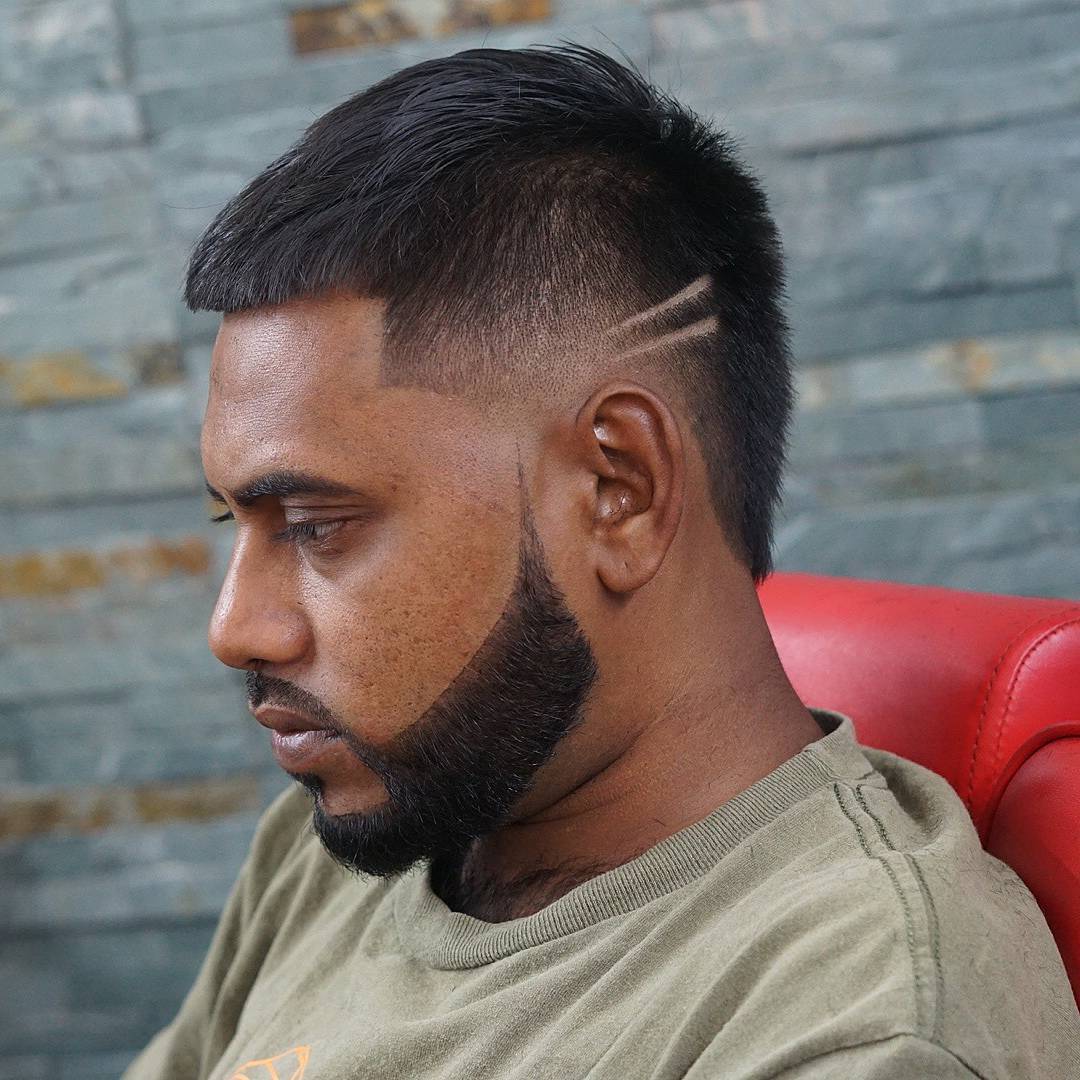 A burst fade on both sides creates a wide mohawk effect.
30. High And Tight Haircut Fade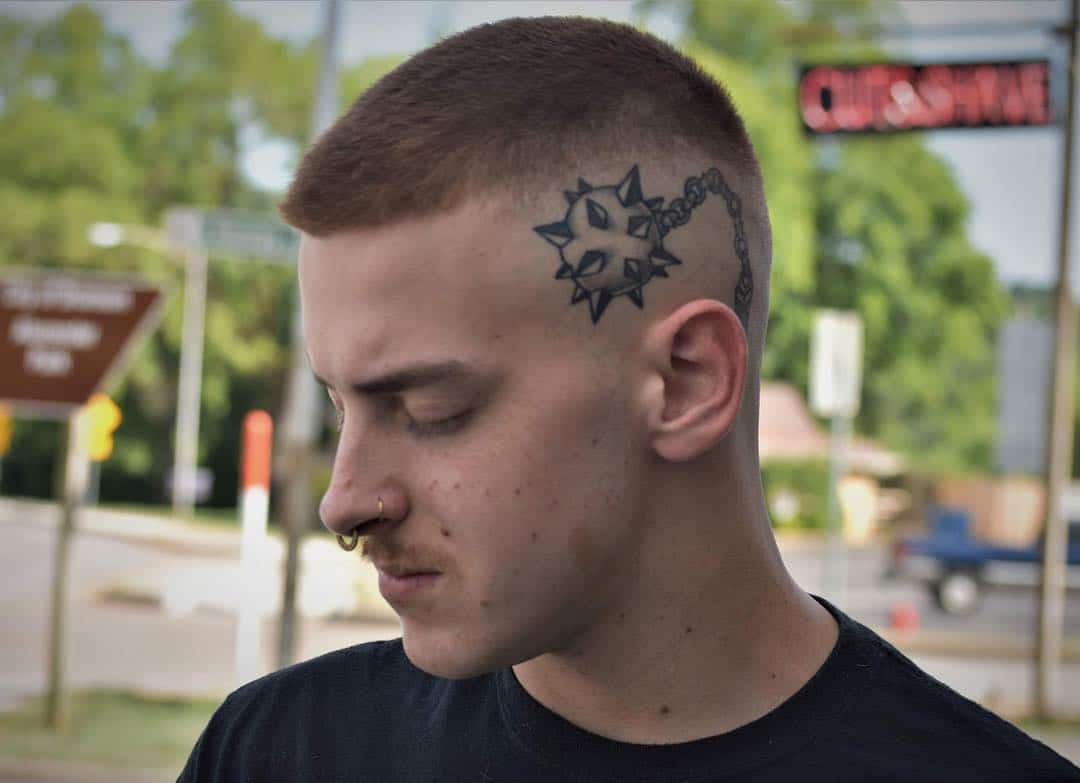 The high and tight is a military haircut that leaves short hair high on the head. It is a popular and easy to wear cut for straight, curly and black hair.
31. Fade Haircut With Braids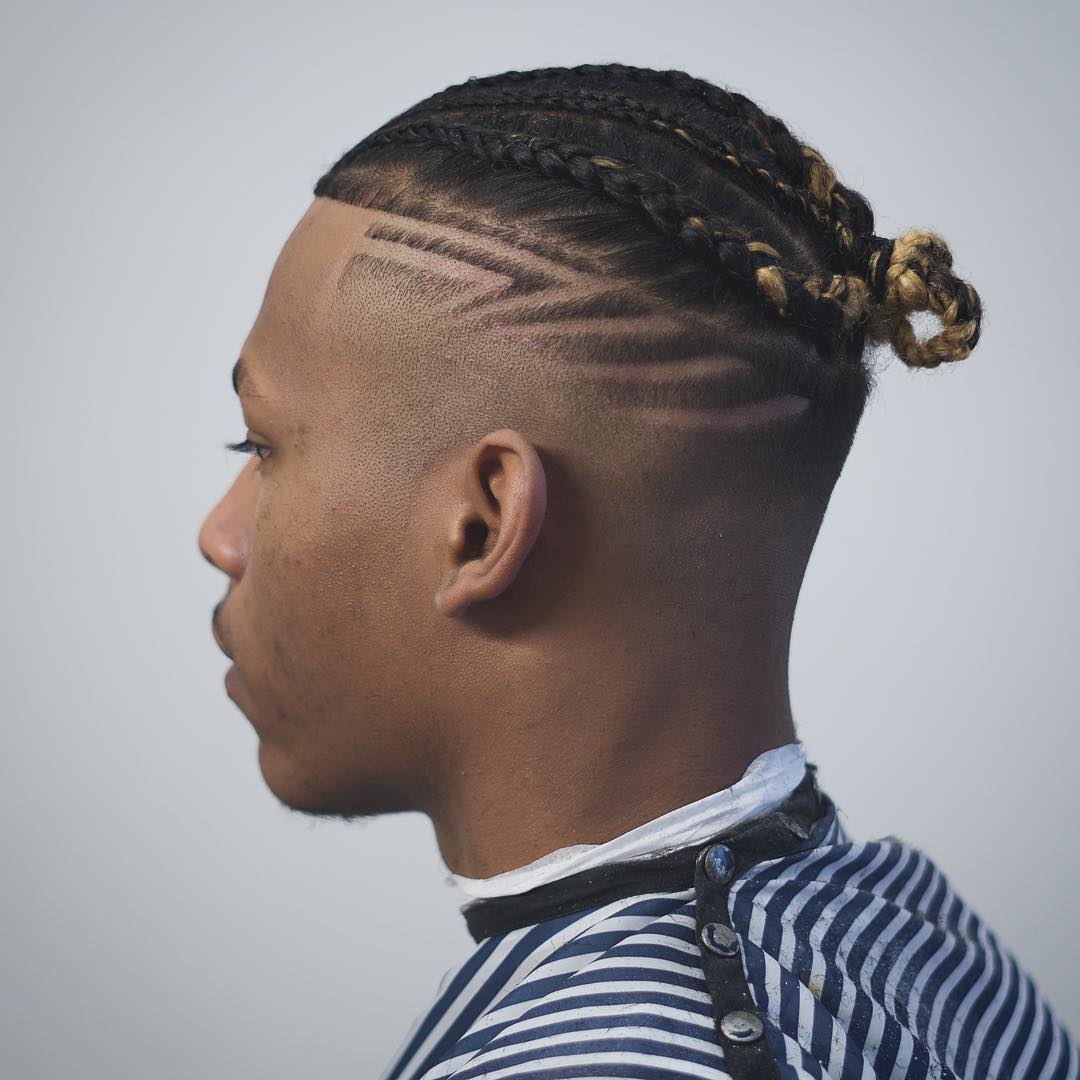 These cornrows in a braided samurai bun get plenty of attention but the fade and hair design place even more emphasis on this cool look.
32. Pompadour Fade Haircut

Like a comb over fade, the pompadour fade leaves hair longer on top with short faded sides. The difference is hair is combed up and back instead of over to the side. This modern pomp has tons of height, a matte finish and some thick texture.
33. Classic Fade Haircut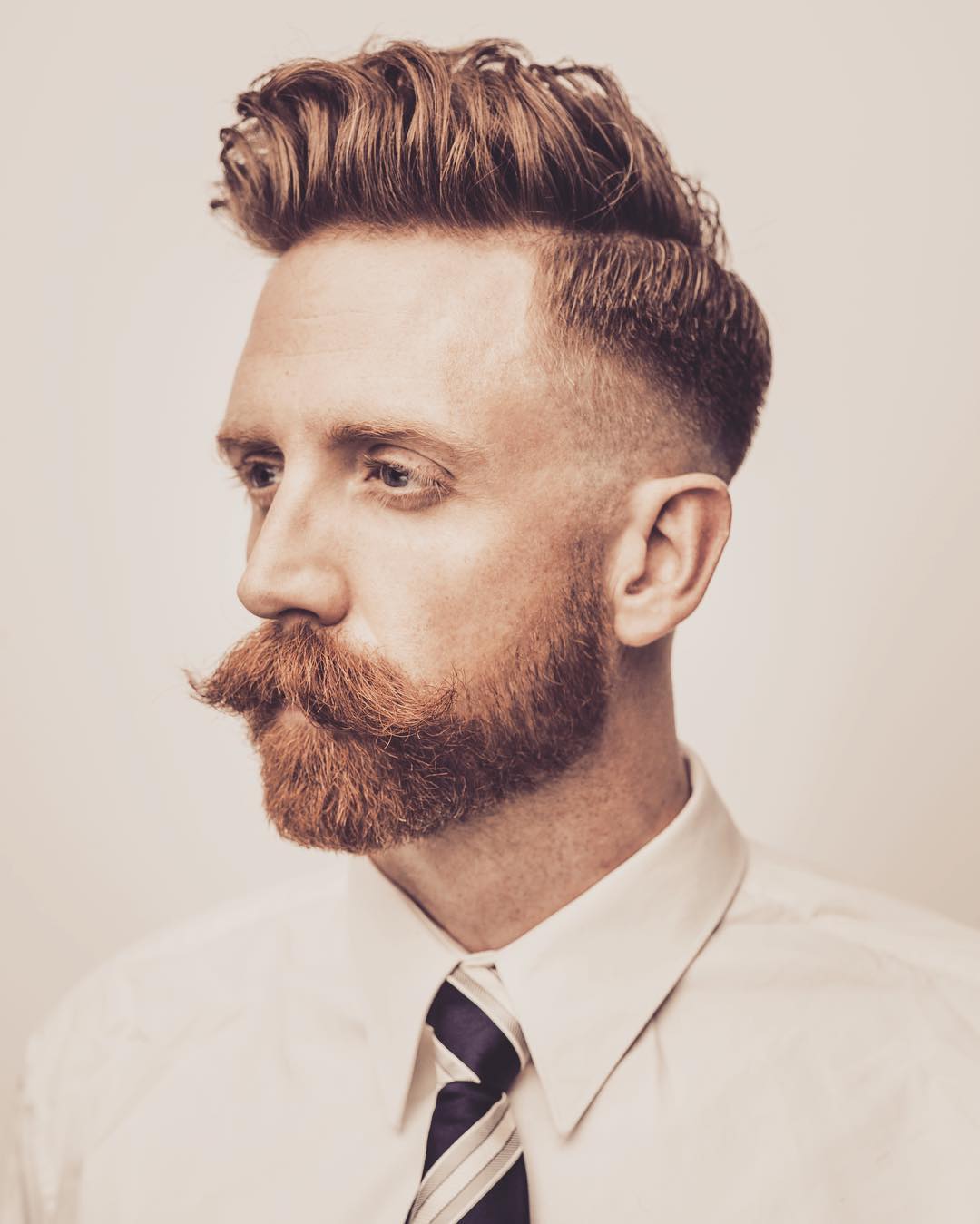 Fades have been a popular men's hairstyle since the 1940s. This side part haircut with a low fade plus beard and a healthy mustache is a classic style that looks as good today as it did 50 years ago.
34. Razor Fade Haircut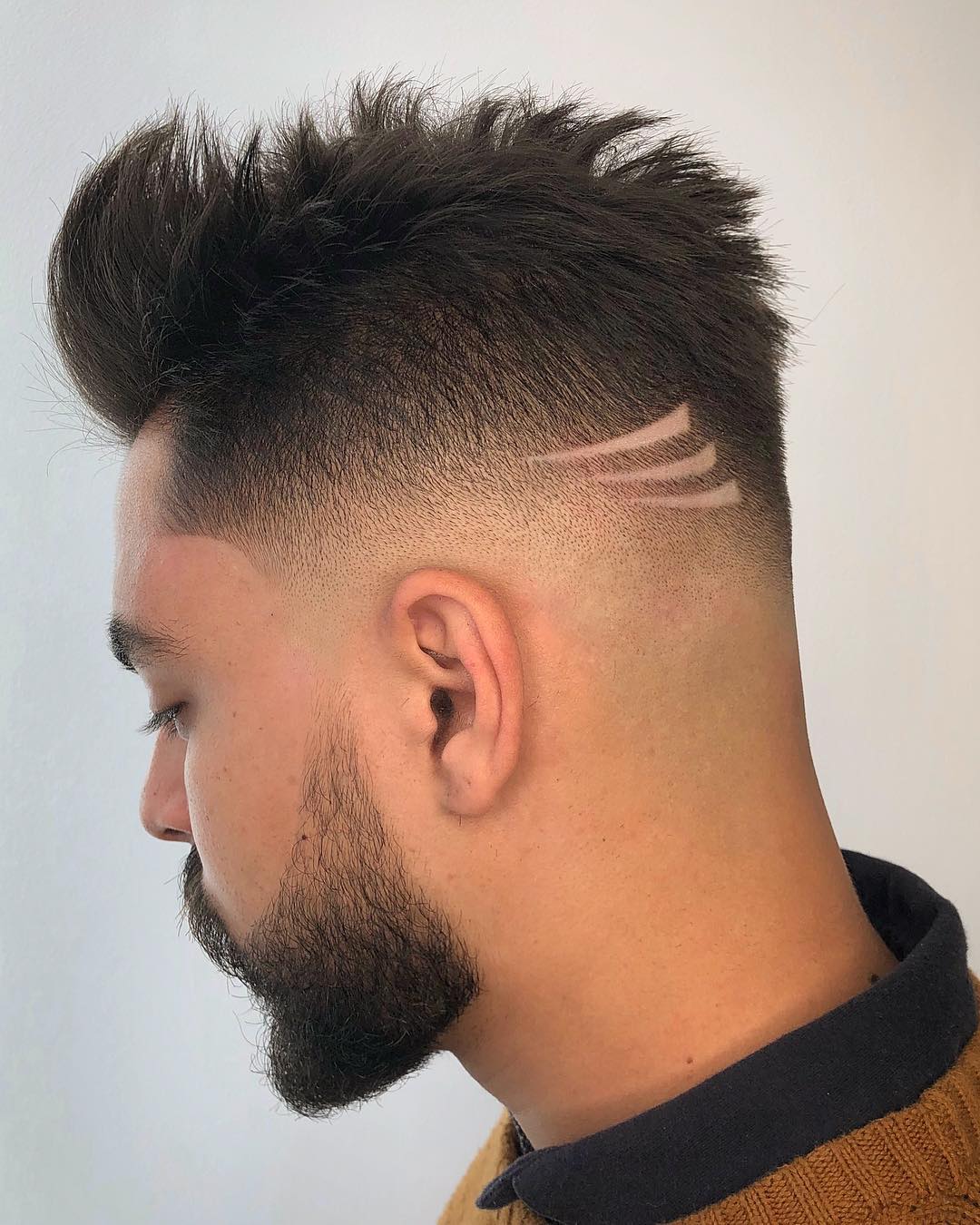 Razor fade is just another way of saying skin or bald fade. This short spiky cut with a blurry taper is a beautiful example of how good fades can look. The three slashes only make it better. Keep the look up with barber visits every couple of weeks or let it grow out, it will look just fine.
35. Boosie Fade Haircut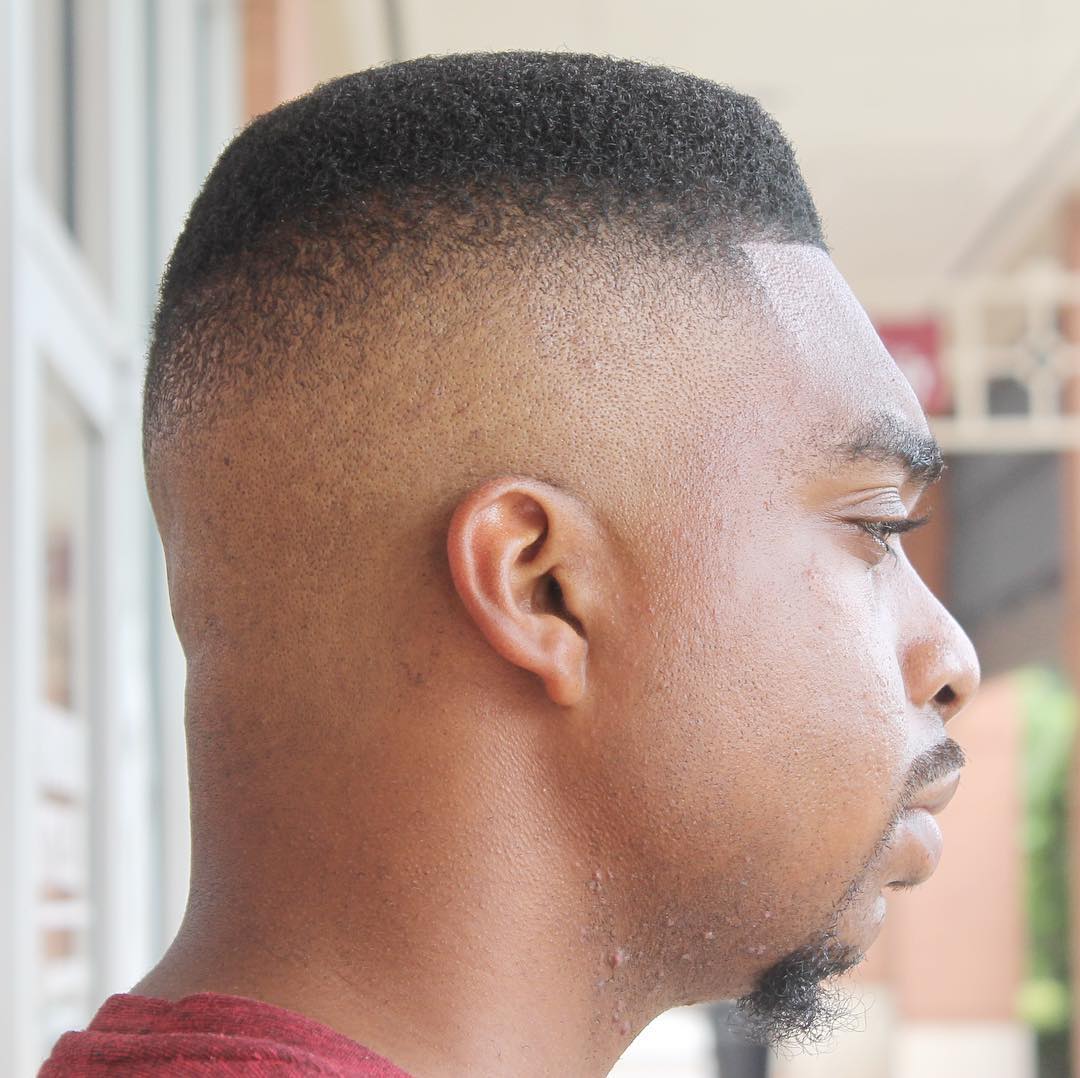 Made popular by rapper Lil Boosie, the Boosie fade has a high skin fade with some length at the top. In contrast to the box fade, the profile is curved.
36. Buzz Fade Haircut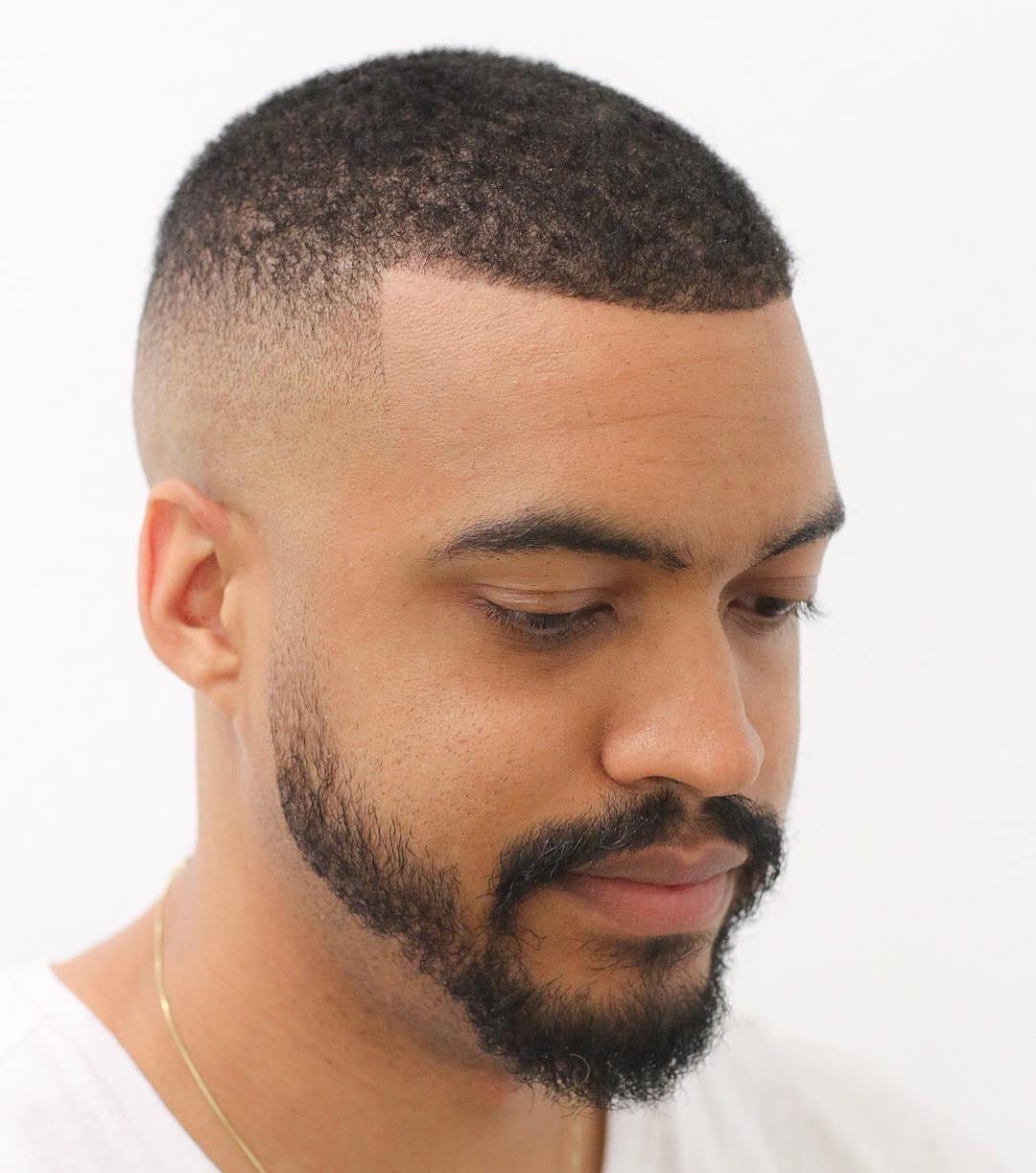 The buzz fade is one of the most popular short haircuts for men because it looks the best with the least amount of work. Just keep it up with regular barber visits.
37. Undercut Fade Haircut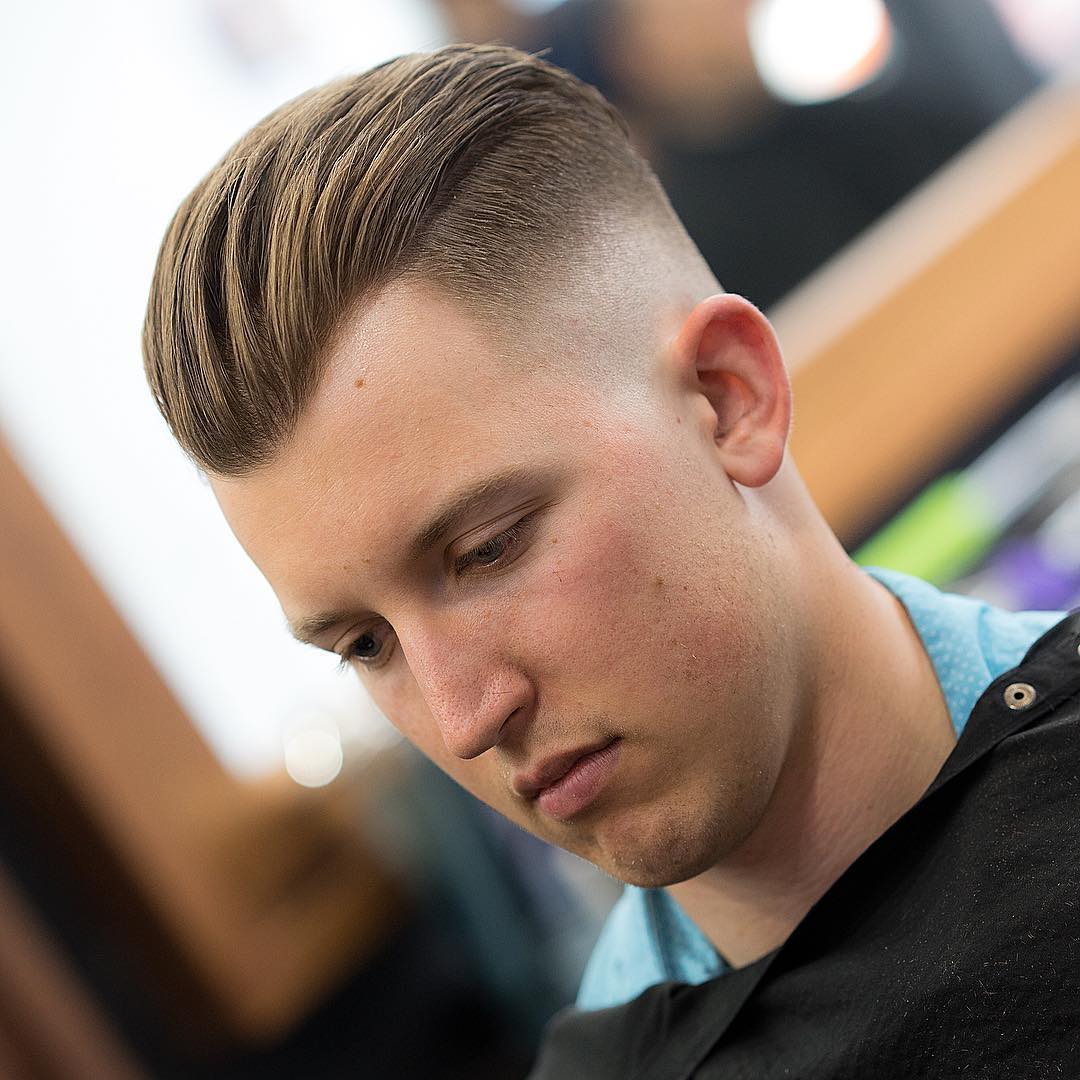 The undercut fade goes up a little higher than the high fade to create a disconnected hairstyle. It looks great with short hair or medium length looks slicked back or pomped up.
38. Twist Fade Haircut

Fade haircuts around the sides and back work with and enhance any men's hairstyle, especially these medium length twists.
39. Faux Hawk Fade Haircut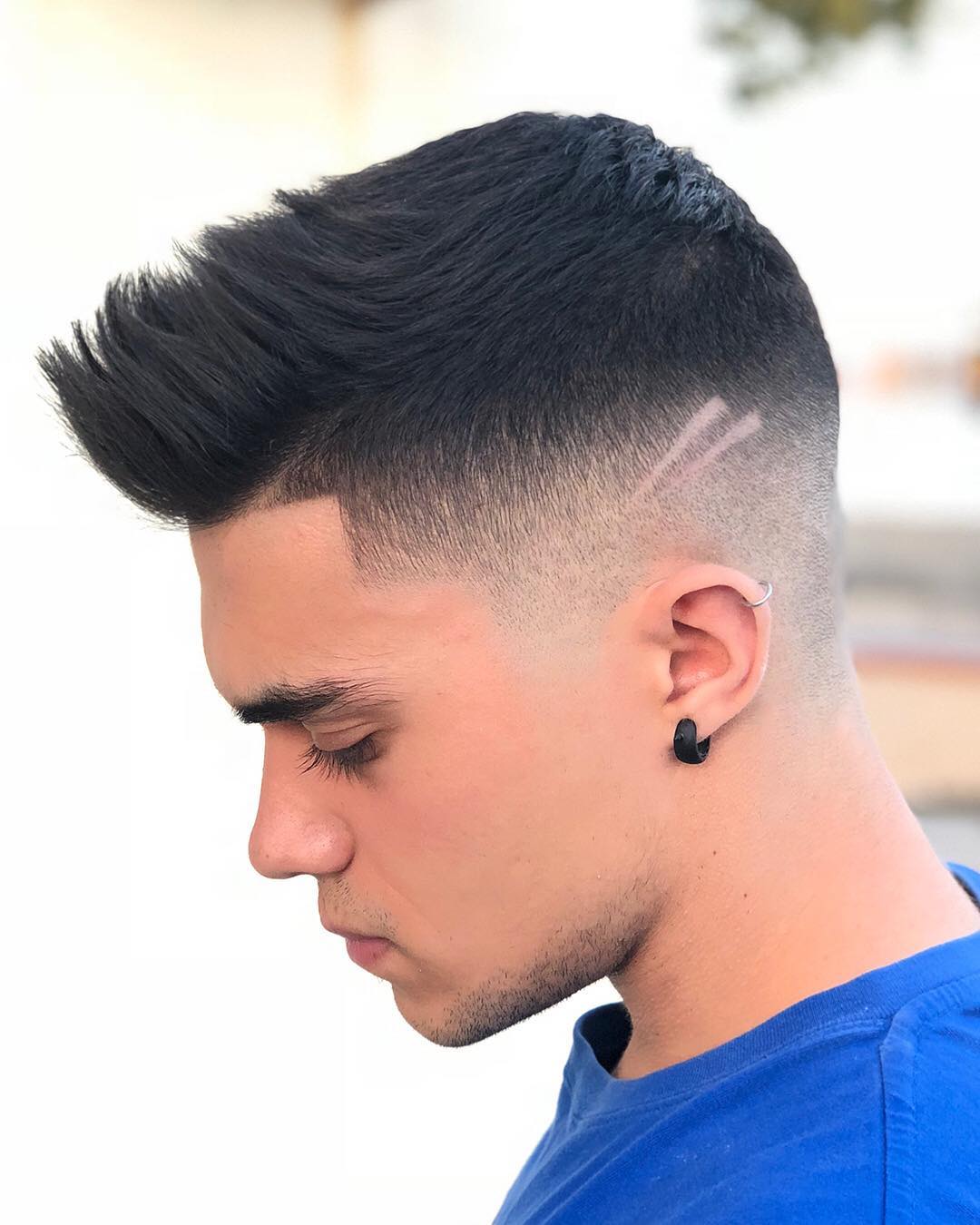 A fade gives a faux hawk even more of a mohawk look.
40. Flat Top Fade Haircut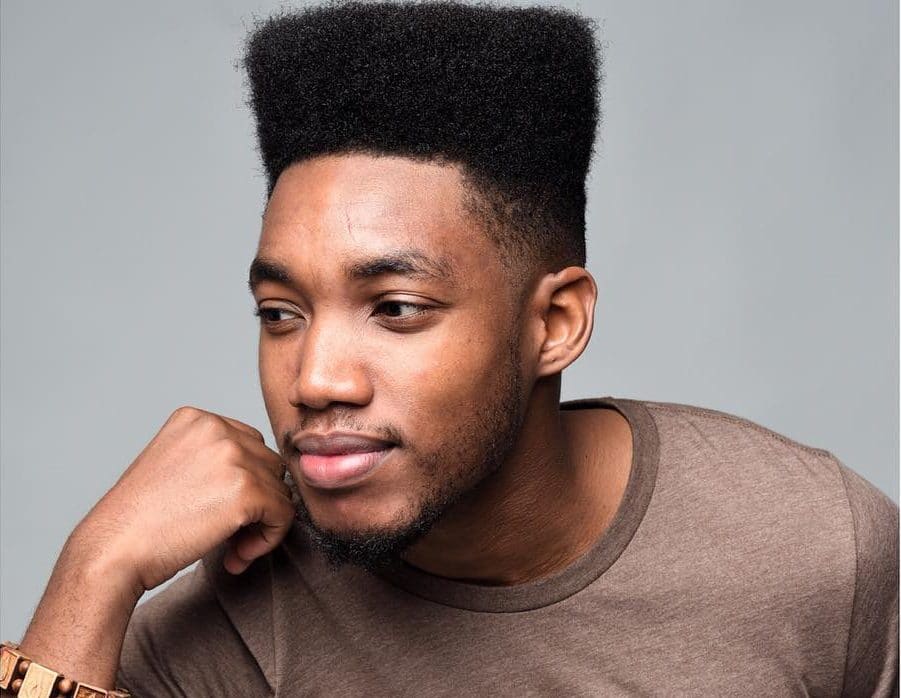 Tight sides make flat tops look even taller. Check out the Make Flattops Great Again shirt by BHarmony Clothing.
41. Hard Part Fade Haircut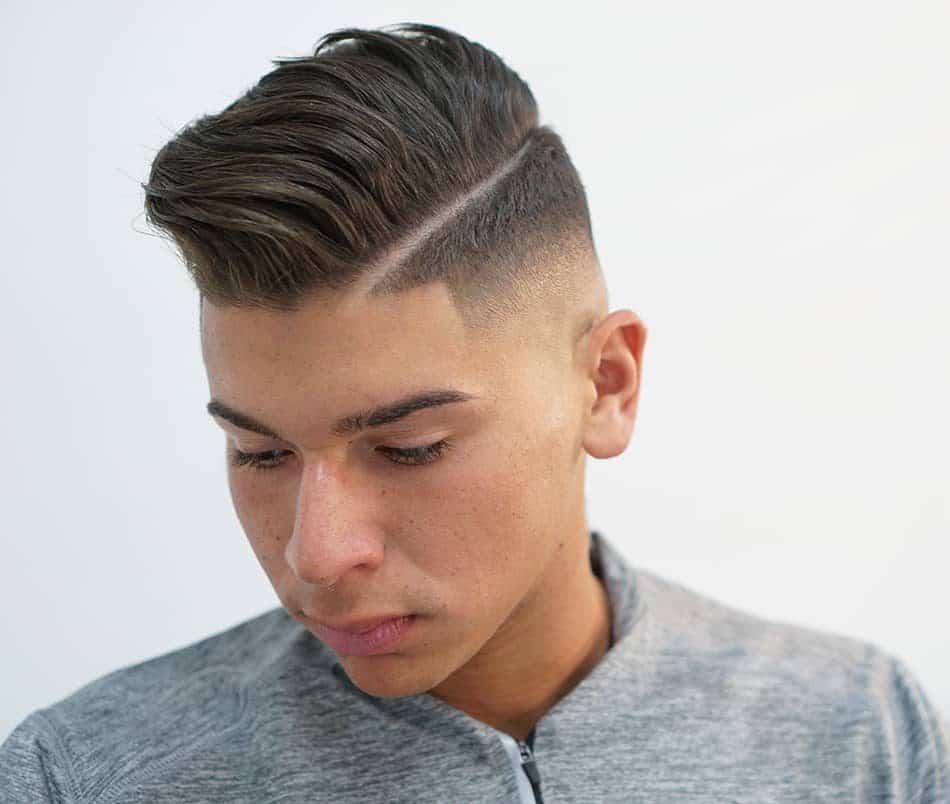 There's not question about where to part hair in this hard part haircut. Medium length hair is styled into a cool comb over with some volume and texture.
42. Burst Fade Mohawk Haircut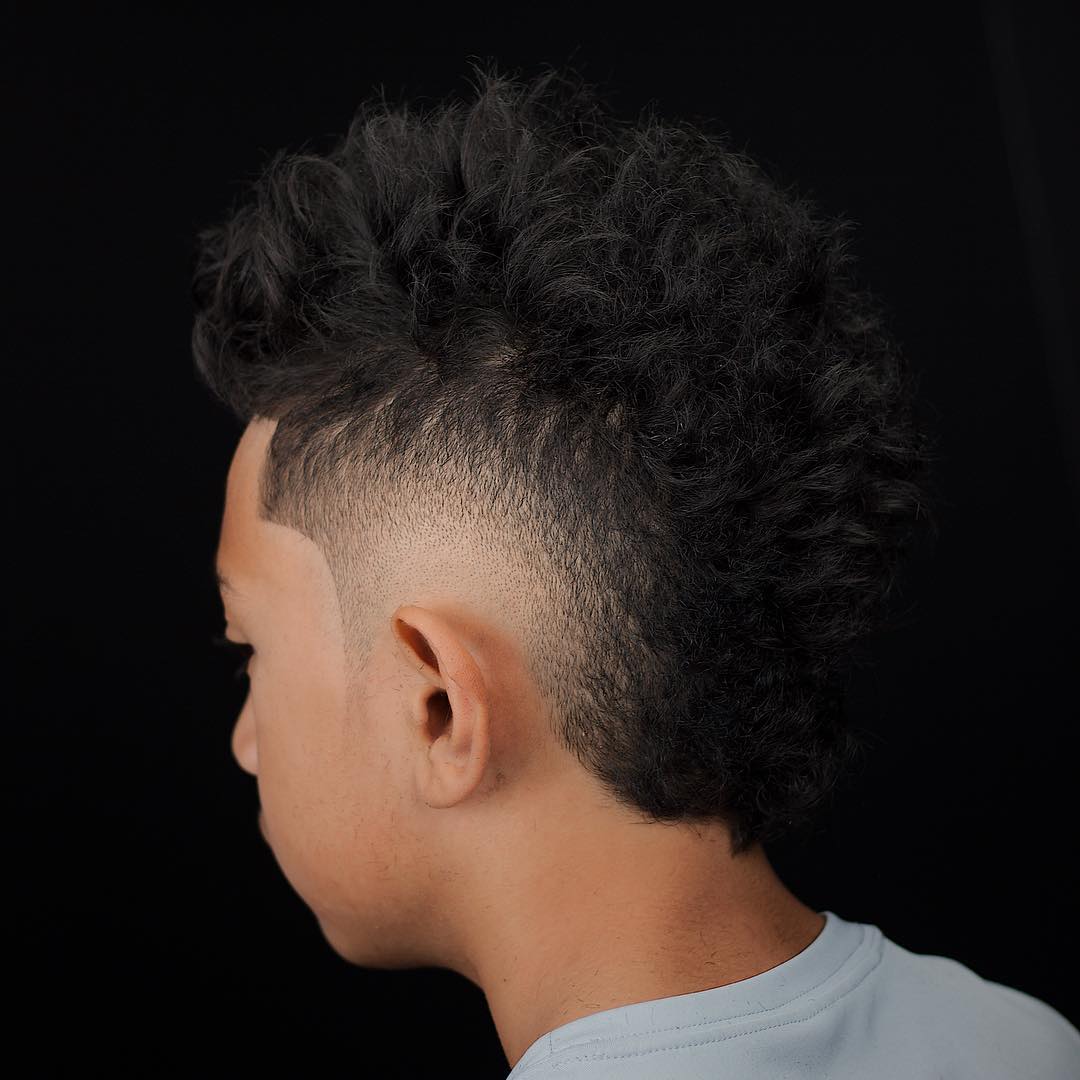 A burst fade follows the same arc as this cool curly mohawk.
43. Drop Fade Haircut With Curly Top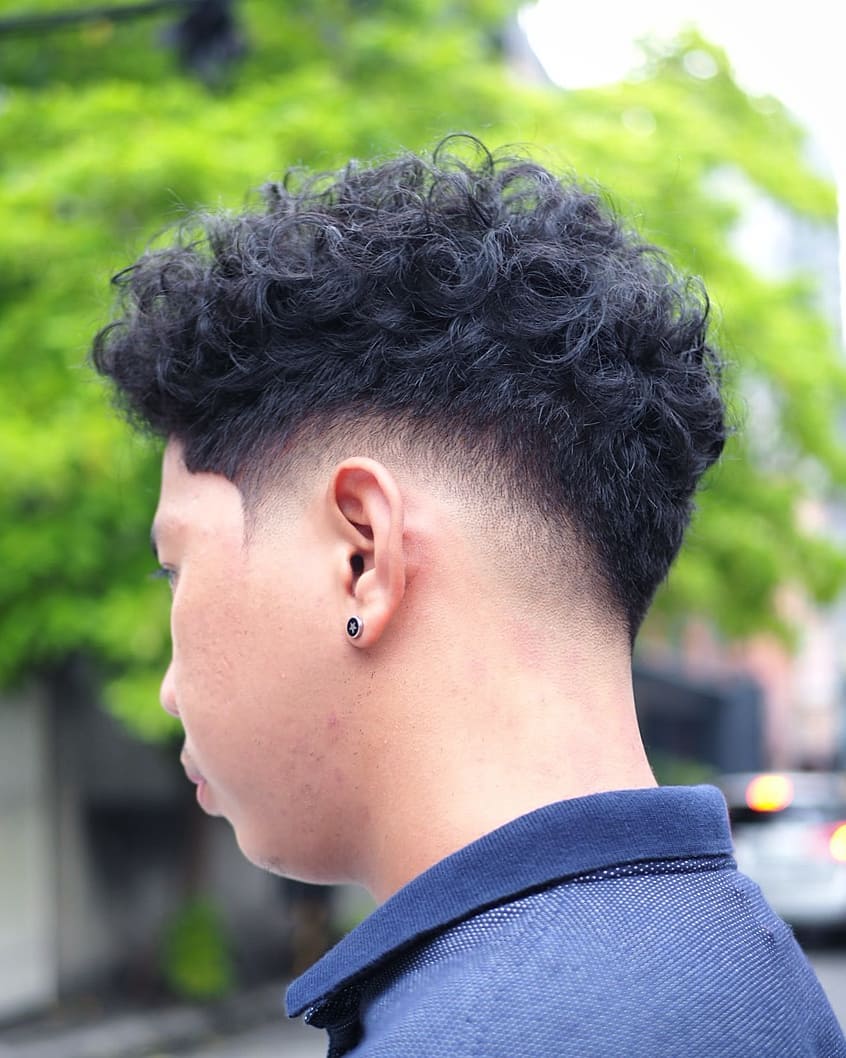 A drop fade creates a cool curly top haircut that isn't in a mushroom shape.
44. Southside Fade Haircut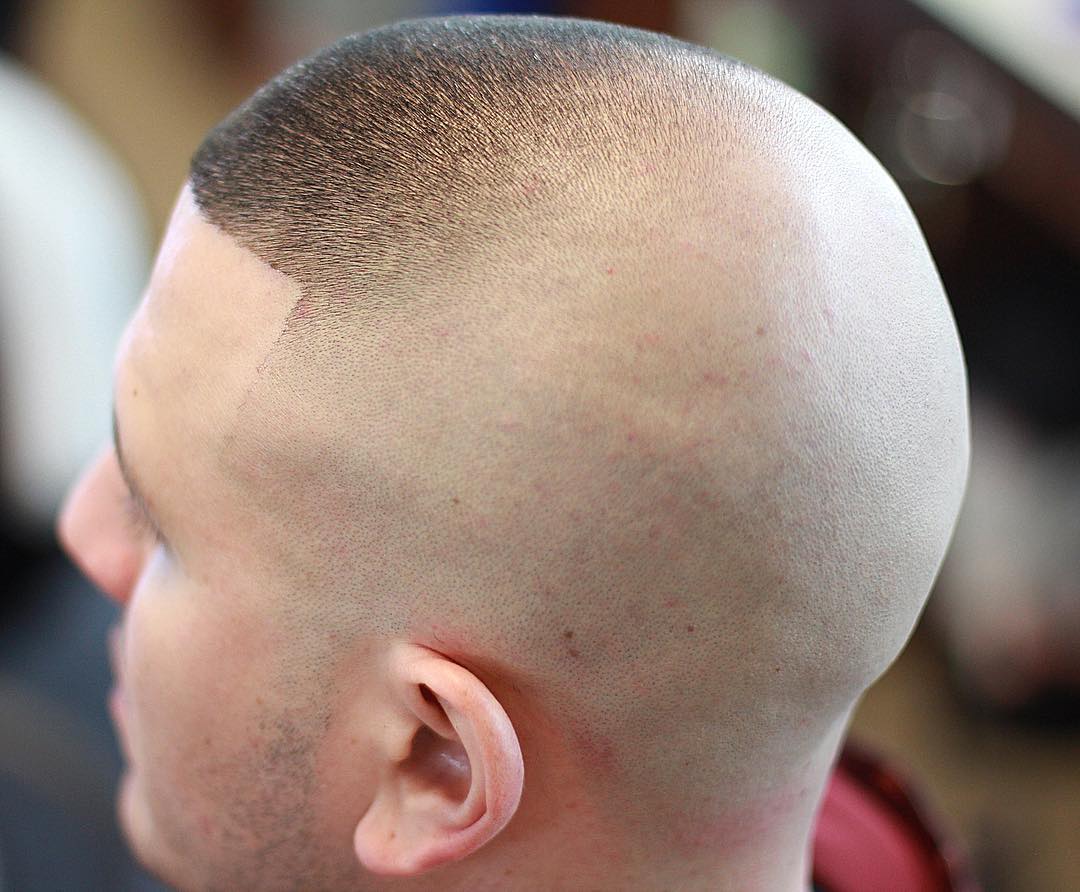 The Southside fade takes the buzz cut fade haircut to the next level. Short hair is concentrated at the front half of the crown with a line up to define the edges.
45. Line Up Fade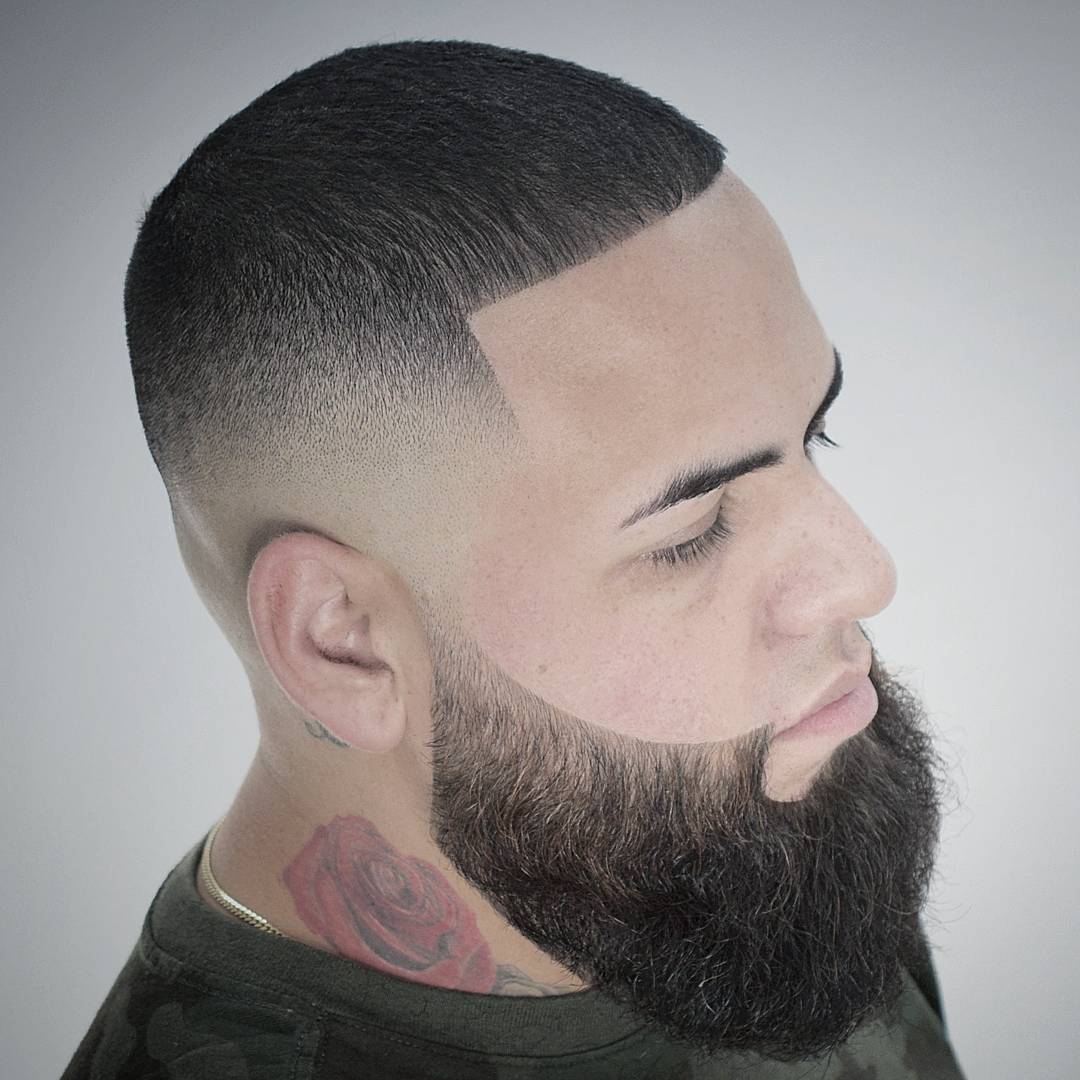 Last but far from least is the line up fade, another version of the buzz cut fade but with the added definition of an edge up. The lines contrasts with the blur of a fade. The same combination defines the cheeks of the beard and tapers into the skin fade.