The pompadour is a constantly evolving hairstyle for men. Originally gaining popularity in the 1950s and 60s with country and rock and roll stars like Elvis Presley, the pompadour has come back in a big way in recent years.
Pompadour hairstyles today include a wide range of variations from matte to shiny and messy to slick. The greaser classic with plenty of sheen and a ducktail at the back still looks cool today.
Modern takes on the pompadour maintain that signature volume at the crown but trade in high shine and comb marks for a matte finish and textured styling. Pompadour haircuts can be scissor cut tapers or have faded sides. Either way, pomps can have a side part or no part.

Check out these 25 pompadour haircut pictures for modern, classic and trendy ways to get the look.
1. Tall Pompadour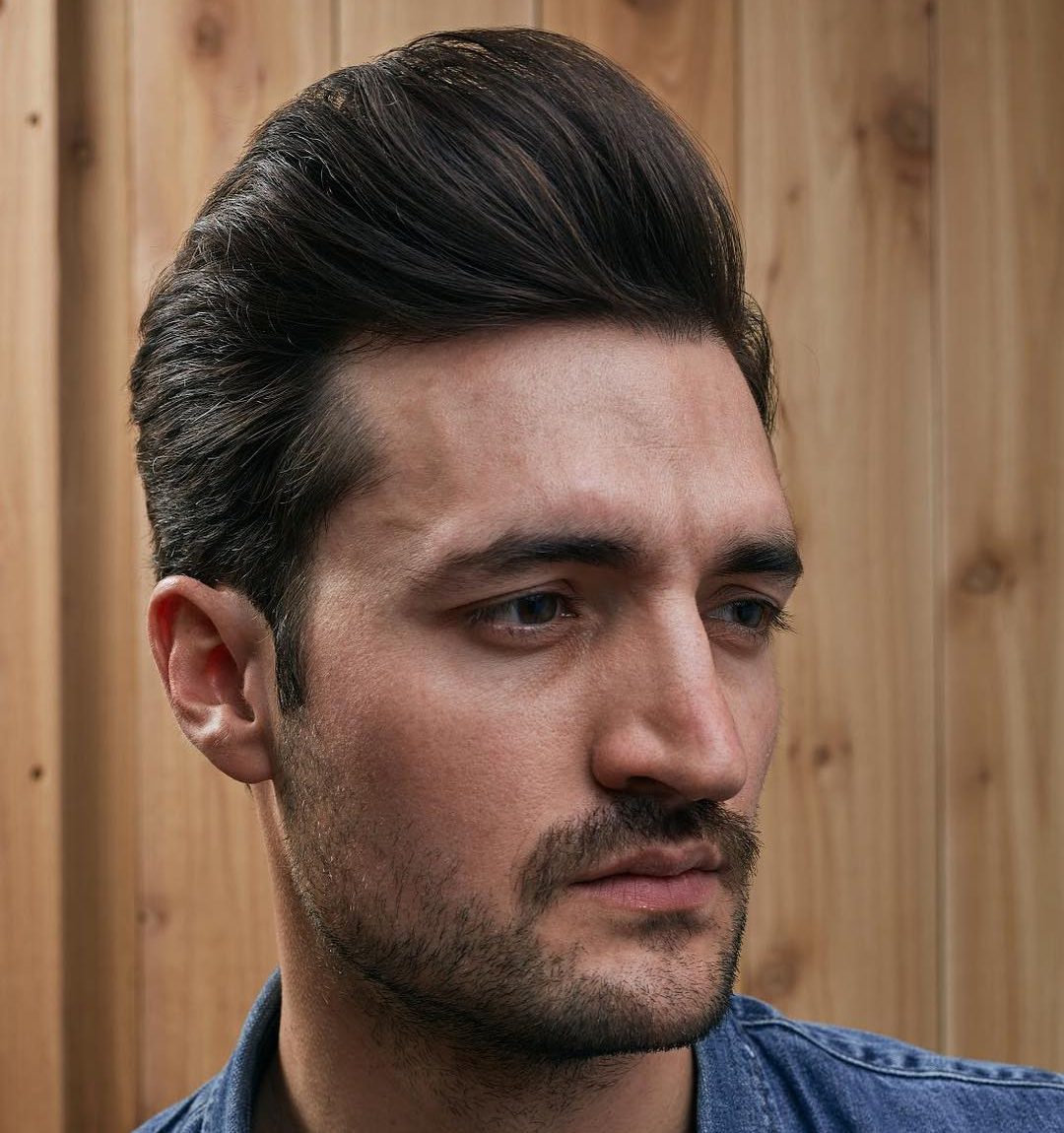 This tall pomp is a modern classic for the hipster set embracing past trends.
2. Messy Pomp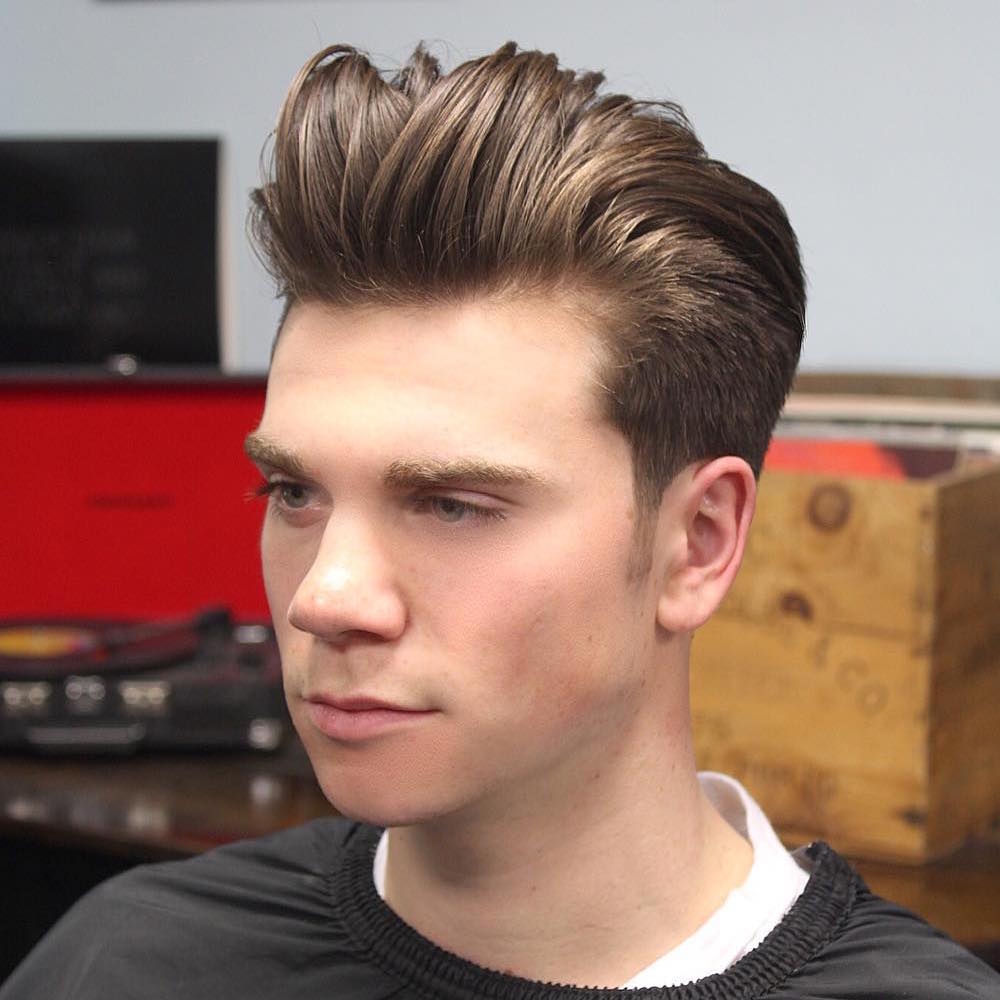 This taper haircut features short sides and medium length hair on top styled into that classic pomp shape with messy texture.
3. Pomp + Low Fade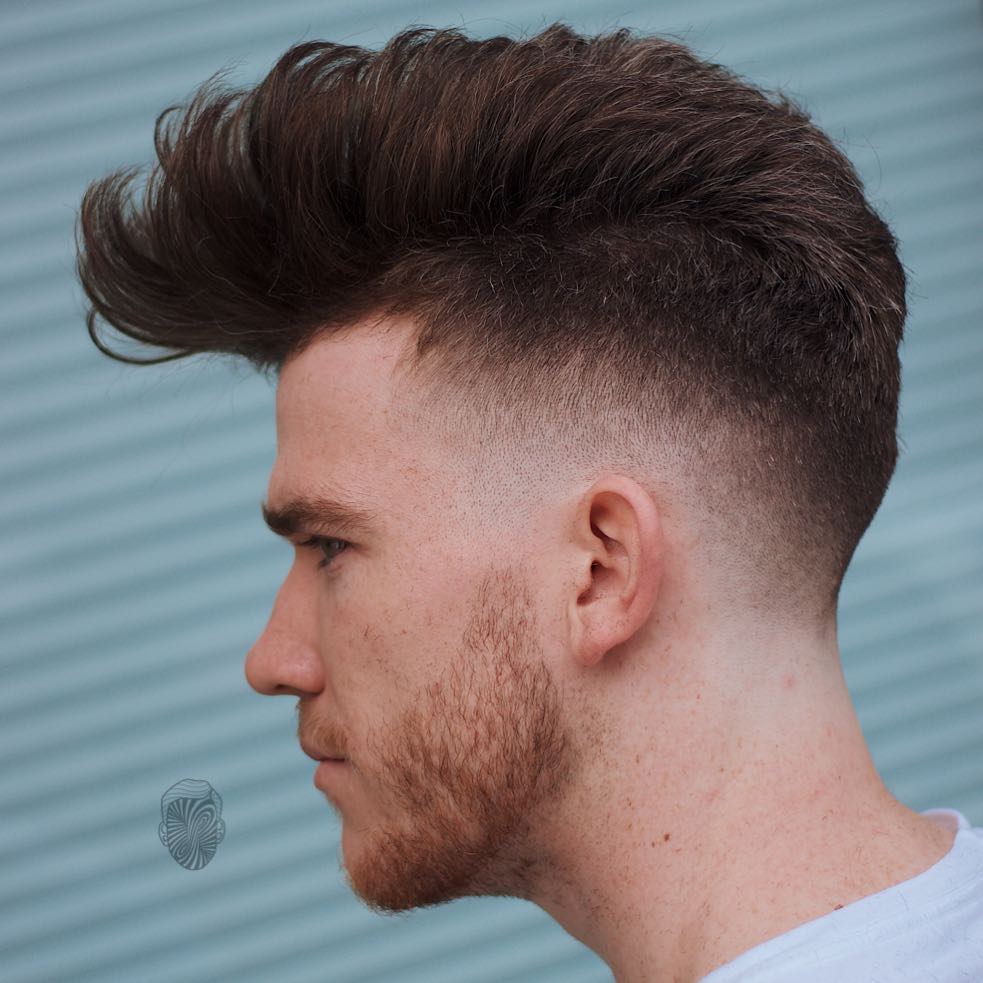 This low fade haircut emphasizes the shape of this forward-styled pompadour.
4. Pomp Fade + Shaved Line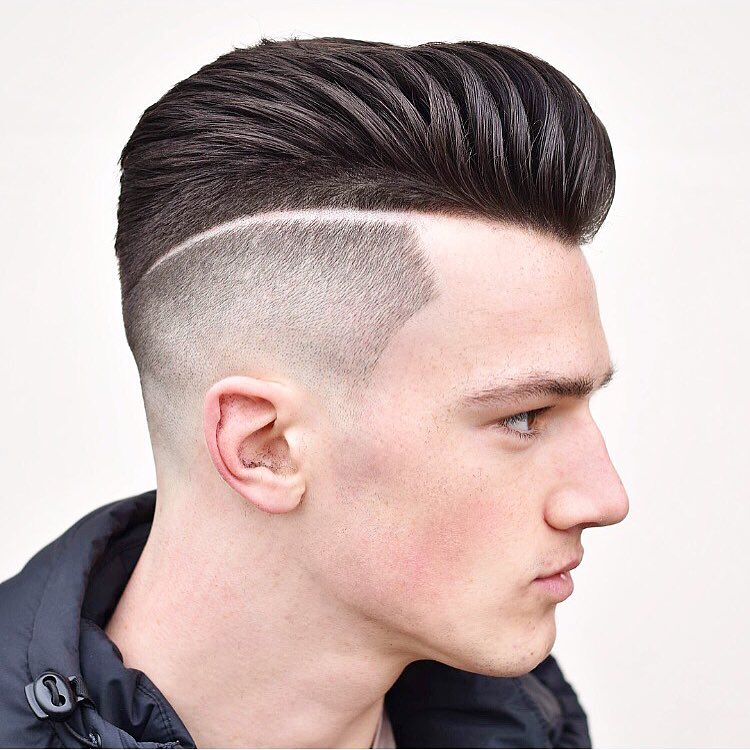 This cool cut combines a modern hair design with a low pomp.
5. Taper Haircut + Ducktail + Asymetrical Hairline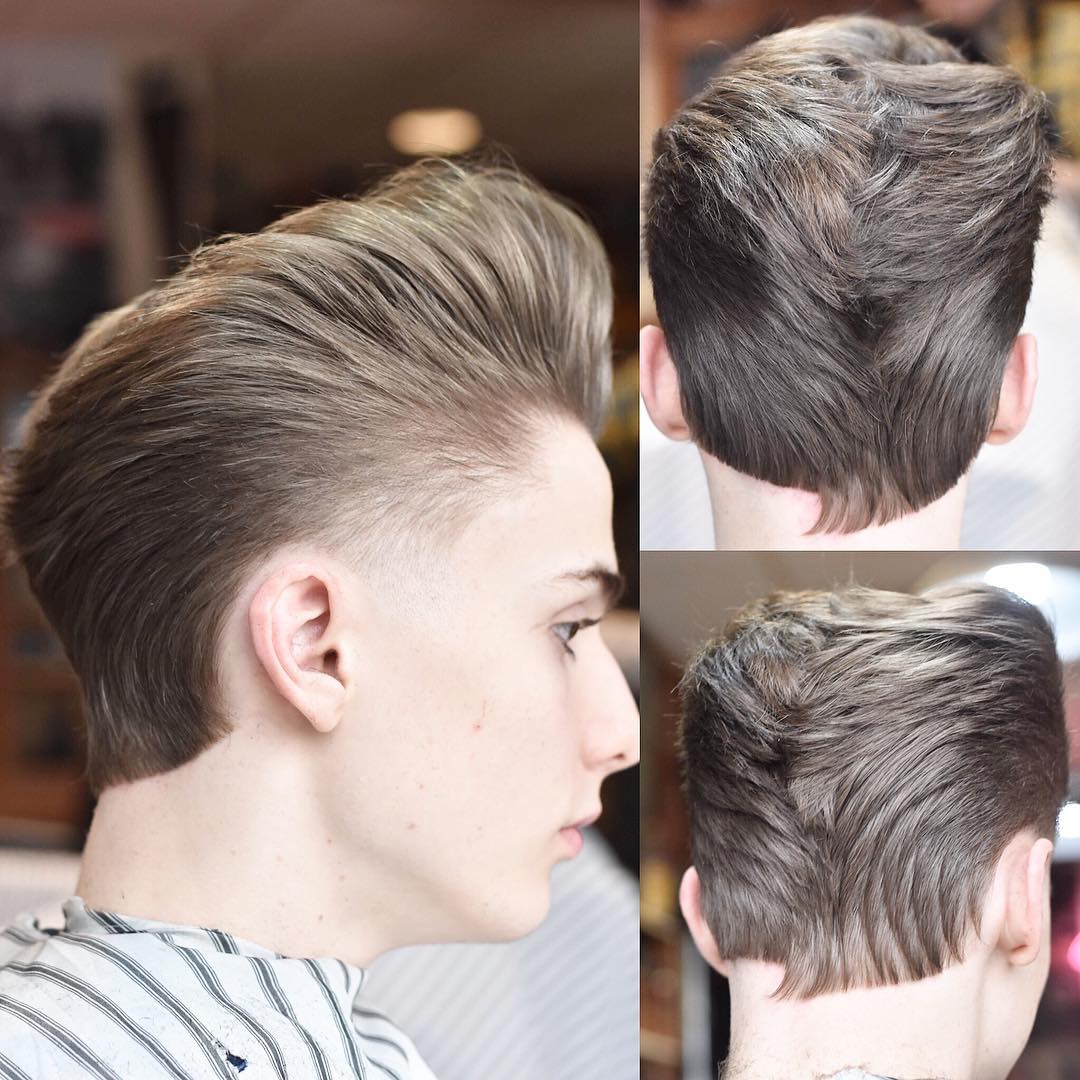 This cut and style gets creative at the back with a matte and messy ducktail and asymmetrical neckline.
6. Soft Texture + High Fade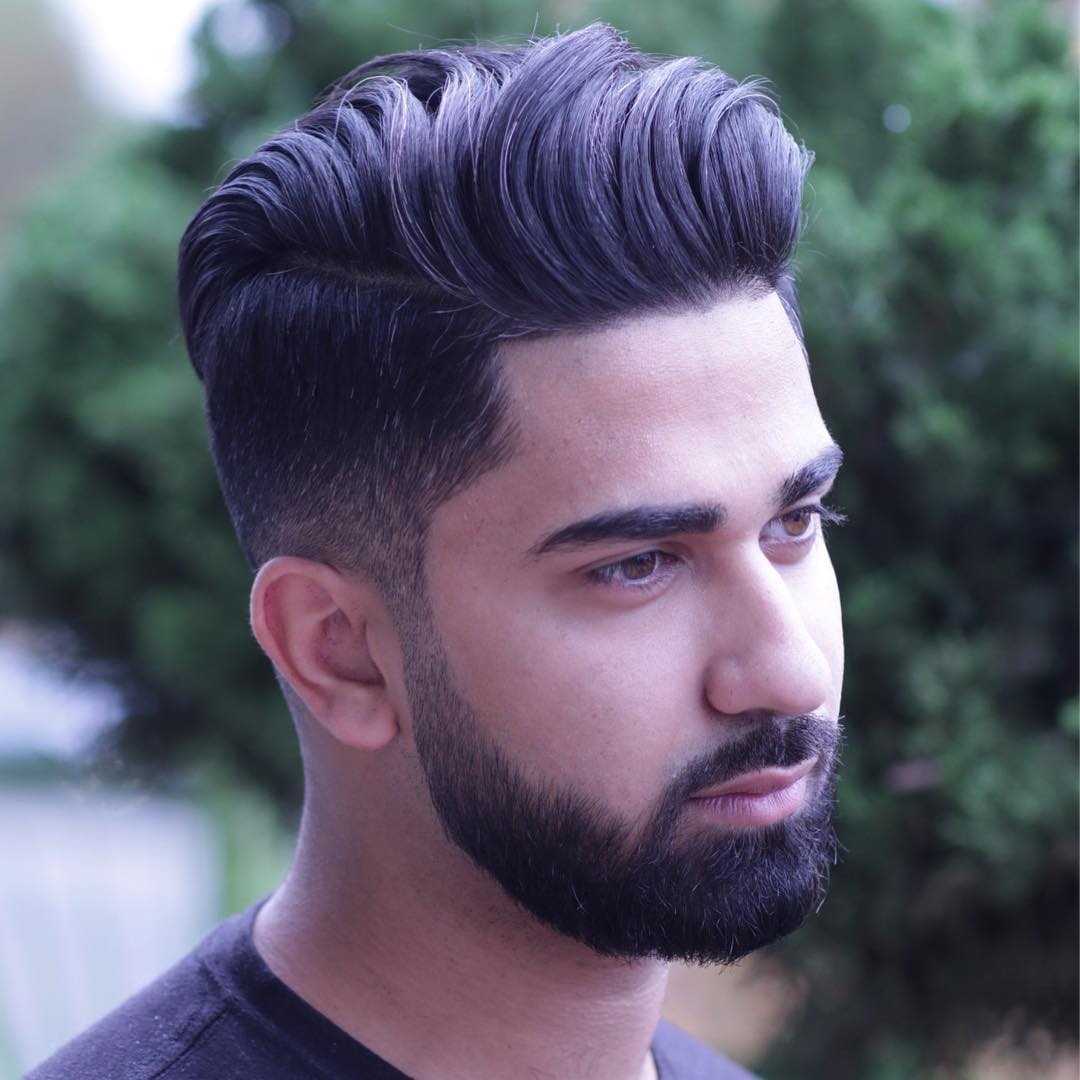 A high fade can make a pomp easier to style because the sides don't need any attention. This cool look features thick, medium length pulled with lots of movement and flow.
7. Loose Pomp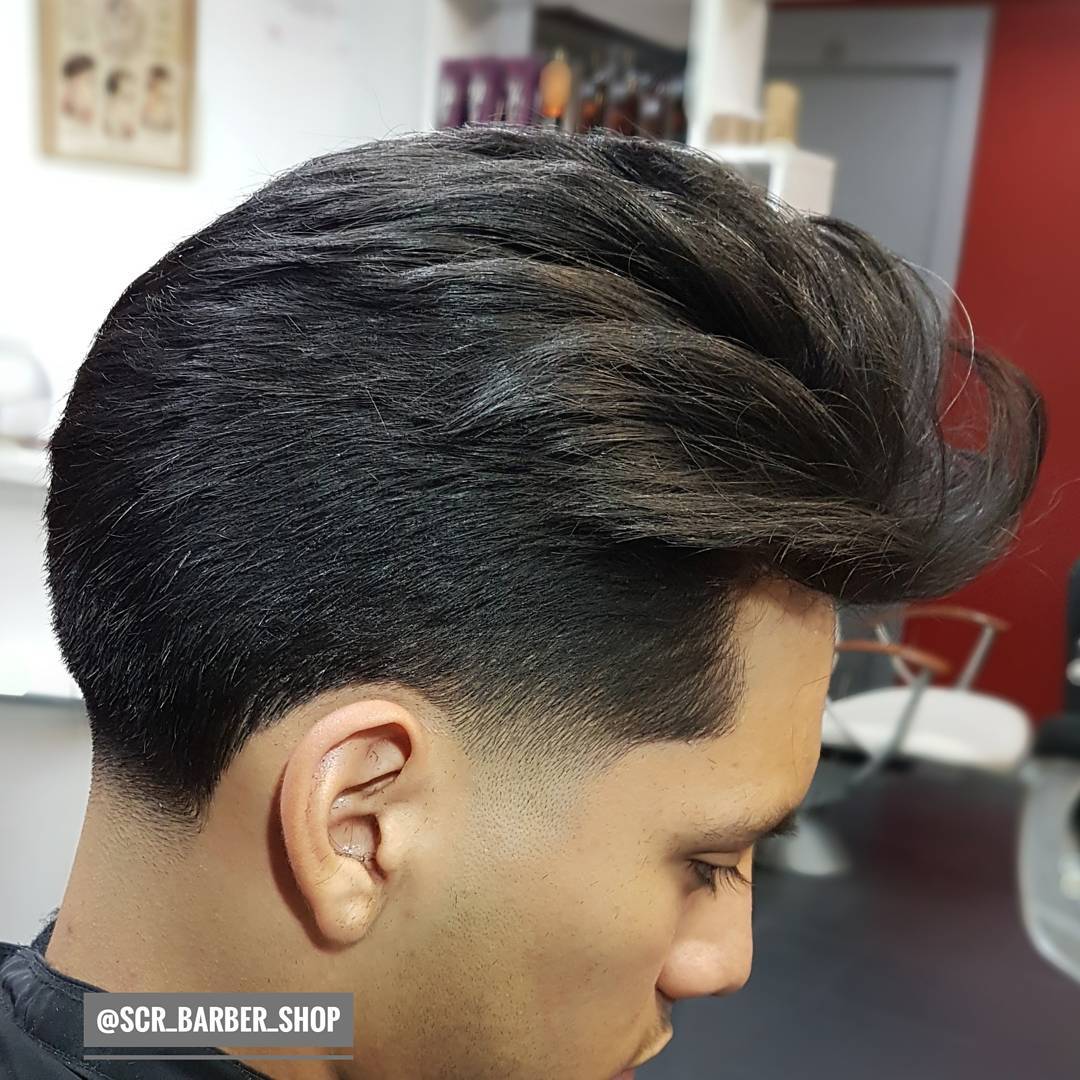 Another modern way to style the pompadour is with loose, textured volume.
8. Pompdour + Faded Sides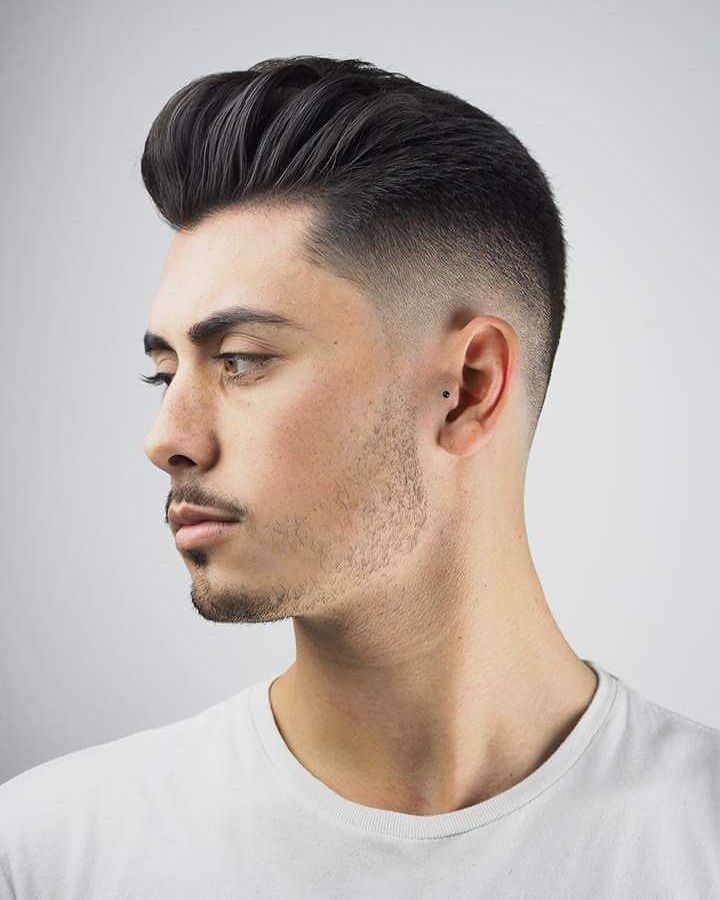 This cool pomp has some texture and a low bald fade for clean cut the edges.
9. Classic Pomp + Handlebar Mustache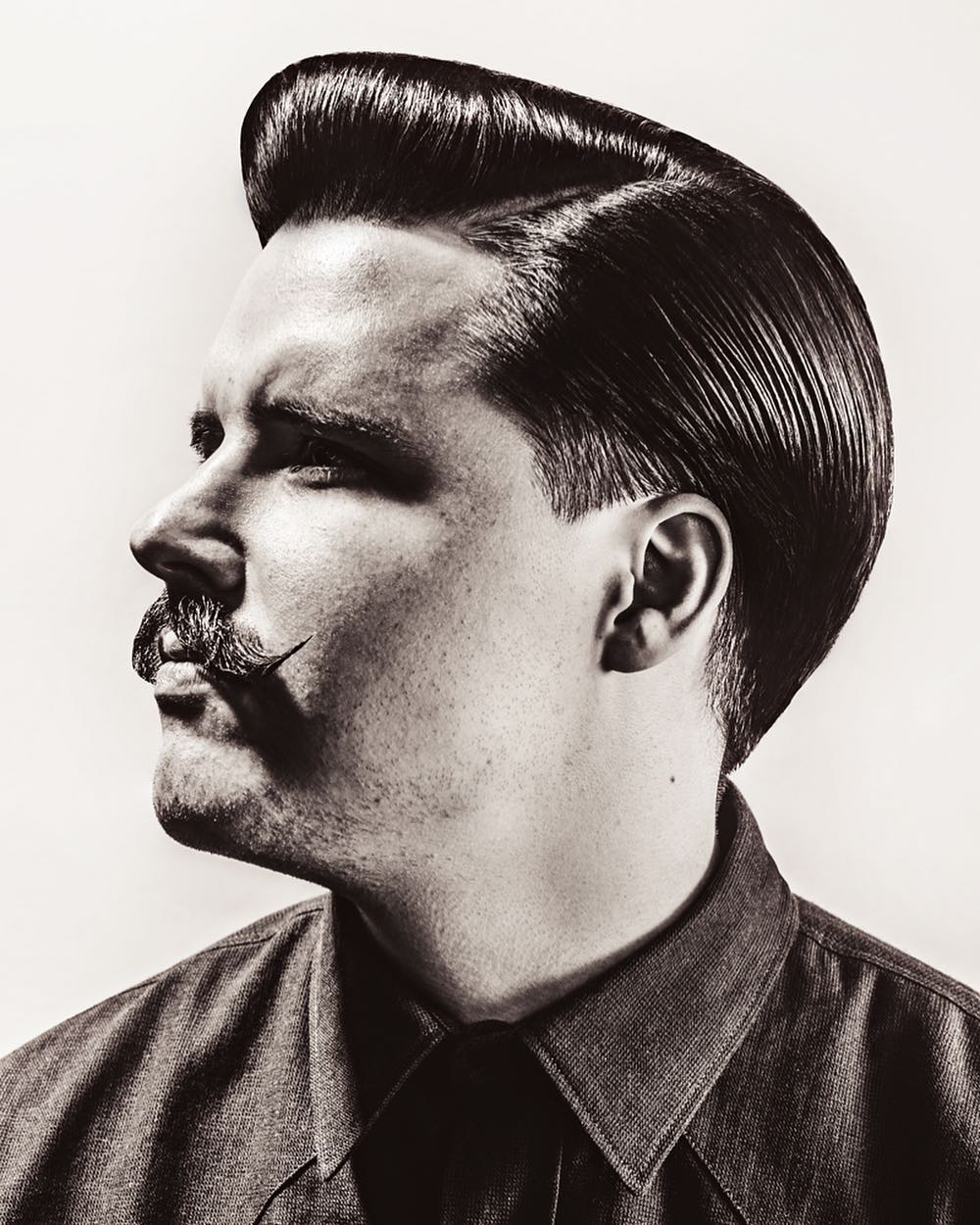 If you're committed to a classic pomp, it's all about a shiny finish and comb lines. This version has a cool angled part, short sideburns and a handlebar mustache.
10. Greaser Pomp + Drop Fade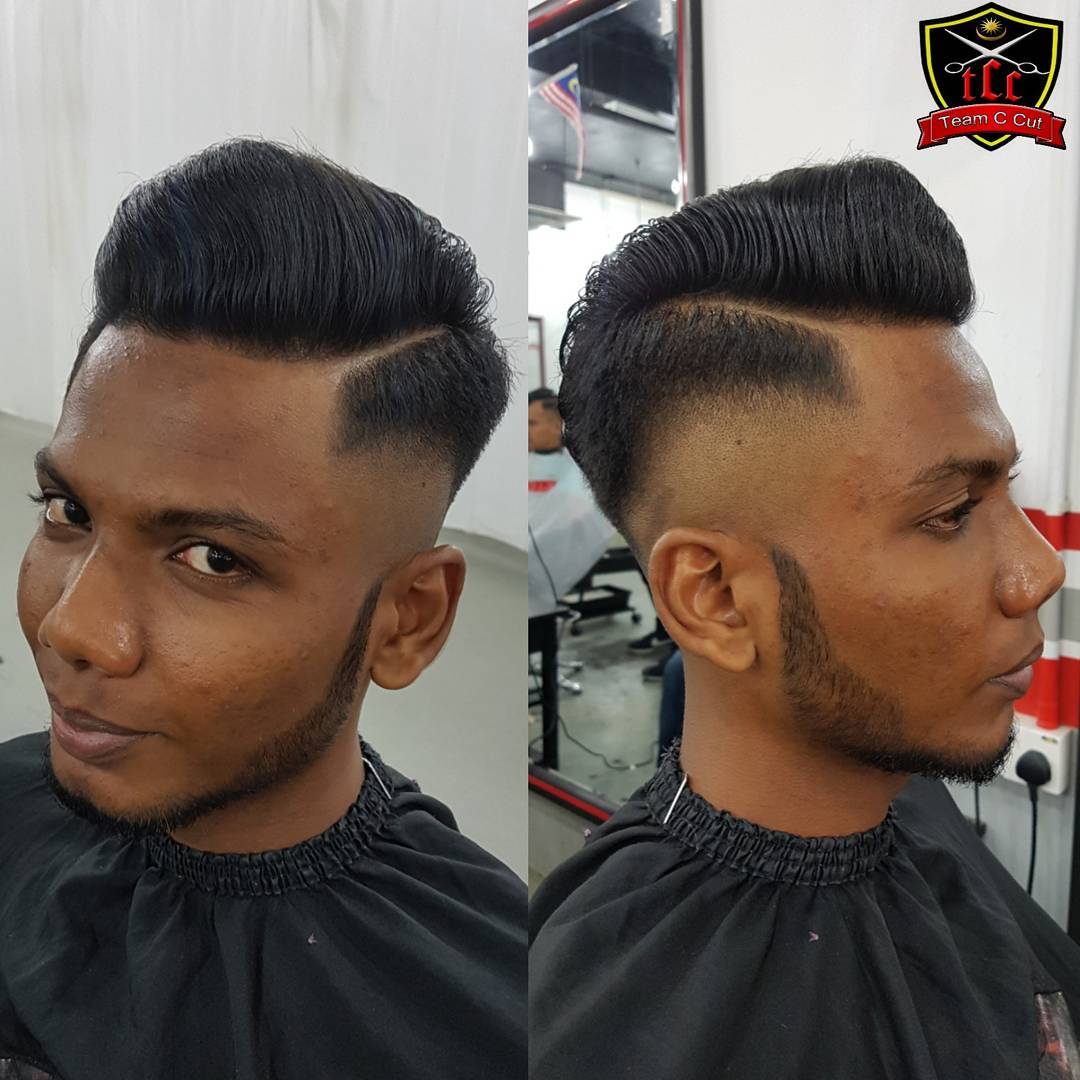 For guys with with thick and/or coarse hair, the greaser pomp is an easy and cool way to tame hair. Water-based pomades are just as strong as their oil-based counterparts but wash out with shampoo. A drop fade and chin strap add modern touches to the vintage hair.
11. Flattop Pompadour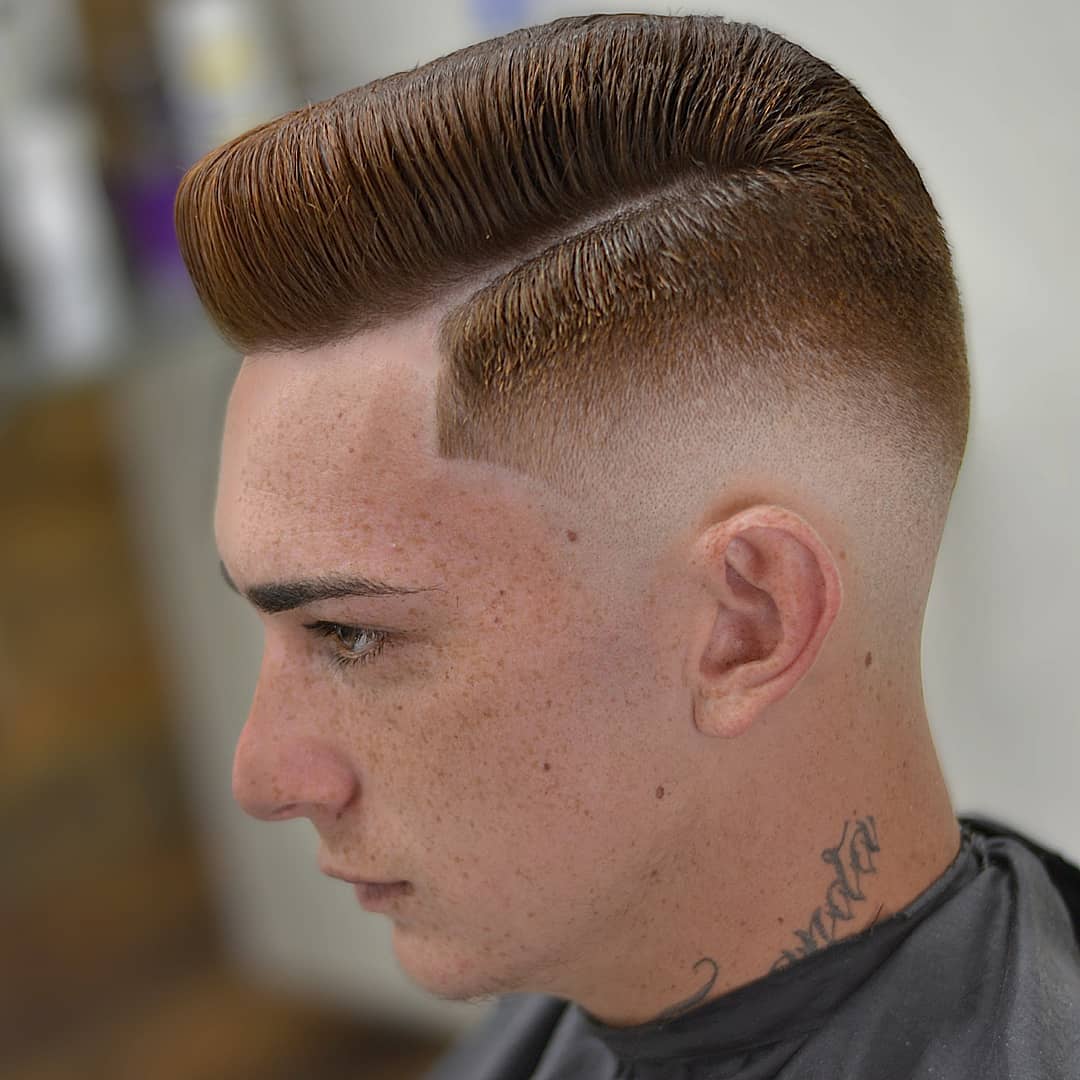 This fresh look combines two retro classics, the pompadour and flat top. A defined part and bald fade add to the clean cut style.
12. Medium Length Pompadour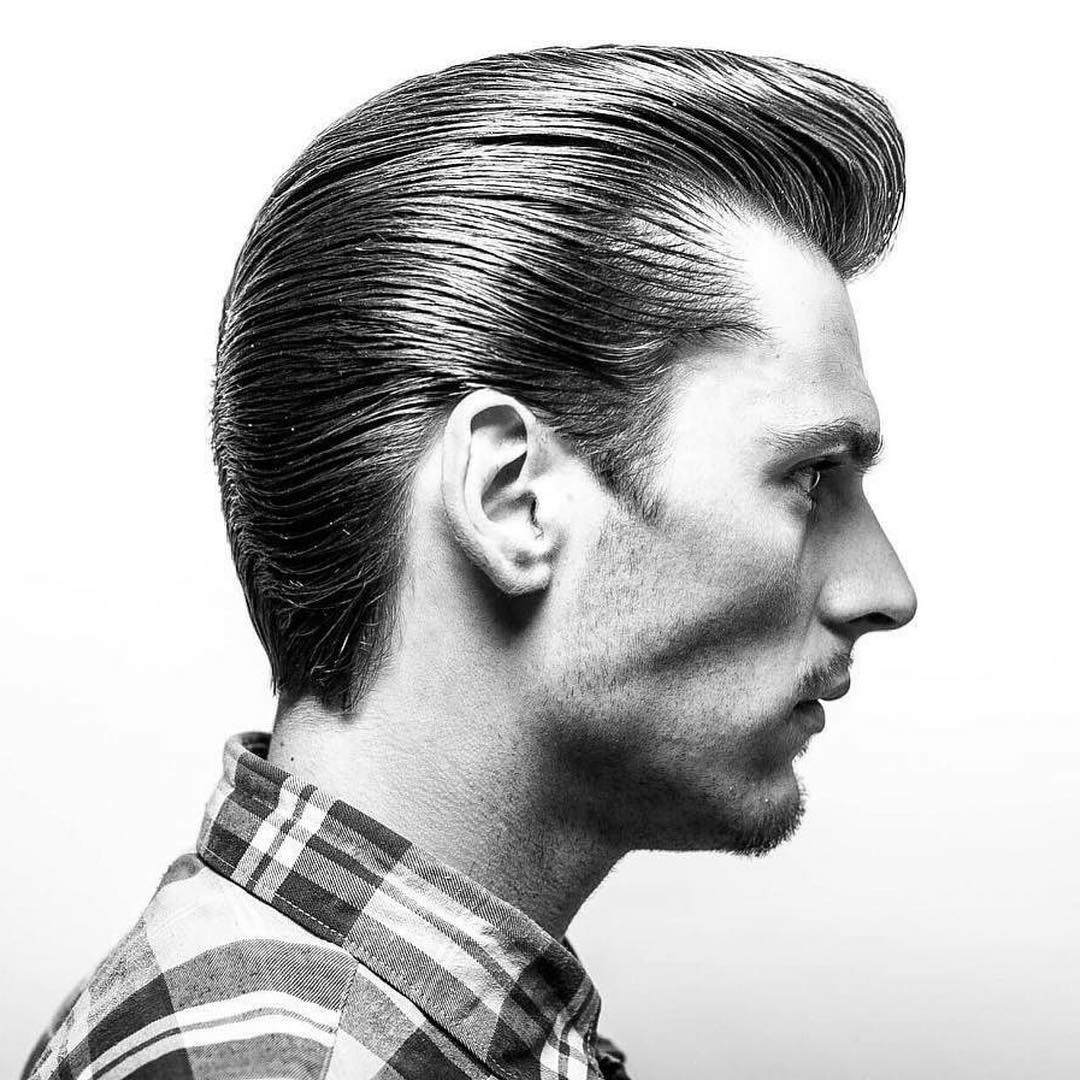 This medium length taper haircut is slicked back all over into a vintage pomp. Update the look with a matte product and textured styling.
13. Wavy Pomp Fade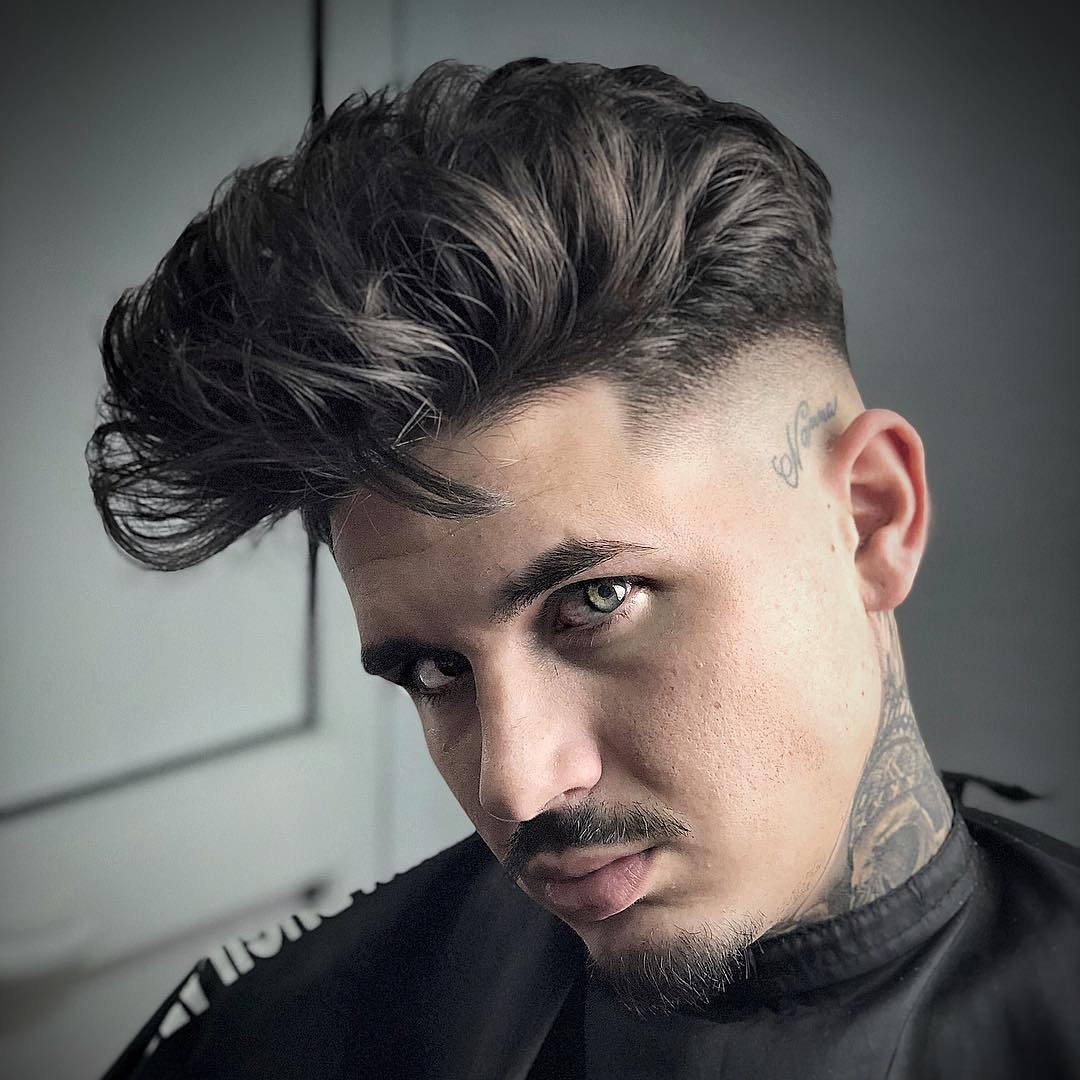 This cool style uses wavy hair add height and texture to a loose pomp.
14. High Pomp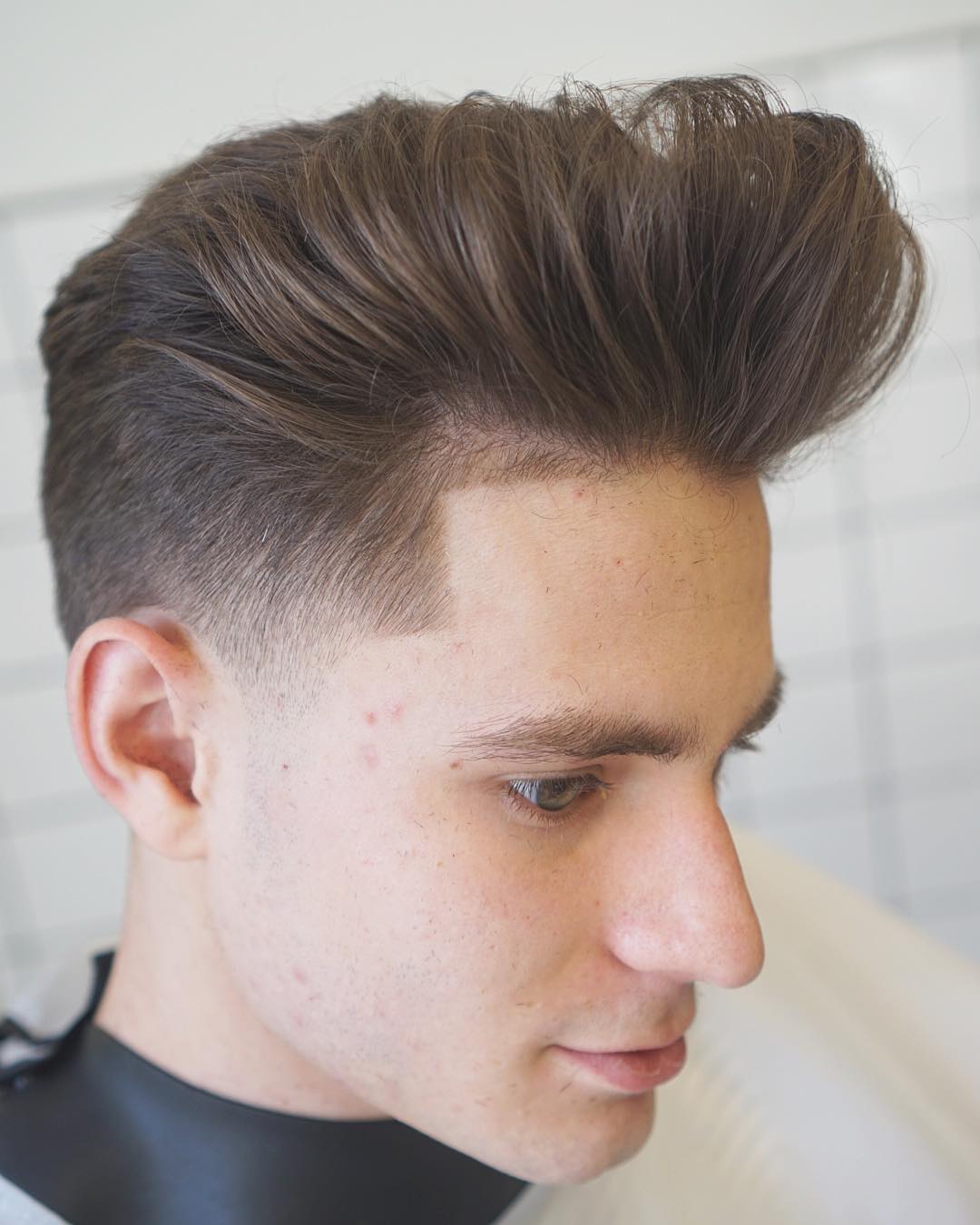 Longer hair means a higher pomp. This pompadour haircut concentrates length at the forehead for maximum volume with minimum styling.
15. Side Part Pompadour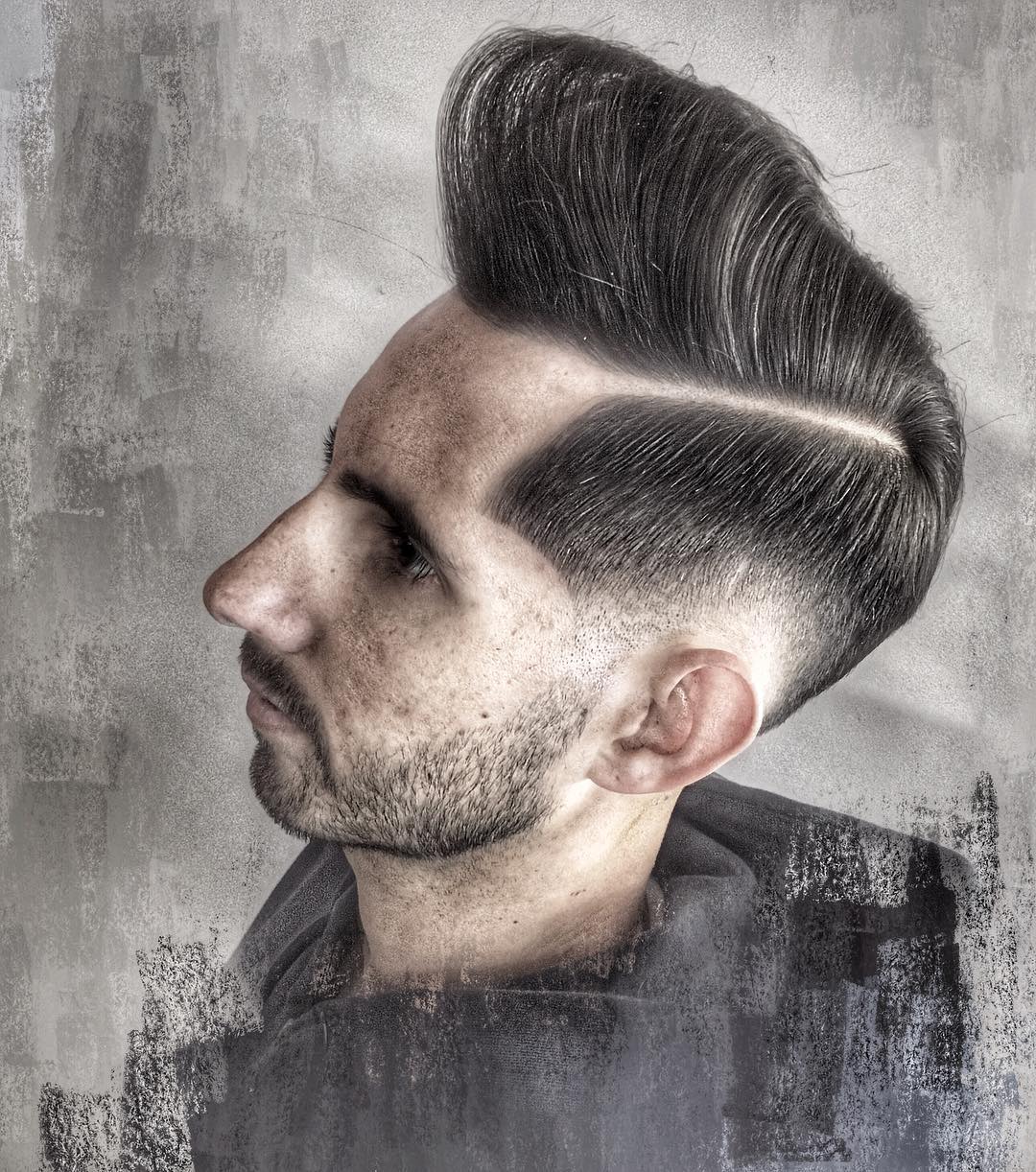 A shaved part means you know exactly where to divide hair.
16. Cry-Baby Hair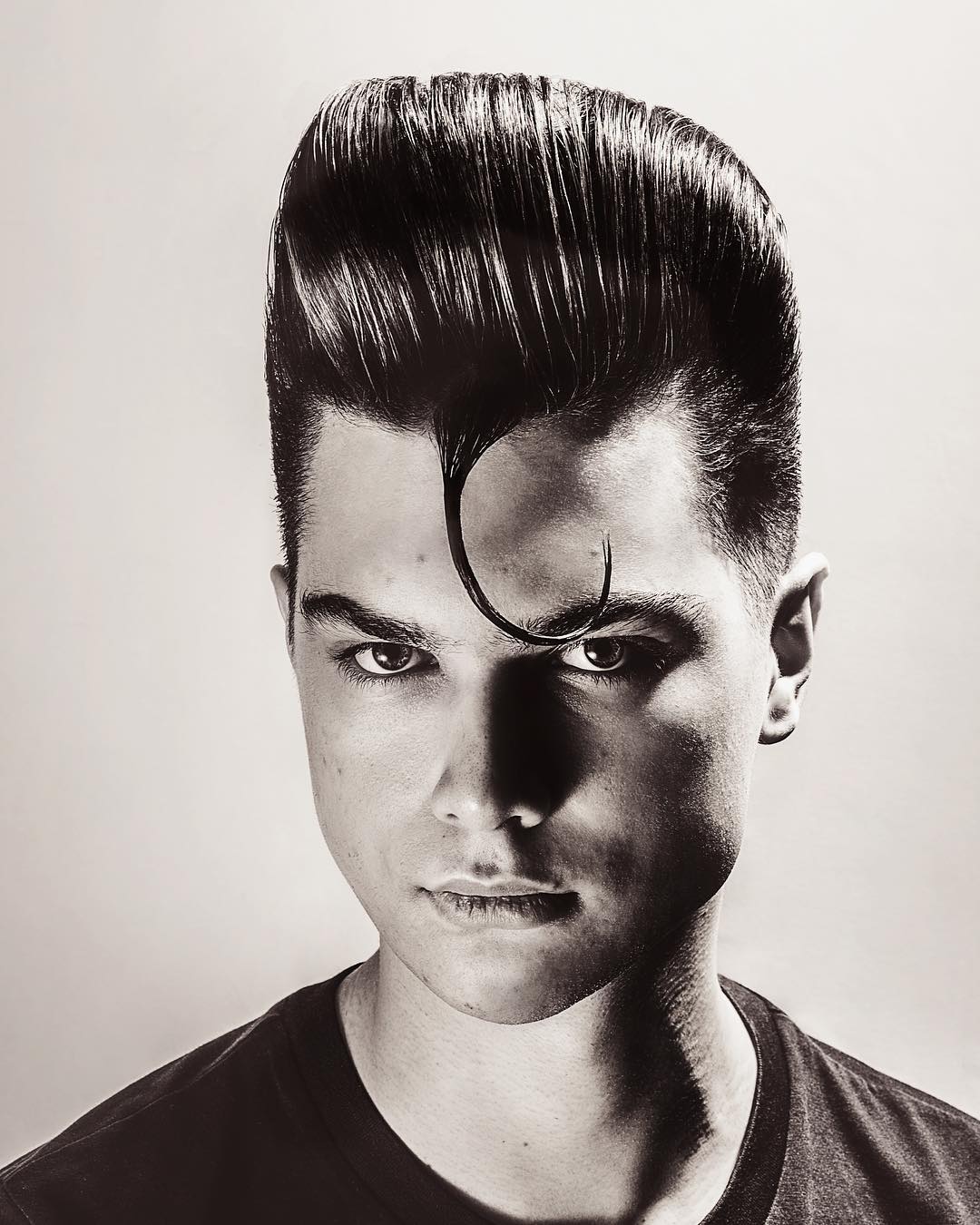 This high pomp with a forehead curl takes Johnny Depp's Cry-Baby hair to the next level.
17. How to Style a Pompadour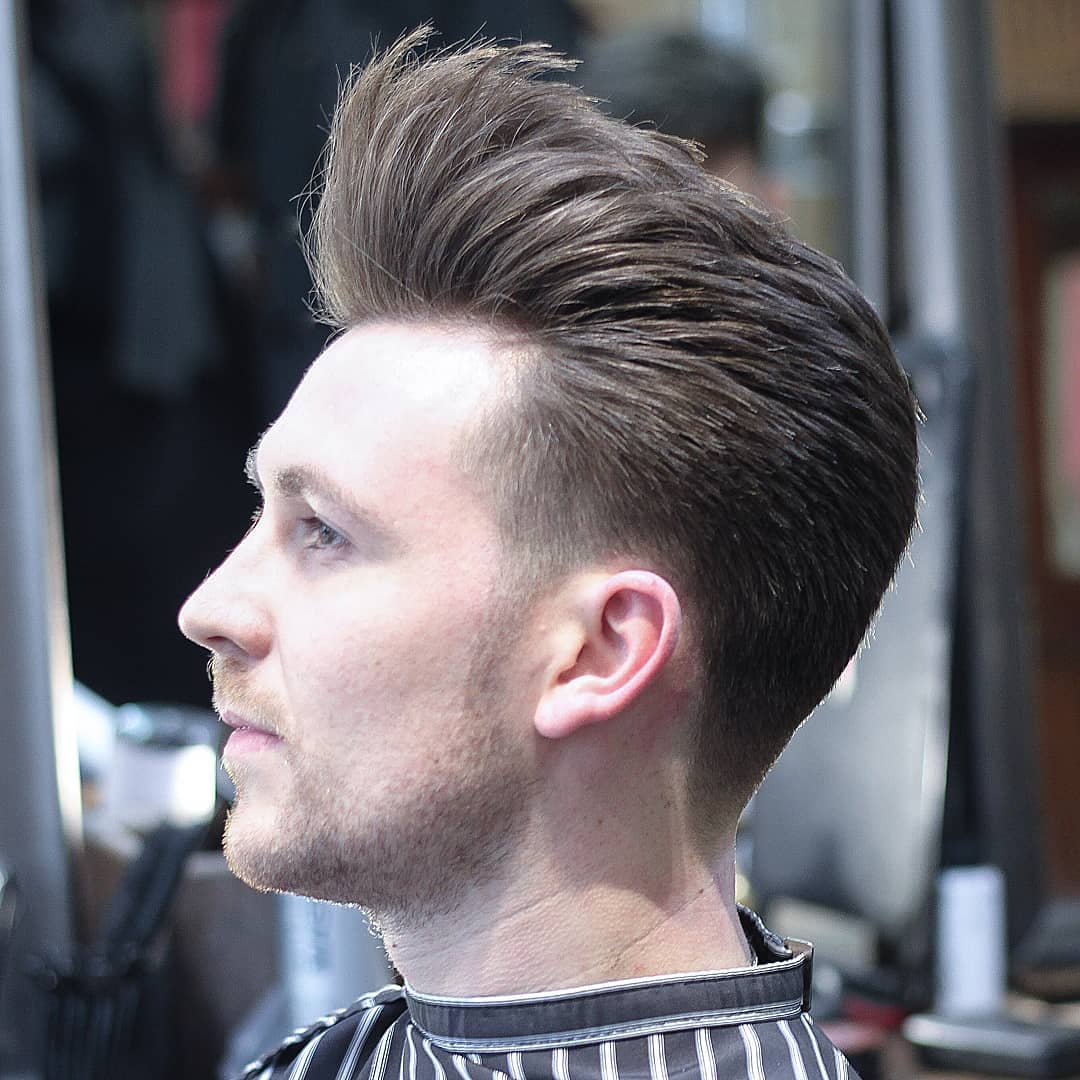 Many pompadours can be styled with pomade alone. High pomps like this one benefit from some blow drying to train hair up and help hold hair before product has been applied.
18. 50s and 60s Popmadour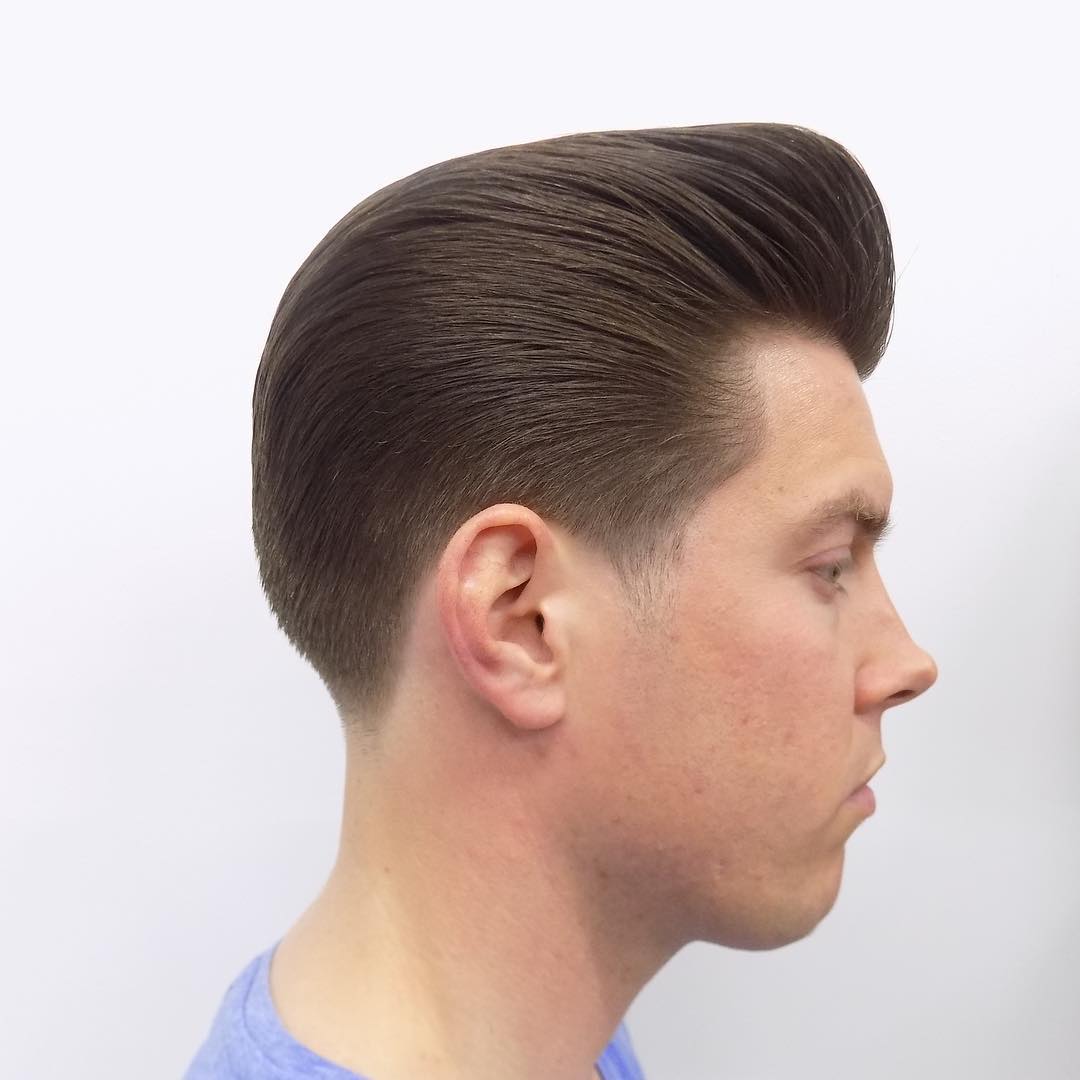 This classic pompadour looks as good in the new millennium as it did in the 50s and 60s.
19. Skin Fade Pompadour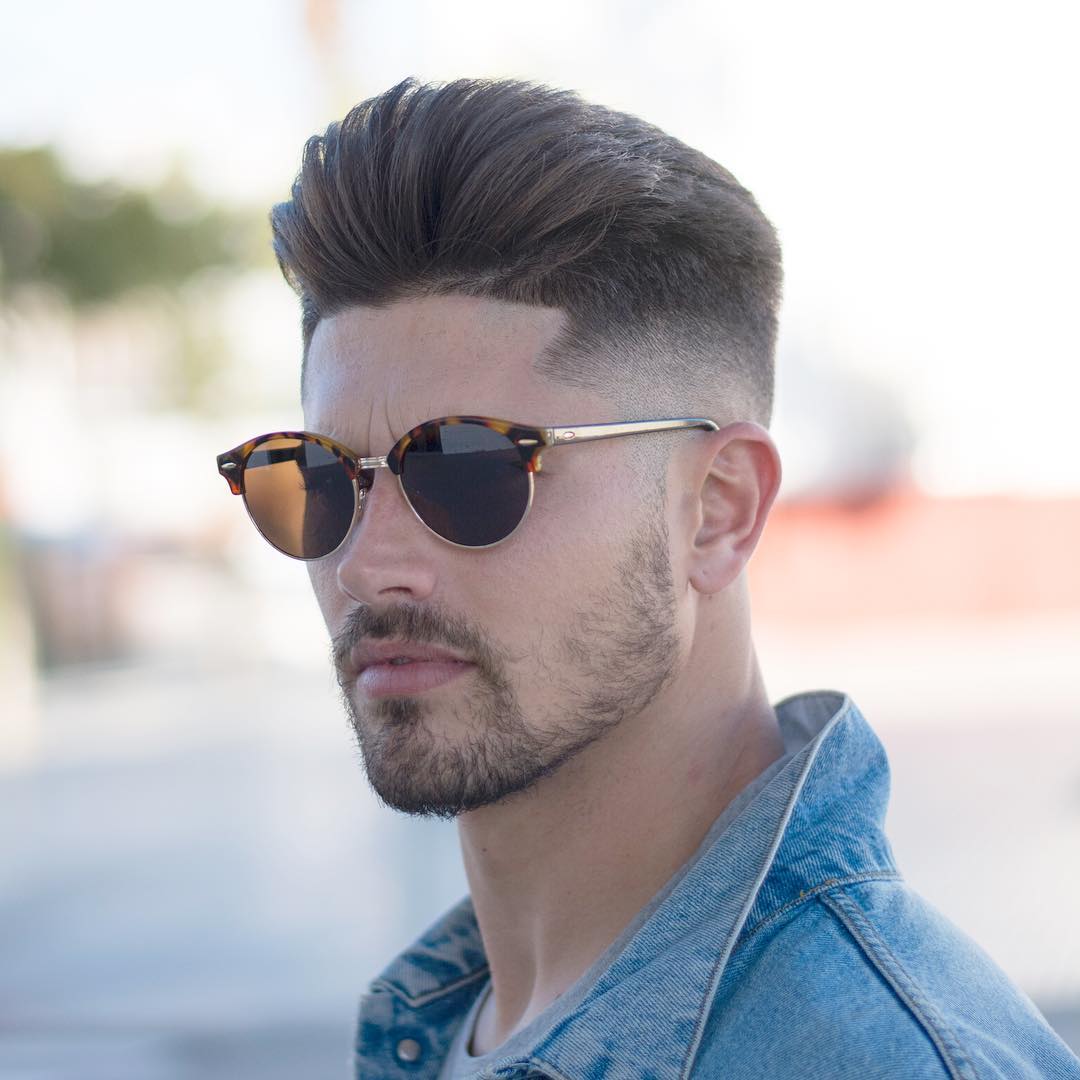 This short pompadour gets plenty of height by styling hair almost straight up. A skin fade at the sides emphasizes hair on top.
20. Undercut Pompadour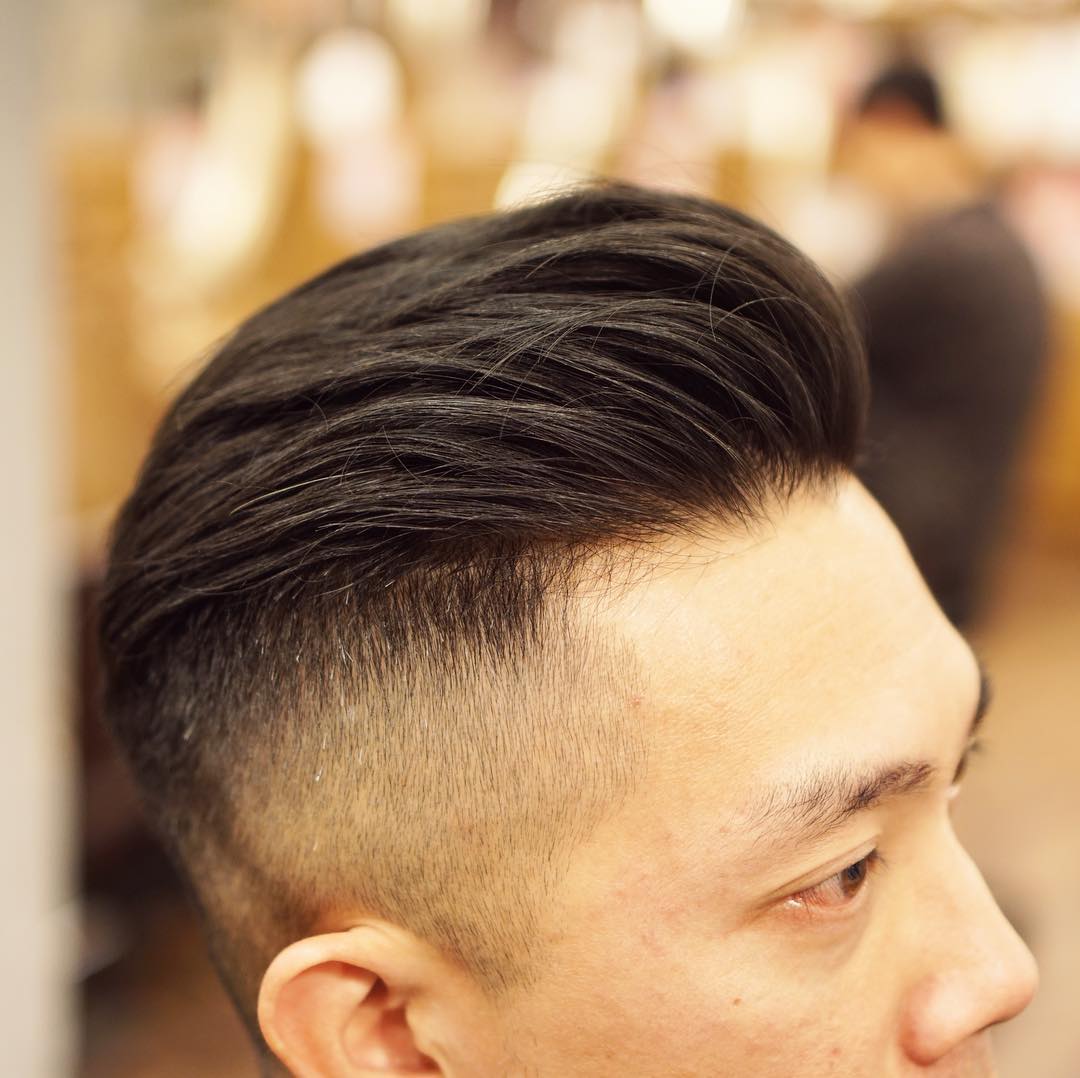 One of the most popular ways to wear a pomp in 2018 is with an undercut.
21. Comb Over Pomp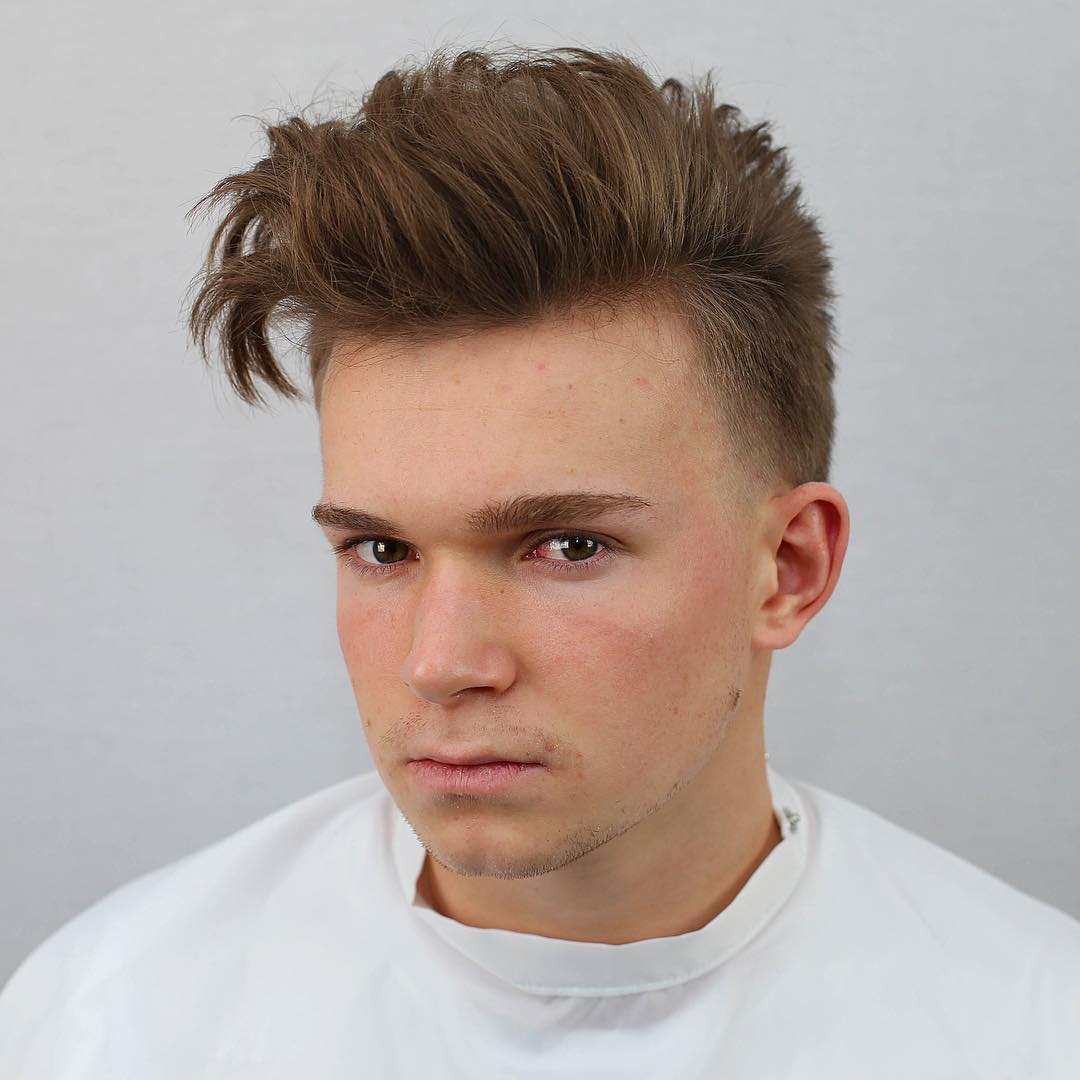 This matte and messy take on the comb over pomp is cool and modern.
22. Messy Pompadour + Fade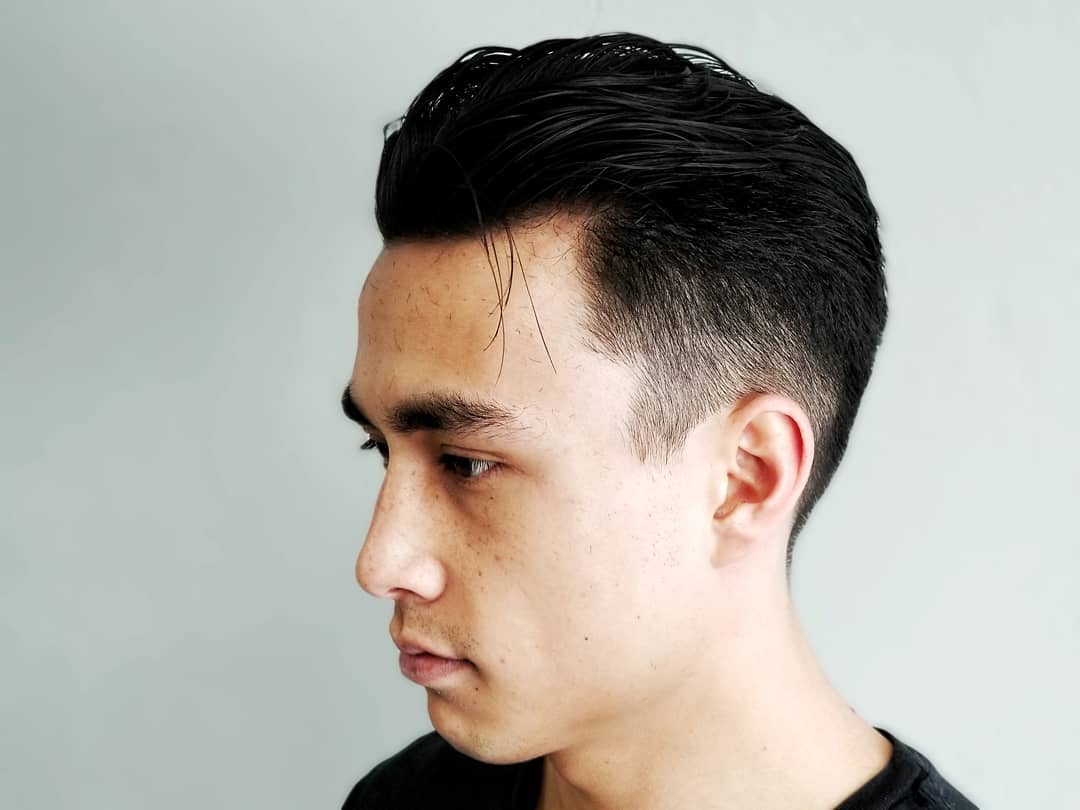 This highly textured style with faded sides contrasts messy with clean cut.
23. Wavy Pompadour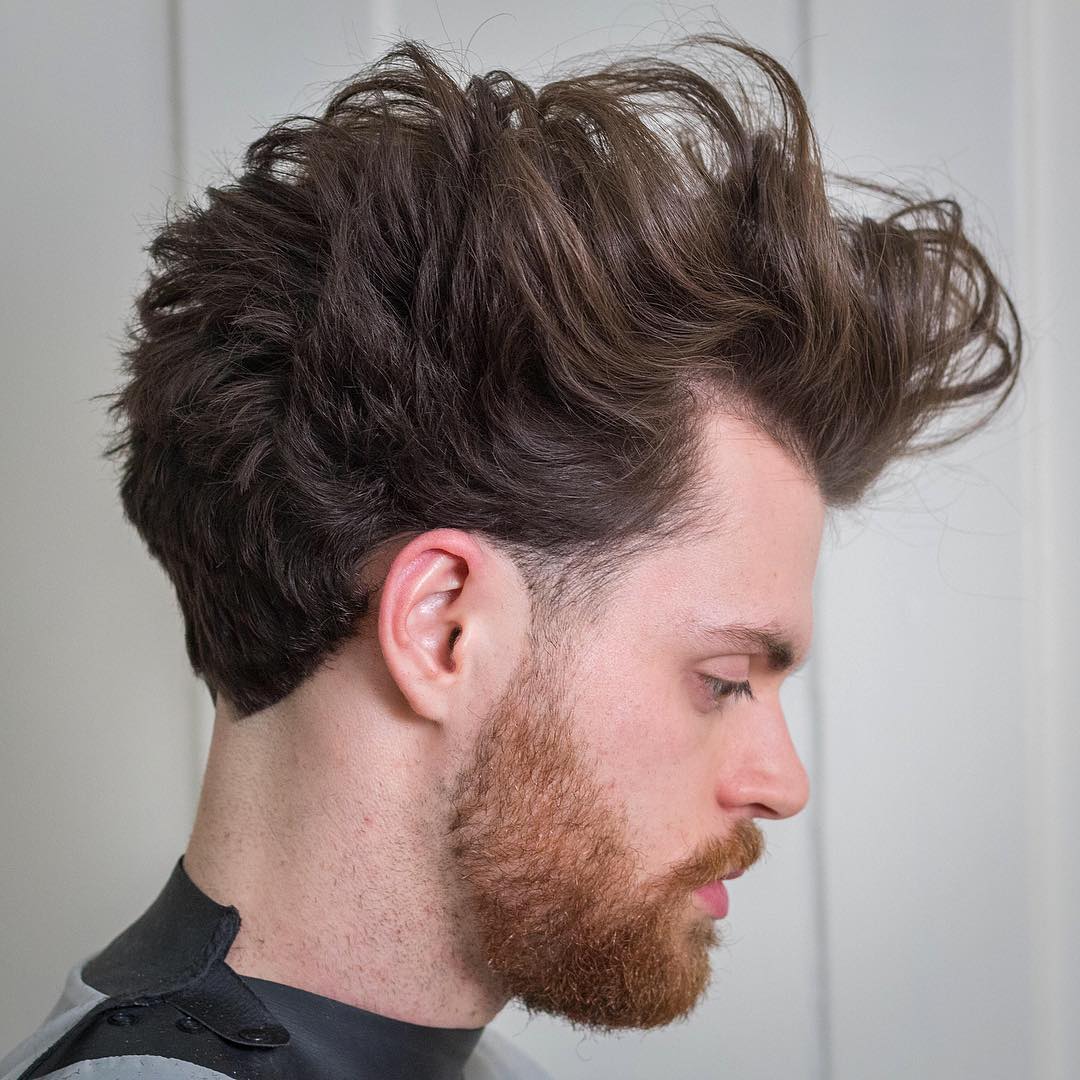 Waves don't need to be straightened to style a pompadour. Leave some wavy texture for this wild style.
24. Long Hair Pompadour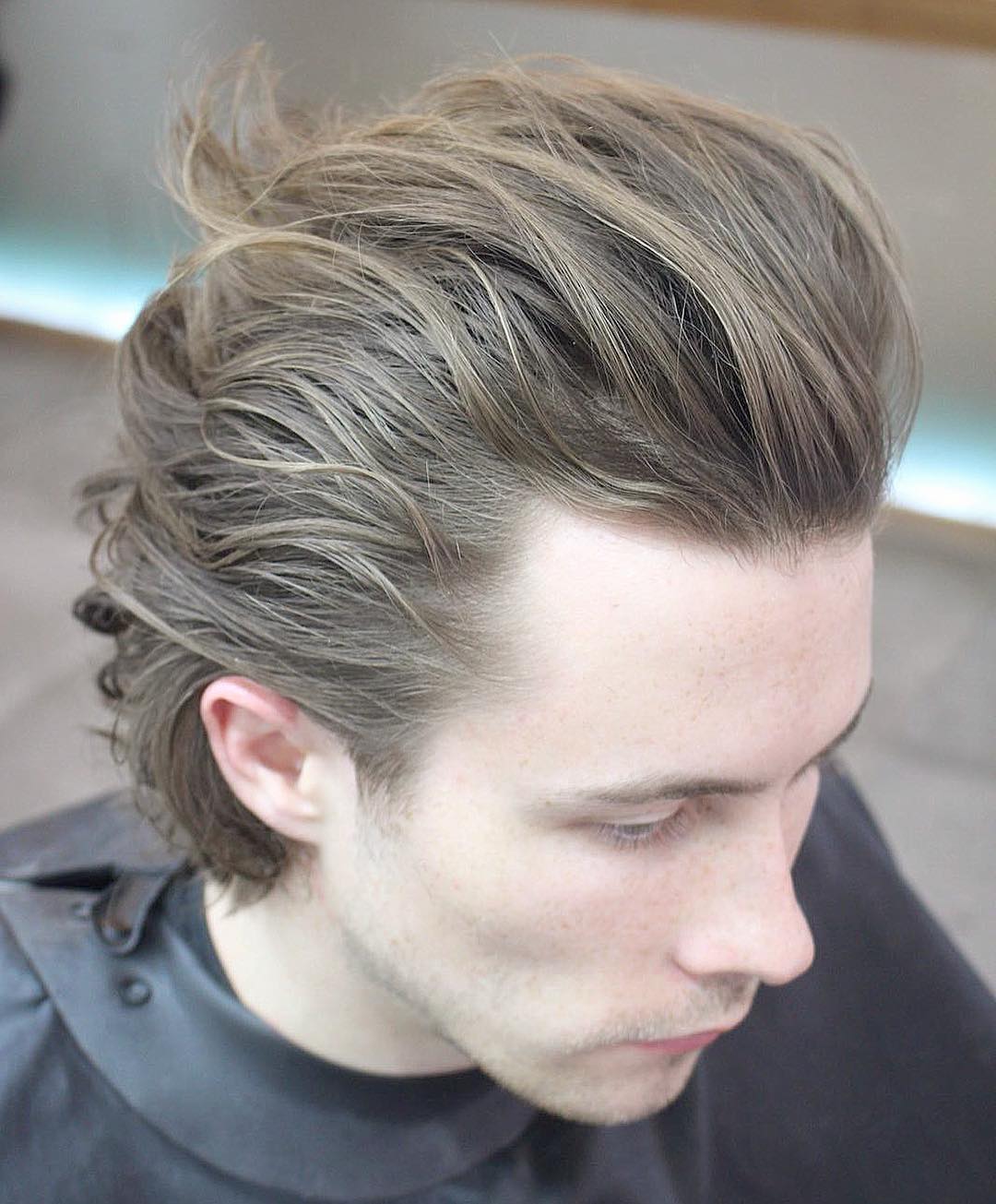 MENSPIRE Male Image & Grooming
Long hair for men has plenty of styling options, including the pompadour. It's the same styling, work all hair towards the back. A blow dryer boosts height and hold.
25. Modern Pompadour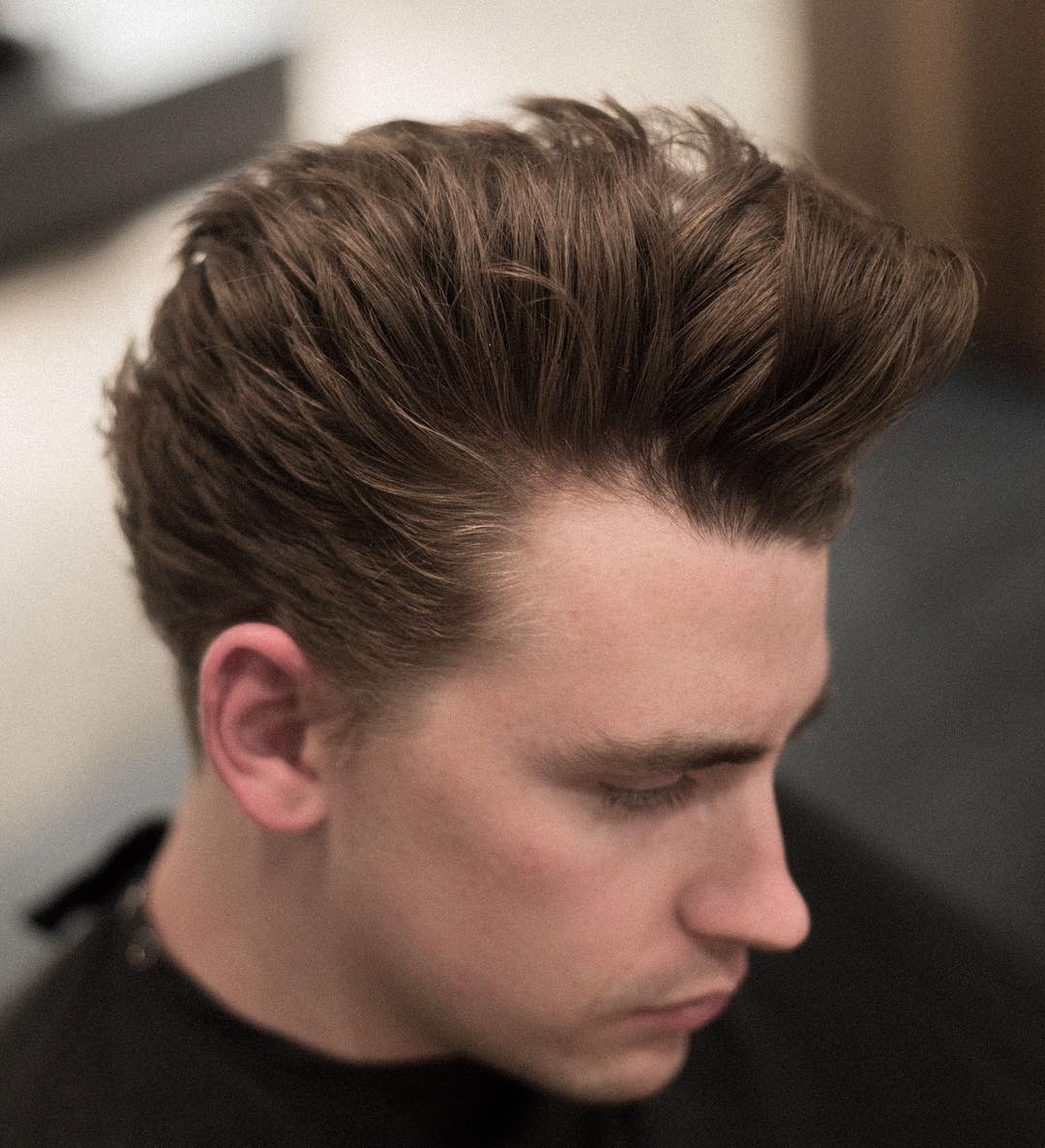 This classic pompadour shape features modern styling with a shine-free finish and a loose textured hold.