Thinking about changing up your look and trying a new haircut style? Look no further. We got you covered. This is the most up-to-date and complete guide to all the most popular men's haircuts and men's hairstyles.
This guide explains all the latest haircuts for men, and how to style them. This is the freshest collection of men's haircut photos and examples. All are cut and styled by the best barbers in the world. These are the best haircuts for 2022 and beyond that every man should try out.
Be sure to take the time and read through all the haircut descriptions below. This will help you talk with your barber about all of your next haircuts. It is good to know and will ensure you get what you want. Pick out a new look, show the photo to your barber, and then walk out looking great.
Popular fades
First, let's talk about fades. Fades are not really haircuts, but rather the way your barber blends the hair from short to longer lengths at the sides and back.
The most popular fades are your low fades, mid fades, and high fades that lay a foundation for other fade styles. Learn more about the many other styles in our guide to the types of fade haircuts that you can try out. When we talk about low, mid, and high, essentially we are talking about hair sections of the sides and back of your head and where the clipper work and blending ends (low, mid, or high). 
Low fade
A low fade is cut short with barber clippers lower down on the sides and back, closer to your ears and hairline. The clipper work is lower down. Your barber will gradually blend up into longer lengths on the sides and back. Put simply, your hair is shaved lower down to the skin in the lower areas, but not as much in the mid to high areas of the sides and back of your head. A low fade tends to show off the hair higher up and gives stylish looks with more flow, much like a scissor cut tapered haircut.
Mid fade
Mid fades can be associated with many of your classic men's haircuts. A very standard look to how a barber will cut hair on the sides and back of your head. Hair is blended from very short or bald in the low down section, to medium short in the mid section. In the mid, to high sections, your barber will likely further blend the hair lengths with scissors. Mid fades give you a nice clean cut and stylish look that still leaves some hair length higher up in the sides, back, and of course on top.
High fade
A high fade means that the majority of the sides and back of your haircut are clipped very short. Pretty much up to where you would part your hair. A high fade is often paired with undercuts, buzz cuts, high and tight haircuts, pompadours, and quiff haircuts. A high fade creates more of a disconnect between the long hair on top and very short sides.
Popular short haircuts
Short haircuts are easy to manage and style. This is why so many guys go for short haircuts.
Buzz Cut
Several short haircuts can fall into the category of a buzz cut. Crew cuts, flat tops, the ivy league, and high and tights are all buzz cuts. It is a short haircut sculpted with barber clippers.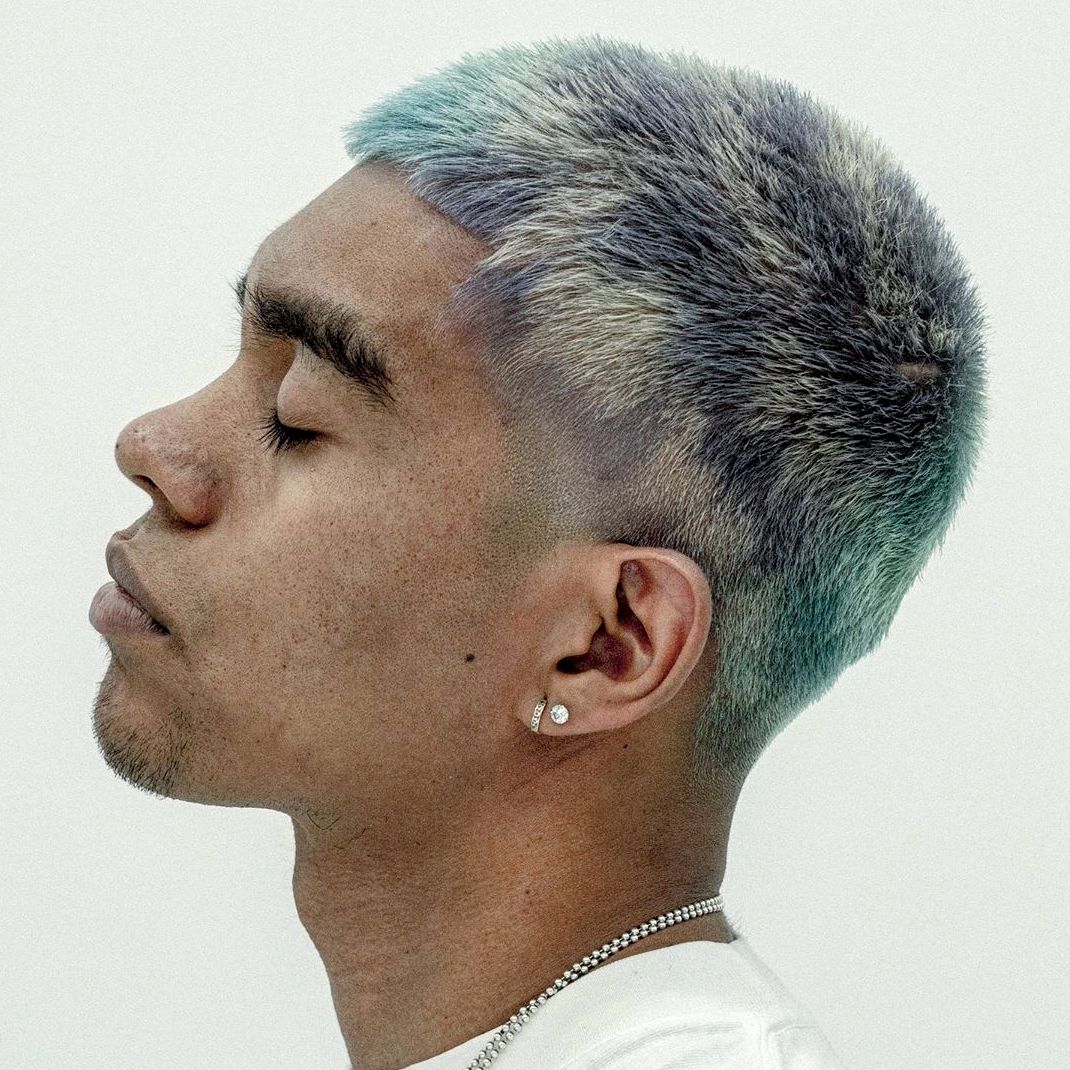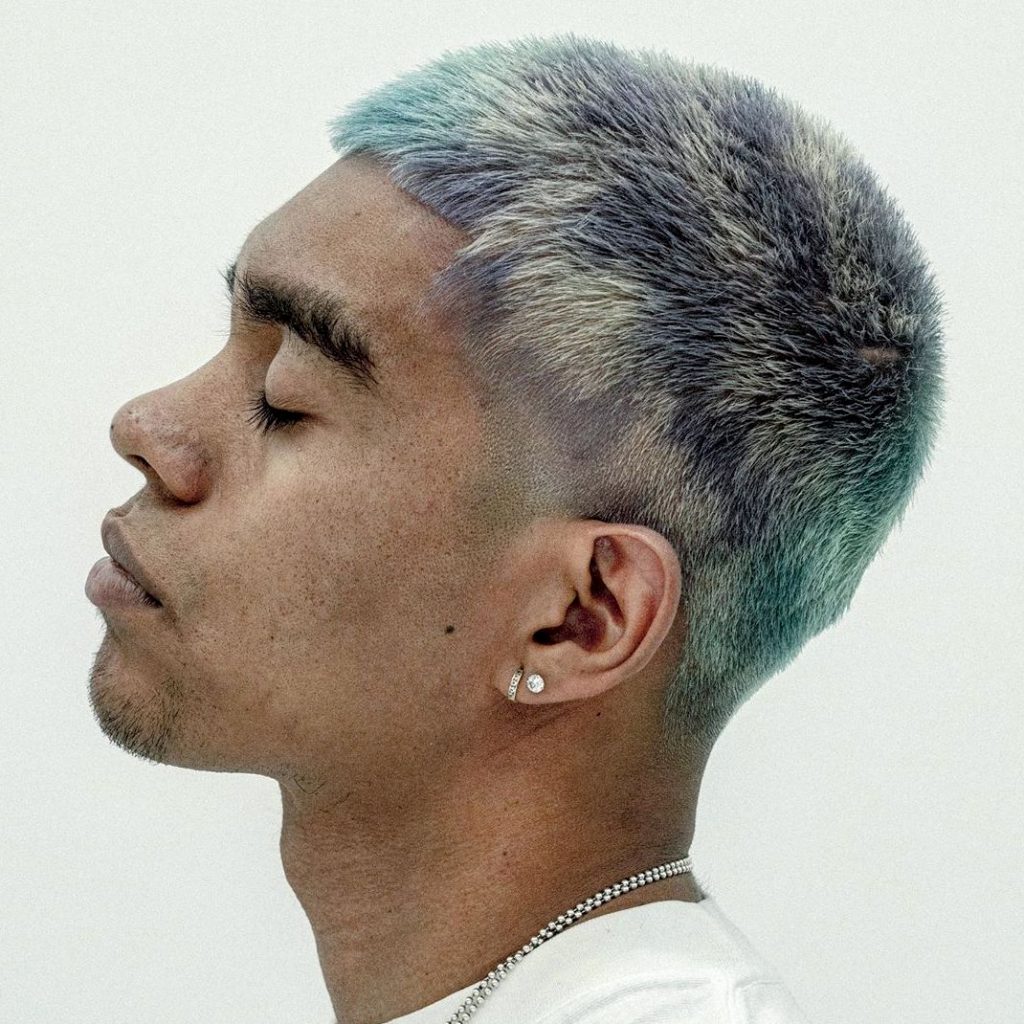 Crew cut
The crew cut is a classic men's haircut that will always be a popular choice. The hair on top is rather short all over with a bit of a pompadour or quiff up front to add some style. This haircut is the easiest haircut for men to style and maintain. Try the crew cut with different styles of fades or slightly different lengths on top to give this great short hair look a new spin.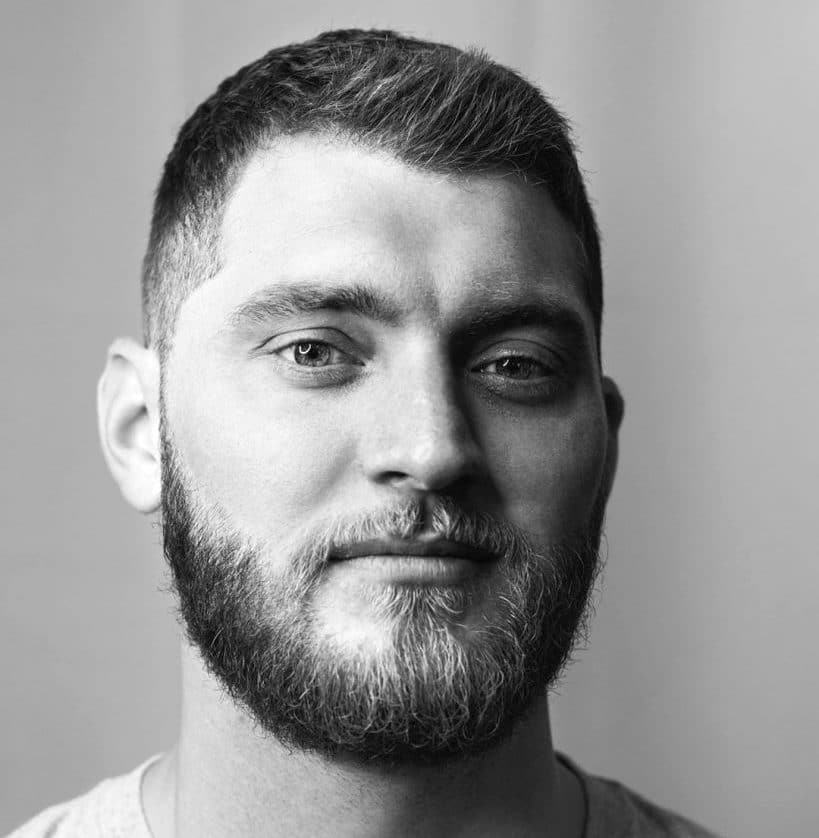 Ivy League
The Ivy League is a type of crew cut. The hair in the front section is kept long enough so that you can create a side part. Hair is tapered shorter towards the crown. Hair length at the front is typically about one and half inches long, and under one inch towards the back and crown. One might say this is a more versatile and stylish crew cut.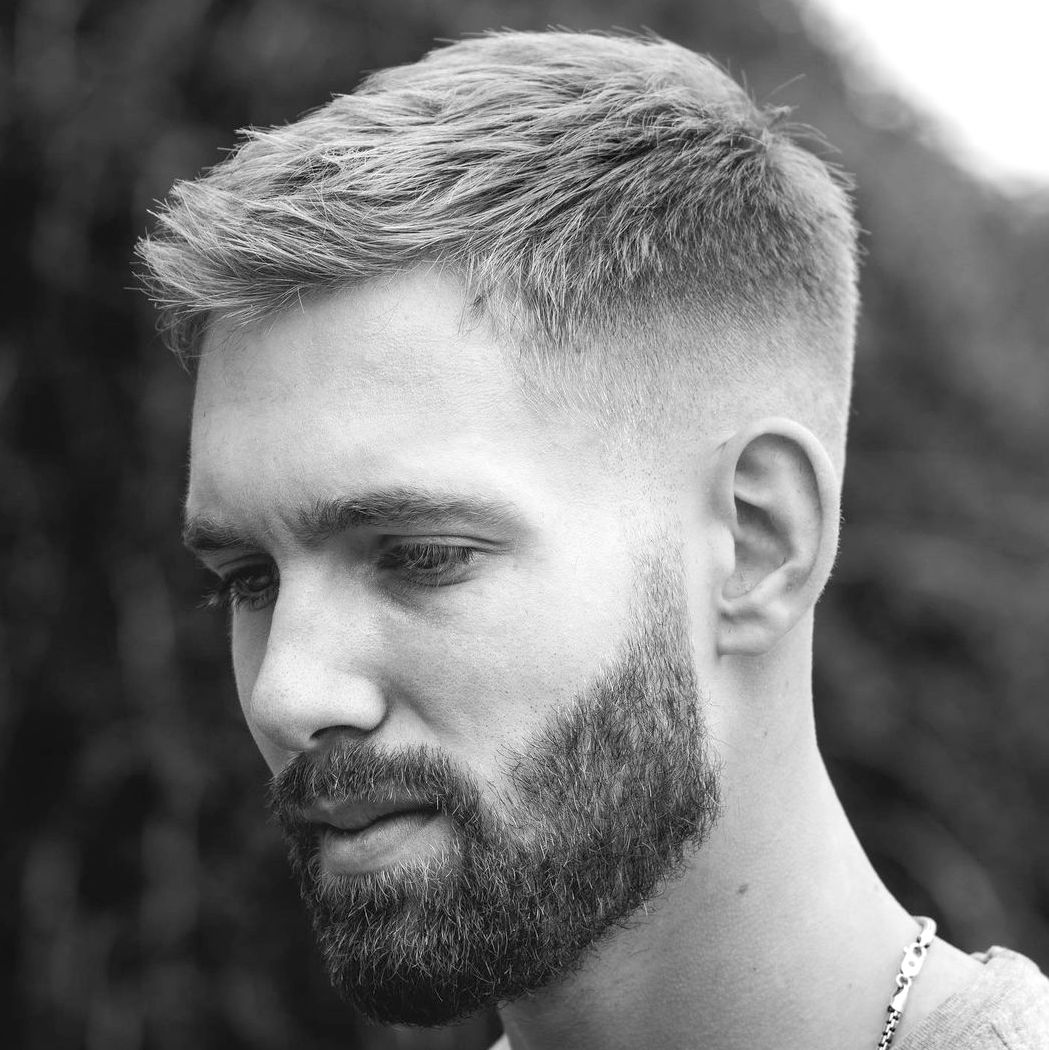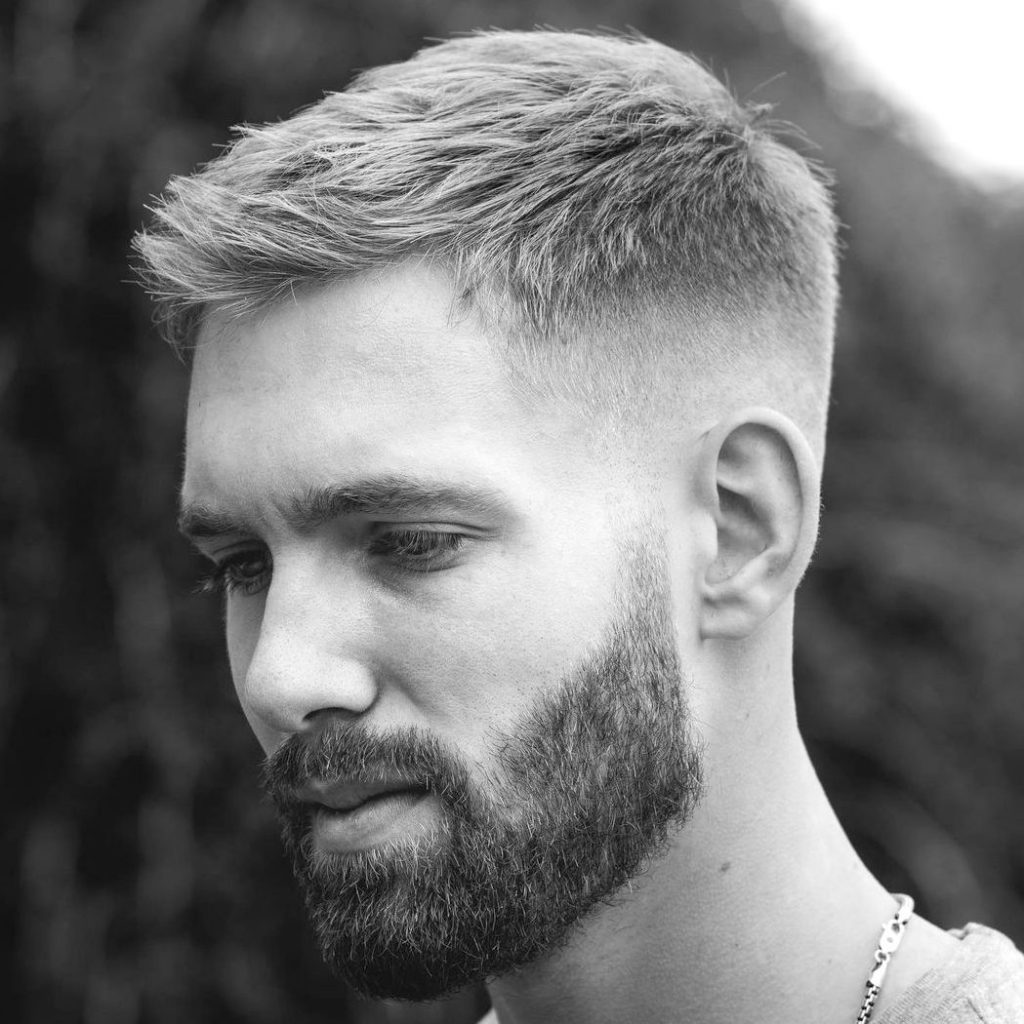 Flat Top 
The flat-top is a short haircut where the sides are cut close to the skin and the top stands up and is clippers or cut flat like a tabletop. Your hair on top can be short, medium, or long. If it still stands up straight it will create that flat top look.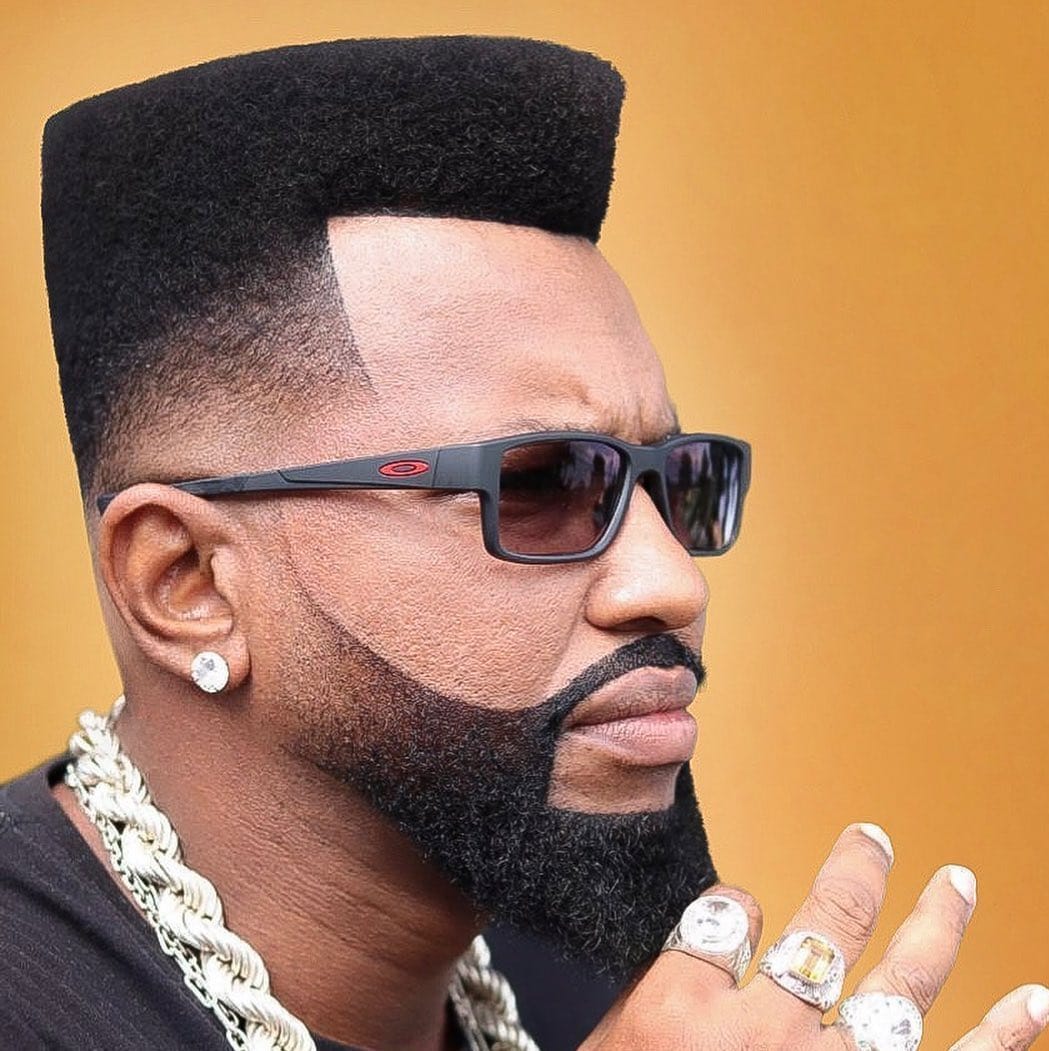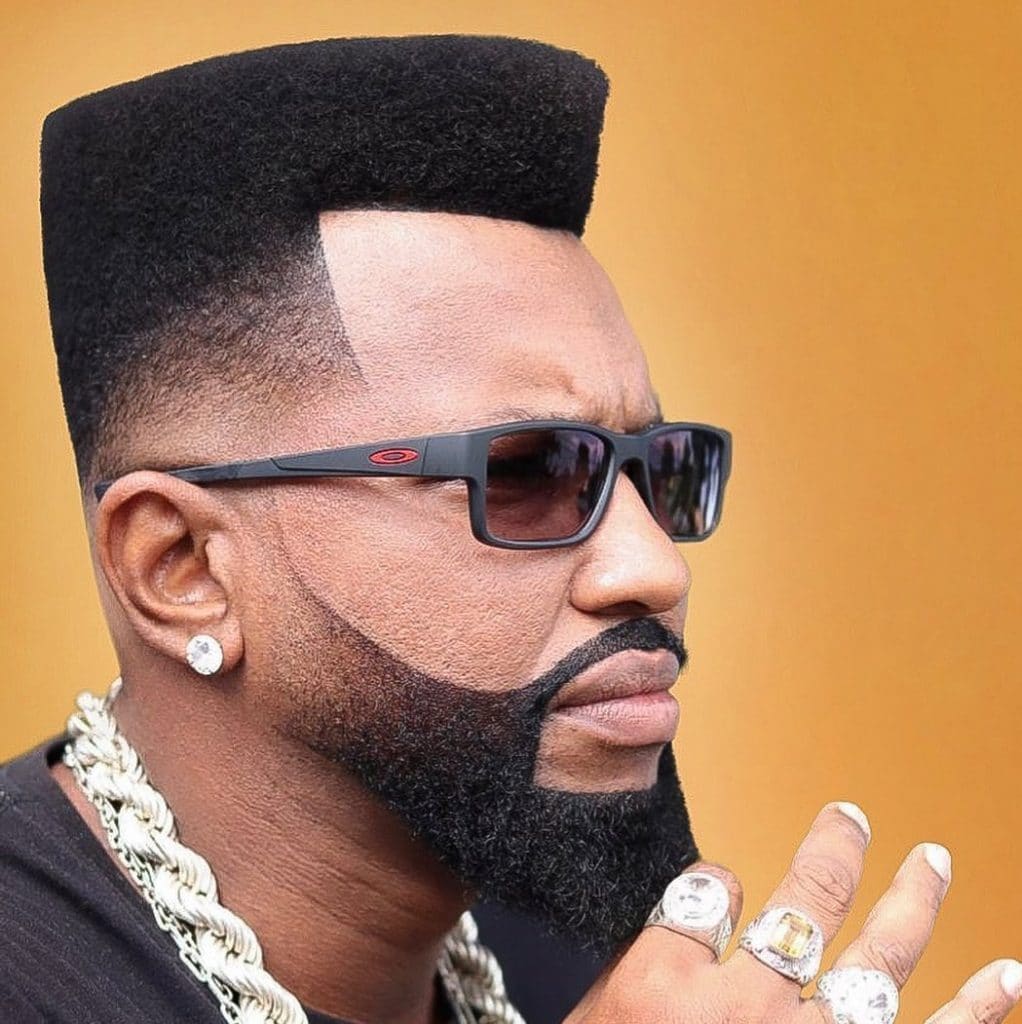 High and tight
The high and tight is a type of crew cut that is popularized by military personnel. It is a super short haircut where the sides and back are shaved down to the skin and gradually blended into a high fade. The top hair is quite short too.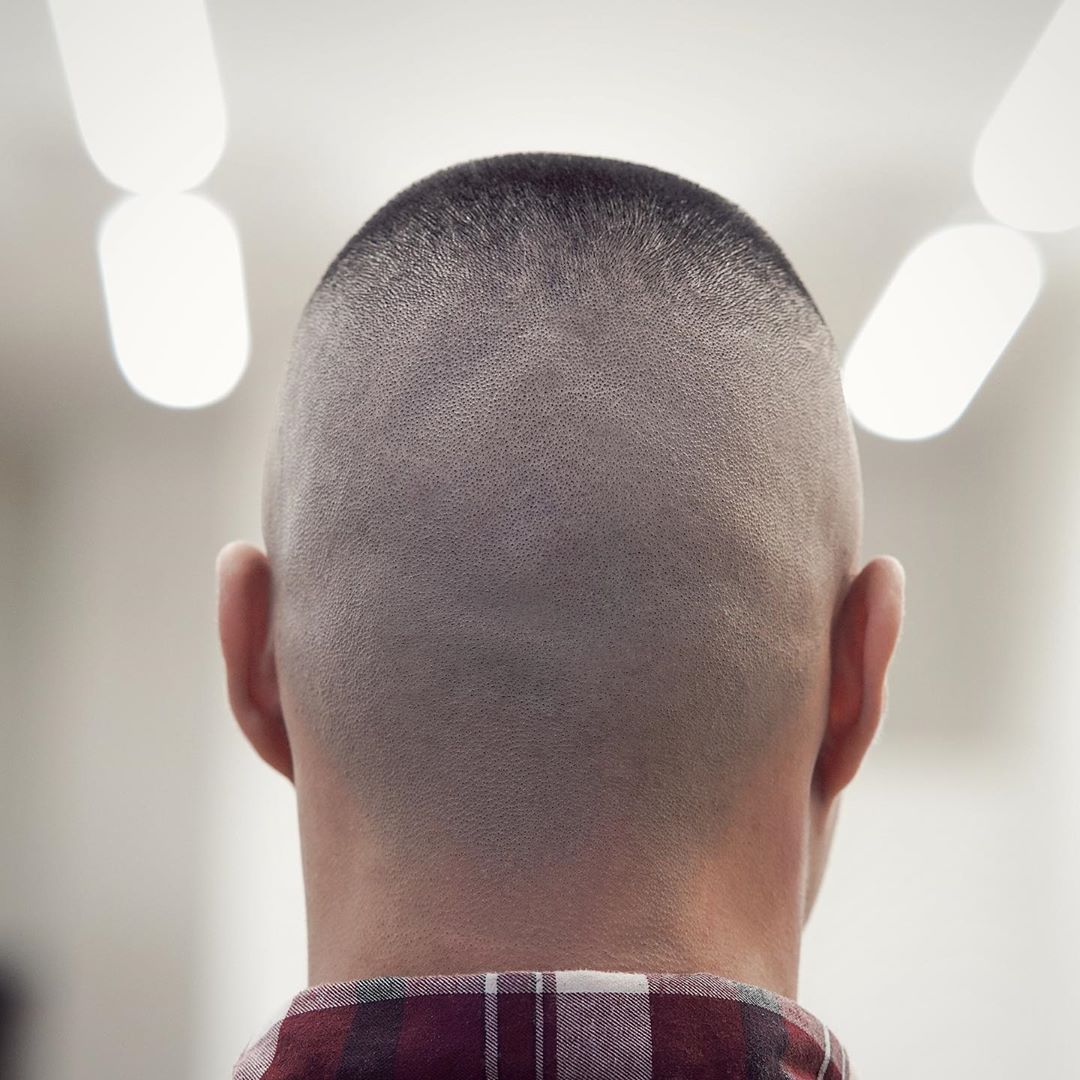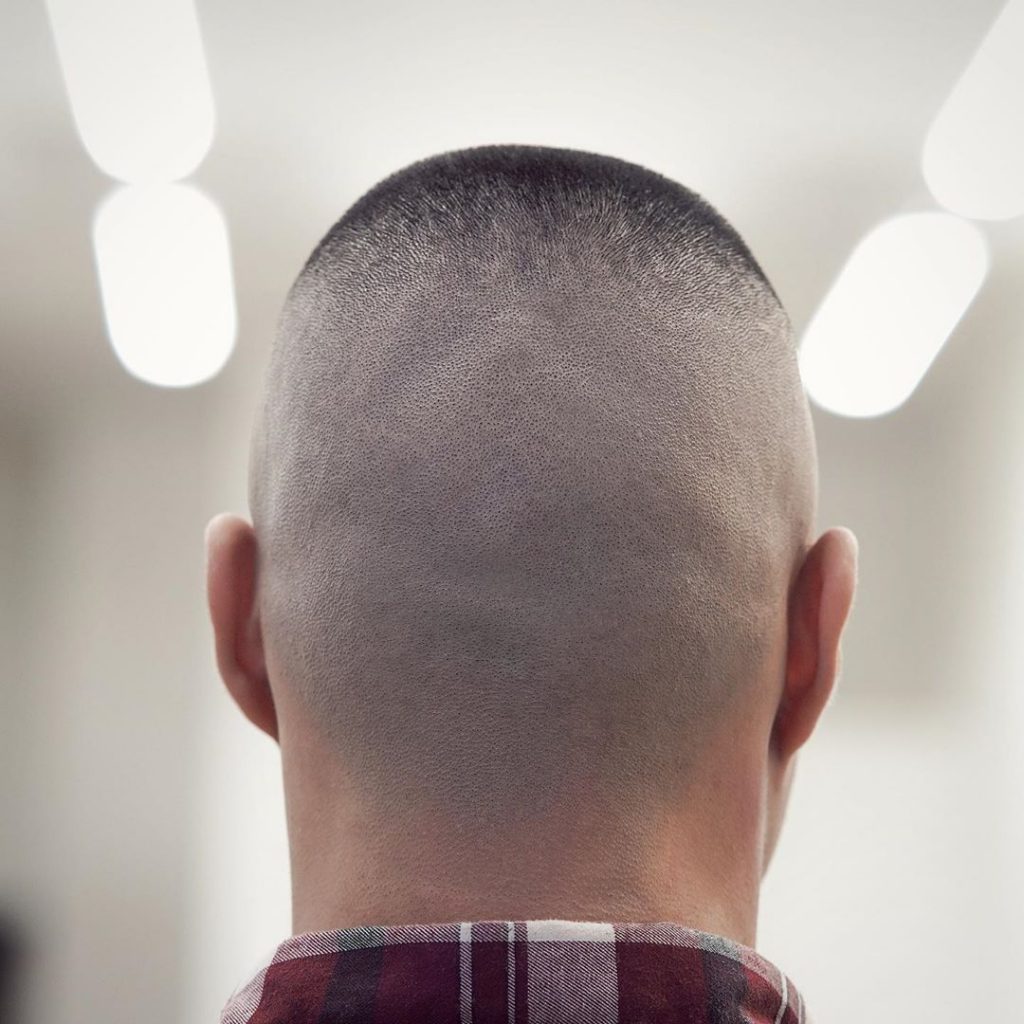 Caesar Cut
The Caesar haircut was named after Julius Caesar the Roman Emperor. It features short layered hair all over ranging from 1-2 inches in length. The fringe (bangs) is cut short and horizontally across the forehead. For a more updated look, your barber can give you a cool fade.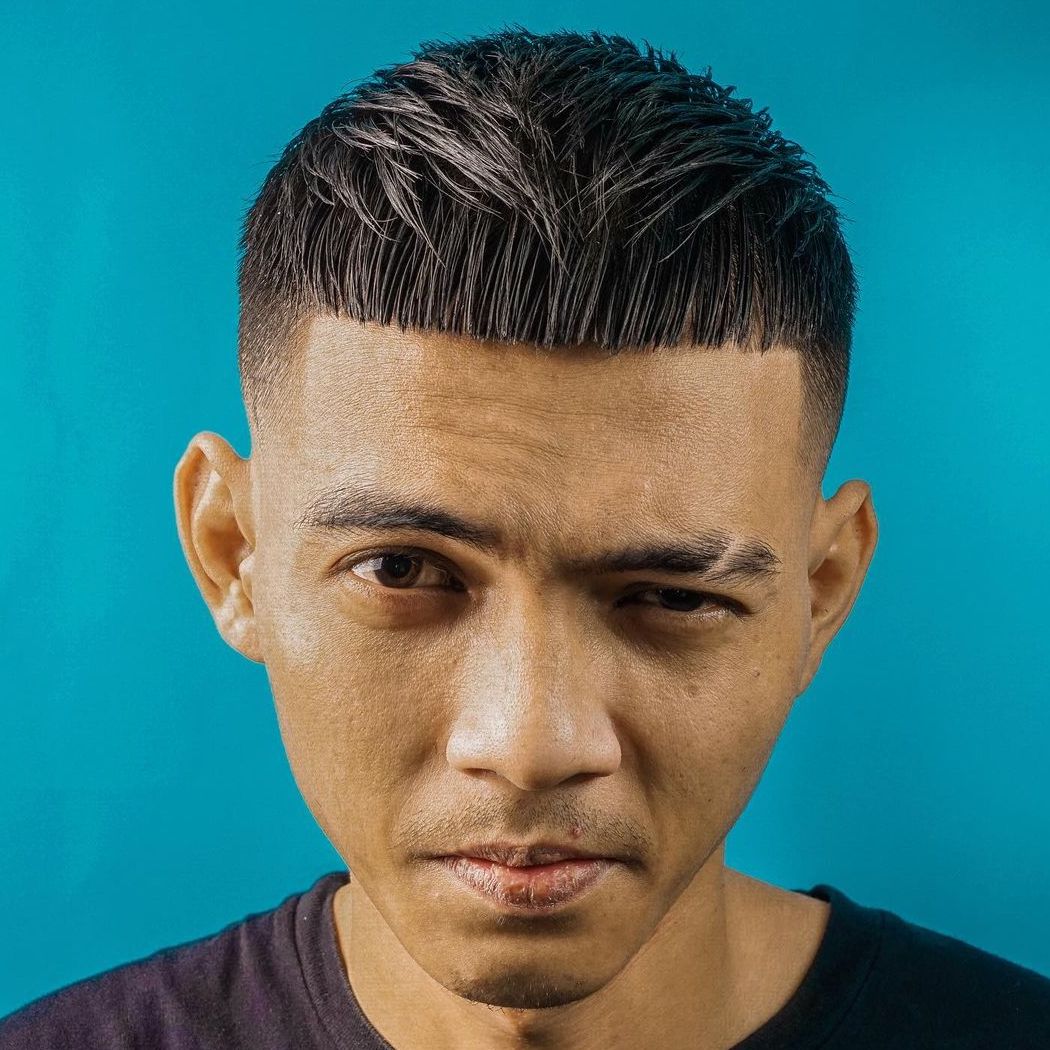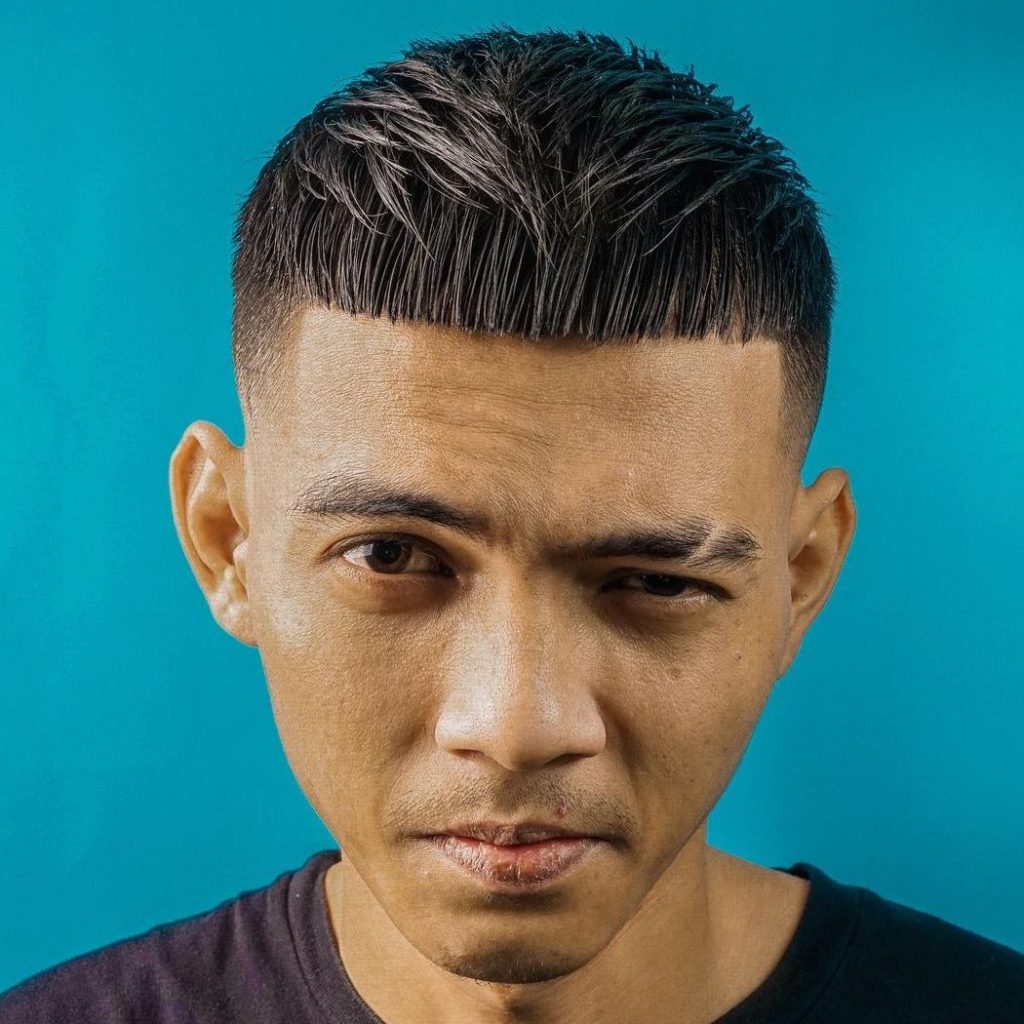 French Crop
The French crop aka the crop haircut has been super popular lately. It is similar to the Caesar but features a horizontal fringe that is a touch longer. Fringe length can be anywhere from mid-forehead to just above the eyebrows. Barbers have been making this haircut a bit more modern and cool compared to the Caesar by featuring a variety of fades, textured hair, or messy hair on top.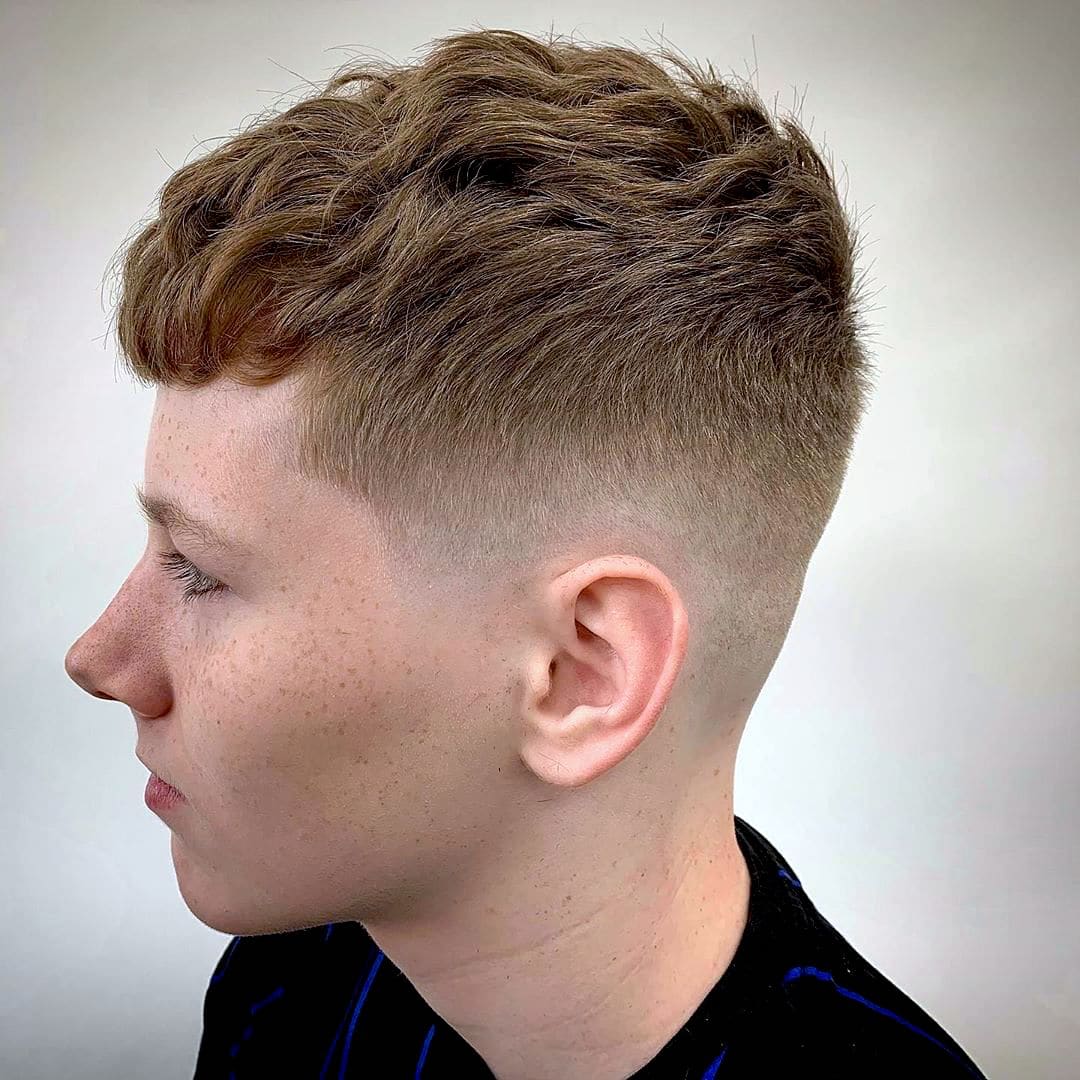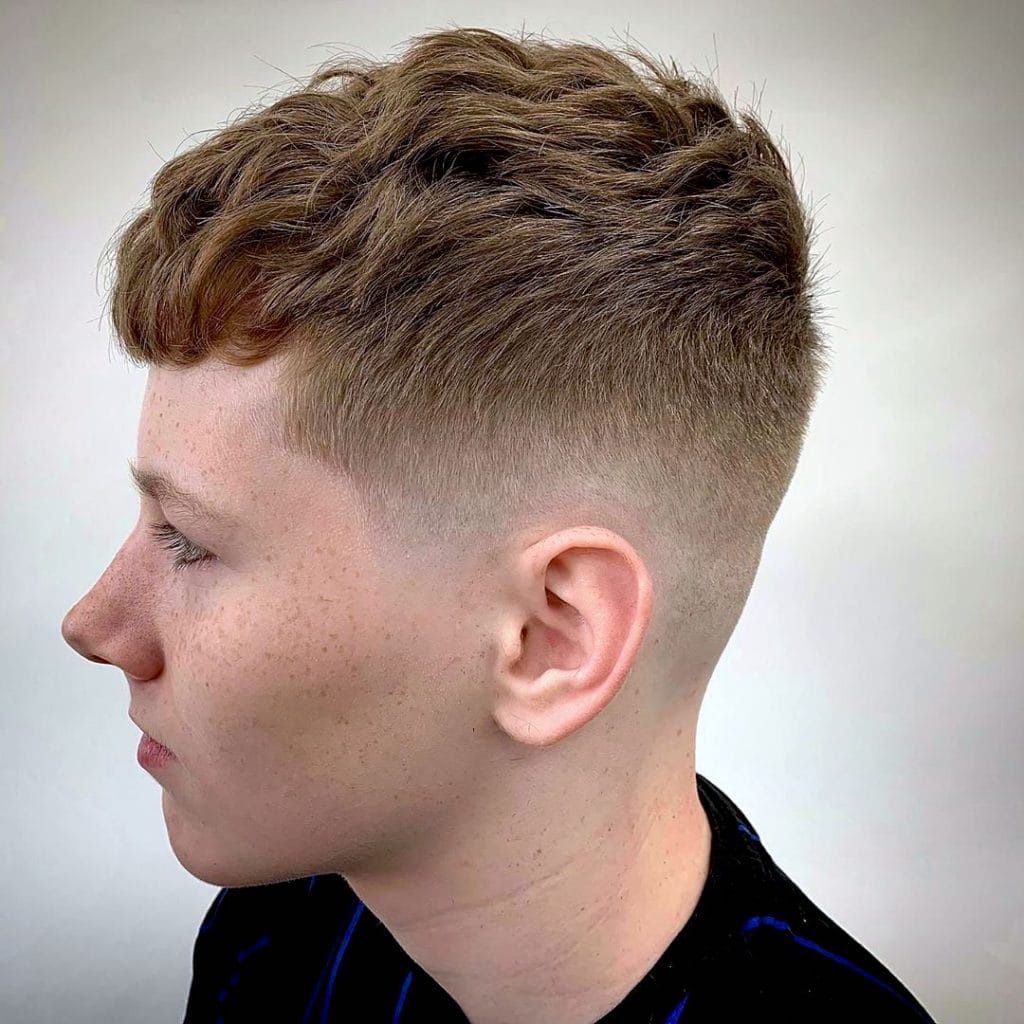 Hard Part
A hard part can work for short hair or medium hair. Perhaps it is more of a feature than a haircut. Nevertheless, it is a unique thing of its own. A hard part haircut features a shaved line in the place of your regular side part. It could be narrow or wider.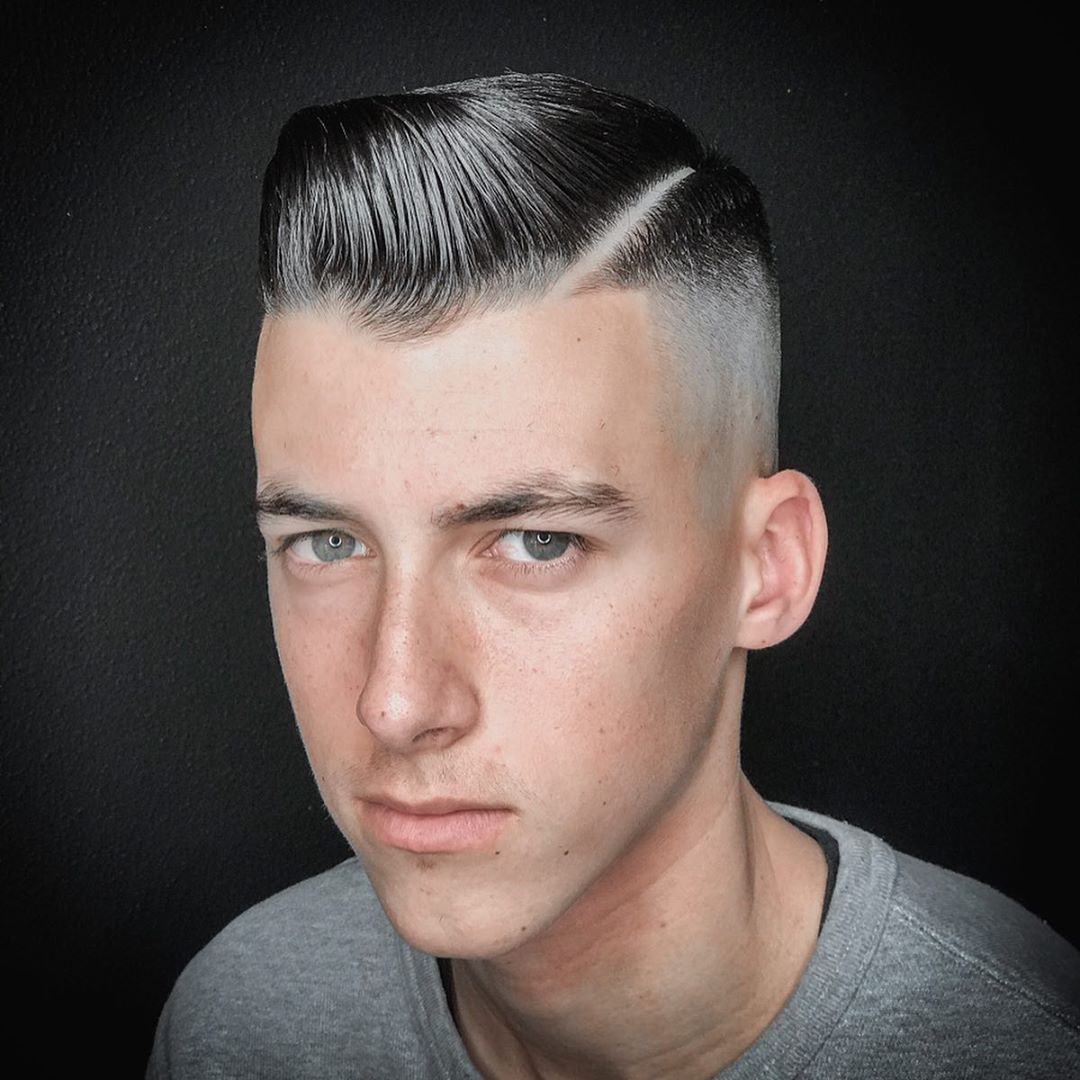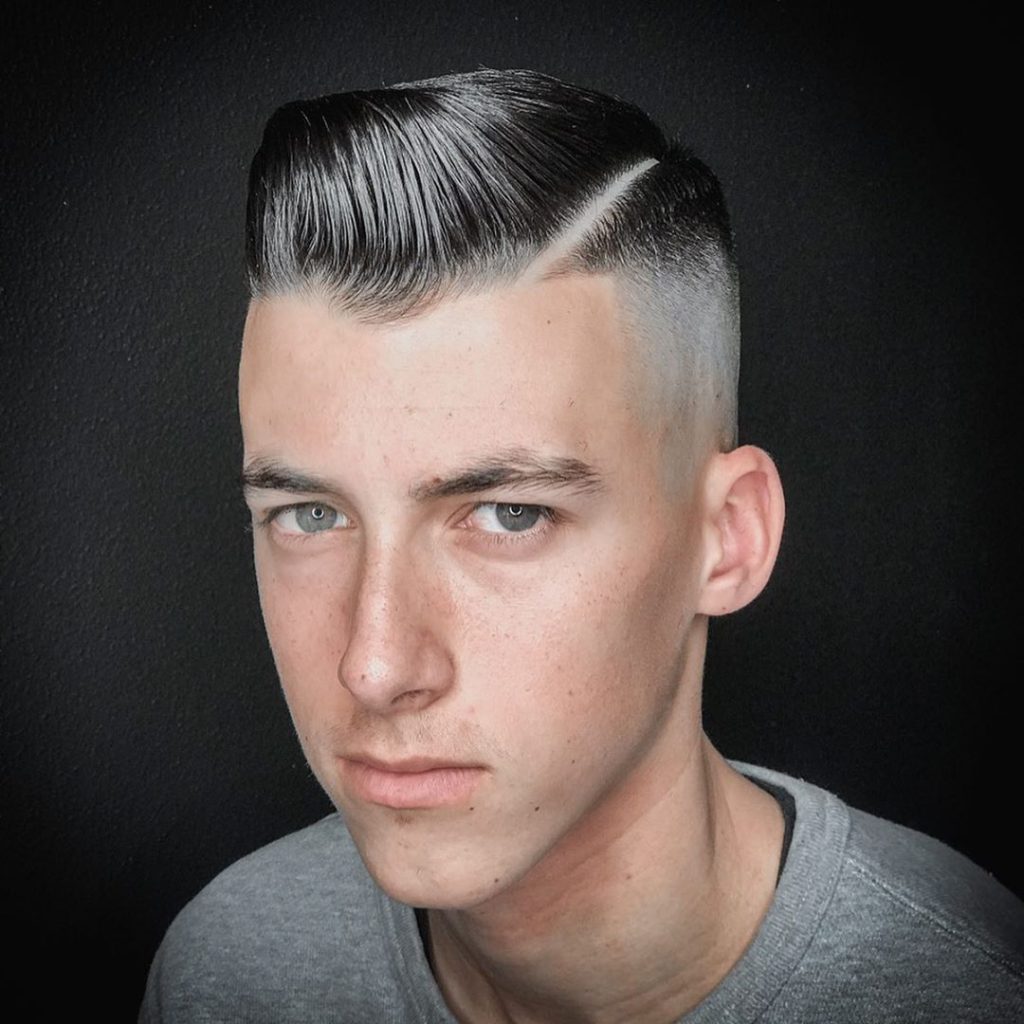 Textured haircuts 
Textured haircuts look cool at all hair lengths. The way your barber cuts the tips of the hair creates textures. The haircuts are meant to be styled in a messy or spiky way. Textured haircuts look cool but can also be worn in professional or office environments, just keep the sides and the back fresh with the fade of your choice.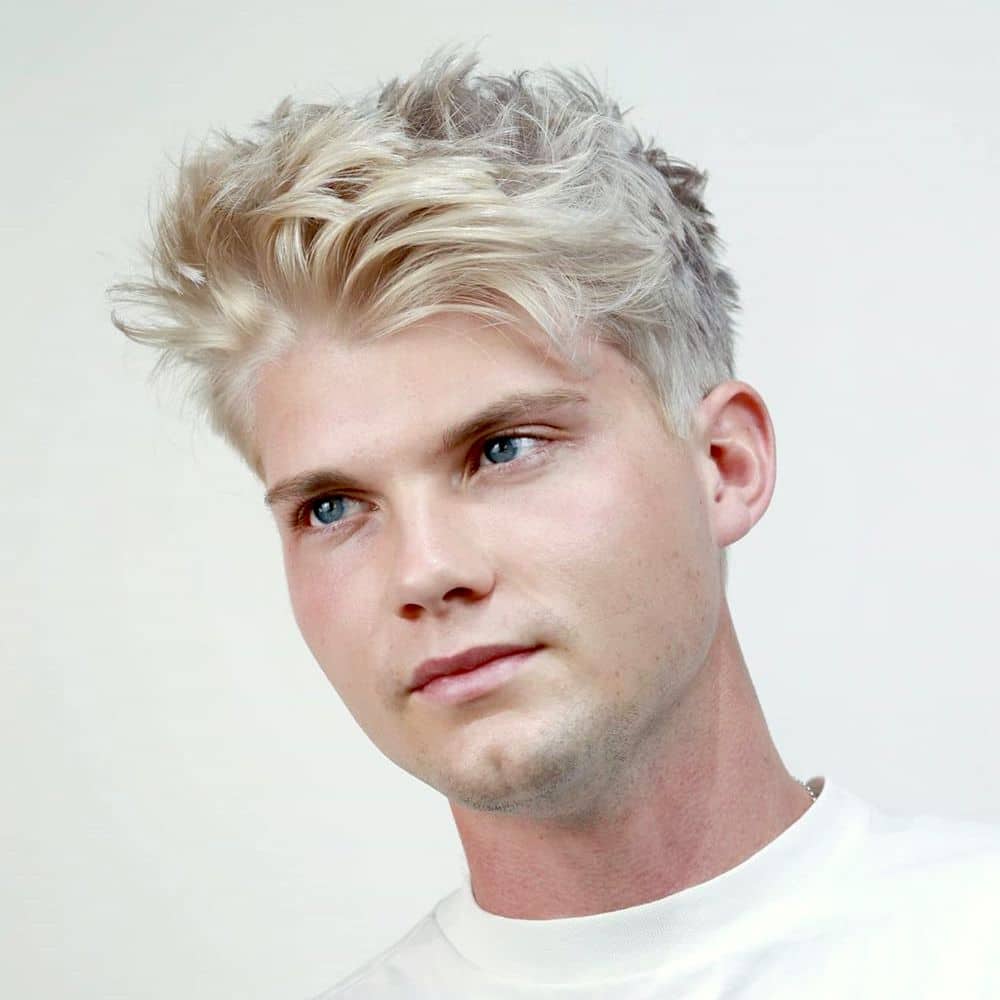 Popular medium haircuts
When you grow your hair out to a medium length you start to open yourself up to more types of haircuts and hairstyles.
Side Part
Some guys don't want to be in the spotlight with a trendy look. If that is you then a side part haircut is perfect. It is a great haircut if you want to look clean and simple. Perfect for professional or more formal circumstances. If you do want to make this haircut cooler then add a drop fade or a bald fade.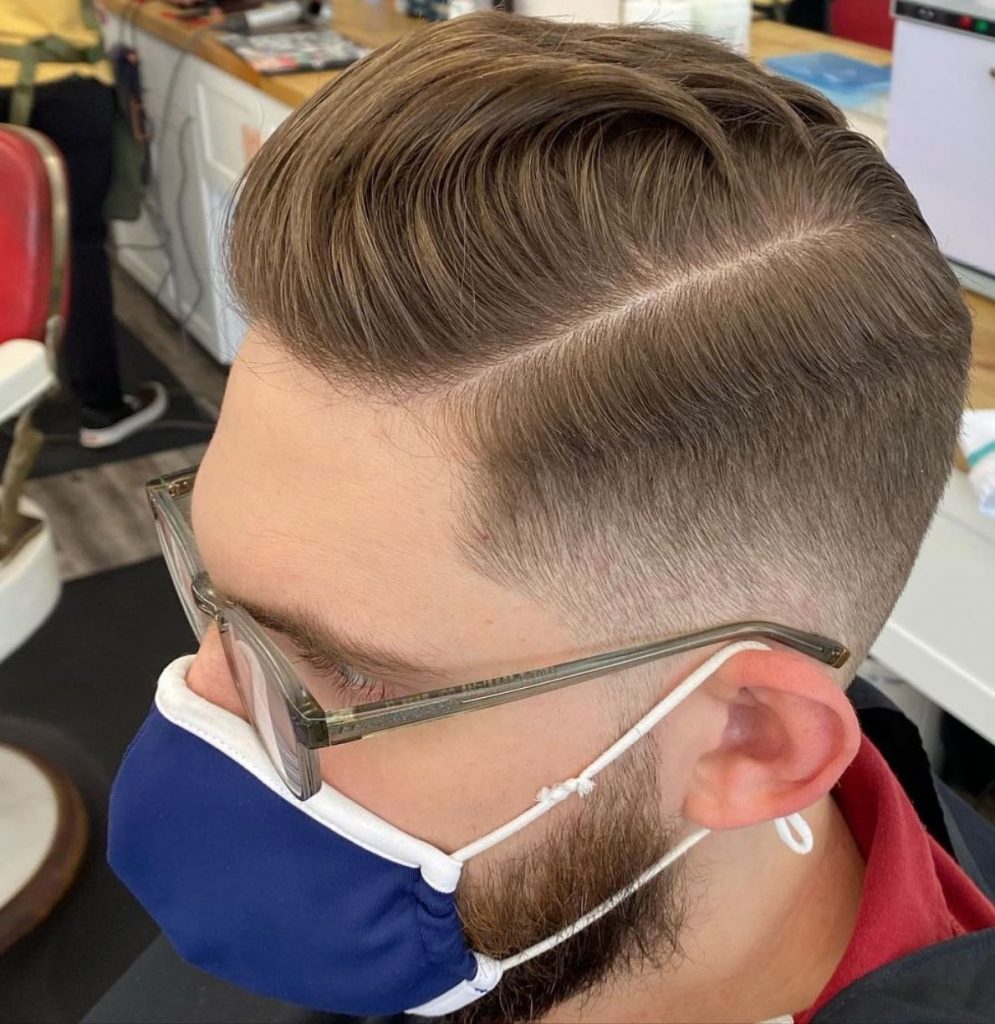 Undercut
The undercut has been one of the most popular men's haircuts for medium hair lengths for a very long time. The truth is an undercut can work with any hair length. But you need some hair to work with on top. This is a classic men's haircut that features very short sides shaved at one length, meaning it is not a fade. The top is disconnected from the shaved areas in an abrupt fashion. The hair on top is kept longer and can be left messy or slicked back. We have seen some amazing modern takes on this classic men's haircut over the years. You can modify how it looks by growing out your hair on top, adding spikes and textures, or growing out your fringe. You can also add a hair design for extra cool factor.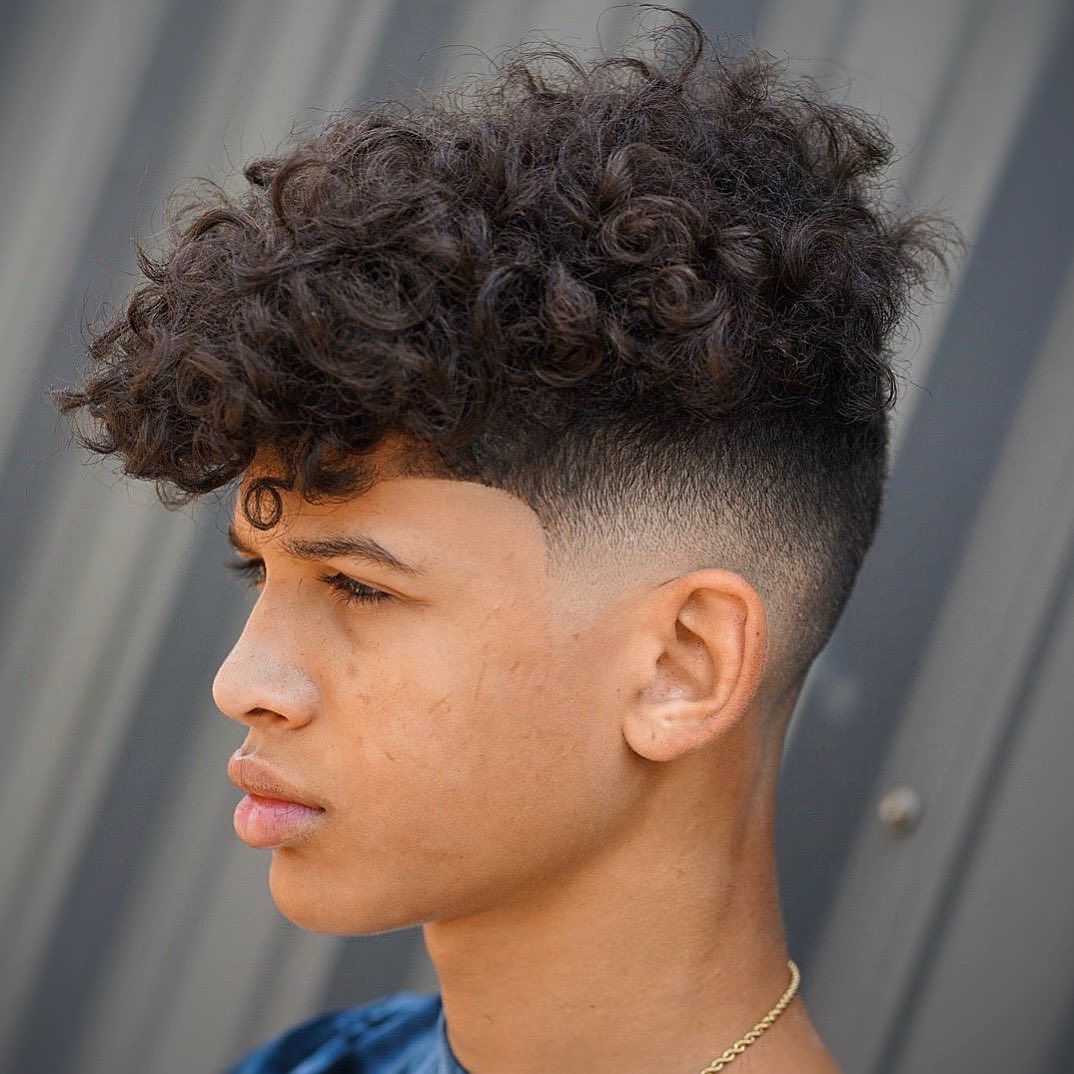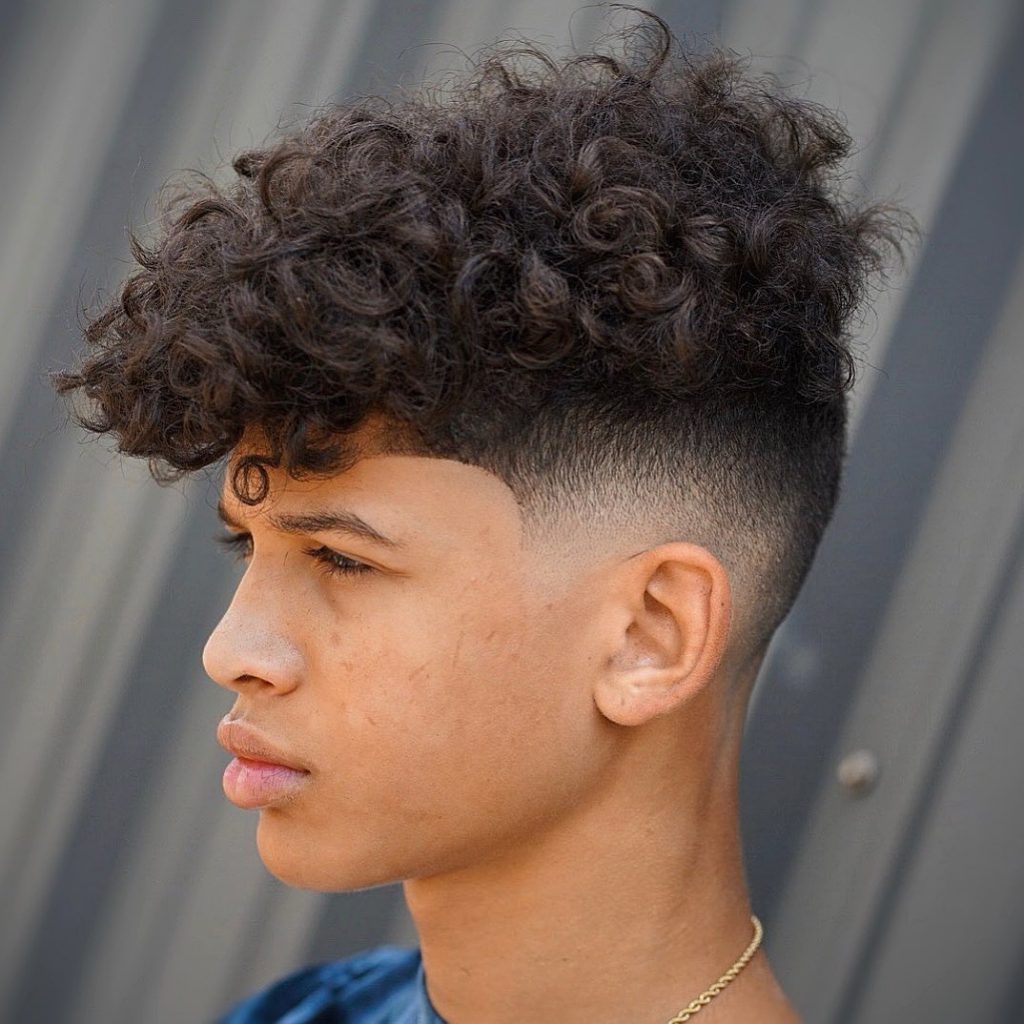 Disconnected Undercut
We're not sure where this term came from exactly. It really is just a modern reference to the undercut. So, you could say it is a modern edgy haircut where the short hair is disconnected from the longer hair on top that can be any style or length.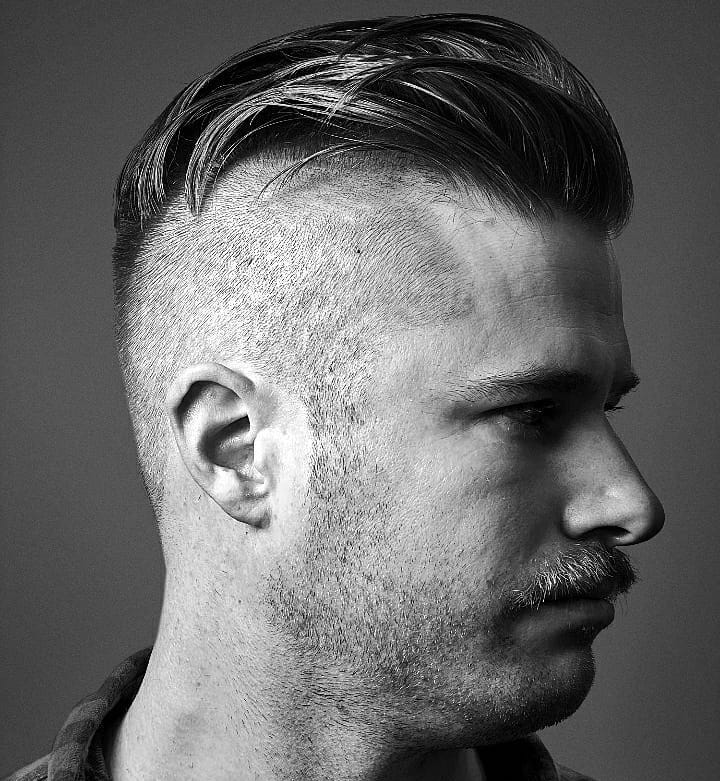 Flow Haircut
The flow haircut is a natural look that is generally free of any fades or shaved sides and back. This style can be medium to long in hair length. It could be worn loose and messy like a surfer haircut or slicked back and stylish for the office.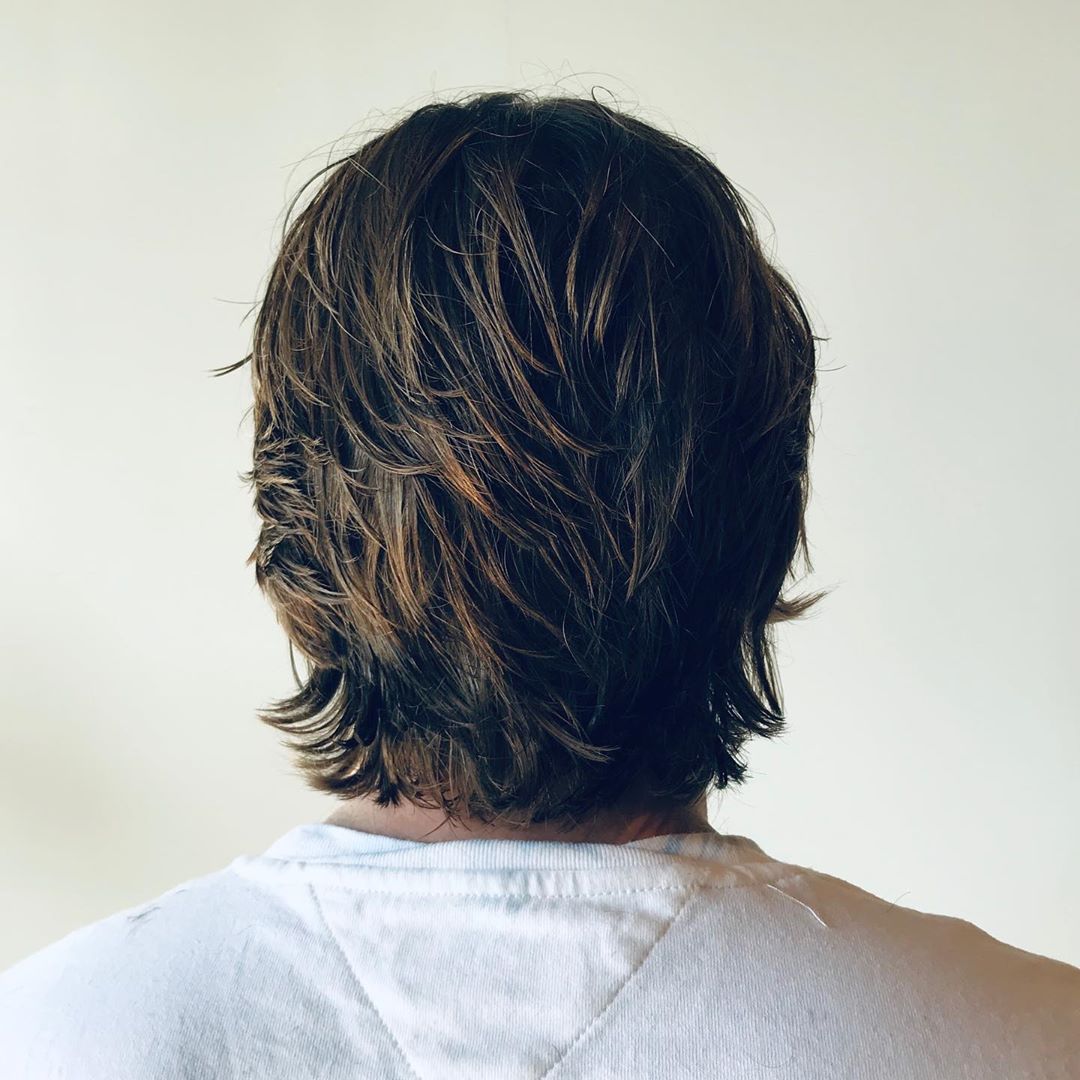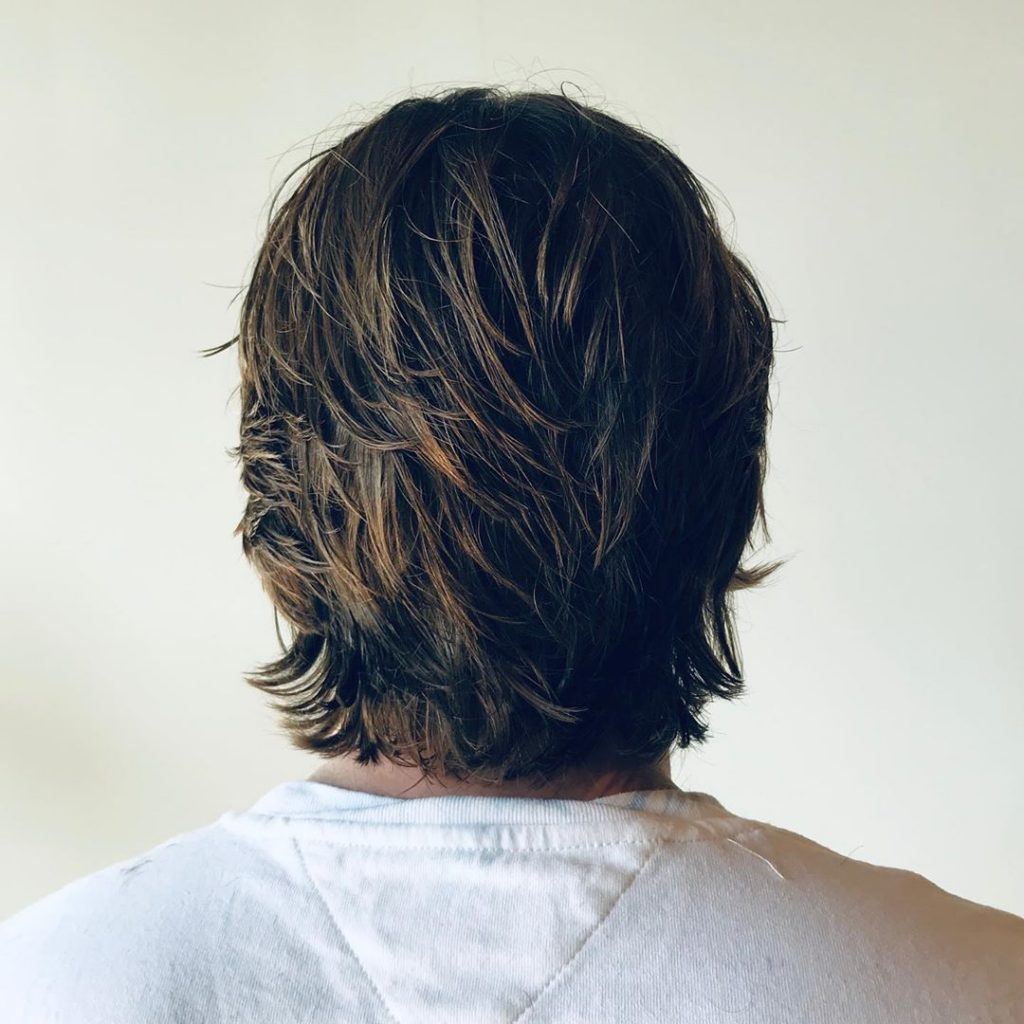 Pompadour
The pompadour is a classic men's haircut that often accompanies a mid or high fade. The hair on top at the front is kept anywhere from a medium to a long length. The hair is tapered in length towards the crown. To style and get some extra body and movement use a blow dryer and hairbrush first. Then, use your go-to hair pomade to style the hair up in the front and back. This creates a bump or bulge at the front and is more flat towards the back.
Here is an example of a classic pompadour.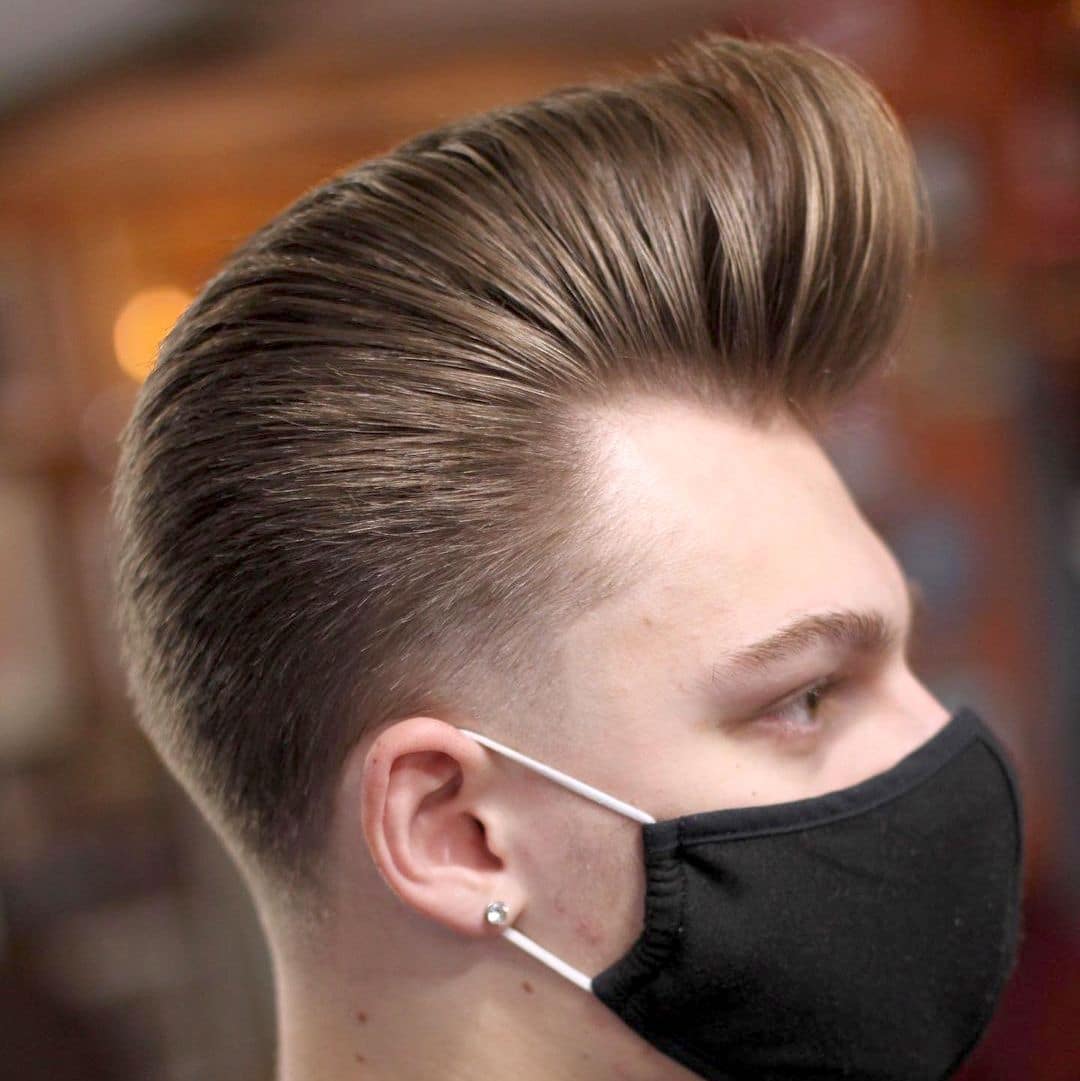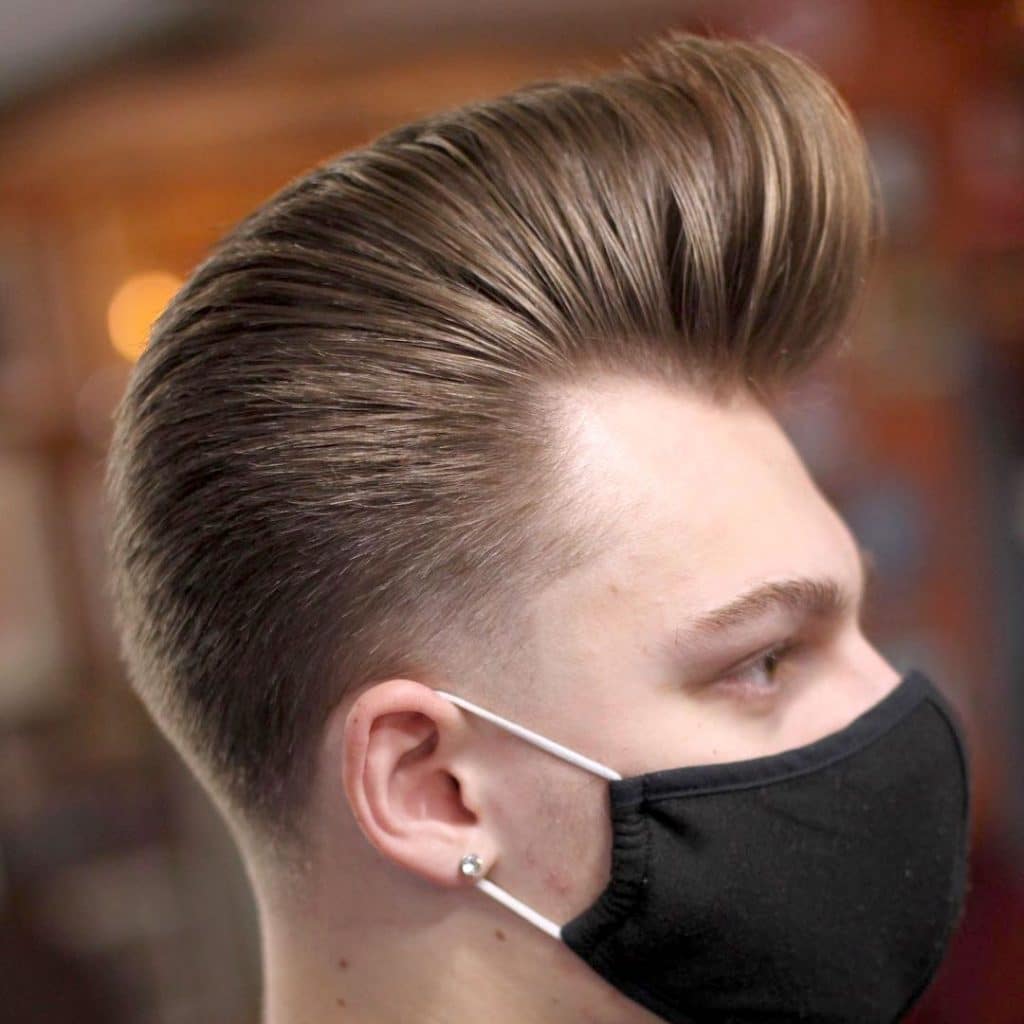 And here is an example of a modern pompadour haircut.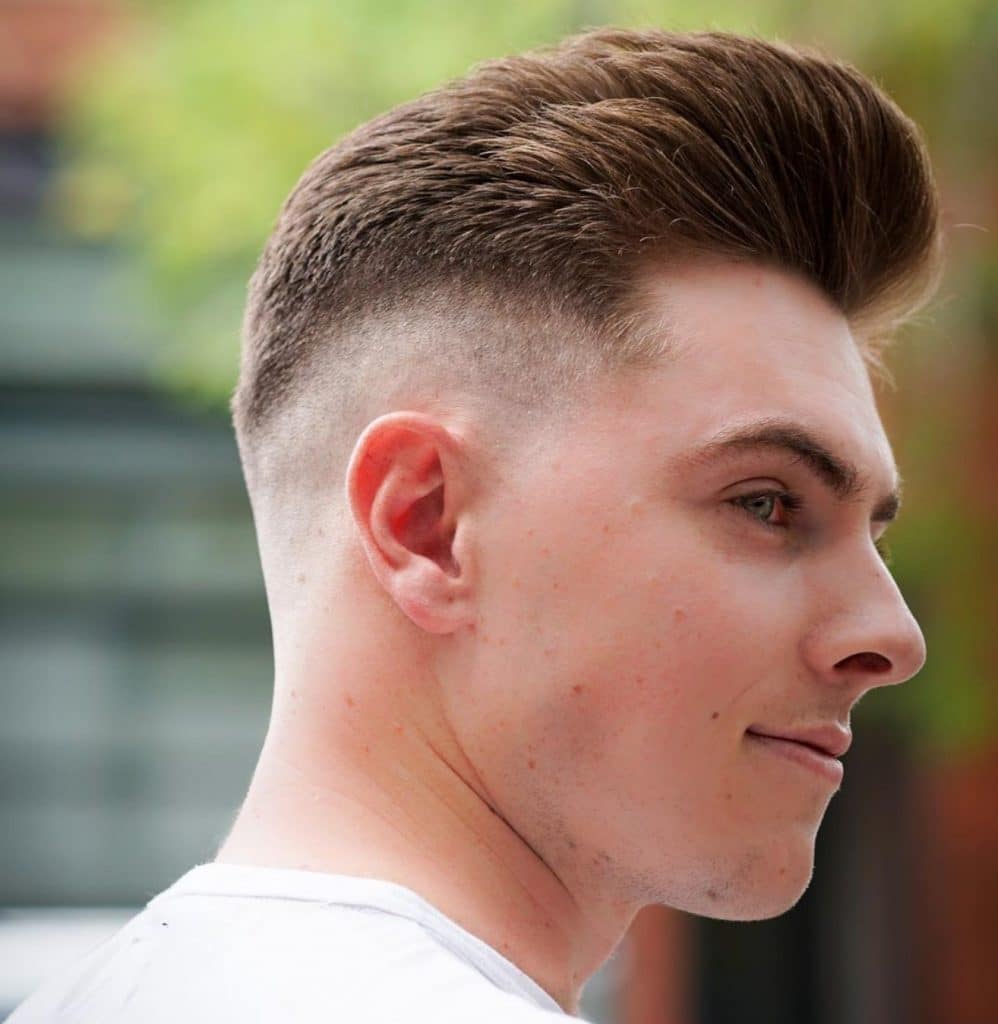 Slicked back
Slicked back hair is always going to be cool. Simply ask for a medium length classic men's haircut on top with longer bangs and short sides or the fade of your desire. You can do this with damp hair or dry hair. Just grab some pomade, work it through your hair with your fingers, or style it with a comb. Pomades with shine will give a wet kind of look. Matte finish pomades will just look natural.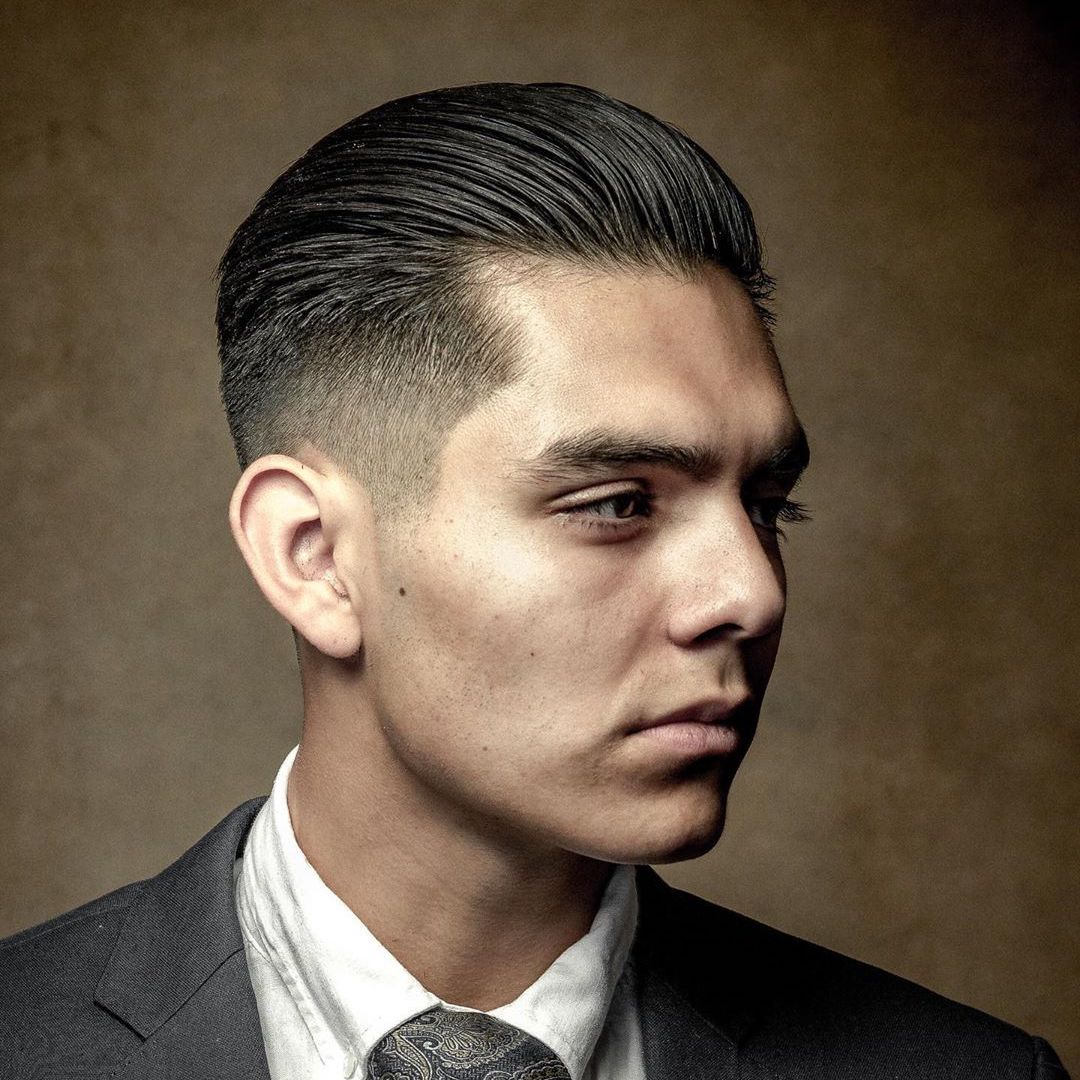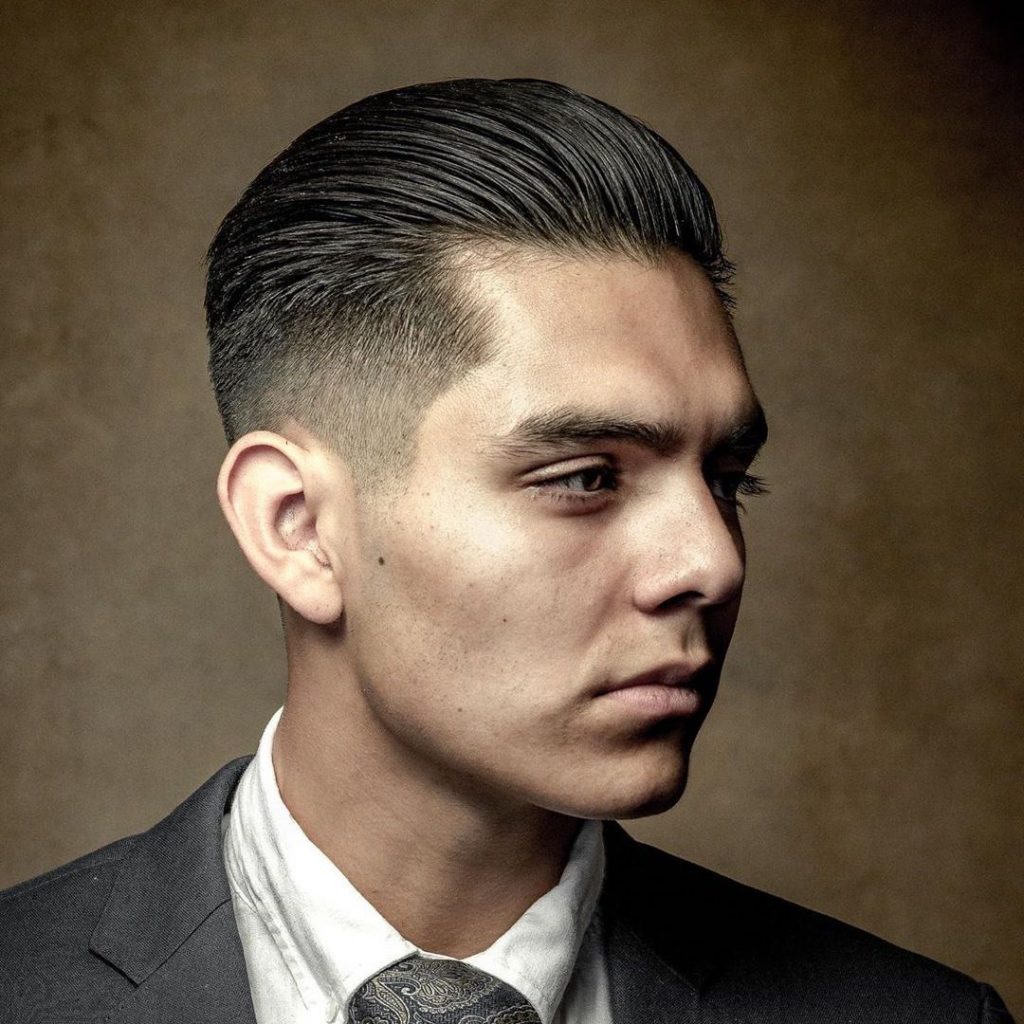 Quiff
The quiff haircut has been a top choice for many men in the past couple of years. It is a totally cool guy but modern look. It is a mashup of the pompadour, combover, and a side part hairstyles. The quiff looks great with a mid or high fade. This look features a fringe that partly stands up in the front but also styles back into the rest of the hair on top.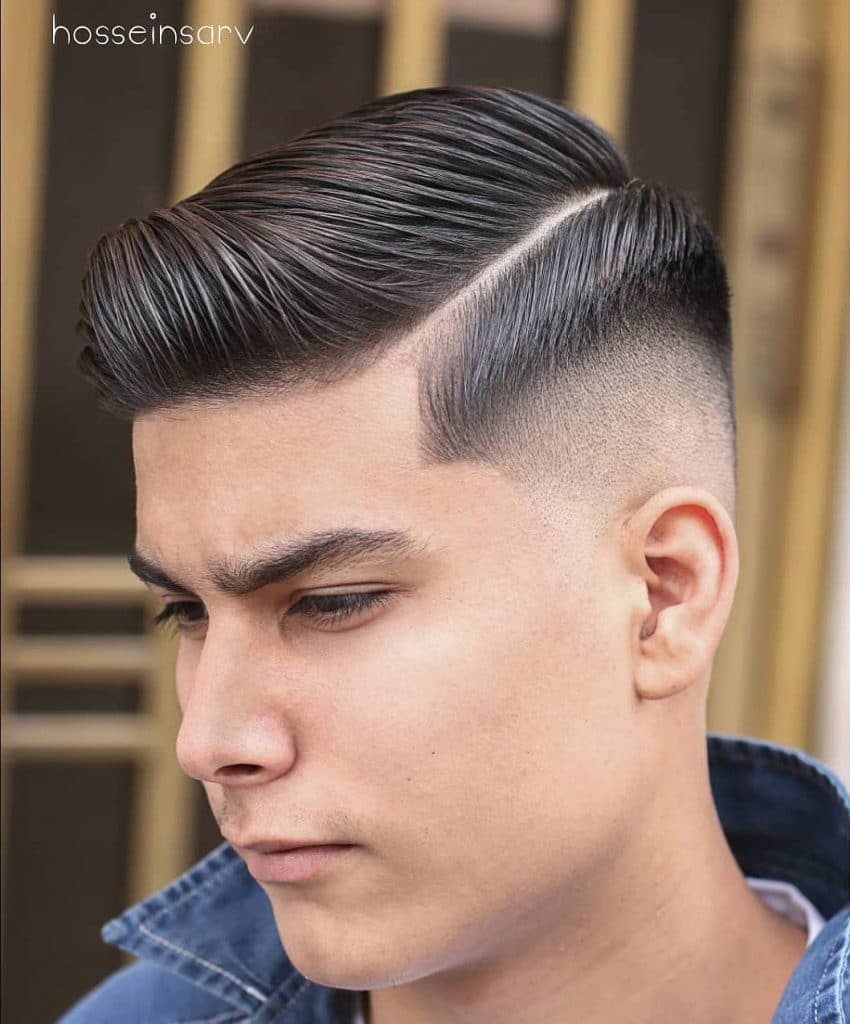 The photo above shows off a more classic version of the quiff. This haircut is also a good example of a side part hairstyle.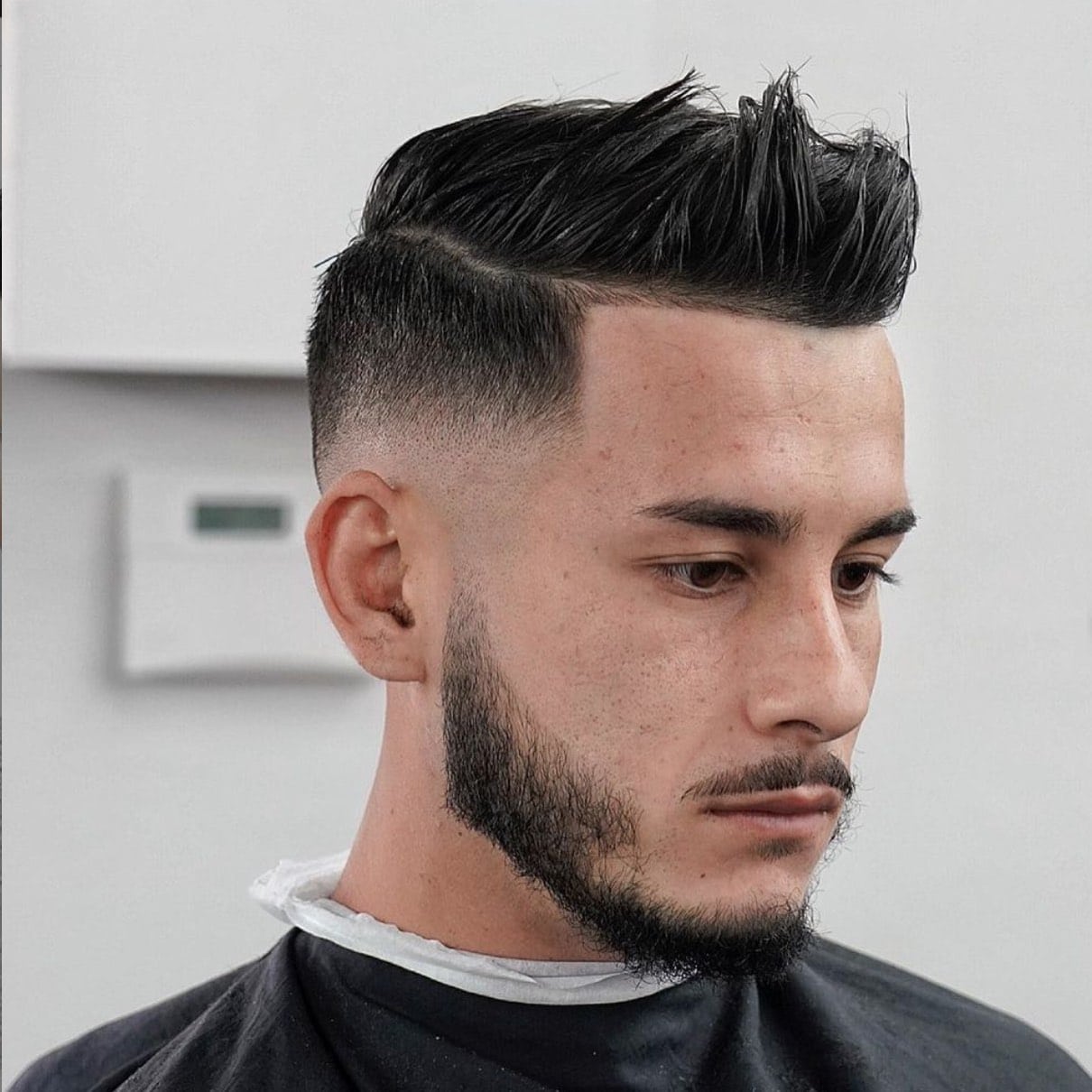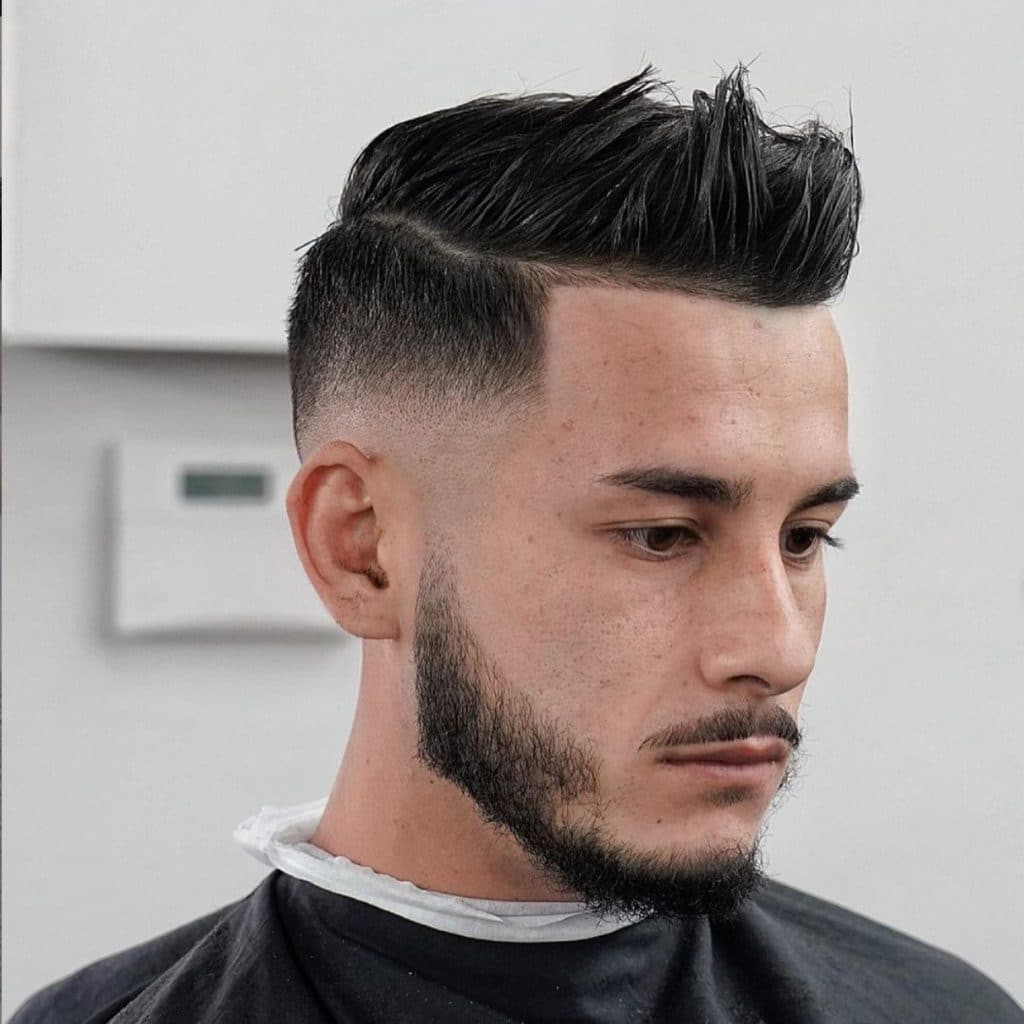 And above, we have an example of a quiff haircut with a more modern feel to it.
Blowout Haircut
The blowout features a low fade at the sides and back and medium to long hair on top. The style has the look of big volume, flow, and movement on top as though you had stuck your finger in a socket (do not do this!). This is a super versatile and popular haircut right now.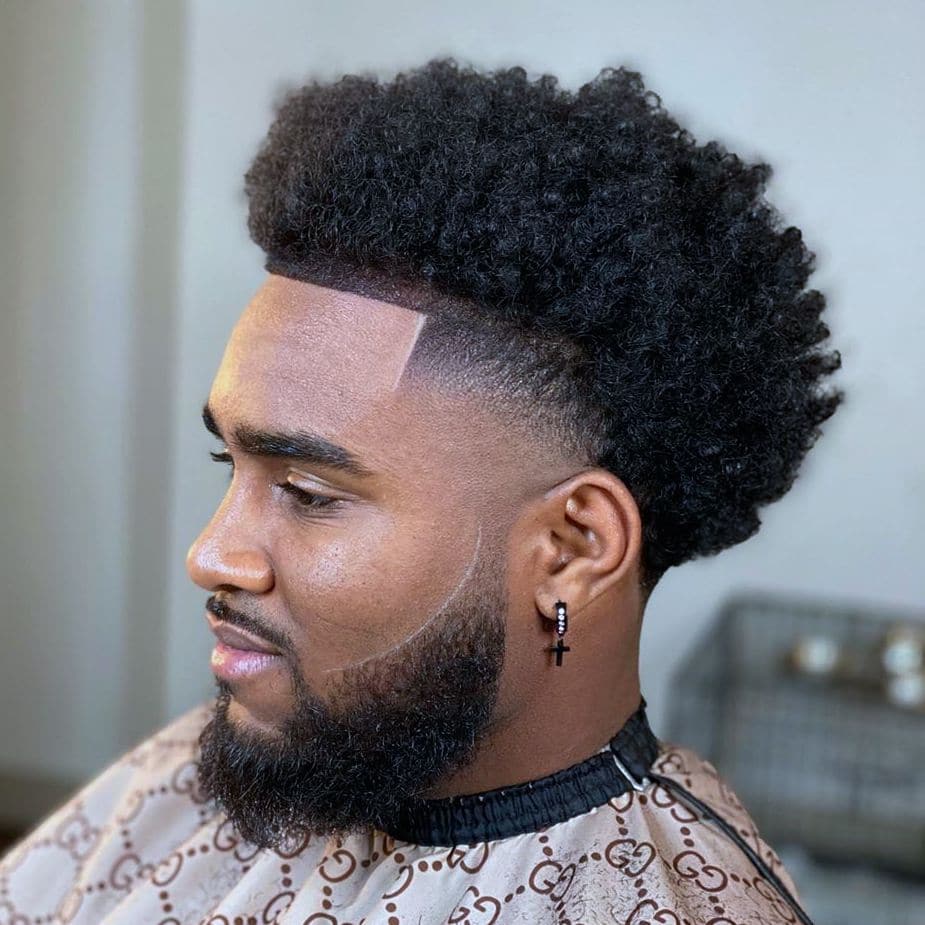 Comb Over
The comb over features short sides and longer hair on top. You can style this look neat or messy. Simply comb or brush the hair to the side. A part is not necessary, the comb over can also work with an undercut for example. For extra volume use a blow dryer while you are brushing. Use a pomade if you want to increase the hold of your comb over.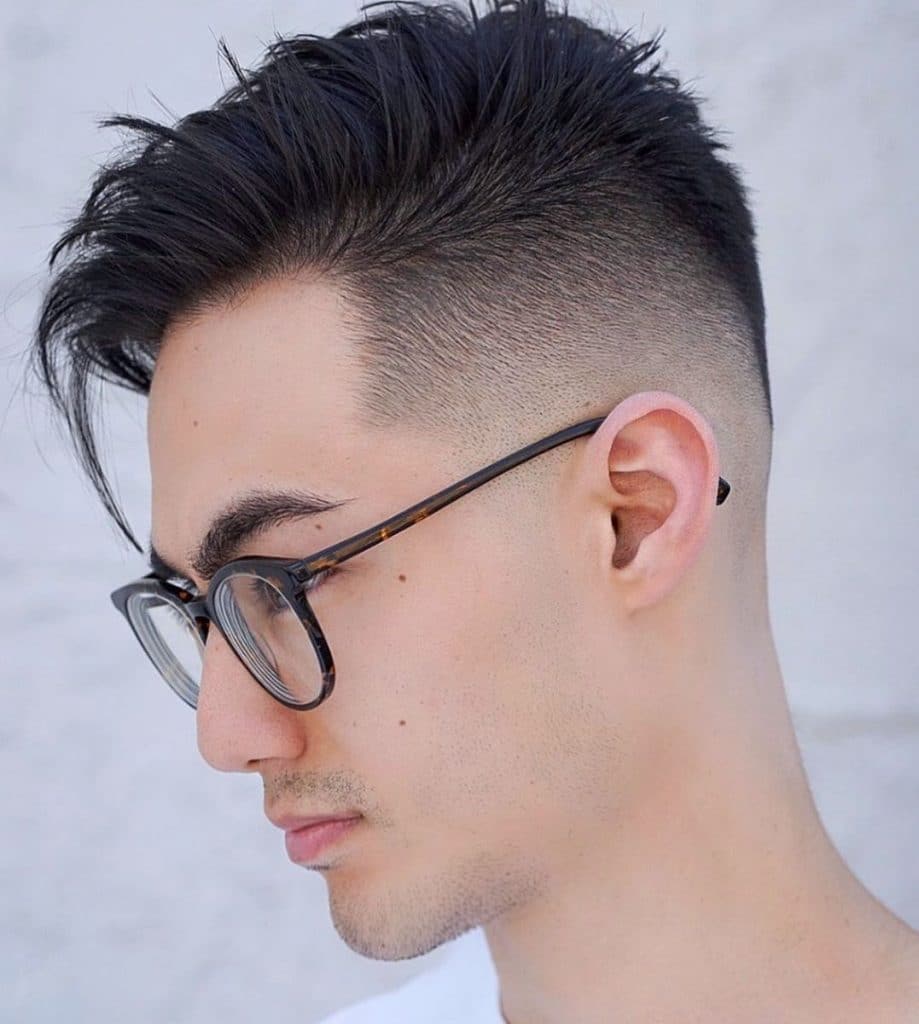 Mohawk Haircuts
The mohawk began as a haircut where the sides were shaved very short or bold, and a narrow strip of hair on top was grown out very long. Today, we see a wide variety of mohawk haircut styles, cut at all hair lengths. Here is a super cool mohawk that features textured hair, a crop at the front, and a bald/burst fade. A perfect example of a men's haircut that is a mashup of several haircuts in one.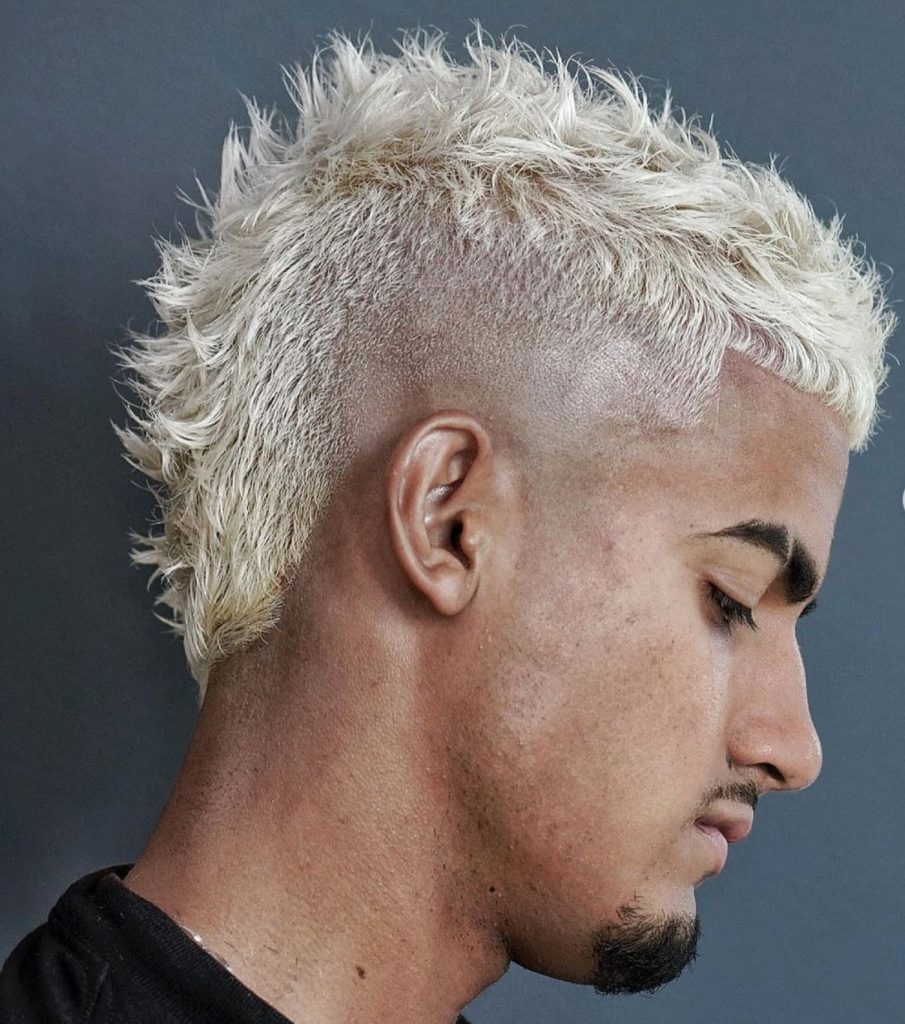 Faux Hawk
This haircut a shorter modern version of the mohawk but far less intense. The band of hair on top is not as narrow or tall as a mohawk but is styled in the same way, into the middle. Sides are short, usually a high fade, and not shaved to the skin like a true mohawk. Faux means false in French. This haircut is like a mohawk but not really. It is a modern less punk version but styled the same.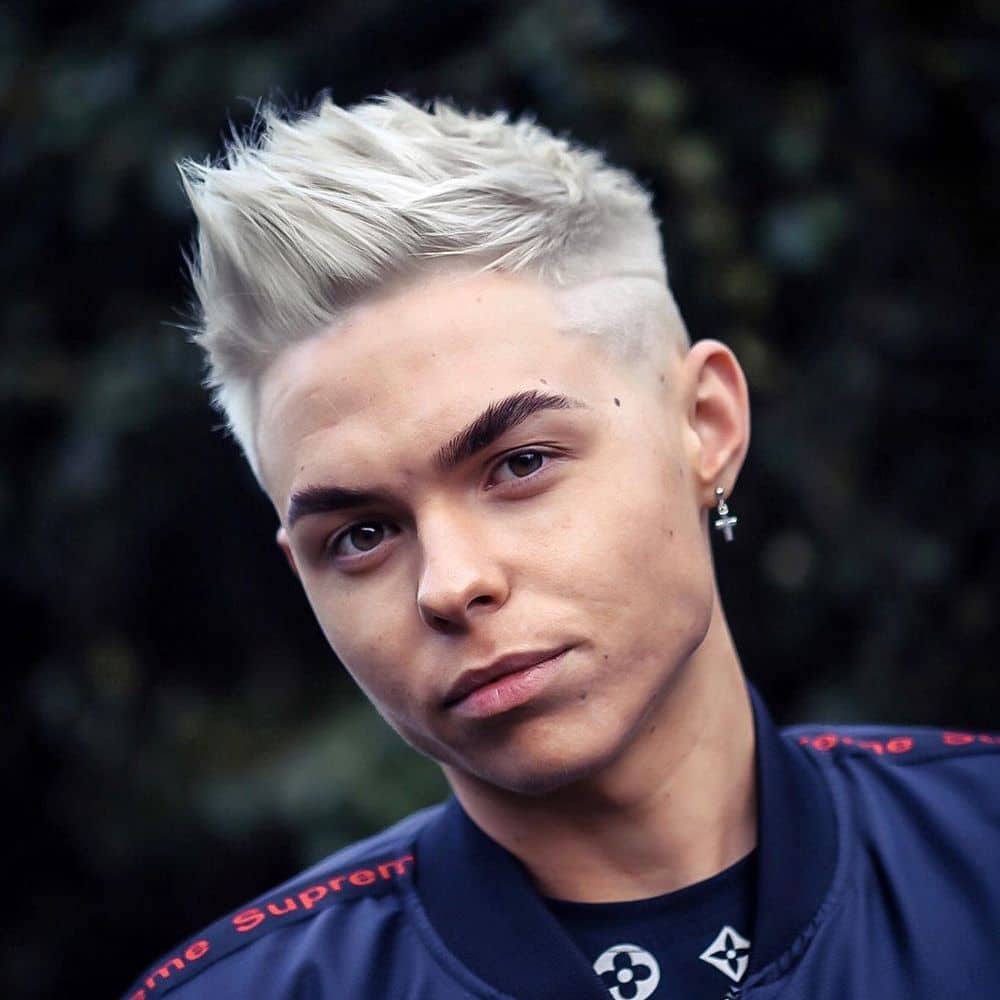 Fringe aka Bangs
Keeping a longer fringe (bangs) adds some extra dimension to your hairstyles. Fringe haircuts are great and can be styled in so many ways. Wear fringe down and loose, to the side, messy, or slick it back. It is totally up to you.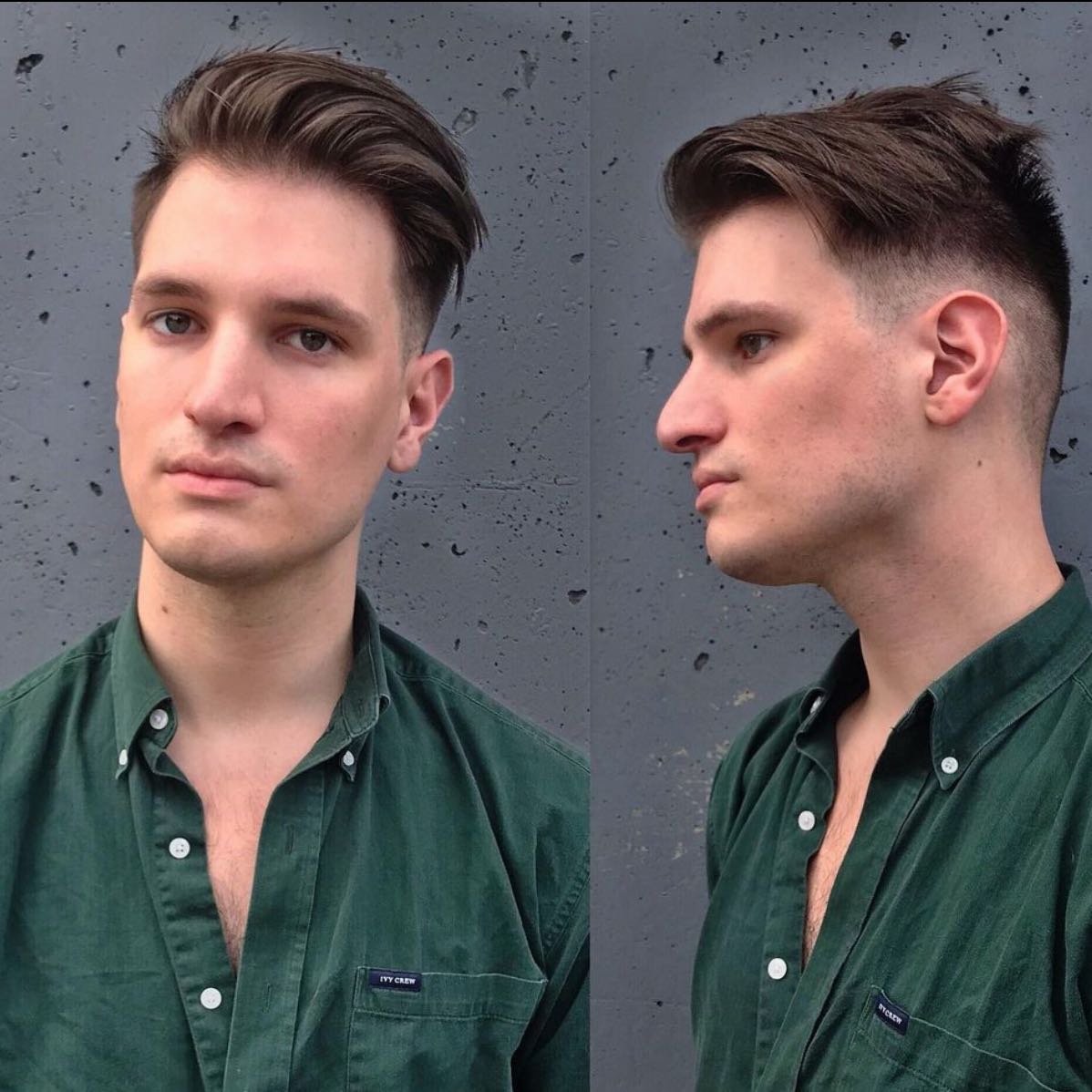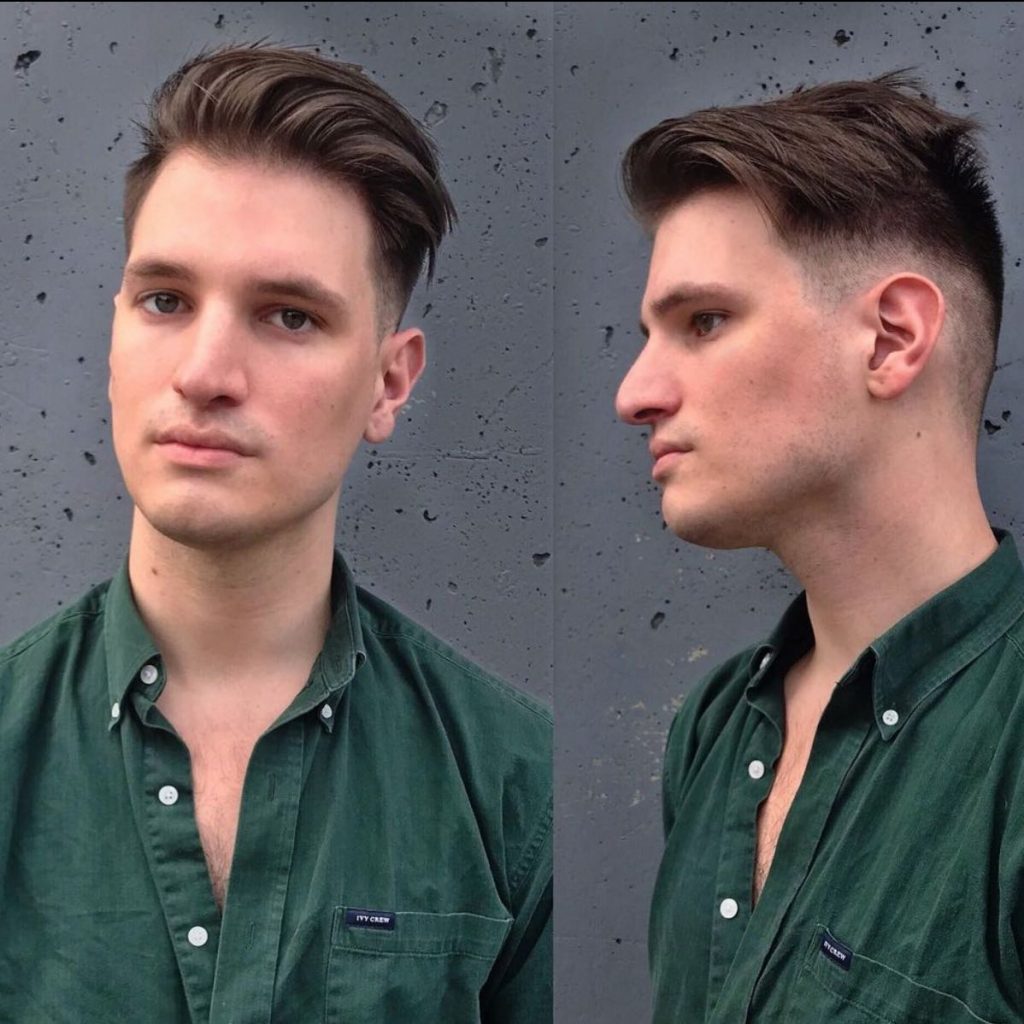 Popular long haircuts
Long hair for guys is becoming more popular again these days. The haircuts and hairstyles for long hair are also becoming more diverse and cool looking.
Surfer Hair: Loose + Messy Waves Or Curls
Do you have thick hair and want to grow it out for a new look? A great starting point is surfer hair, or loose, messy waves or curls. As far as longer hair goes, these looks are super easy to manage. You can literally towel dry your hair, style back with your hands, and go. This gives you a cool, wild, rugged look. But, it can also be toned down a notch when certain occasions require that. Just blow dry or brush it out.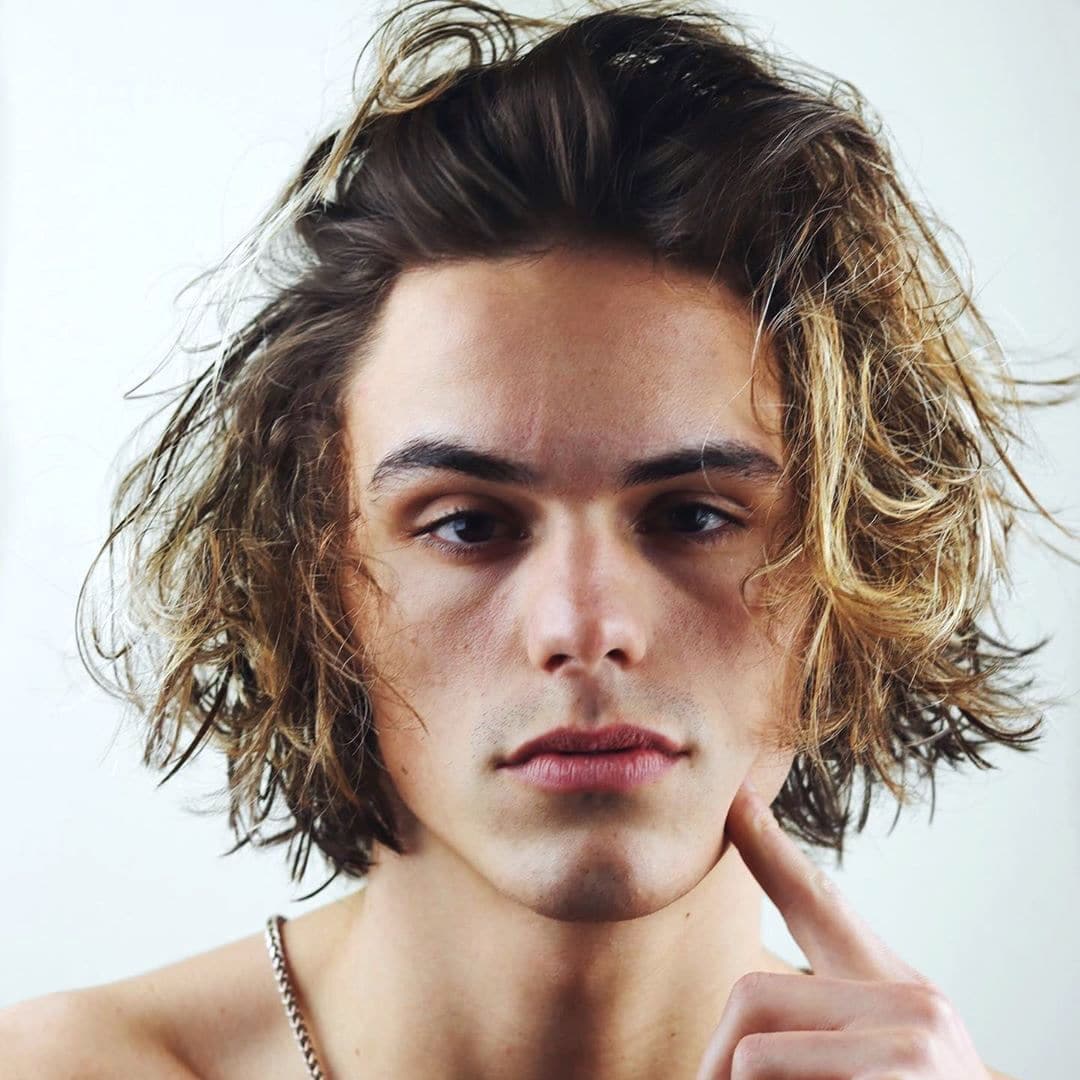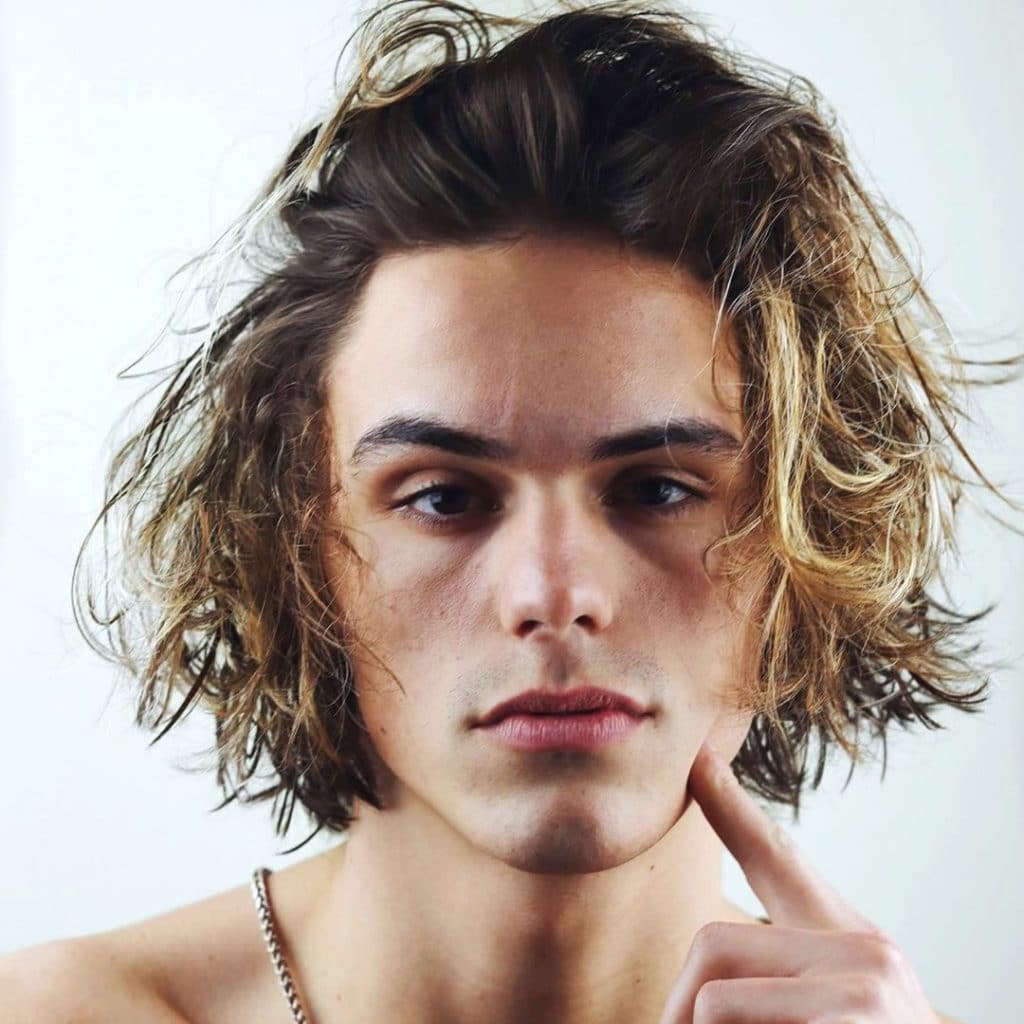 Long + Straight
Long hair doesn't require thick hair. Guys with straight or fine hair can look great with long hair too. Grow it out long, get a nice clean cut by your barber or hairdresser. Add some layers for texture. Gain volume and movement by using some pomade or using a blow dryer when you style it. You can wear it back, tie it back, or part it.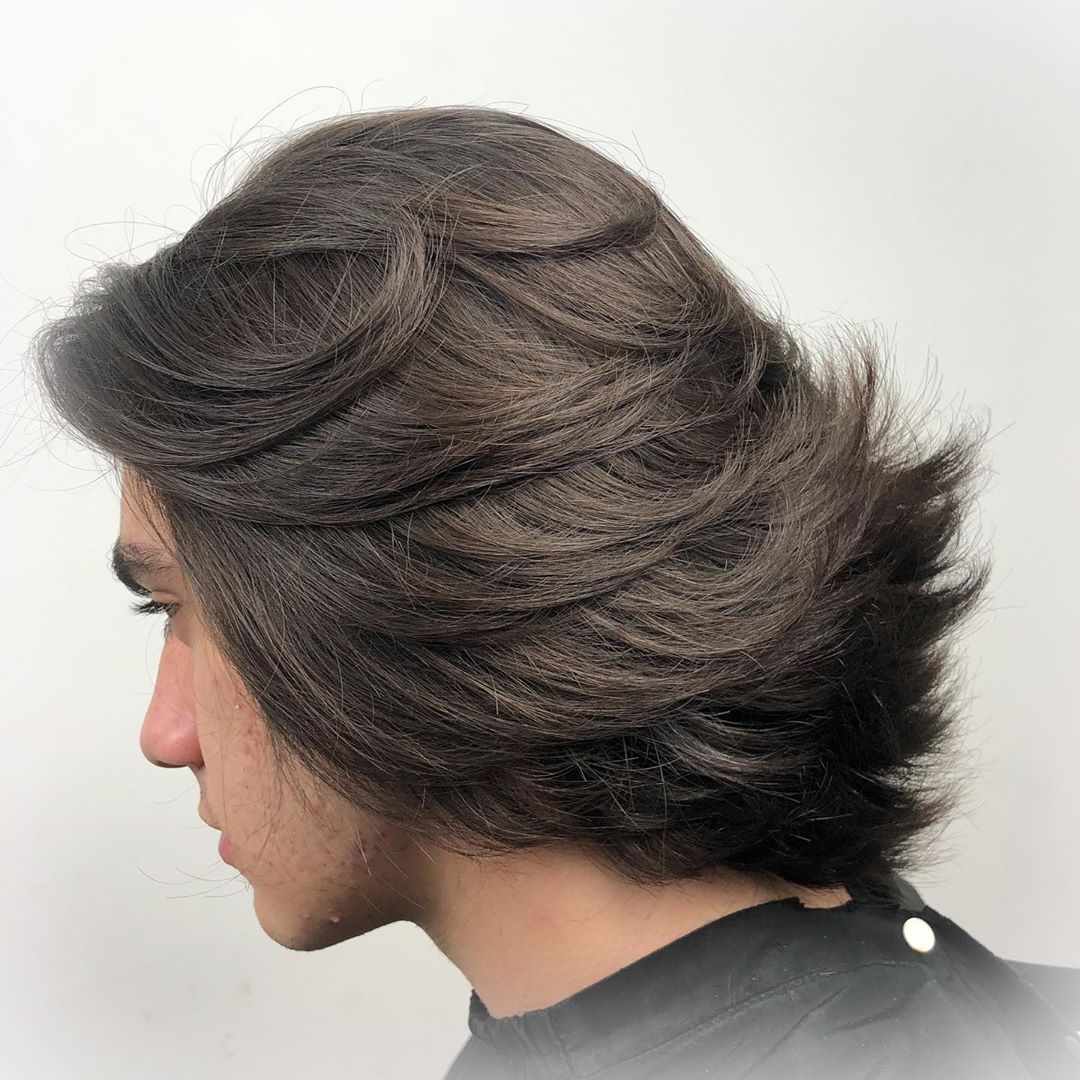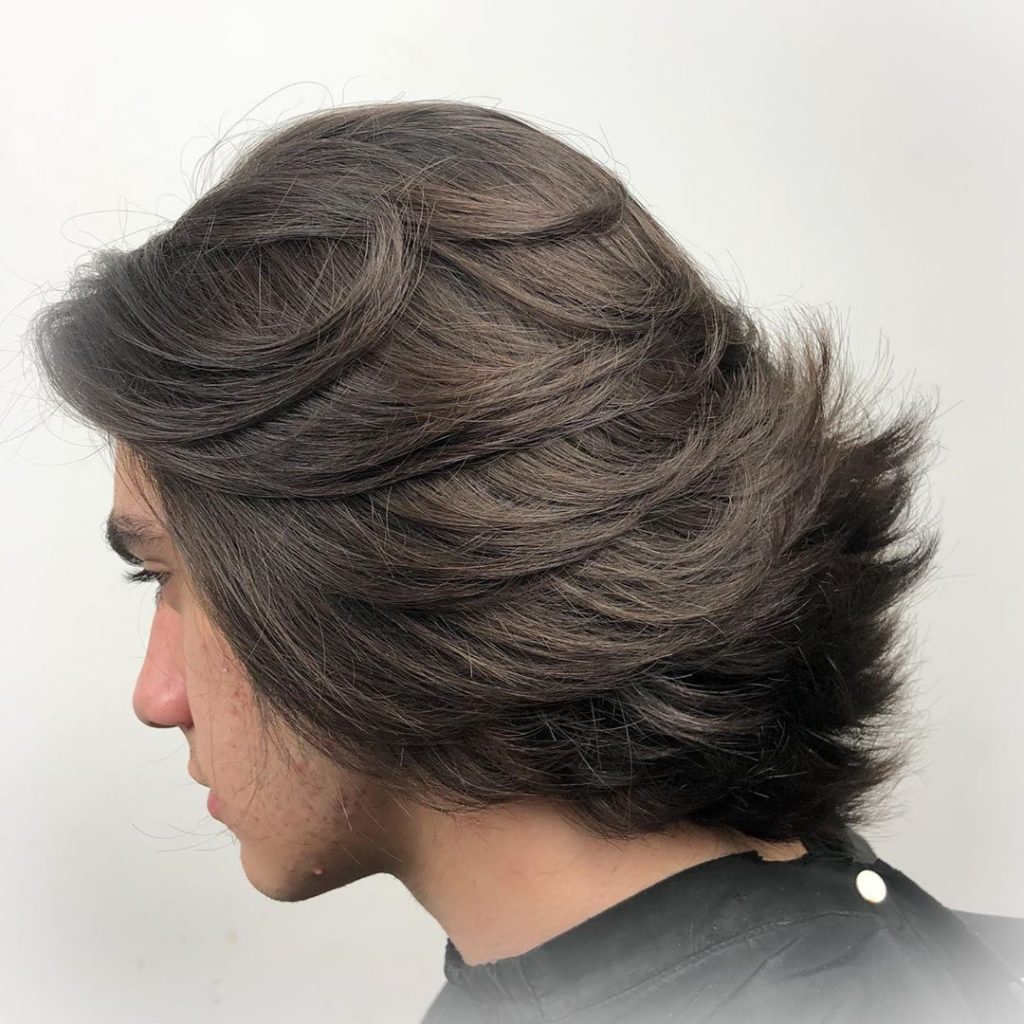 Long + Wavy Or Curly
After shoulder length surfer hair, wavy and curly hair looks great even longer. Bring out that texture and volume with a lightweight product that also tames frizz. Waves and curls bring that volume to other hairstyles for long hair including the man bun, ponytail, and half up.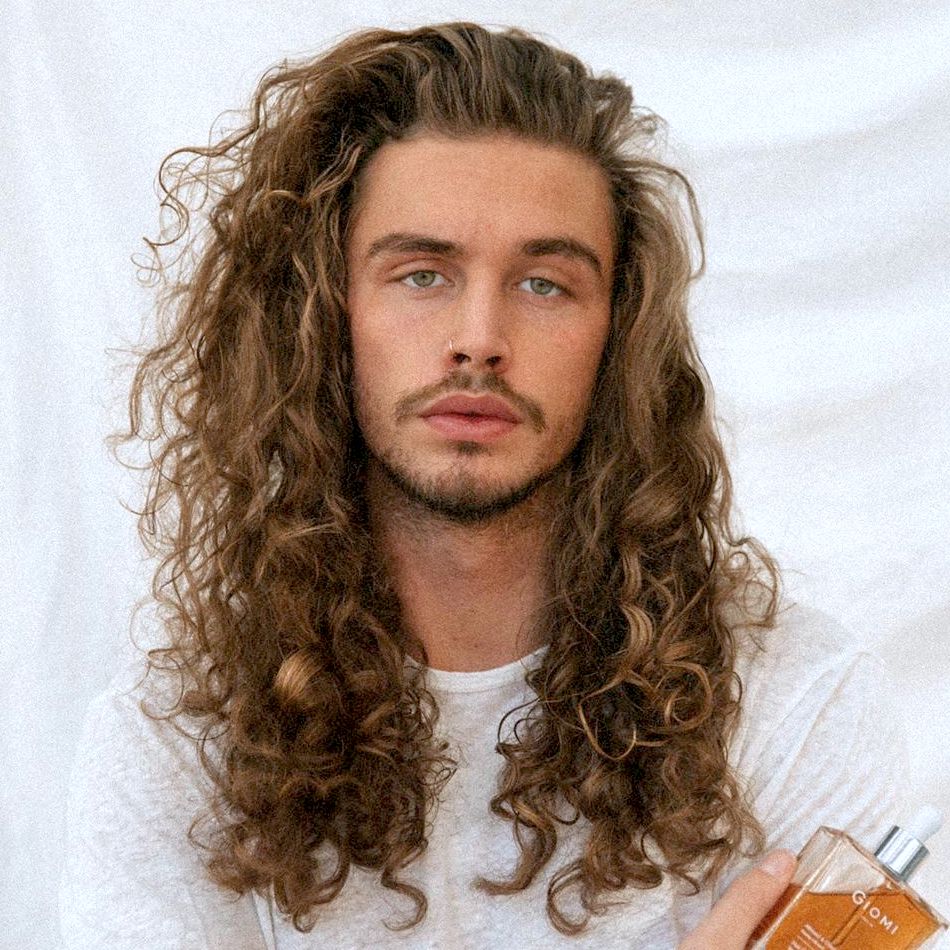 Long Hair With Part
Some guys just wear long hair styled back or tied back out of the way. But you can also go for a look that includes a part. Down the middle or a bit to one side looks best. This is a way to neaten up your look. Or, a way for guys with curly or wavy hair to get a different style.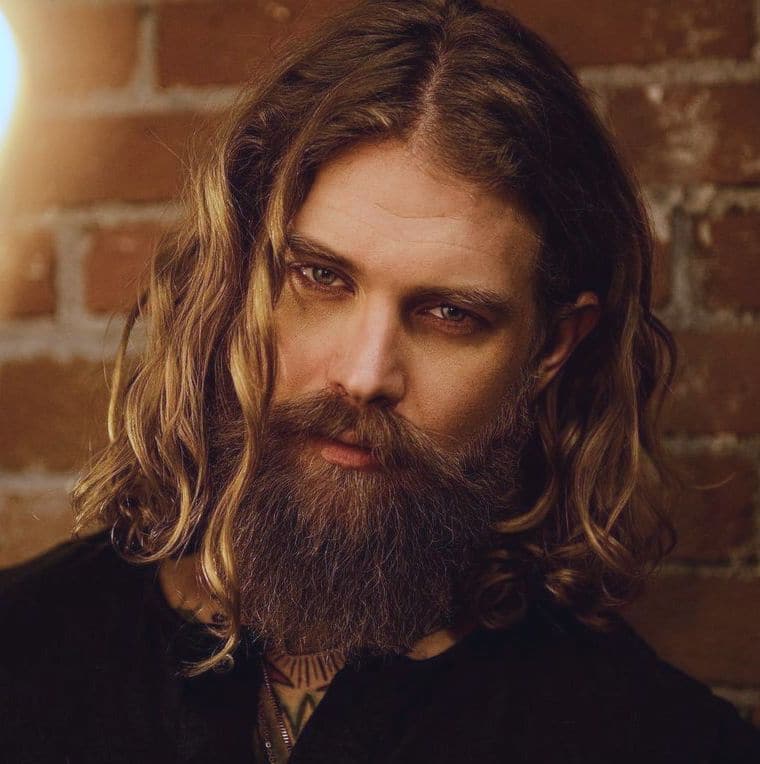 Ponytail
Grow your hair out long. It should be down to your shoulders at least. Simply sweep your hair back with your hands and wrap it with a hair tie. It can be up high, down low, or somewhere in between. A low maintenance, easy to style, practical, and stylish look for men.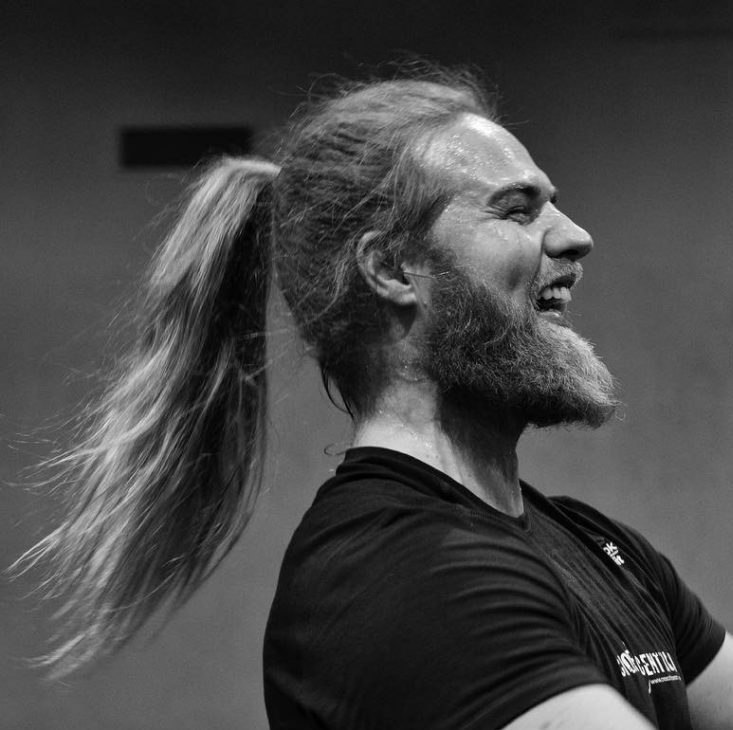 Half-Up Hairstyles
Want to keep your hair out of your face while still letting some hang down? All you have to do is gather the front and sides of your hair, pull it back into your hands and tie it into a ponytail, top knot, or bun just below the crown of your hair. Done. Easy. Practical. Extra style points.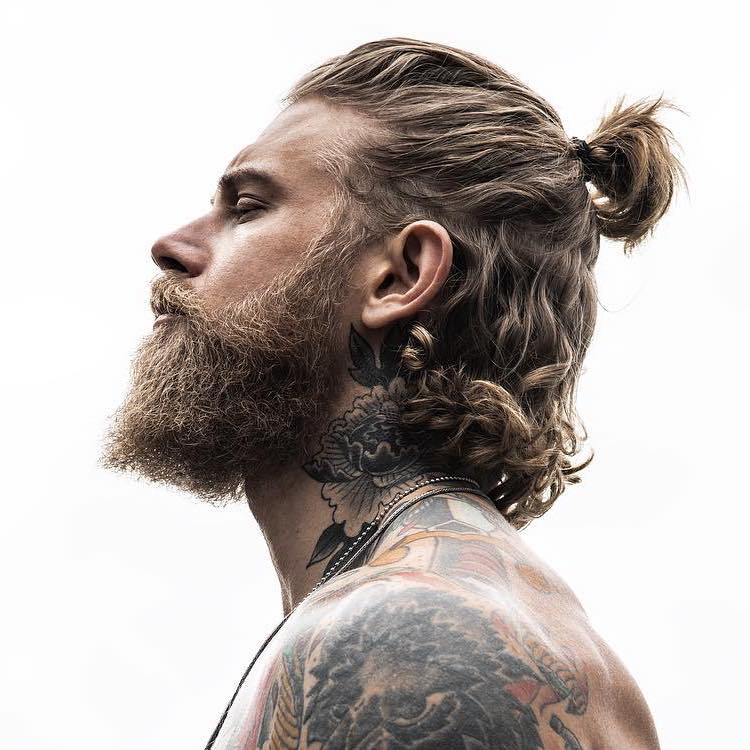 Man Bun
The man bun was a super popular hipster hairstyle that showed up in the early 2000s. Many thought it was ridiculous at first, was a fad, but now it is just commonplace. The style refuses to quit and disappear. The reality is it works and can be practical. Wear it messy and casual or sleek and formal.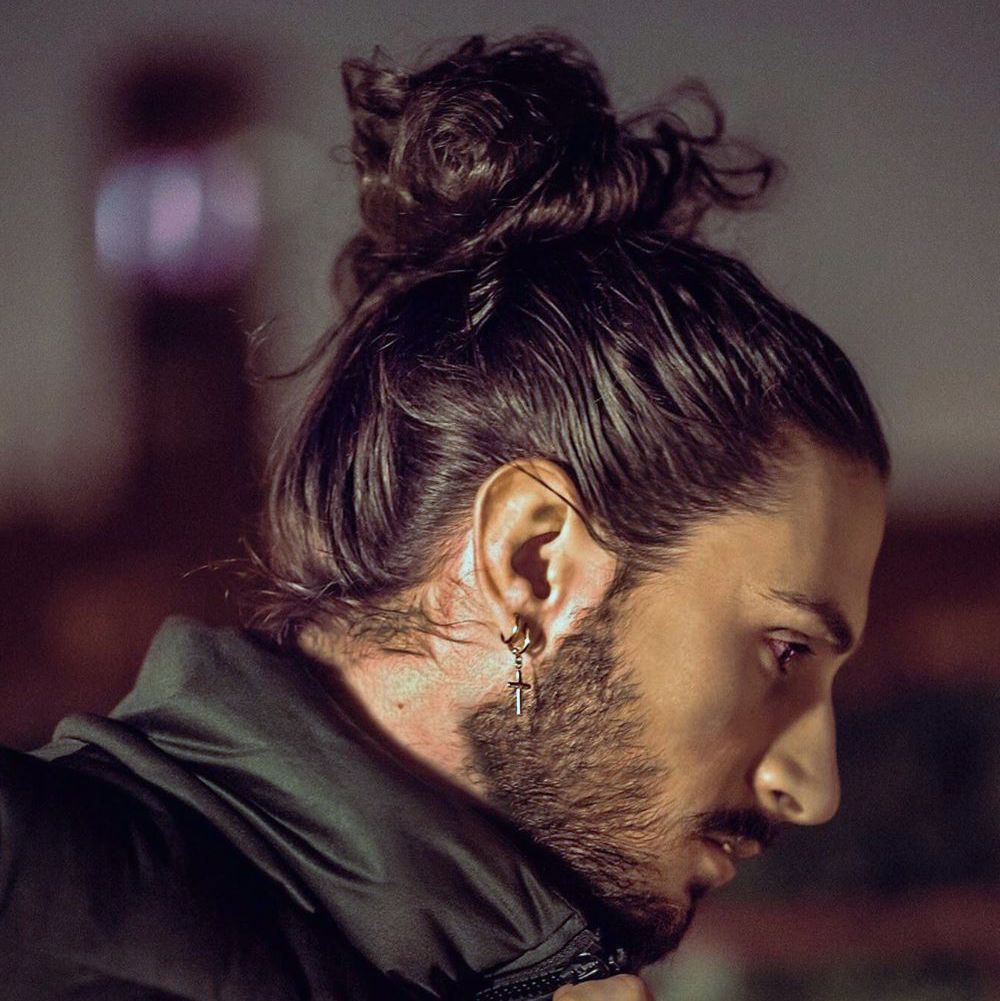 Topknot
A topknot is quite similar to the man bun but adds a touch more style and steers away from the hipster look. Gather a messy bun together and wear it higher up on the crown of your head.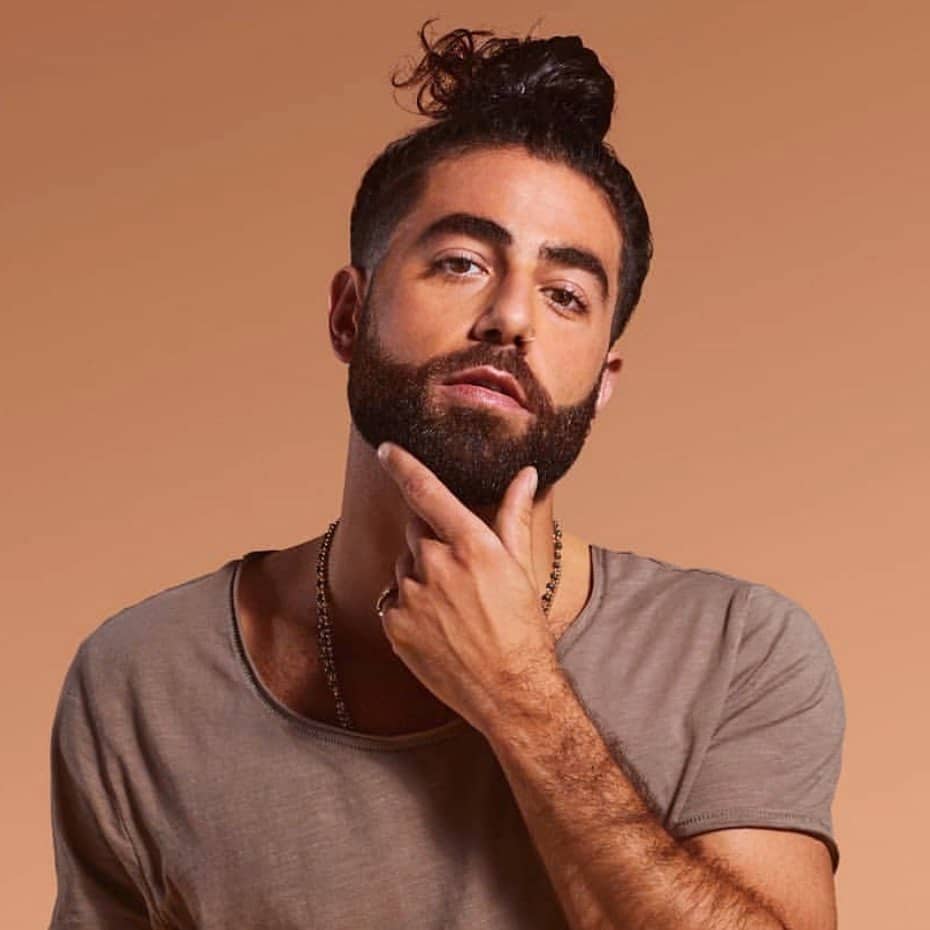 Man Braids
As longer hair has become more and more popular for men in the twenty-first century so have braids. They are totally on-trend right now and there are so many ways to create braided hair looks. Wear them down, tie them back, or as braided ponytails. There are also hair braids for men that are braided by a professional and stay in for 6+ weeks.
Dreadlocks
Dreadlocks are super cool. Dreads require thick or curly hair. So, if you have fine or thin long hair it probably isn't a look you will be able to pull off.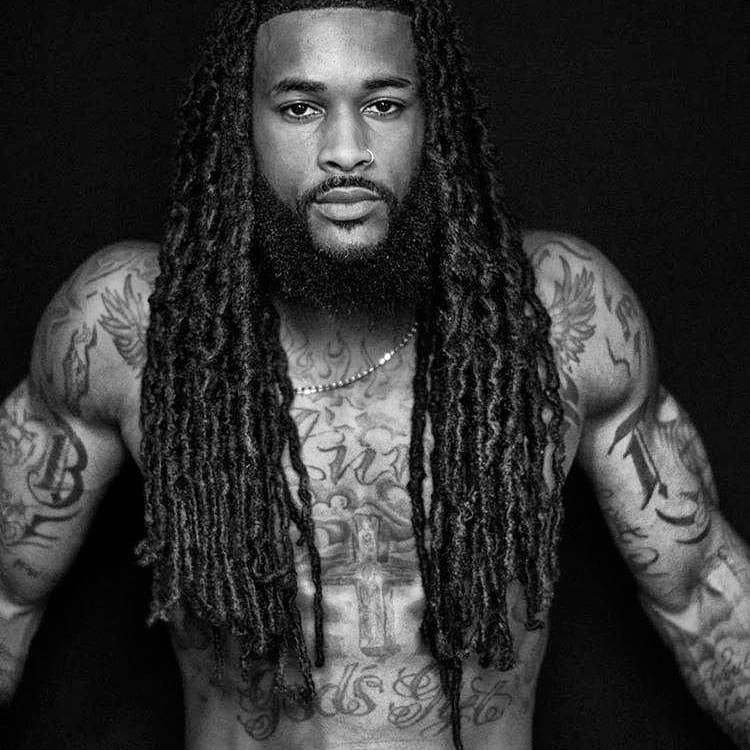 This concludes our brand new guide to the best and most popular men's haircuts. We encourage you to try out as many styles that work for your hair length and hair type. Why? Changing up your look it is totally fun. First impressions are super important in life. And you will feel good about your personal style.
This post may contain affiliate links. Please read our disclosure for more info.