Think no more about what hairstyle to opt for to match the different saris you have. The essential part prior to any hairstyle would be to blow and dry your hair. The low twisted bun, side swept hair, braided bun, tight ponytail etc have been the most popular ones over the recent years. So add the right hairstyle to bring the charm to the outfit.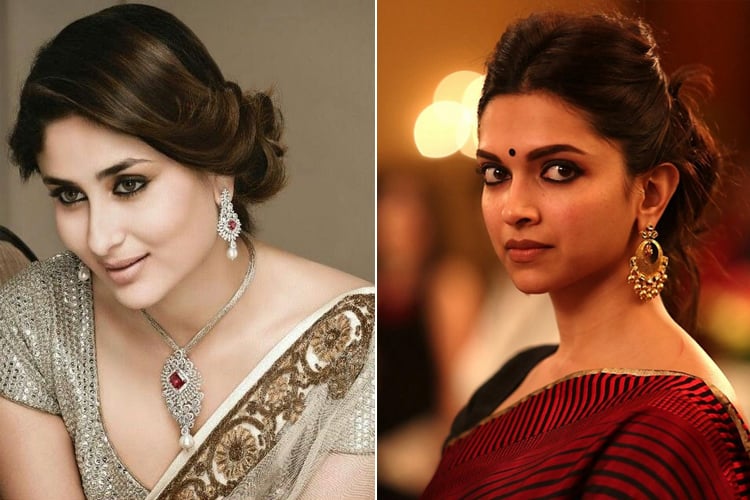 Flaunting the quintessential drape is a skill most women have mastered. Be it silk or chiffon, with multiple varieties of sarees in the market, the skill changes with each drape. But what can make one standout? Well, the hairstyle is the game-changer. Wearing the right hair-do can add to the glamour and glitz of the gorgeous saree, and make you look traditionally enthralling.
Have a Look at 35 Best Hairstyles For Sarees
With so many hairstyles to choose from, selecting one that suits your saree can be a herculean task. And if you have a hair-do on, changing it multiple times can only be tedious, if not anything else. So to make this task as easy it can be, we have picked the most trending, attire-appropriate and exquisite hairstyles for your Saree to look spectacular.
Have a look at our 35 trending hairstyles to compliment your drape.
Always remember that the best thing to do before trying any of the following hairstyles is to wash and blow dry your hair.
1. Low Twisted Bun
Wear your hair in a low twisted bun. This is quite an easy hairstyle that you can do yourself. All you need is some hair spray to set it and lots of bobby pins to keep the bun in place. And the best part is that you don't have to worry about the bun is perfect. Just twist and pin the bun in place for that messy bun look.
Check out Deepika Padukone and Kareena Kapoor rocking the low twisted bun look.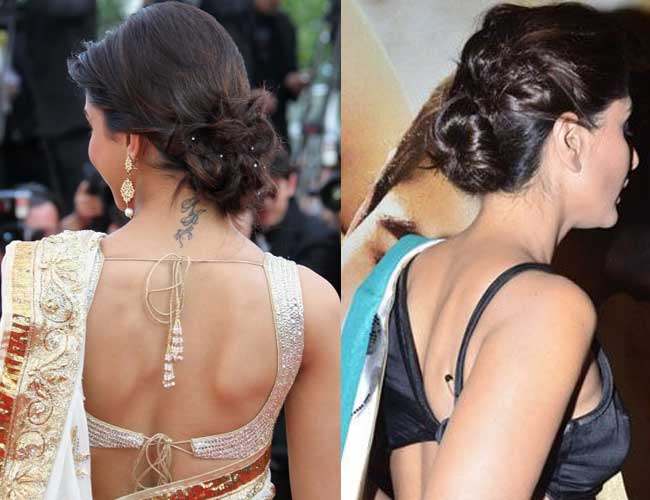 2. Side Swept Hair
This is perhaps the easiest hairstyle for sarees that you could do. Just sweep your hair to one side, leaving the other shoulder bare. Use some serum to control frizz and you are ready to go.
Yesteryear actress Rekha and current sensation Vidya Balan have donned the side swept hairstyle on numerous occasions. I guess when it's so simple and easy, you are bound to love it.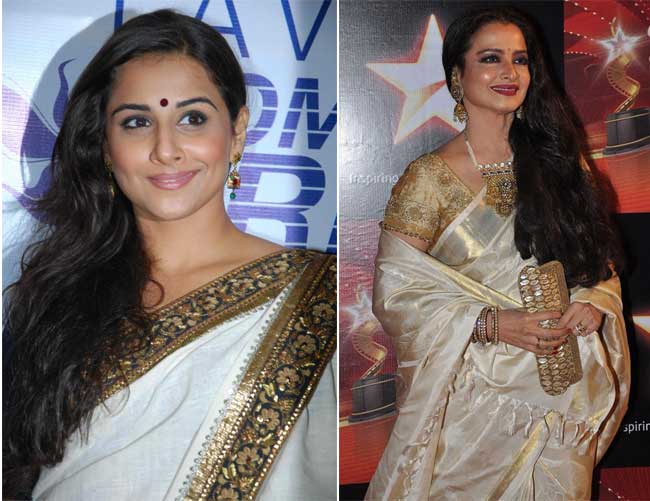 3. Tight Ponytail
Who says you can't rock a ponytail with a saree? Just make it a little fancier by adding some poof to the front, or styling your bangs to gracefully sweep over your forehead. Use a lot of styling gel to keep all the stray hairs in place. You don't want any flyaways to ruin the effect of an elegant ponytail. A sleek, tight pony would look great with a saree. Still unsure? Allow our Bollywood divas to convince you.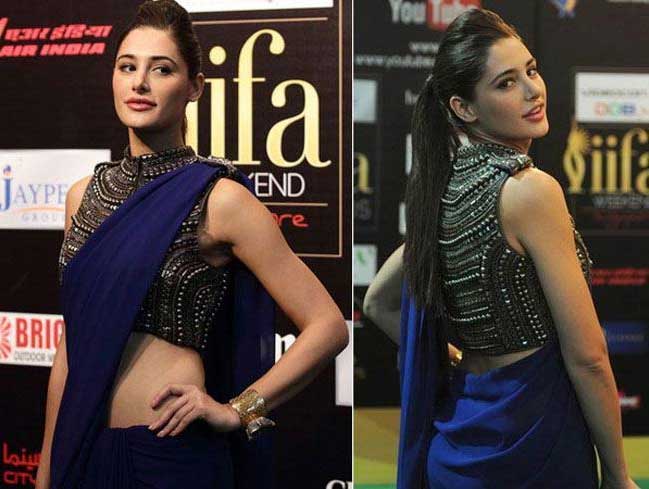 4. Braided Bun
A braided bun looks great with a saree. While it may look very intricate and complicated from the outset, in actuality it is quite easy to do. Simply pull up your hair in a high ponytail. Then braid your pony in a regular or a French braid and twist it up in a bun, using a lot of bobby pins to keep it in place.
Here's an image to show you how it's done.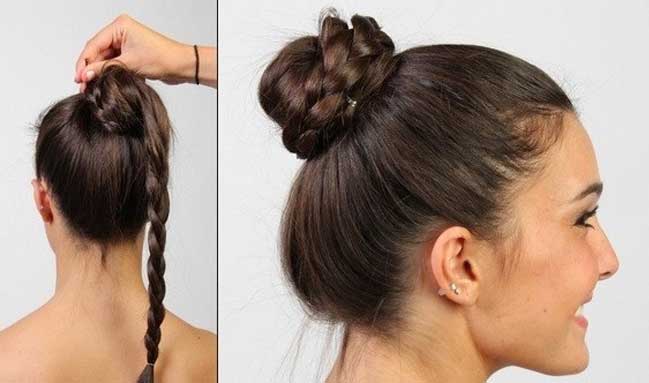 5. Messy Side Braid
Wear your hair in a messy side braid. This is a contemporary take on the traditional braid. Instead of a tight neat braid, go for a messy side braid to make your hairstyle on saree more modern and unconventional.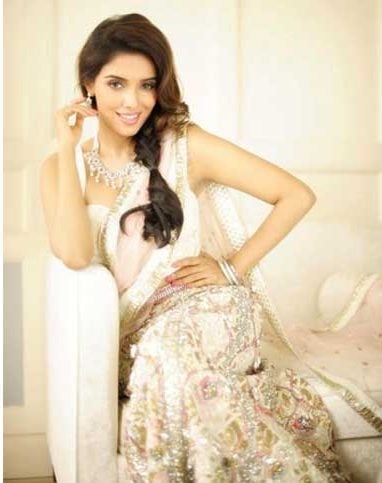 6. French Braid
If you don't know how to do a French braid, I strongly suggest you to learn it. It is one of the most versatile hairstyles for sarees that looks great with a dress, a business suit, a pair of shorts, Indian wear and yes a saree too. So once you get the hang of the French braid, I guarantee you that it will be your go-to hairstyle for most occasions.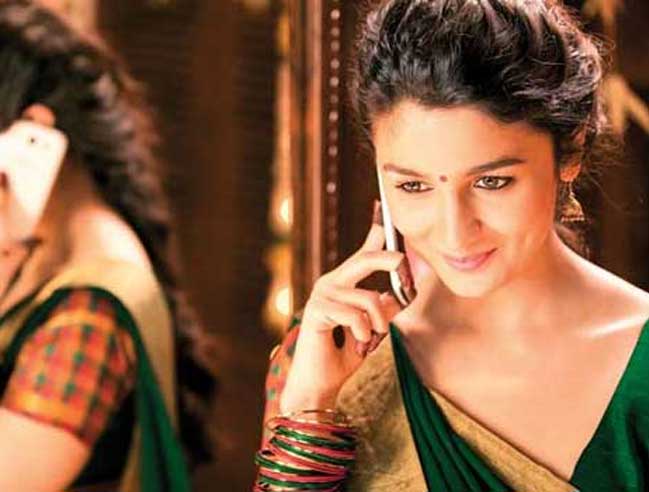 7. Long Braid
Nothing is as quintessentially Indian as a nice long braid. Don't have long hair? I have two words for you: hair extensions. Create a nice long and thick braid using hair extensions. It will look amazing with a saree and you can live out your Rapunzel fantasy for a day.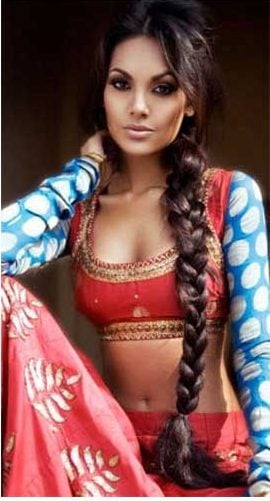 8. Soft Curls
Nice soft curls look great with a sari. If you have straight hair, use Velcro rollers or curling iron to create soft curls. If you have curly hair, use an anti-frizz serum to tackle the frizz and then use a mousse to set your hair in a manageable fashion. You want to soft curls that look romantic and not tight curls that make your hair look like spring.
South Indian Belle Trisha nails the look in the below picture.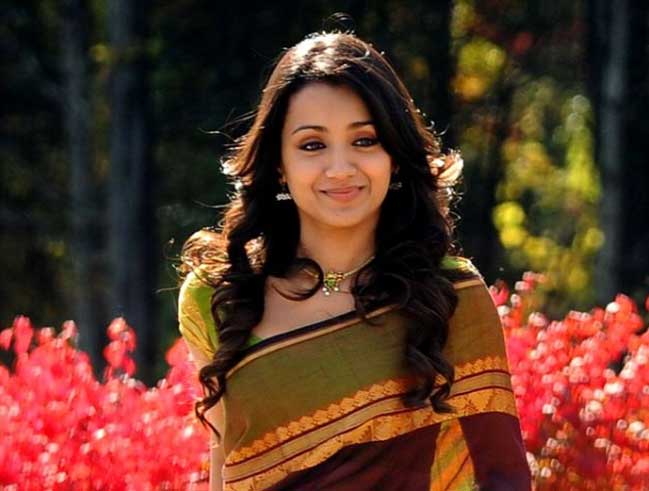 9. Retro Hair
How about an 80's inspired big hair look? Add a lot of volume to your hair by back combing and teasing your hair. Set it with a voluminising spray for a very retro look.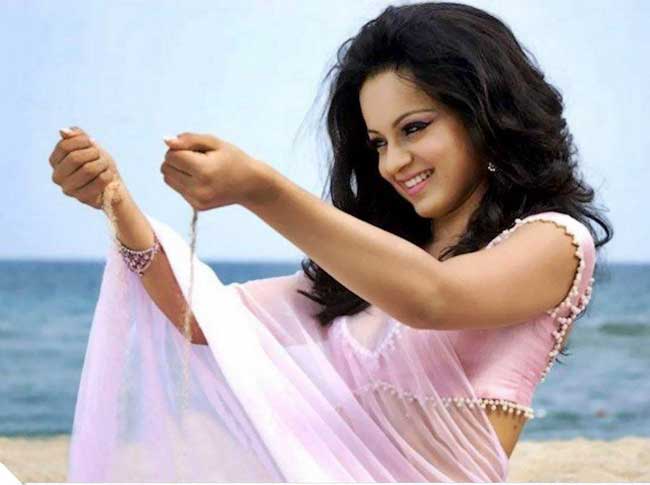 10. Elsa Braid
Have you watched the animated movie "Frozen"? If yes, then you probably already know about the Elsa braid. It is a very beautiful braid worn by Elsa (one of the main characters) in the movie. It would look amazing with a saree. You can find numerous videos online that show you how to do it.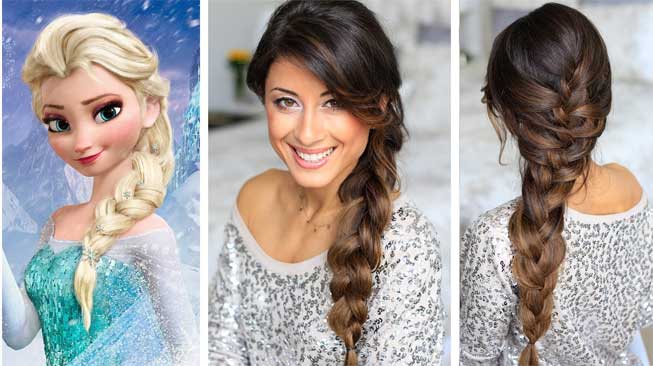 11. High Bun
There are a number of bun hairstyles for sarees. If you don't want to go for the low bun, then just pull your hair up in a high bun and flaunt your sexy back and designer blouses.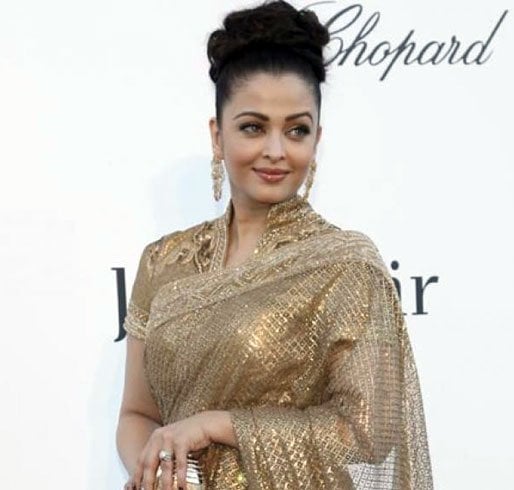 12. Straight Hairstyle
Hairstyles for sarees don't have to be always about glam and sexy. A simple saree hairstyle would be to just leave your long straight hair open.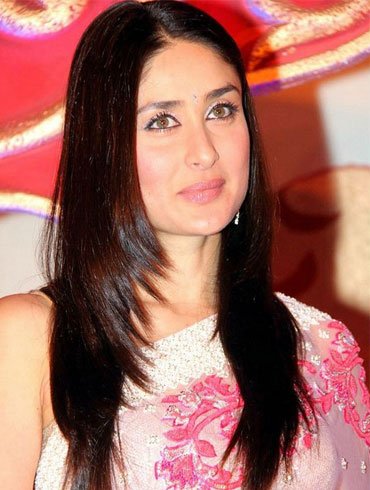 13. Short Hairstyle
Chopped off your long locks to beat the summer heat but wondering which hairstyle for short hair on saree would suit? Mandira Bedi shows you exactly how to rock a short hairstyle for party on sarees.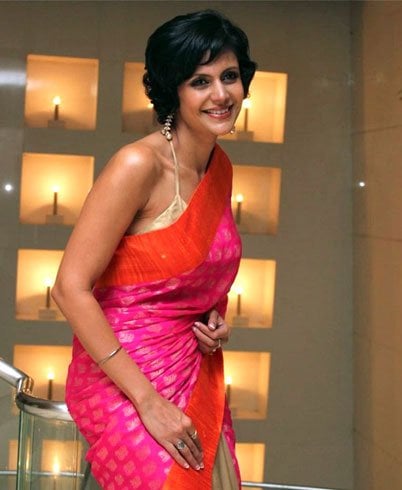 14. Simple Layers Hairstyle
If you are looking for loose hairstyles for saree or hairstyles with sarees for farewell, then simply style your hair into layers. This will add more volume to your hair and you can either let the layers fall on both sides of your shoulders or style it on side of your shoulder.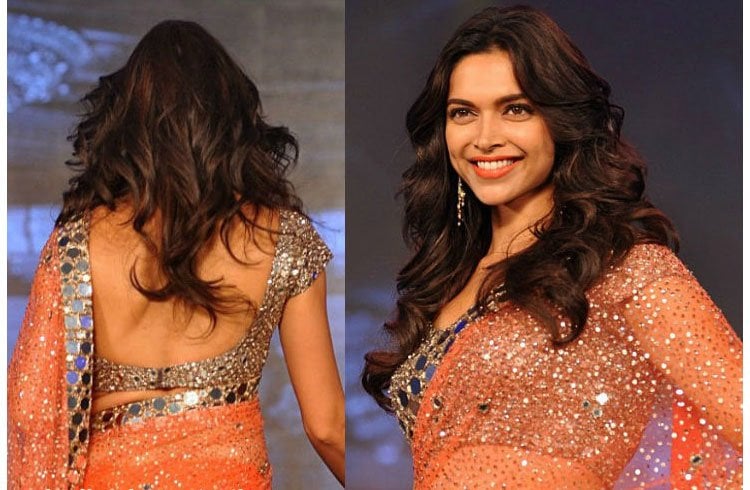 15. Bouffant Bun Hairstyle
The bouffant bun would be the perfect traditional hairstyle for sarees. It would be ideal for a half saree hairstyle or south Indian hairstyle with flowers.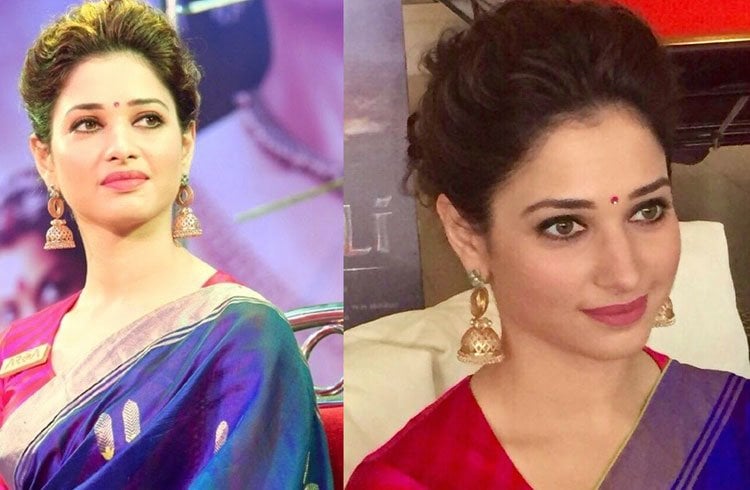 16. Side Parting
For this breezy hairstyle, part your hair sideways from the front after blowing dry. Later, comb your hair backwards from the crown of the head.
And there you have it – ten simple hairstyles for sarees. While some are a little tricky, most of them are relatively simple to do. So give them a try and find out which one's your favourite.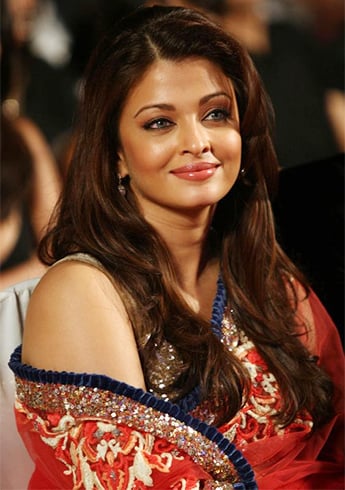 17. Puff Crown Bun
This hair style would go well with a saree as well as an evening gown. Works best if you have bangs. Comb and set your bangs sideways, secure a dramatic puff with bobby pins on the crown of your head and form a simple neat bun to hang at the neck.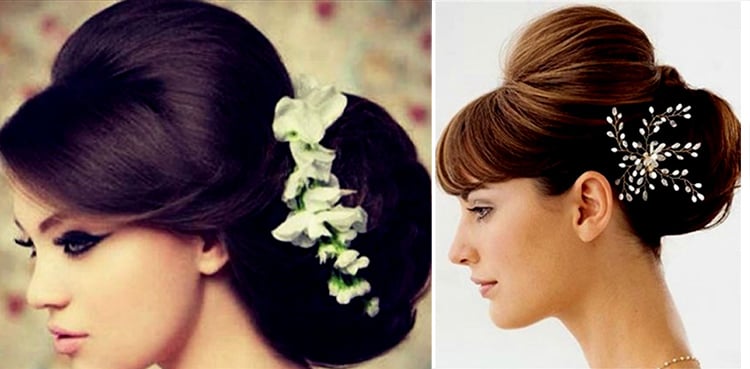 18. Side Braided Bun
We get it if you spend all the time in draping the sari and are left with almost no time to afford on your hairstyle – this hairstyle however won't take more than five minutes. Bring all the hair by your left ear and run them into a regular plait. Now turn this plait to form a bun and fix it with about 6 bun pins. Done!
19. Twisted Knot Bun With Bun-stick
You may also try the next five-minute hair bun. All you need is untangled hair and a hair stick. Twist the hair first. Then twist the hair again around the hair stick and pin it into your hair. The uniqueness of this style lies in leaving the loose end of hair unpinned, giving the bun an effortless look.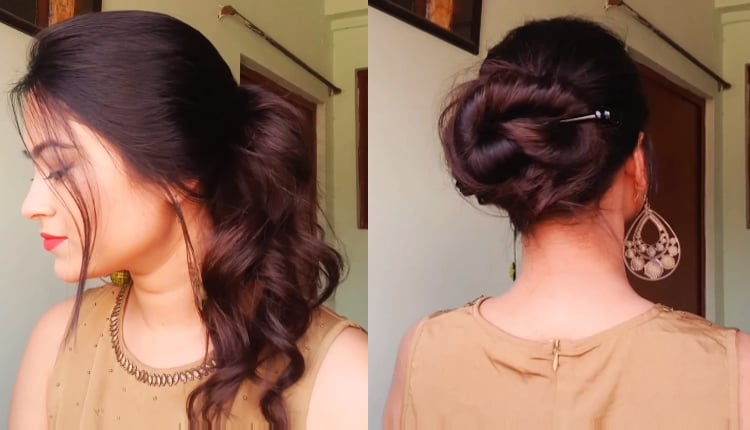 20. Accessorized Plait
If you are attending an evening event of more traditional nature like a wedding, or maybe your own, try this never-fading plait. You part the hair at your best side and pin it backward. The hair is arranged in a simple plait and accessorized with jewels. You may place layers of gajras at the root of your plait to give a hoax of bun.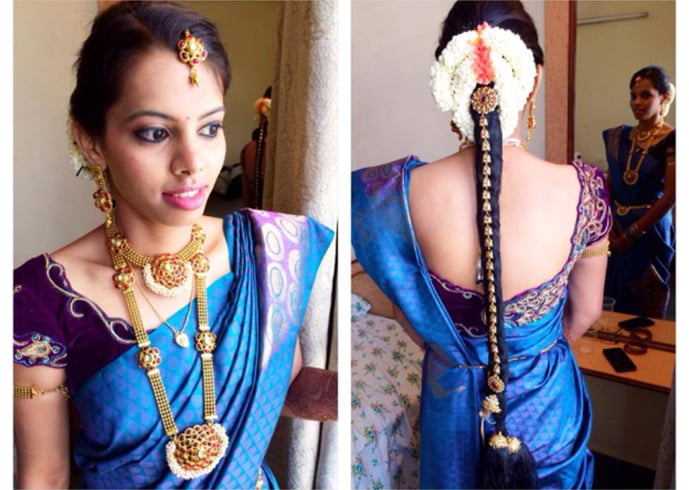 21. Low Bun With Maangtika
While we are at accessories, let's see how Soha Ali Khan loves to wear her necklace. Necklace? Yes, the one adorning her head is not a maangtika but necklace. Keeping the chunky pendant at the center, she wraps the pearls around her head – how royal is this look?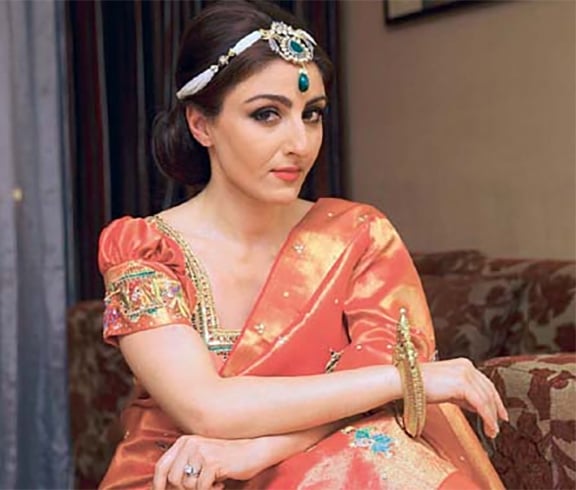 22. Full Bun With Flowers
Alternately, if you want to overdo on the floral, all the more power to you! It must be a special occasion that you have chosen to drape a saree around you, so just go with your heart's desire. Make a full bun and wrap it up in bright flowers. Let the sweet fragrance flow.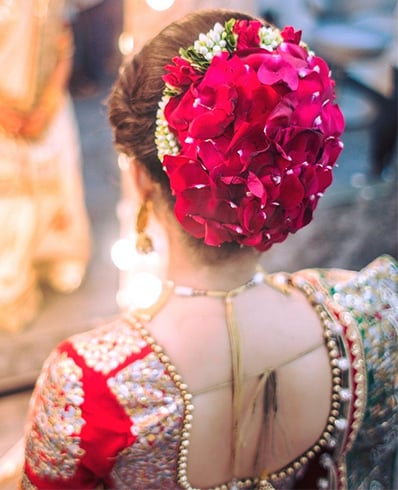 23. Beach Waves
You may also try this traditional look of Bebo where she wears her open hair backwards. She goes for beach weaves and leaves them without accessories.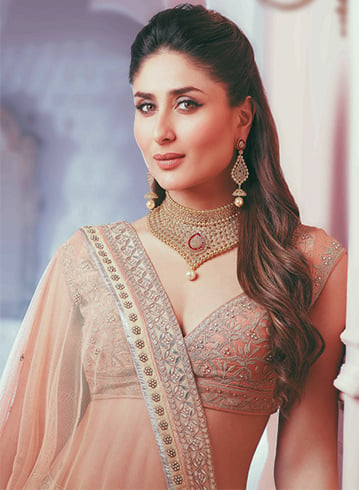 24. Messy Fish Braid
Alternatively, you may wear your side plait like our model in the below picture. She back brushed her hair to give it volume and then sectioned it apart by running her fingers through it.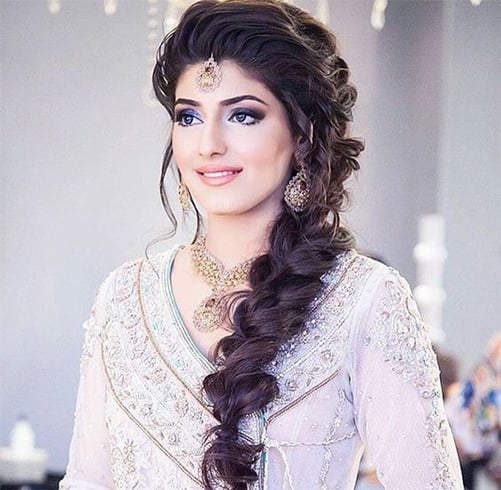 25. Back Brushed Hair
Back brushing is in fact a great way of adding volume to your hair, as much as you want. With saris, thick hair is a perfect match. Try to section out your tresses and back brush them in the pattern our beautiful model here.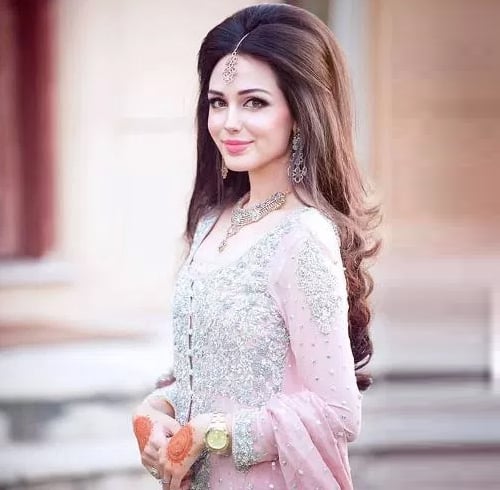 26. Real Rustic
Have you ever tried a real rustic hairstyle? This is the one. Ankita Lokhande has been one of Indian television's biggest stars, and we understand why.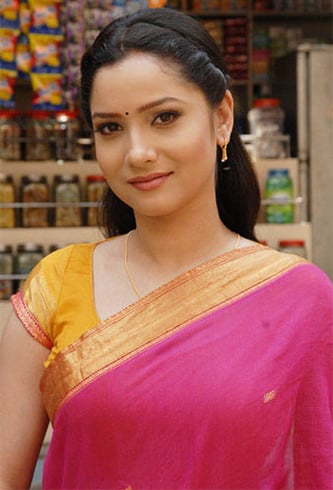 27. Fairy Tale Curls
Here is another old Bollywood hair style that would work on every face. All you need is a good curling iron. Curt slimmer sections of hair for 10 seconds to form tight curls and pin them with bobby pin in your favorite way of hair partition. You may add a bejeweled clip of flower.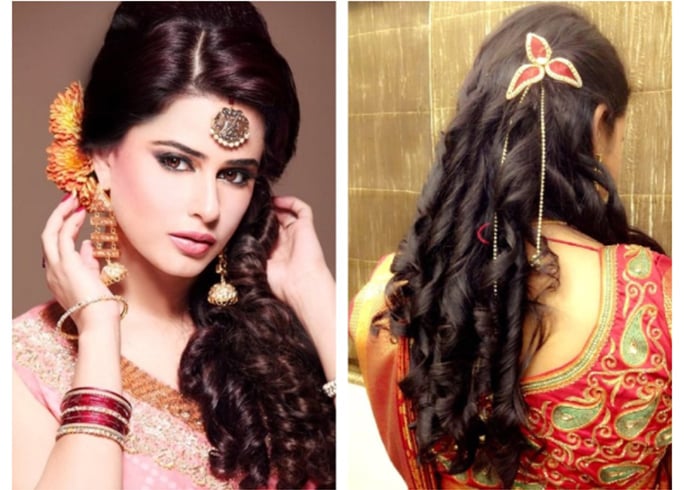 28. Fringes And Buns
Have you ever tried fringes with a traditional attire? Doesn't this look innovative? Add a few well-structured fringes to your bun and you are a different person.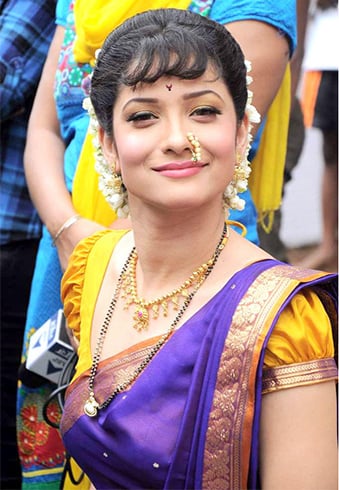 29. Angles Fringes
Alternately, you may leave your fringes framing your face with the rest of blow dried hair open.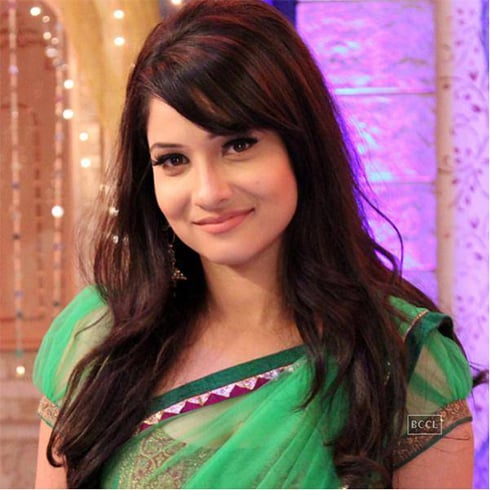 30. Blown Bun
Here is another example of combining a bun, bangs, and saree.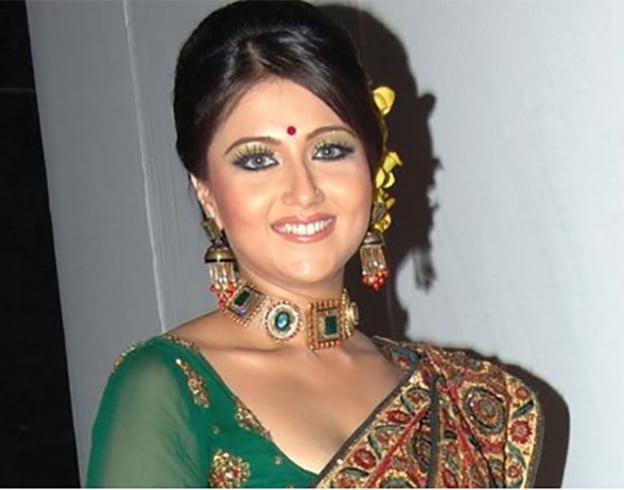 31. Wear It Up
Now only a brave heart can opt for that super hi-key hair style Sushmita Sen is boasting. But why should you not try a fusion of western hair cut with Indian attire after all?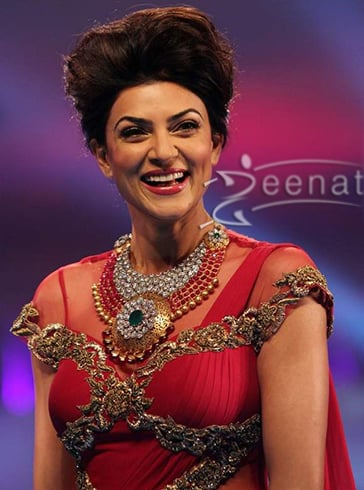 There is absolutely no venue or an occasion, where a saree cannot be worn. Whether it's for office, or for a wedding, whether you are the Bride's maid, or the bride herself, whether you are a pro or a first timer, these amazing hairstyles will add a new charm to your saree!
32. Barrel Curls
We rarely see Aishwarya Rai with shorter hair. But she looks amazing in this hair do. Love the curls adorning her tender neck. Wear your hair like this next time you drape a saree.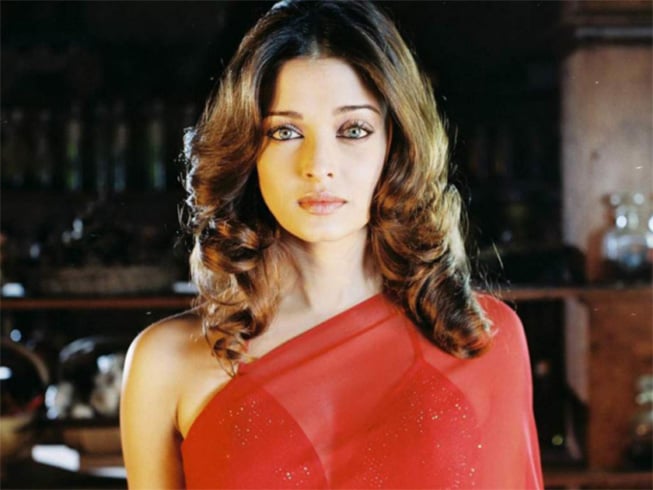 33. The Puffy Hair
This hairdo is a common sight as an everyday hairstyle but rarely do we spot it teamed with a saree. This hairstyle when given the right amount of puff in front and the rest of the hair blow dried into straight let loose hair, is an ideal one. Try this hairdo the next time you opt for a trendy look.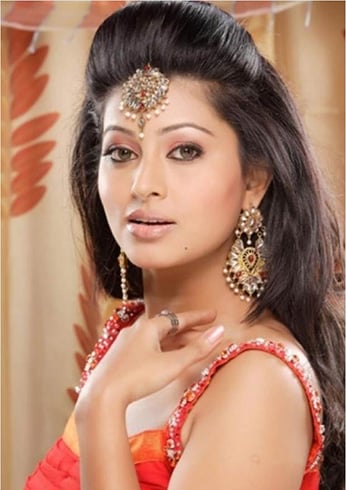 34. The Braid + Bun Combo
The side braid and bun combo has never gone wrong on any ethnic wear till date. This trendy and upstage hairdo gives women a different look to their face. Especially when you have thick hair, this hairdo combo stands at the first position in terms of ethnic ranking.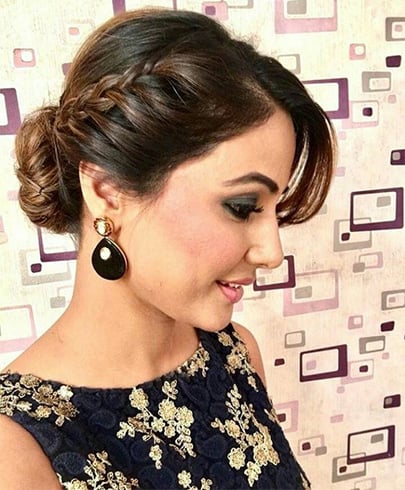 35. The Short Waves
Check out this hairstyle that is ideal for the woman with short hair. This hairdo is easy to do by yourself also. All you need is a curler to curl the ends of the hair into waves which give a bounce and an added feature to your face. Try this hairdo when the hairdresser cuts your hair shorter than you think.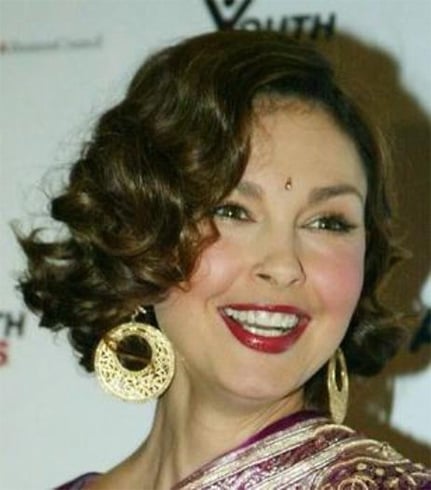 We hope these hairstyles have given you the much needed inspiration to get you going. Pick the one that suits your saree style the best, and let us know how the compliments poured in, Do let us know in the comments below which hairstyles you've tried and which worked out the best.
Recommended Articles
Hairstyles For Big Foreheads
Natural Hairstyles For Short, Medium And Long Hair
Traditional Indian Bridal Hairstyles