It's that time of year again – trying to find a present for loved ones that they will enjoy and don't already have. Well, here are some of the best gifts for men for Christmas and the holiday season. Or, maybe you just want to get yourself something during Black Friday and Cyber Monday sales?
Not that all these gift ideas are only for men. The grooming products are but here's something for the coffee lovers, cooks, gym rats, beer drinkers, tech lovers, and outdoorsy folks, and more.
These gifts range in size and price from stocking stuffers to big-ticket items.
Keep reading for 60 gifts for men plus a recommendation for each idea.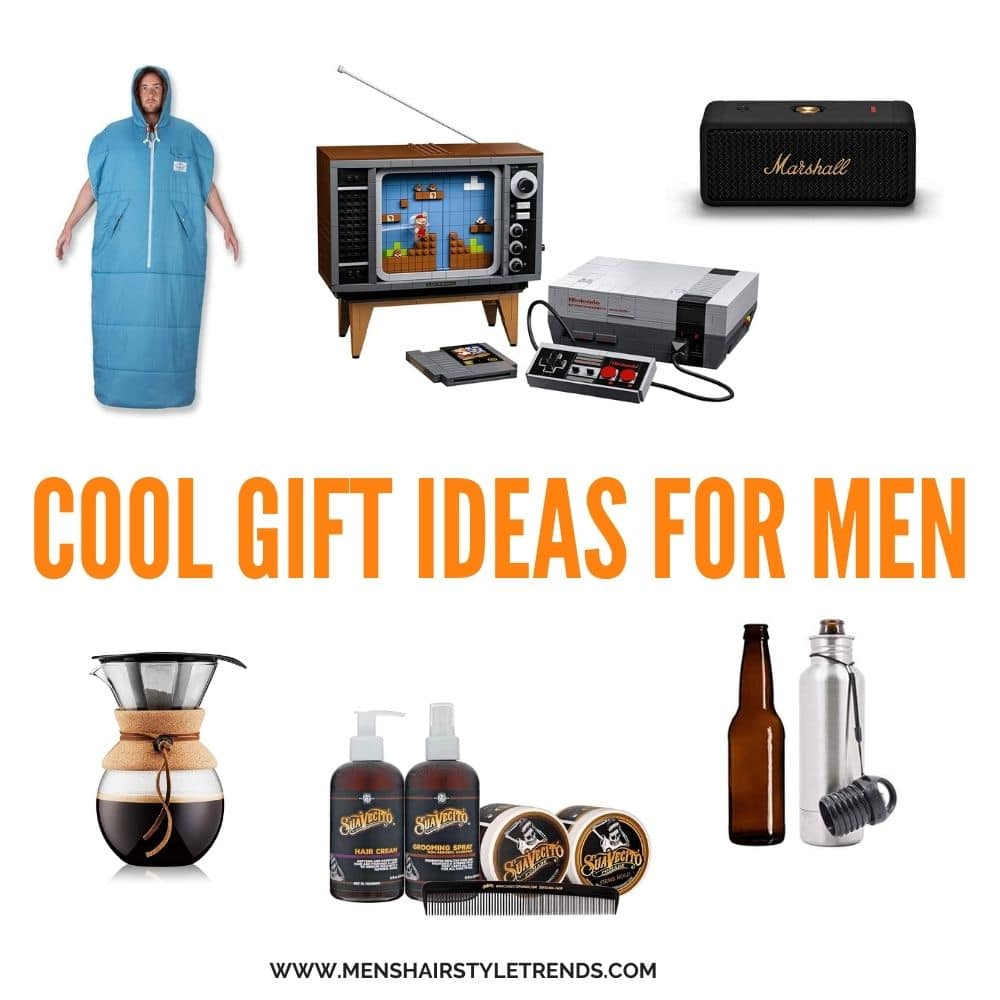 ---
Unexpected Gifts
---
These are gifts for the men that have it all. Or really like their dog.
1. Custom Socks
Immortalize a pet or person by printing them on custom socks. Why? Because you can.
2. Personalized Celebrity Message
A personal or inspirational message from a favorite star is a gift that keeps on giving.
3. Custom Pillow
Get a high-quality pillow with the imaged and form of any dog.
---
Gifts For The Home
---
5. Candle With Masculine Smell
Manly Indulgence Last Call Scented Jar Candle
Whether it ends up in a man cave, living room, or bathroom, a candle freshens up any room.
6. Sandwich Maker
Black+Decker 3-in-1 Waffle, Grill & Sandwich Maker
There was a time that no dorm room was complete without a sandwich press. This version is even better.
7. Slippers
Birkenstocks are a huge trend right now so here's a pair to wear inside.
8. Lego Decor
Because some Lego is for ages 18 and up.
LEGO Nintendo Entertainment System + TV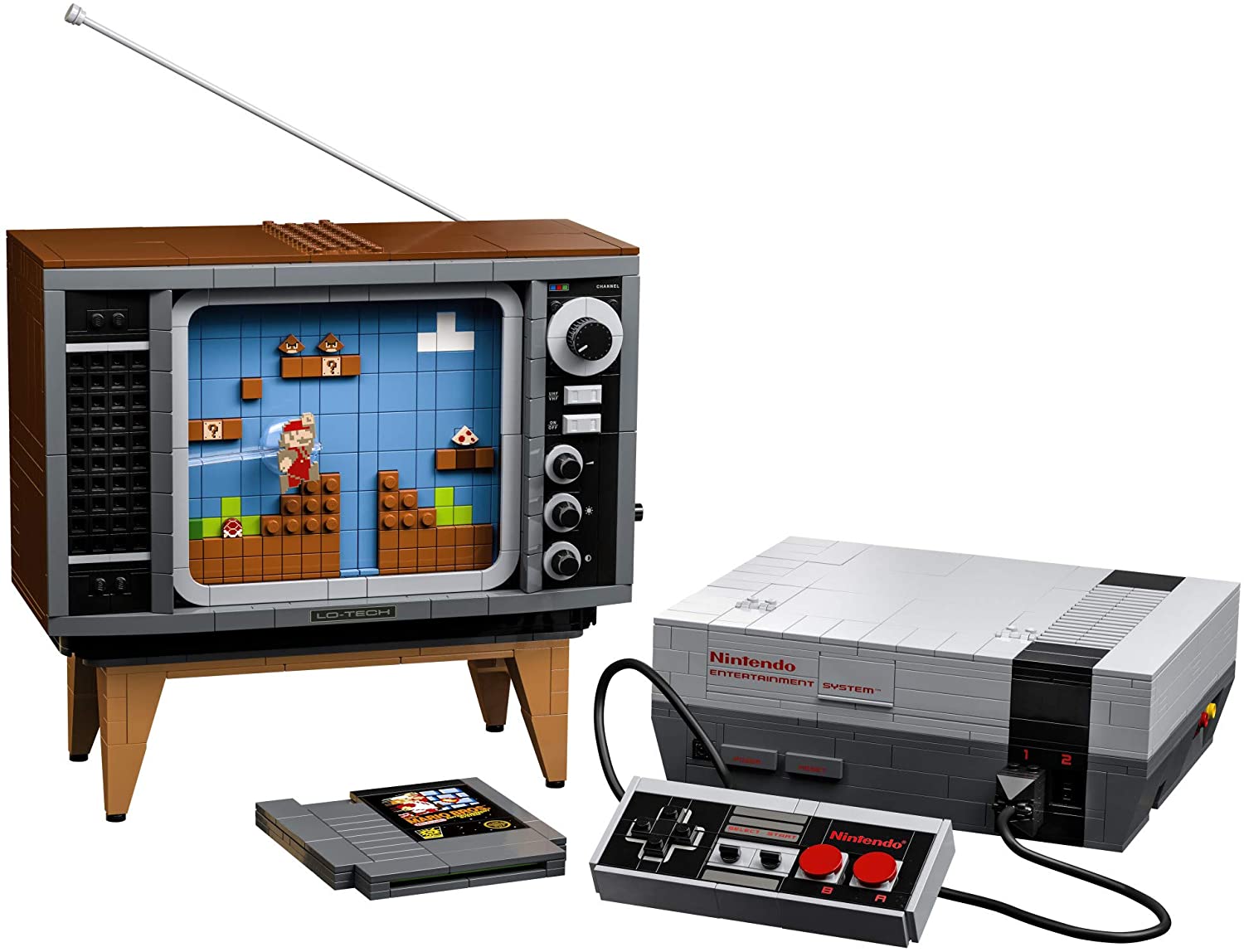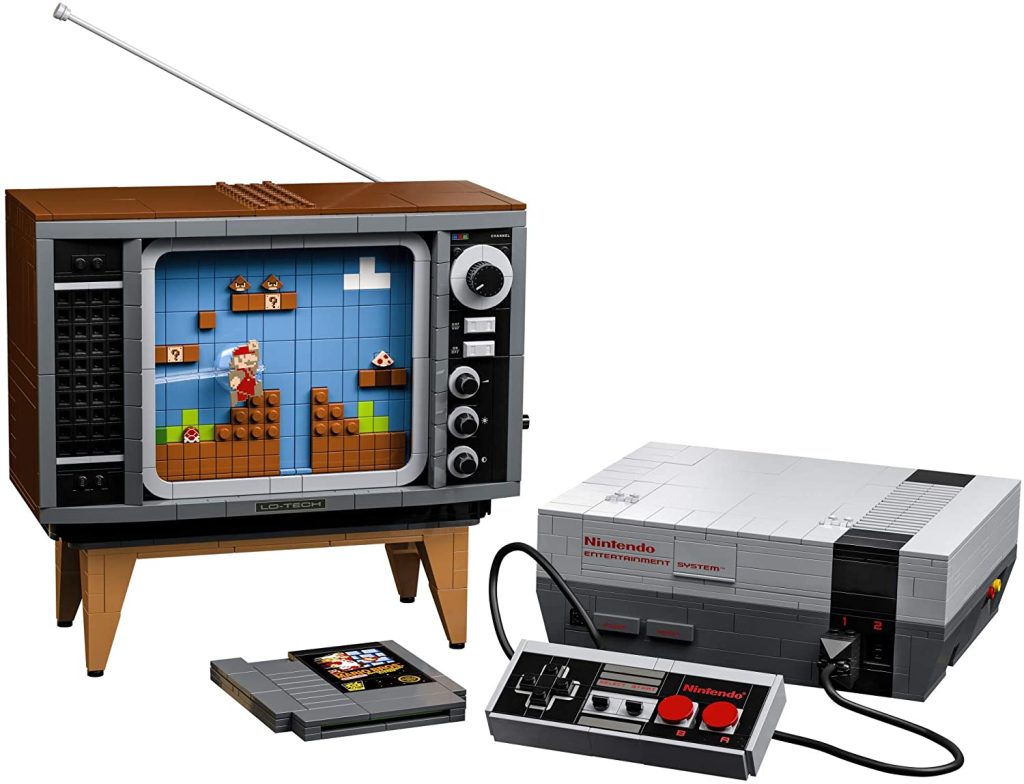 Building LEGO of the classic Super Mario Bros. game on 1980s NES and television brings back memories of a simpler time.
LEGO James Bond Aston Martin DB5
To celebrate the latest Bond movie. For realism, add this Briksmax Lighting Kit.
Real and fake plants are trending and this is even better than either of this. With 1,173 pieces it's a project and decoration.
9. Retro Video Game Console
Legacy video games are a fun way to get nostalgic or introduce the next generation to the way things used to be.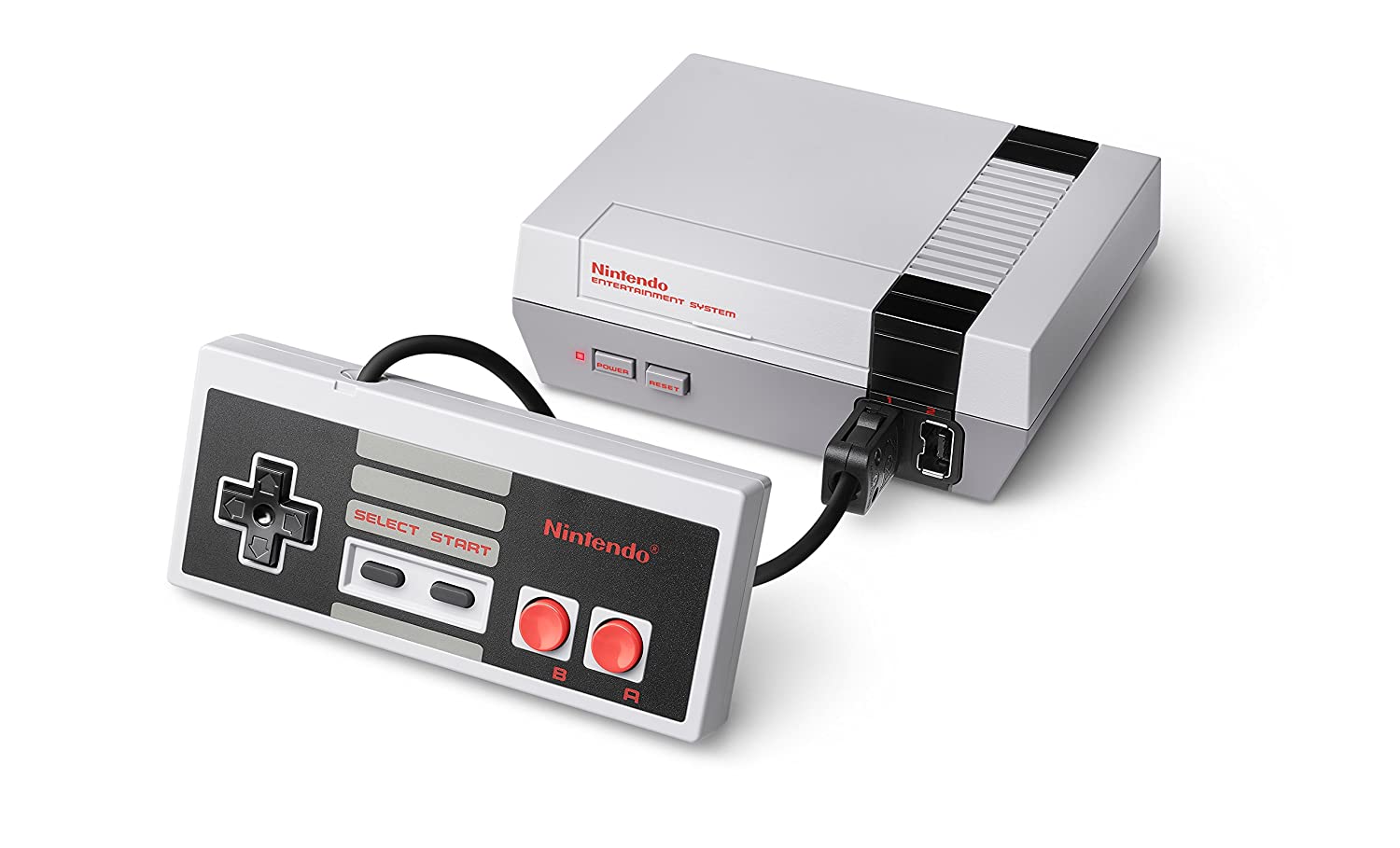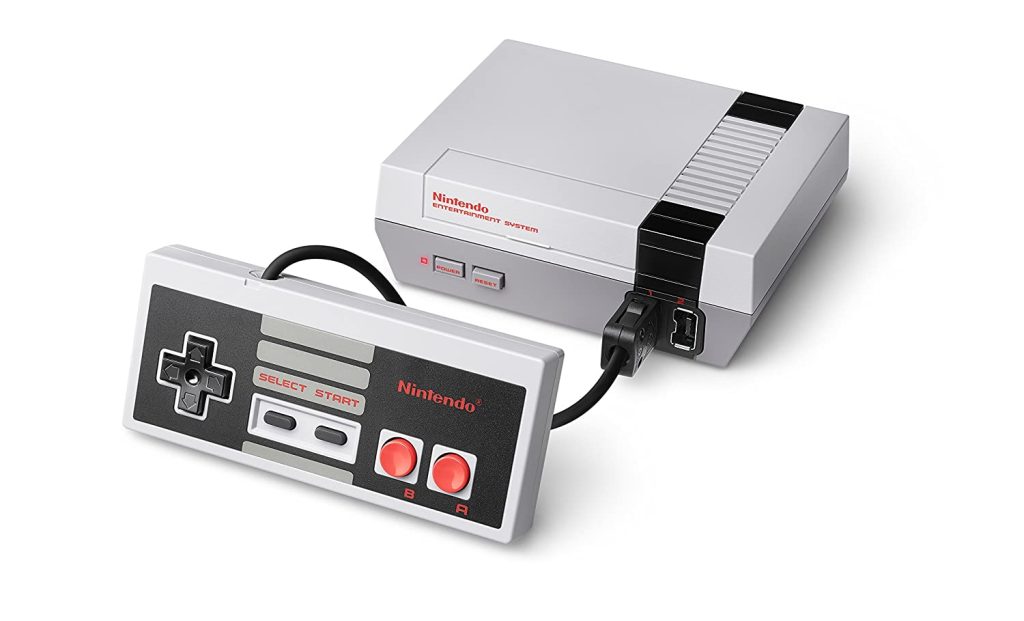 If a LEGO Nintendo isn't enough, get the real thing.
Atari Flashback 8 Gold Console
For the Donkey Kong players out there.
---
Grooming
These consumables make excellent gifts for men.
---
10. Hair Product Sample Set
Hanz de Fuko makes excellent and expensive hair products for men. This kit gives a taste of four pomades.
11. Men's Shampoo Set
American Crew Grooming Gift Set
With two of American Crew's best selling products, Forming Cream and Daily Shampoo, this set works for most hair types.
12. Men's Hair Product Set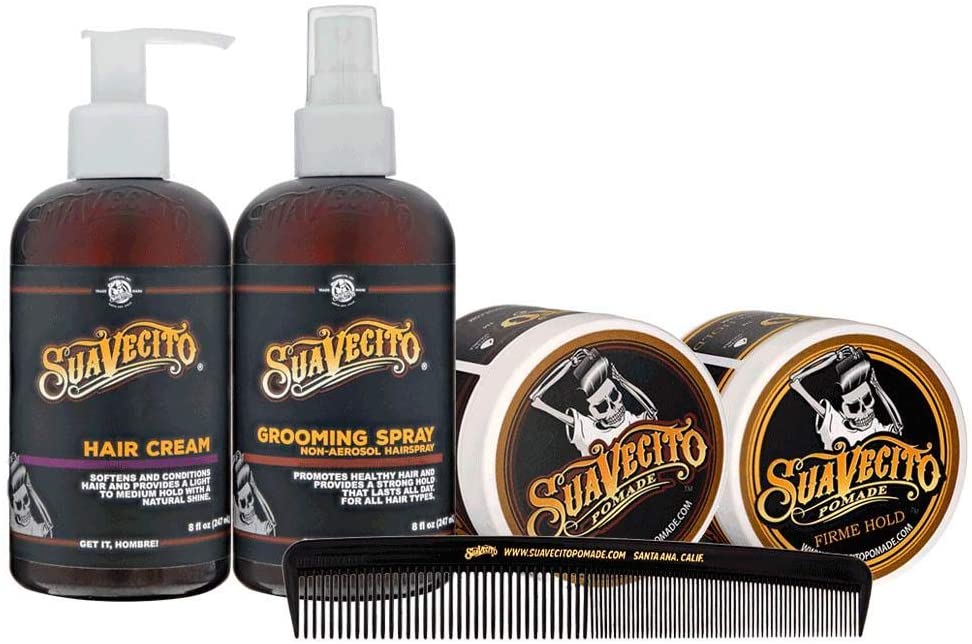 Suavecito is always one of our top pomade picks. This sampler includes hair cream, grooming spray, Original Hold pomade, Firme Hold pomade, and a comb.
13. Men's Textured Hair Product Set
Cantu Men's Hair Care 3-piece Set
The set includes everything guys with wavy, curly, and coarse hair need to make hair look great. It includes 3-in-1 Shampoo/Conditioner/Body Wash, Leave-in Conditioner, and Cream Pomade.
14. Beard Care Set
Smooth Viking Beard Grooming Kit
Smooth Viking makes high quality and affordable products for men's hair and beards. This kit has everything that a bewhiskered gentleman needs – Beard Balm and Beard Oil plus trimming scissors, a dual comb, and boar bristle beard brush.
---
Gifts For Men That Cook + BBQ
---
15. Meat Thermometer
ThermoPro TP19H Waterproof Digital Meat Thermometer
With a long probe, fast temperature read, auto-rotating display, and washable exterior, this is everything one needs in a meat thermometer and more.
16. Wireless Meat Thermometer
ThermoPro TP20 Wireless Meat Thermometer
With two probes, keep an eye on two types of meat from up to 300′ feet away. Instead of using a phone app, this comes with a wireless monitore.
17. Wireless + Bluetooth Meat Thermometer
Monitor that brisket in the smoker or roast in the oven on an app from up to 165′ away.
18. Spice Set
Urban Accents BBQ Road Trip Tower
Spice mixes from Texas, Kansas City, Nashville, and Carolina will settle who makes the best BBQ once and for all.
19. Make Your Own Hot Sauce Kit
DIY Gift Kits Hot Sauce Making Kit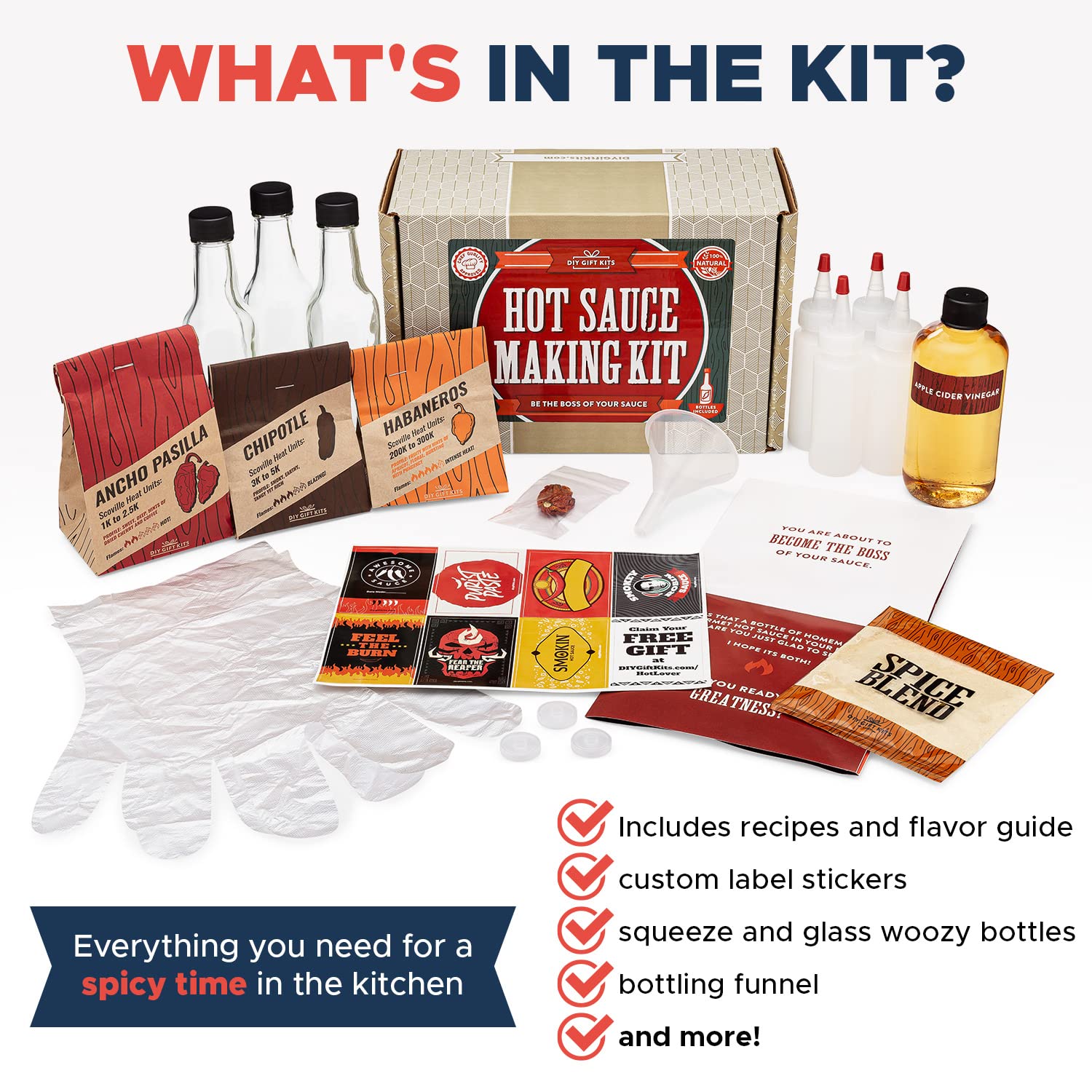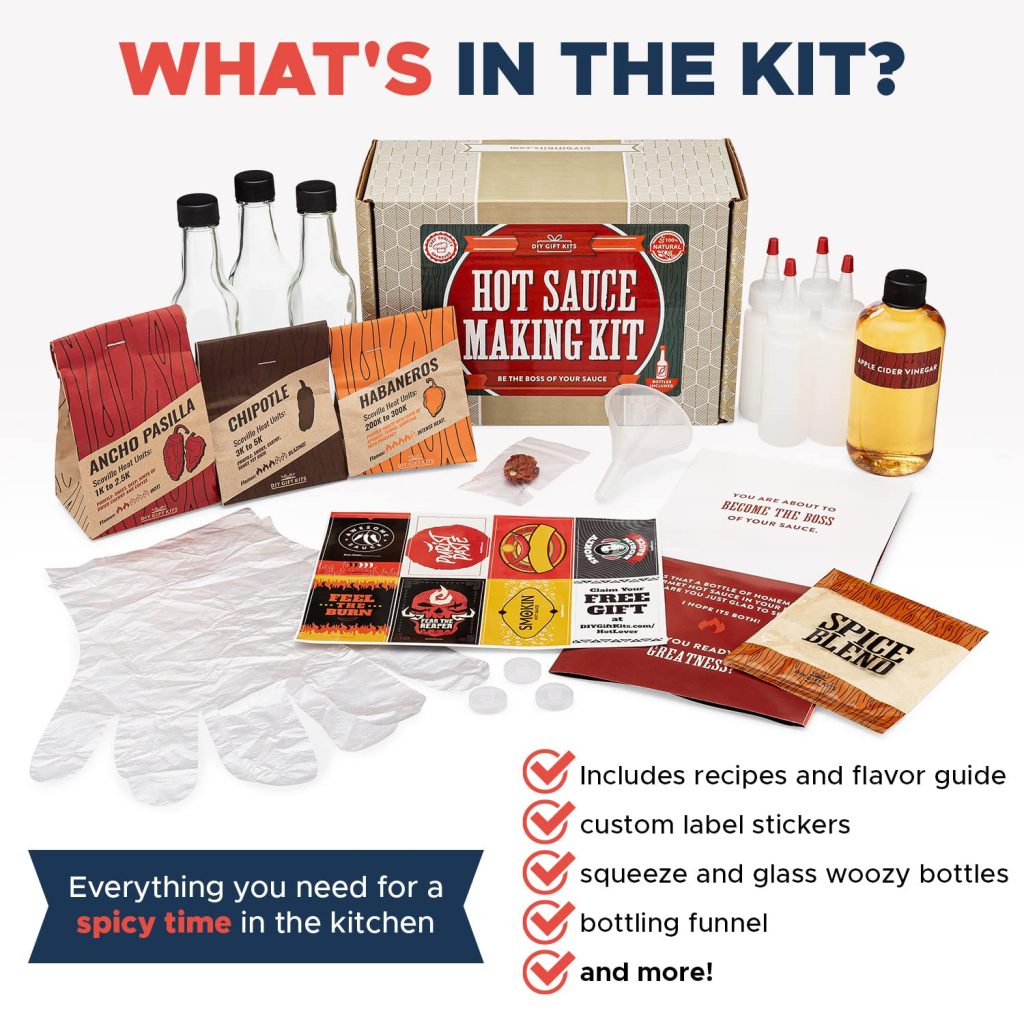 Includes everything required to make seven types of hot sauce, including gloves to handle the hottest peppers.
20. Kitchen Armor aka Apron
Hudson Durable Goods Crossback Denim Apron
Made of tough denim plus pockets for a phone and more, this apron combines style and functionality.
---
Gifts For Active Men + Gym Rats
---
21. Ultimate Workout Book
Convict Conditioning: How to Bust Free of All Weakness-Using the Lost Secrets of Supreme Survival Strength + Convict Conditioning 2 by Wade Davis
This essential workout book builds physical and mental strength.
22. Hand Repair Cream
All that lifting can do some serious damage to the hands. Heal calluses, shreds, and tears with this all-natural salve.
23. Massage Roller
Adding a grip to the commonly used massage tool, a lacrosse ball, makes it easy to use anywhere on the body. Plus, no batteries needed.
24. Massage Gun
The Theragun brand is synonymous with massage gun. Sixteen millimeter extension into the muscle massages deeper than most competitors.
25. Budget Massage Gun
Some users prefer this to the Theragun and it is a fraction of the price.
---
Coffee-Related Gifts For Men
---
26. Reusable Glass Cup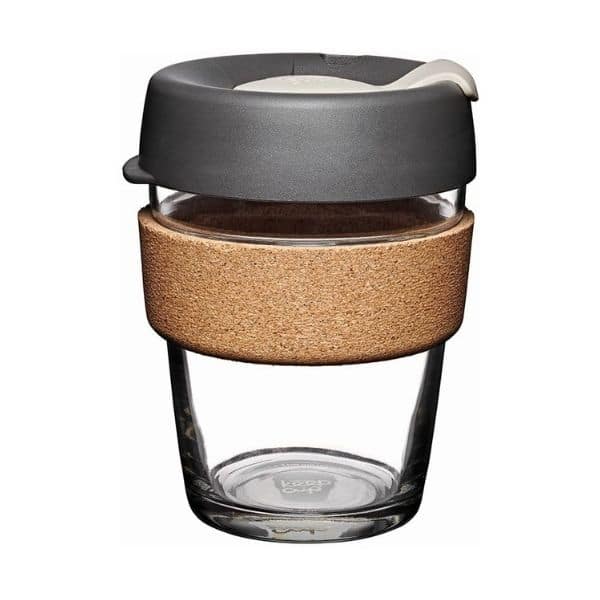 For coffee lovers who frequently visit coffee shops, the KeepCup replaces disposable paper cups. It cools off like a paper cup so coffee can be consumed right away.
27. Portable Coffee Maker
Some people think the Aeropress is the best way to make coffee. The Go adds a mug that doubles as a carrying case.
28. AeroPress Espresso
Fellow Prismo Attachment for AeroPress
Beginning as a Kickstarter project, the pressure actuated valve attaches to the Aeropress so it brews espresso-style coffee. It also comes with a metal filter and can be used to make tea and cold brew.
29. Portable Espresso Maker
Like the name indicates, it's a tiny espresso maker. The Aeropress makes coffee, this makes espresso.
30. Pour Over Coffee Maker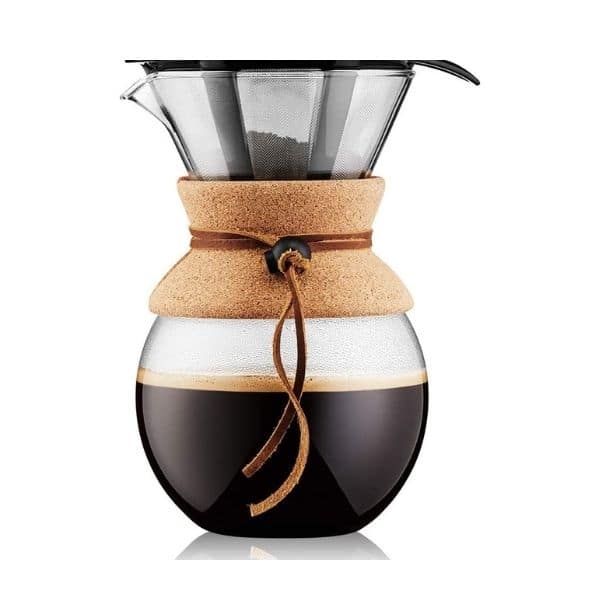 Some other people think that pour over is the best way to make coffee. It certainly is the most attractive, especially with this cork band.
31. Cold Brew Maker
This attractive cold brew maker also has an airtight lid that can keep brew fresh up to two weeks.
---
Can + Bottle Cozies
---
These cozies keep non-alcoholic and alcoholic beverages cool.
32. Portable Can Cozy
It's a little can-sized sleeping bag that keeps your drink cool and hand warm. More squishable than other cozies, it's easy to take anywhere.
33. Beer Can Cozy
Yeti has quickly come to dominate the cooler world for everything from this beer cozy to coolers that stay cold for up to 10 days.
34. Beer Bottle Cozy
BottleKeeper Beer Bottle Insulator
It keeps beer bottles really cold but even better, looks like a metal water bottle so you can use it anywhere.
35. Wine Cozy
Hydro Flask Vacuum Wine Bottle and/or Hydro Flask Wine Tumbler
For the wine drinkers, this 25-ounce Hydroflask maintains the temperature of red or white wine for hours. The wine tumbler fits 10-ounces for a smaller pour or doesn't drip.
---
Gifts For Men That Camp or Go To Lots Of Outdoor Festivals
---
36. Wearable Blanket
Leave your Snuggie on the couch and head outdoors with this ponch/blanket with a hood.
37. Wearable Sleeping Bag
This is literally a sack that can be napped in – take this sleeping bag on the go by opening up the bottom and arm holes.
38. Budget Wearable Sleeping Bag
Sportneer Wearable Sleeping Bag
It's the classic rectangular sleeping bag with zippers to let out the arms and feet.
39. Wearable Sleeping Bag With Arms + Legs
Selk'Bag Lite 6G Wearable Sleeping Bag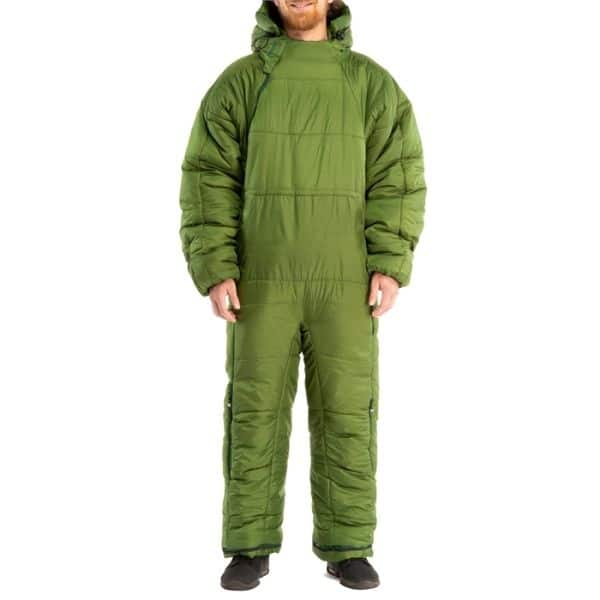 More like a kid's snowsuit than a sleeping bag, the Selk'Bag is shaped like the human body and even has zip-off booties for wearing outside the tent.
40. Camp Blanket
This Shark Tank-approved blanket is weatherproof, all-season, and stylish.
41. Portable Fire Pit
This portable fire pit burns extra hot while minimizing smoke.
42. Comfortable Camp Chair
Chair Zero is the most comfortable camping chair available and can make any outdoor adventure better, even if it's just a soccer game.
---
Gadgets + Tech Gear
---
43. BlueTooth Tracker for iPhones
Because Find My iPhone can't find your keys. Or dog. Works with iPhones 11 and 12.
44. BlueTooth Tracker For Android Phones
For all the other phones, TileMate keeps tabs on your belongings up to 250 feet away. Get the Tile Mate Essentials 4-Pack for really absent-minded loved ones.
45. Portable Charger
So the drama in your life is never interrupted by a dead phone battery.
Anker PowerCore Slim 10000 Power Bank
Get 2.25 charges for iPhone 12, 1.6 charges for Galaxy S20, and 1.2 charges for iPad mini 5 from this phone-sized device.
46. Upgrade Phone Cord
They don't last forever and are never long enough.
Native Union USB-C to USB-C 8′ Charging Cable with Leather Strap
47. Wireless Charger
Eliminates the need for the aforementioned phone cord.
Anker PowerWave Wireless Charger
Universal compatibility Samsung, iPhone, AirPods, and other phones and earbuds
Can charge through phone cases up to 5 mm thick
48. Wireless MagSage Charger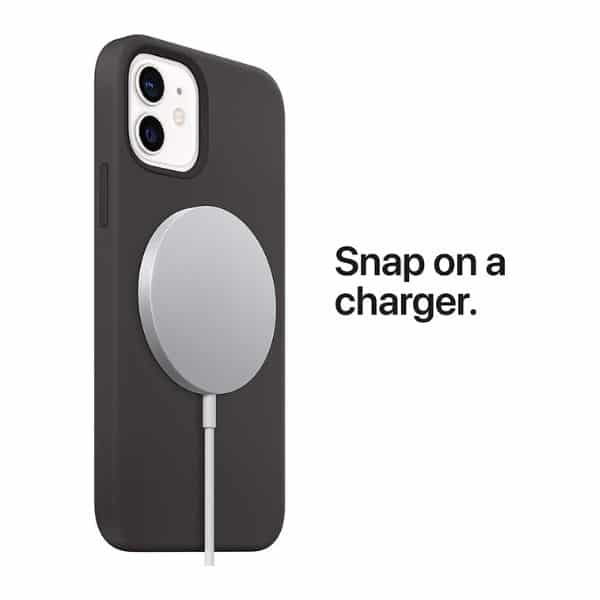 For AirPods and iPhone 12 and up
49. VR Headset
Oculus Go Virtual Reality Headset
Oculus is the gold standard in virtual reality with crystal clear optics and state-of-the-art 3D graphics make you feel like you're in your own personal theater.
50. Budget VR Headset
BNext Phone Compatible VR Headset
Get the VR experience with Apple or Android smartphones and a reasonable price.
51. VR For Nintendo Switch
OIVO Nintendo Switch Compatible Goggles
Take those Nintendo Switch games to the next level, the third dimension.
---
Gifts For Music Lovers
Because you can take it with you.
---
52. Bluetooth Speaker Upgrade
Bose SoundLink Revolve+ Series II
It's one of the best portable speakers available with exceptional sound quality, long-lasting battery life, and a helpful carrying handle.
53. Stylish Bluetooth Speaker
Marshall Emberton Bluetooth Speaker
Classic design combined with modern technology create this attractive and rugged speaker.
54. Portable Bluetooth Speaker
JBL Clip 4 with Integrated Carabiner
With a built in clip that can attach to a built loop or backpack and a waterproof and dustproof case, this speaker can go anywhere and everywhere.
---
Electric Transportation
These devices go fast so don't forget a good helmet.
---
55. Electric Skateboard
With graffiti styling, 3 speed modes, and a top speed of 12.4 mph, this electric skateboard is safe for kids, teens, and adults.
56. Electric Longboard
SKATEBOLT Tornado II Electric Skateboard
For experienced skaters, the Skatebolt is a legit mode of transportation. It can go 25 mph, up 25% grade hills, and 15-20 miles on one charge. It also has tail lights and a brake that regenerates the battery.
57. Electric Scooter
Segway Ninebot ES1L Electric Kick Scooter
If your town isn't littered with electric scooters, this bad boy goes up to 12.4 mph for up to 12.4 miles. It folds up and features a front shock absorber, front electronic brake, and rear foot brake.
Happy Holidays!
This post may contain affiliate links. Please read our disclosure for more info.